January 24, 2019 Marwan Naaman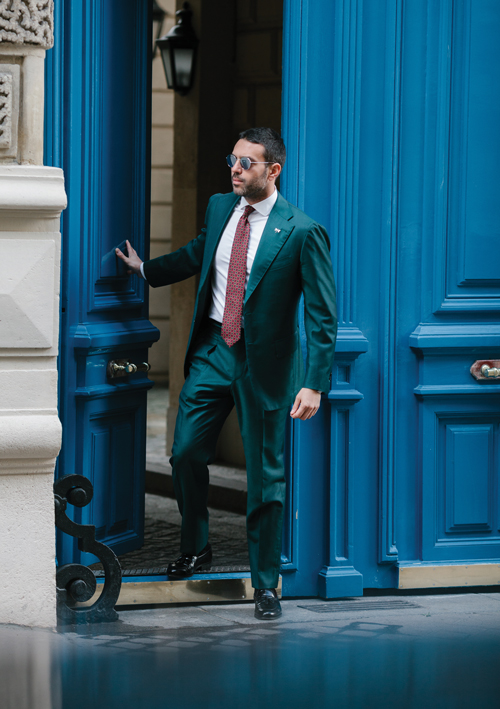 Dapper in his own right, 38-year-old Amer Ejjeh is the scion of the Ejjeh family, known for its men's tailoring business that dates back to 1926. Offering off-the-rack suits, ready-to-wear clothes, shoes, ties and accessories as well as fully bespoke suiting, the Ejjeh label has evolved to become a regional reference, the place where men from across the Middle East go to have the finest suits made.
In the competitive business of fashion, where big-name brands dominate the world over, Ejjeh has managed to remain relevant thanks in no small part to Amer, who's immersed himself in the business, ever since he officially joined the company 18 years ago. "I attend all men's fashion fairs," he says, singling out Italy's Milano Unica and Pitti Uomo as the two most important ones for contemporary menswear. "At Milano Unica you see the textile collections three years ahead of time," he explains, "and at Pitti Uomo you get cuts, designs, accessories and shoes two seasons ahead." The textiles needed to create Ejjeh's suits are sourced from Italy by Amer, and then the suits are designed and made in Lebanon, by a team of experienced local tailors.
Ejjeh is currently headquartered on Saeb Salam Avenue, close to Mar Elias and Verdun, with the clothing store set on the ground floor and the various textiles stocked on the upper floor. Almost no tailors work at the store – Amer prefers for them to sew the suits in their own space, completing the work wherever they feel comfortable rather than having them clock in at an office or atelier. "About 70 per cent of business is tailoring," Amer says, "and Lebanon is our primary market. But other markets include Saudi Arabia, UAE, Paris, London, Switzerland, Iraq and Kuwait. We're always expanding."
"Style tells you about a person's character, if he's shy, confident or aggressive."
Buying an Ejjeh bespoke suit, rather than a suit from an easily recognised international brand, has its advantages. "Any brand has its pattern," he explains, "and a pattern is based on an international size. At Ejjeh, we create a pattern just for the customer. And that pattern stays the same as long as his body stays the same." This means that after the initial couple of fittings, it becomes extremely easy to create new, perfectly fitting suits for the customer. Amer's passion for his work and for the fashion business is evident when he speaks. "There are emotions in every single piece," he says. "And every piece is stitched by one person, from A to Z."
In terms of his personal style, Amer of course wears Ejjeh suits, and he tends to favour trendy, offbeat looks, "I like colours and patterns," he says. "It's not easy to have the guts to wear strong, sive patterns, but I feel I can pull it off. I'm not into grey or navy." And if you look into his suit jacket, you'll see a pocket for a mobile phone (an Ejjeh suit trademark) made from specially designed lining – the rest of the jacket doesn't have lining, which Amer deems unnecessary when you use luxurious materials to create suits. He also reveals that he never throws away his suits and never sends them to get dry cleaned. "I steam them at home," he says. "Since they're created from natural fibres, you just need to hang them and let them breathe."
In a way, Amer represents a new breed of Lebanese men, ones who care about how they look, who are familiar with global fashion trends and who appreciate the value of handmade, bespoke suits. "I'm happy that men are more interested in dressing up," he says, "and taking better care of their attire and their grooming. This didn't exist for a while but it's very important." He believes that style truly affects how a person is perceived. "Style tells you about a person's character, if he's shy, confident or aggressive. If you dare to wear big patterns or flashy colours at a formal event or at the office, then you're making a statement." Amer also enhances his suit with pins, carefully chosen ties and even bracelets, and the whole look works, in a visually pleasing and harmonious manner that exudes exquisite taste.
Next up for Ejjeh: a bespoke gentlemen's lounge in Downtown Beirut. Amer is planning to include tailoring, alterations, a cigar lounge, a café and more in the new space, edging one step closer to transforming his eponymous label into a lifestyle brand.