January 24, 2019 Nadia Michel
There's something about an Okhtein bag. Once you've seen one, you'll never forget it. It challenges the status quo and is somewhat disruptive in an industry usually driven by trends. But an Okhtein bag unfailingly makes you feel something, and at least in terms of marketing, that's nothing to scoff at.
"Our design aesthetic is different and not accepted by everyone at first, but what's important is to stick to our roots and identity," explains Mounaz Abdelraouf, who founded the brand in 2013 along with her sister Aya.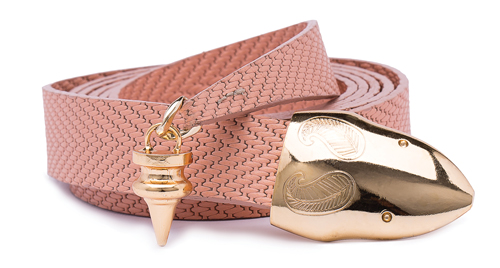 Combining unique hardware and hand-tooled materials like leather, cotton and straw in a way that recalls a rich and glorious past, their designs have an artisan feel, yet they are rendered in the most contemporary way. "We don't necessarily like to be on trend, but rather set trends. Our bags are full of intricate details, we like to create pieces which are considered collectable," says Mounaz, who studied marketing at the American University of Cairo and also works as an artist. (Her sister Aya attended the same school and studied communication and media arts along with digital arts and design.)
Whatever the socially responsible Egyptian label is doing – responsible because the bags are made by skilled artisans, often women, and the brand collaborates with NGOs to raise awareness about social issues, like autism – it's working.
Notably, Okhtein's bold colours and edgy metal details caught Beyoncé's eye in 2017, shortly after the brand won the Vogue Arabia Award in April, subsequently making its way into an Los Angeles boutique. An ensuing Instagram frenzy propelled the emerging Cairo-based brand onto the global stage, taking the unlikely local label to stratospheric new heights while also validating the sisters' belief that Egyptian know-how could compete with global luxury brands.
"We have always seen ourselves as a luxury brand, or at least as paving our way to becoming one. We have always said to ourselves, either go big or go home. Not a single big luxury brand started off big," Mounaz remarks.
On that subject – luxury brands – the sisters have encountered a few bumps along their way, namely a Louis Vuitton A/W 18 handbag quite similar to one of their designs, something they were quick to denounce on their own social media, responding with #AngerNotFlattery!
Despite some challenges, the well-travelled sisters are forging ahead with a continuously evolving collection that now includes belts and soon, a new line of perfumes. With an ever-growing network of distributors that includes major department stores in the US, Canada and the Middle East, you might describe Okhtein as the black swan you never saw coming.