May 3, 2017 admin
ETIENNE SALOME
WHY DID YOU BECOME A DESIGNER?
I was attracted to the chalenge of combining technical restrictions and creative freedom; it's an interaction that makes every day at work an experience. But there's also a great responsibility, for just a single idea, a small sketch, can lead to the success or failure of a product and sometimes even a brand. Personally, I think the most amazing thing is to be in front of a white piece of paper and realise there are an infinite number of possible directions I can take.
HOW LIBERATING HAS IT BEEN TO JOIN A COMPANY LIKE BUGATTI?
I've been working for Bugatti for more than ten years, a marque with more than 100 years of automotive heritage and of creating the unique. Bugatti has always been about timeless design – a luxury beyond fashion – every Bugatti and every item Bugatti creates has to be able to outlast its owner. This also directly implies, that as a designer you are far less restricted in the sense that you are not expected to please everyone, just passionate individuals looking for a very unique experience for themselves and generations to come.
TELL US ABOUT THE CONSTRAINTS IN TERMS OF META-TRENDS, TECHNOLOGY AND LEGISLATION?
The founder, Ettore Bugatti, once said: "If it is comparable, then it no longer is a Bugatti." The challenge is to always create unique concepts that are positioned at the very pinnacle of the automotive industry. Each Bugatti automobile is a true and holistic masterpiece in 'Art, Forme et Technique'. This is our credo. However, with our brand being present in almost all markets in the world, I am proud to say that the Chiron meets all safety regulations worldwide while staying fully in line with our design. Then again, the design process of the Chiron went hand in hand with the technical development process, it was challenging sometimes for both parties but when you are targeting a top speed of way more than 400km/h you cannot create any pure styling exercise, every single design line has a technical function. This super sports car is a true example of 'Form follows Performance'.
WHAT ARE SOME OF THE INNOVATIONS IN THE CHIRON THAT MAKE YOU MOST PROUD?
Probably the Bugatti two-stage turbo-charging system of our unique 16-cylinder masterpiece. It creates such a fierce acceleration; it's breaking new dimensions.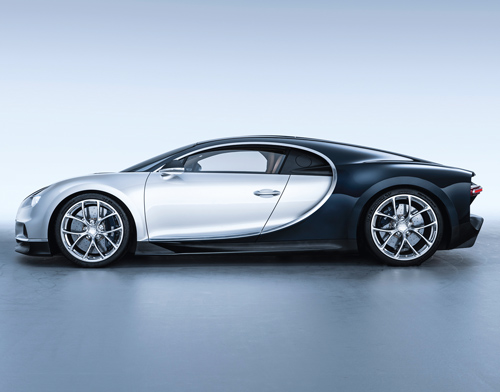 HOW MUCH PERSONALISATION CAN A CUSTOMER DO TO A CHIRON AND ARE YOU INVOLVED IN THIS PROCESS?
The individualisation possibilities are only at the limit if something becomes technically impossible to implement – thus implying that the personalisation options of a Chiron customer are practically infinite; certainly in relation to other automotive products. At Bugatti we have a dedicated team that looks after each individual customer and into special requests and my part is to assist customers in translating their ideas. As personal taste is a very personal matter, I am certain that in the end we will see 500 very unique Bugatti Chirons.
NOW, CAN YOU TELL US WHAT IS INDISPENSABLE TO YOU…
1. IN TERMS OF GOOD DESIGN?
Something so pure that no further element can still be subtracted.
2. TO BE ABLE TO INNOVATE?
To start from where others have stopped.
3. IN CREATING FEATURES THAT POSSESS EMOTIONAL CONNECTIONS WITH CUSTOMERS?-At Bugatti we always have a challenge between 'the beauty and the beast'. A Bugatti has more sensuality than plain simplicity – it is not just 'Bauhaus Style' – but a design that is memorable and unique and invites the viewer to imagine the start of a new journey.
4. IN DETERMINING IF A BRAND IS A GOOD FIT FOR A SPECIAL EDITION?
Any collaboration would have to be a suitable 'win-win' scenario, one that would benefit the Bugatti marque.
5. FOR SOMETHING TO BE LUXURIOUS?
Purity is the ultimate sophistication.
6. IN ACCEPTING PRAISE OR CRITICISM?
Every design process is also an 'exchange', this is the base of it.
7. ON A DAY OFF?
I switch all my digital communication channels off.
8. ON A ROAD TRIP?
A precise speedometer, as I cannot deny that I'm attracted to speed; not necessarily for my own sake, but for being in control. 'Safety and Comfort at Speed' are the key elements of automotive design.
9. TO FINDING A BALANCE IN LIFE?
As an automotive designer I am bound to create products for our customers. However, in my personal life, I also create a lot of paintings and sculptures, and those I create solely for myself. I create my art regardless of whether anyone likes it or not, and I learn a lot from it. Art opens my mind.
10. TO BE HAPPY?
If I sit in front of a white page and start sketching, it is then that I realise: I was born for this.
FINALLY, WHAT THREE THINGS WOULD YOU TAKE TO A DESERT ISLAND?
My family, my sketchbook and the Bugatti Niniette 66 yacht by Palmer Johnson.