May 3, 2017 Nicolas Shammas
WHY DID YOU BECOME A DESIGNER?
I've always been an observer of things around me. It began naturally, exploring and investigating the objects in our home. It was second nature to look at and think about those products and decipher how they represented what people like and need. I've always been fascinated with people and what drives them. My inspiration has been to bring a product or experience to people that changes and improves their life in some way, so you could say that my first impulse in design was very pragmatic and straightforward. To me, connecting with people has always been synonymous with experiencing a fuller, richer life.
WHO ARE THE DESIGNERS WHO MOST INFLUENCED YOU?
Today, I am inspired by the people in my studio. Every day, I am surrounded by some of the brightest and most creative people in the world. I don't follow any one person in particular because I think you can learn something from everyone, and they become the sum of who you are as a designer.
FROM WHERE YOU DO DRAW YOUR INSPIRATION?
I feel inspired all the time. You know, a lot of people ask me about inspiration, it's difficult to calculate the meaning of this word because it's been misused so much. It's mostly in a very superficial way, this or that trend… I've always thought about inspiration in a medieval way. I think knights were inspired to go to war to save the holy land – something that really became their destiny, and which was the reason they existed. For me, I know what I'm here for. I know what I want to do in my life. I know why it is important to wake up. Because I want to create a world that is ready for more durability and sustainability, because I want to create a world with objects and surroundings that are humane – more personal, more romantic and less sterile. This inspiration, this drive, is there all the time; I don't have to look for it, it is within me. This is why I always say, you can tie me up, blindfold me and I will always have an idea and feel inspired. That is an everlasting source of inspiration, that is my holy land.
TELL US A LITTLE ABOUT YOUR YEAR AND WHAT WE CAN LOOK FORWARD TO.
There are many projects on the horizon, and we are looking forward to collaborating with designers and companies around the world in the coming months. In the short term, I am looking forward to the opening of Iberostar Portals Nous in Mallorca and the Mondrian Doha in Qatar. Beyond that, the future is wide open. Our goal every year is to remain open to new adventures, and make them if we don't find them. It is the opportunity of what's next that drives us most. Every assignment brings unique challenges and we're looking forward to what that will mean for us in 2017.
WHAT MARK WOULD YOU LOVE TO LEAVE ON THE DESIGN WORLD?
The mark of what I call a new contemporary renaissance of humanism. If design were a house, function would be the foundation of the house, and even though an essential quality, the foundation is not the main quality for a good house. A true house becomes a home for less technocratic and more humanistic reasons. We are incredible beings, far more interesting and complex than our brains, we have soul, we have doubts, we have community, poetry and dreams. Modernism and rationalism have made us create and accept a very simple version of ourselves.
NOW, CAN YOU TELL US WHAT IS INDISPENSABLE TO YOU….
Good design is indispensable to me. To me, great design is so many things all at the same time. It is emotional, functional and responsive. It creates an unwritten dialogue, a connection, between itself and those who experience it. It is open to interpretation, yet, created for a specific purpose. It creates meaning and value. The very best design, I feel, is that which resonates so deeply that people can't help but discover something within themselves when they see it. Luxury starts where functionality ends and where the true value is personal and so has no price or reason.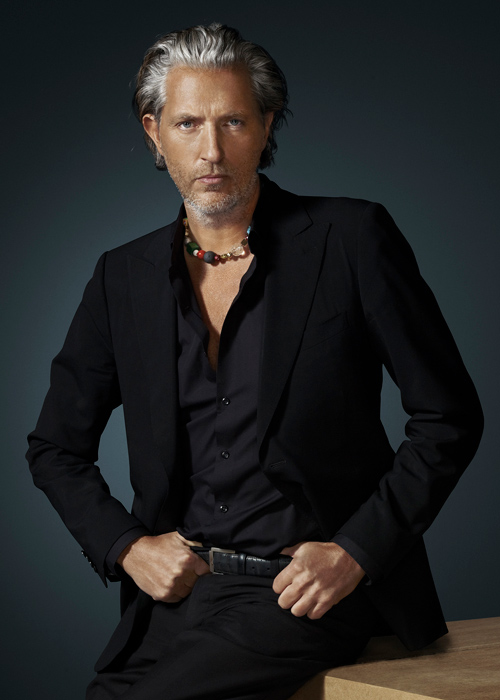 1. WHEN CREATING?
I need an audience, I need to know that someone is waiting for me to finish this project, I need to know that someone is going to be touched and excited about me finishing this work. I do not make the work for myself. I work for my audience and their joy is my indispensable reward.
2. TO BE ABLE TO TAKE ON A NEW PROJECT?
If we do something that is not my passion, we're not doing it. I really don't have time to do things I don't care about. I cannot work without my passion for my projects. I would love to do an opera for the Metropolitan Opera in New York. I would like to design a big mosque. These are high on my passion list  not on my list of immediate things, but on my list of important things.
3. IN ACCEPTING PRAISE OR CRITICISM?
Einstein, E=MC2, it's all relative.
4. IN GOOD DESIGN?
Authentic design that surprises. It is my aim to design with a twist of surprise, to explore all types of ideas freely and always offer an element of surprise. It has been noted that my work celebrates humankind and highlights durability, warmth and values human imperfection above technocratic sterility. Handcrafted techniques and a sense of contemporary ornamentation dominates the designs and offer more surprise for both myself and my audience.
5. FOR A PLACE TO BE A HOME?
Amsterdam will always be home. Despite that, I have been living in different urban cities for a period of time and I miss nothing of Amsterdam because all Amsterdam has to offer I carry around with me, in my heart, wherever I go.
6. ON A DAY OFF?
A home dinner party with friends. Enjoying too many conversations happening at once, the most simple yet authentic food and a lot of anecdotes.
7. WHILE TRAVELLING?
I like to travel light, but I never travel without my notebook. I love to draw and sketch ideas all the time but generally the only time I get is on a plane or waiting at the airport. I also like to travel with several pairs of sneakers. They are my passion. I like to walk around in whatever city I am in, it is a great way to understand a new place and can give access to some of the most beautiful places in the world. Also, they are indispensable if I get in trouble and the only solution is running. Running as fast as I can!!
8. IN A FRIEND?
To have a mind that bubbles as fresh champagne!
9. TO FINDING BALANCE?
Balance is overrated. To be honest, in my own individual work, I'm pretty well balanced, but in the studio, I'm awful. I'm leading the chaos department!
10. TO BE HAPPY?
Without question, my daughter. Joy continues to be the greatest opportunity I have ever been given. She is such an exceptional soul, I love her beyond my life! She surprises me and makes me happy every day and is surpassing all my expectations.
FINALLY, WHAT THREE THINGS WOULD YOU TAKE TO A DESERT ISLAND?
If I had to choose just three, I'd have to say my future girlfriend, my daughter and my bird drone with an everlasting battery!