October 12, 2015 Pip Usher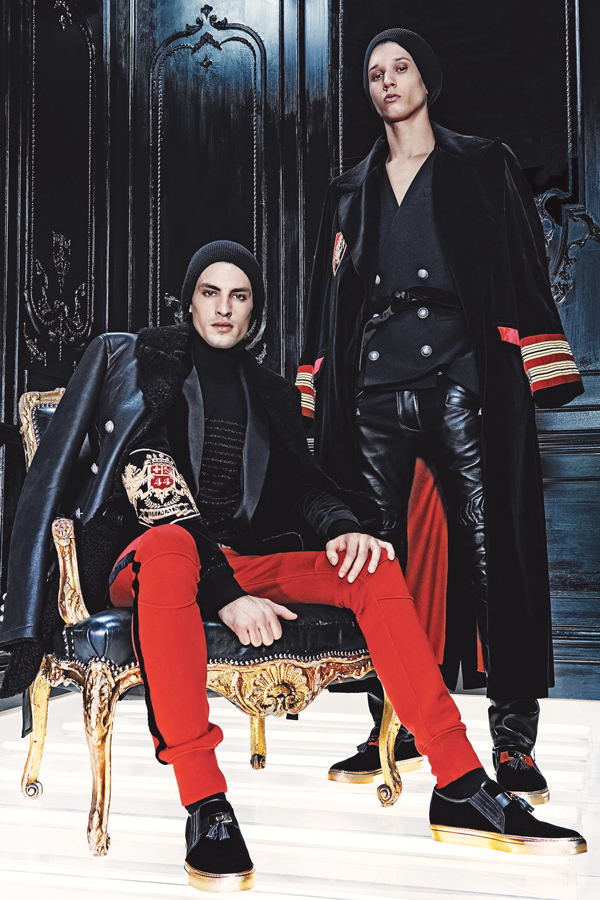 Balmain's latest men's collection is both chic and decidedly sexy, a kind of hip-hop street culture meets high-society sophistication. And, it pulls it all off. With its thoughtful masculine look, it mixes up different styles without losing any of the brand's signature refinement or attitude.
It's a man's world at Balmain – that is, if you're the kind of cad whose garments include oversized suits in scarlet, velvet smoking jackets and black cashmere beanies pulled low. And if you are (for those who aren't yet, this is a sartorial statement to seriously consider), Balmain's autumn/winter 2015-16 collection is guaranteed to inspire envy of the highest order.
"I had done a lot of travelling between Paris and Dubai before I designed this collection, and I took alot of influence from my friends," Olivier Rousteing, the house's creative director, said. "It's this idea of combining the new dandy with the new jet set. It's about a new kind of aristocrat, their party lifestyle and dressing for the events they have."
So what's deemed appropriate for today's jet-setter? Let's start with the shoes and work our way up. Tasselled loafers with a heavy gold heel brought a slice of urban culture to a traditionally stuffy shoe and, if that still felt too old school, there were quilted leather slip-on sneakers. The blend of high society and street chic continued with baggy, drop-crotch trousers and sporty sweatpants in super-luxe fabrics. Yet these pieces, with their nods to hip-hop culture, still kept things decidedly upper crust. Teamed with belted, velvet smoking jackets, or a motorcycle jacket emblazoned with a crest, it's a collection that belonged on wayward heirs or self-made superstars with delusions of grandeur. It's little surprise then, to learn that Rousteing looked to the rap world for inspiration, "especially people like Kanye West and Jay Z, who combine that hip-hop element with opulence."
With such role models in mind, insouciance is key to carrying off this collection. So too, is a bold, hyper-masculine approach to fashion. Think James Bond attending brunch at P. Diddy's McMansion – serious swagger needs to underline the British sophisticate's elegant attire if he's going to keep credibility. Looking dapper just isn't enough these days, no matter what your pedigree. "It's about being confident, open to the world and not scared," Rousteing explained. "The Balmain man is super-powerful, like Kanye, a champion like Lewis Hamilton, or a creative like Jared Leto."
Olivier Rousteing is an apt clotheshorse for his creations. After beginning his design career at Roberto Cavalli, the caramel-skinned, chiselled-cheekboned French fashion designer has been a fitting poster boy for the Parisian institution, especially since his appointment as Balmain's creative director in 2011 (he was only 25). For starters, he's beautiful – which always helps when you're selling glamour to others. Better yet, Rousteing embodies the tough, eternally chic attitude of his city. Parisians aren't known for being warm and cuddly, and neither are the clothes that Rousteing creates. In his four years at the helm, he's "added a lot more pop to Balmain," according to Oscar Arrsjö, Sweden's prominent style expert and founder of Frontmen.com. "He has established a close link to celebrities like Kim Kardashian and, with the H&M collaboration launching on November 5th, he will manage to get Balmain on everyone's lips – and probably bodies, too."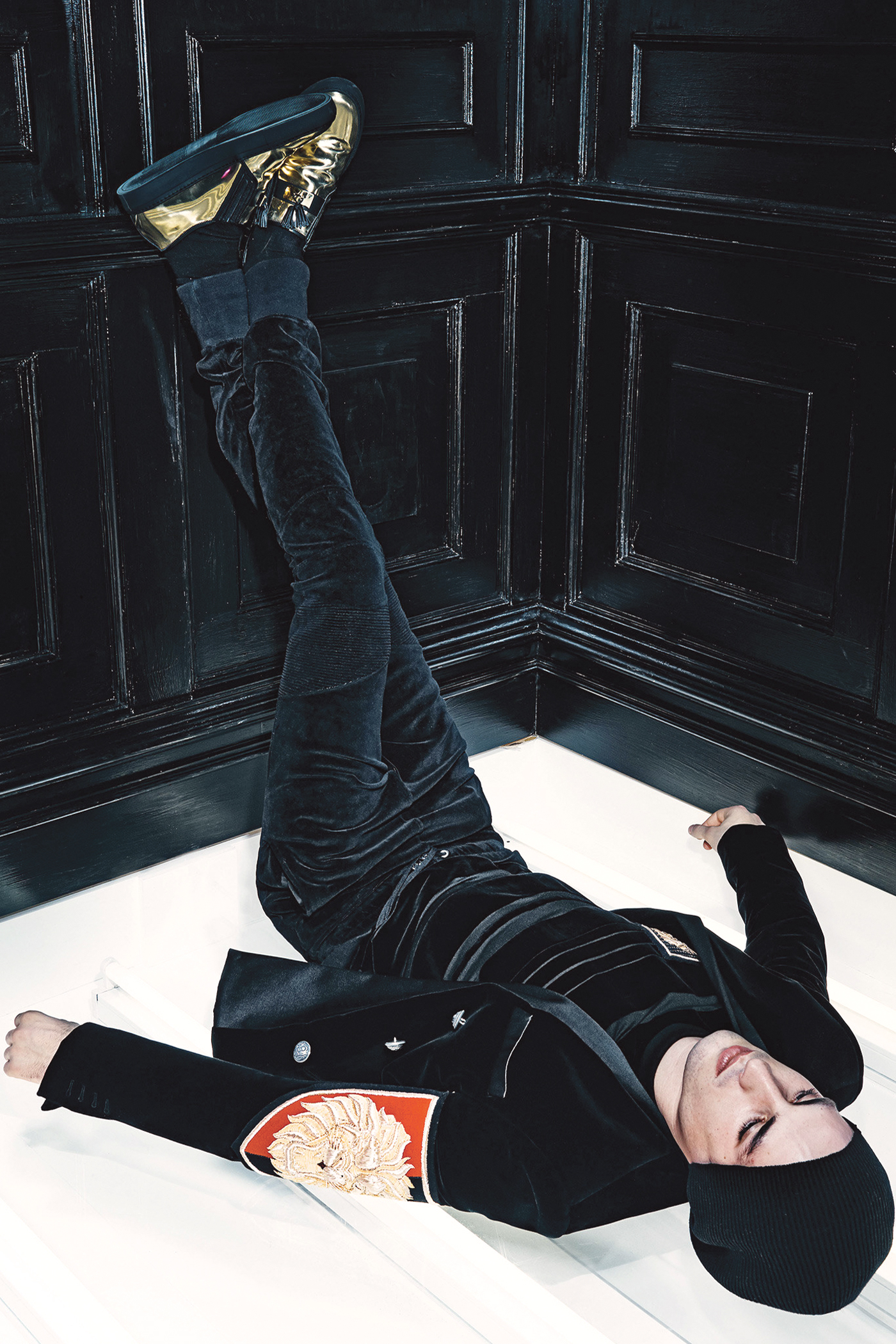 Rockstars may shop at Balmain nowadays, but this wasn't always the case. Founded in 1945 by Pierre Balmain, the haute couture house was responsible for what author Gertrude Stein called the "New French Style" – conservative designs executed with an extreme attention to detail. After Balmain's death in 1982, the house's role call of creative directors reflected its serious aspirations, including a decade-long stint from king of haute couture Oscar de la Renta.
But the fashion industry was changing. Gone were the days of discreet couture houses, with their loyal following of the world's most fabulously wealthy – and in their place were paparazzi-friendly designers with a celebrity entourage and cult seasonal pieces. Balmain's savvy appointment of Christopher Decarnin as creative director in 2005 reflected this seismic shift. "Quite trashy," is how Kate Phelan, British Vogue's former fashion director described his impact upon the fashion house, yet it was this breaking of the ranks that empowered Balmain to become a label that topped every wish list. Remember what a sensation Kate Moss created when she decided to go out in London in 2009 in an exaggerated boulder shoulder silver Balmain statement mini-dress? It was power dressing at its finest and screamed OTT glamour. This dramatic new direction and the accompanying slew of supermodels, A-list actresses and professional party girls who showcased the house's creations with such ease, turned into a global phenomenon. "Balmania" was born.
All of which brings us back to this autumn's collection. It's interesting to note that Balmain only ventured into menswear in 2009 but the label's newfound rebellious spirit lent itself easily to male clothing. There's the consistent focus on sleek, sophisticated lines and the generous helpings of leather and military-inspired pieces that have created a signature silhouette that's self-assured in its masculinity. And the latest collection, despite its dashes of aristocratic eccentricity, continues that lineage. "This collection appeals to the man who is happy to throw himself straight into the spotlight, who thrives in the centre of attention and who doesn't care about classic men's fashion," says Arrsjö. If you fit the bill – and can pay for it – the Balmania bandwagon awaits.