December 16, 2021 admin
Kevin O'Leary is one of North America's most successful business entrepreneurs, a business commentator, as well as a star on ABC's Shark Tank. Known for telling it like it is, with his matter-of-fact commentary on business issues, 'Mr. Wonderful' is truly one-of-a-kind in the world of business analysis. From modest beginnings, he built a company worth more than 4 billion dollars USD.
IT'S NOT A WELL-DOCUMENTED FACT BUT YOU HAVE STRONG TIES WITH THE ARAB WORLD, DON'T YOU?
I'm a half-Irish, half-Lebanese Canadian who's also now a citizen of the UAE. Growing up, my dad was with the International Labour Organisation so we used to move countries every couple of years: we lived in Cyprus, Ethiopia, Tunisia, Japan, Germany, Cambodia, France and the US. Back then I thought that's how every kid grows up but it was only later that I realised it was unusual.
WHEN DID YOU BECOME AN EMIRATI?
This week actually. As I'm involved in crypto exchanges, I've begun working with His Highness to get licensed and create an exchange in Abu Dhabi with the aim to help it become a crypto hub. Being a citizen helps make the commute back and forth much easier because the biometrics here are so advanced, you simply walk right through the airport.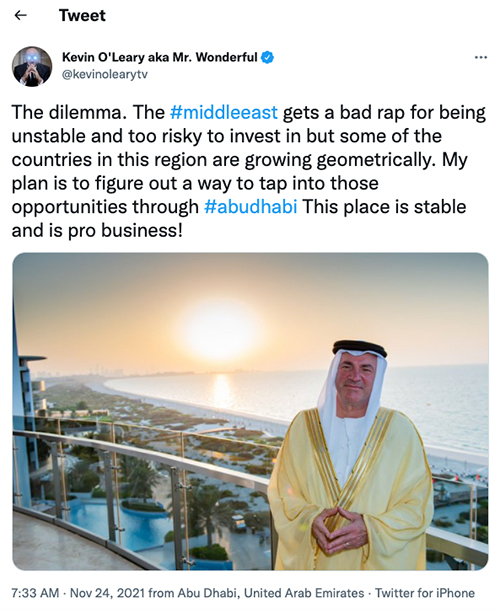 WHY ABU DHABI?
The UAE is the Switzerland of the Middle East and though the markets around here are more volatile, they're also growing much faster than Europe and North America. How can you tap that growth? You need an operating nexus and I believe Abu Dhabi is perfect for that.
ARE YOU A CRYPTO WHALE?
Through our holding company, I am a huge investor in blockchain technology. I have proprietary positions in Polygon, for example, which sits on top of Ethereum. I own a piece of Ethereum, I also invested in FTX, which is a trading platform, Solana, and HBAR. The best way to think of these investments is they're software teams that are approaching the centralised and decentralised legers differently. I believe there's a lot of value inherent in these chains and, as you can't possibly know who's going to win, you have to place many bets, hence our large portfolio.
HOW DID YOU FIRST GET INTO CRYPTOS?
We sold a commercial building. You can't redeploy that amount of money overnight, but you need to put it to work. I remember telling the cash desk, "You're offering me 21 basis points when inflation is 4.5 per cent? That's a joke! What else can you do?" He told me we can stake USDC, and I said what's that? Now we run a very large stablecoin staking and lending book that's yielding 7 per cent. You can be more aggressive and reach as much as 25 per cent but we're happy with USDC, as we like what Jeremy [Allaire, the CEO of Circle] is doing and the large institutions he has onboard.
HOW MUCH OF YOUR INVESTMENT PORTFOLIO DO CRYPTOS REPRESENT NOW?
In terms of deal flow they're 40 per cent of what we look at right now. Our crypto positions mark to market started at 3 per cent of the portfolio, our target was 7 per cent and we are now at over 10 per cent because the appreciation on some of the chains we own has been extraordinary.
WHAT'S YOUR PHILOSOPHY ON EXITING AN INVESTMENT?
I don't let a single asset become more than 5 per cent of the portfolio, or a single sector become more than 20 per cent.
HOW DID YOU END UP AMASSING SUCH A UNIQUE WATCH COLLECTION?
A long time ago, I realised I owned more watches than I could wear so there was no point in buying any more production watches. That's why I decided to start dealing with brands and requesting one-of-a-kind watches I could wear on Shark Tank.
DO YOU BELIEVE THERE ARE BLOCKCHAIN BENEFITS FOR THE WATCH INDUSTRY?
There are so many use cases for assets to be tied to blockchain, particularly watches so you can authenticate them. I'm looking to develop real world applications of NFTs beyond apes and jpegs but, before I can do that, the horological societies of Geneva and New York need to agree on a standard protocol. If you could get the top five watchmakers to agree, you'd see everybody else follow suit.
BUT WHAT'S THE USE OF A WATCH NFT?
As I mentioned before I have so many unique-dial watches and there's so much intrigue around them. For example, I have a one-off Ming and I've been bombarded with requests to make it into an NFT. I won't do it of course without an endorsement from the manufacturer, and there should be a royalty to Ming too, as that NFT will trade forever, so there should be a royalty to his estate.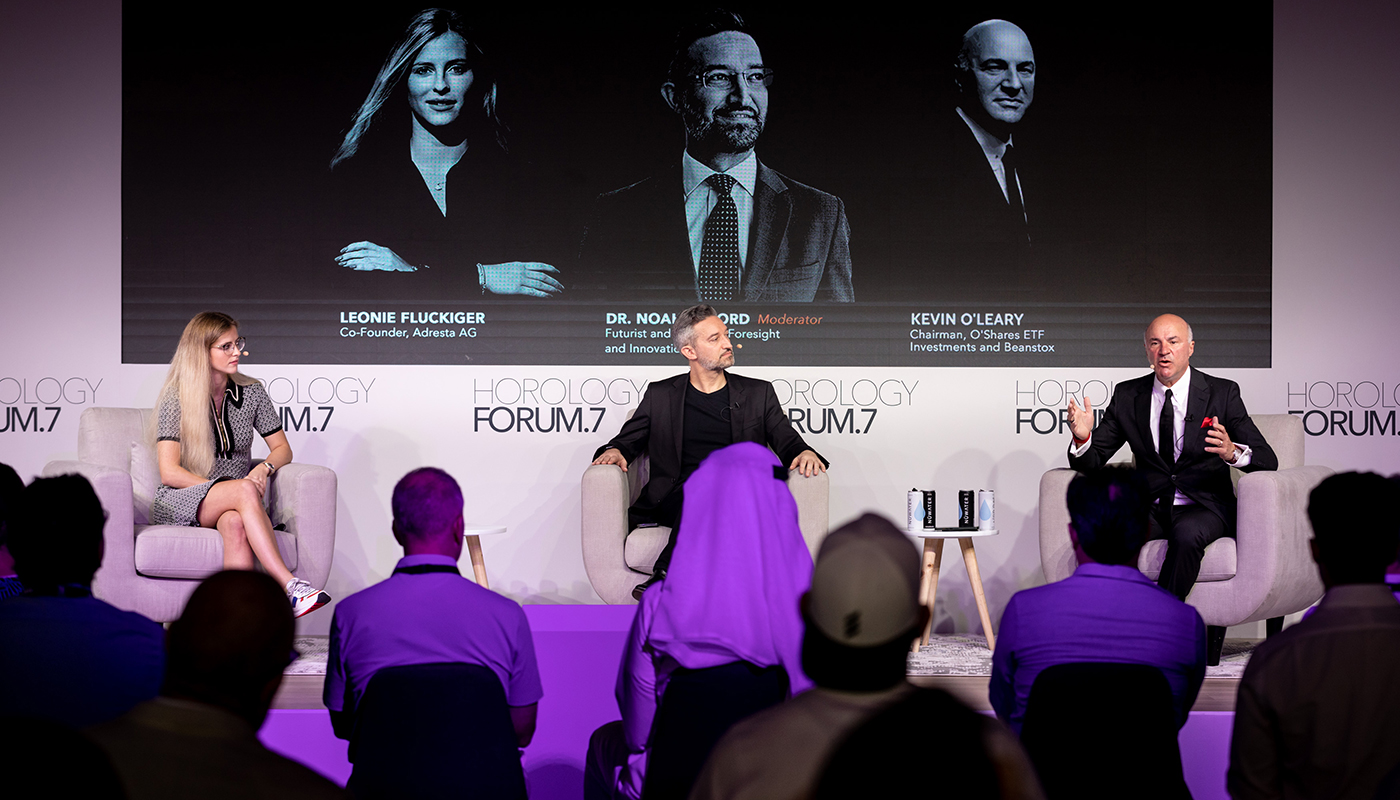 WHAT MIGHT SUCH A PROTOCOL INCLUDE?
Exactly. What's in it? Are you going to show the front and the back of the watch? How about the serial number, purchase receipt, warranty and the manual? Will there be an audio file of the movement, which could help servicing? What about including the name of the person who made it?
IF ALL THIS WAS ON THE CHAIN COULD IT HELP ERADICATE FAKES?
Sure, it would. It would also help solve other issues like insurance. I pay a huge amount of money every year insuring my collection but the vast majority of watches remain in sophisticated vaults around the world, as I only ever travel with six watches. If I had NFT'd all my watches, then this would serve as a cataloguing system on the chain and I would simply notify the insurer that these six will be in this city on those dates and they're the only ones I want to insure. This would help bring down my premium by around 80 per cent. What's more, there would be no incentive to try and steal my watches as they'd be worthless without the NFTs. Hopefully within three years we can get this worked out.
FINALLY, SPEAKING OF STANDARDISING, IS THERE ANY CHANCE THAT REGULATORS COULD GET BEHIND ONE STABLECOIN?
You know we spend more money on compliance than any other cost in our structure. But blockchain has huge potential to change that. If regulators standardise on a single digital currency, like a USDC, then I could buy a security in NY or Zürich without having to go back to fiat currencies and that would allow me to save millions of dollars every year. Those basis points add up.