December 4, 2017 Nadia Michel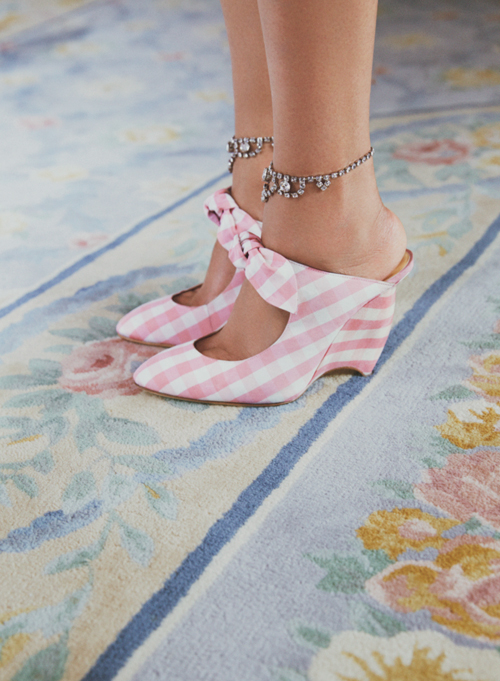 Najeeba Hayat is the Kuwaiti creative behind Liudmila, a Milan-based brand of shoes that's gaining worldwide traction for beautifully handmade products that are as quirky as they are magical.
YOU'VE BEEN MAKING SHOES SINCE 2013, AND IN THAT PERIOD YOU'VE SAID YOUR CREATIVITY COMES FROM A NAÏVE PLACE, WHEN YOU'RE DISCONNECTED FROM ELECTRONICS AND CONNECTED WITH NATURE AND YOURSELF, BUT THE SHOES ALSO HAVE A DEFINITIVE EDGE, A CERTAIN DARK SEXINESS TO THEM. IS THIS HOW YOU VIEW THE WORLD?
It depends which shoe, really but yes, I would describe my Victorian boots as dark and sexy. That inspiration comes from diverse sources but mostly from my obsessive reading of Victorian and early 20th century detective novels and mysteries. I love shoes that bring an atmosphere with them, through a tightness on the calves, theatrical lacing and sinister materials. I see the world like Dickens does; each character plays a role in the vast sea of humanity and I delight in their differences. For example, in my PS17 collection, there's the Mademoiselle Hortensem, which is an eel-skin boot with tight lacing along the front and small round buckle at the vamp. It was named after the murderous nanny from Bleak House. The small, tight lacing and discreet details were all meant to recreate the buttoned up secrecy and the dark mood that the French nanny carried with her throughout the novel. When I disengage with electronics, my ideas come to me more clearly, uninterrupted by the constant feed of information from social media. I need silence for my ideas to come at me with force.
YOUR BRAND IS SUDDENLY GROWING VERY QUICKLY (YOUR COLLABORATION WITH RIHANNA'S STYLIST, AVIGAIL COLLINS, YOUR SHOES BEING WORN BY CHINESE ACTRESS YANG MI, VOGUE ARABIA AND SO ON). WHAT WAS THE CATALYST?
There was a lot of random luck involved and I wouldn't say there was any one catalyst. I have been getting positive press from the start and the brand has been heading slowly upward since the first season. Brown's in London was my first big break on my second season and then I started partnering with a series of larger retailers. In terms of China, we became well known there because a Chinese personal shopper posted about us on Instagram, and the shoes sold out immediately online. This brought the brand a lot of attention in the Chinese market, which led to celebrity exposure and a lot more traction.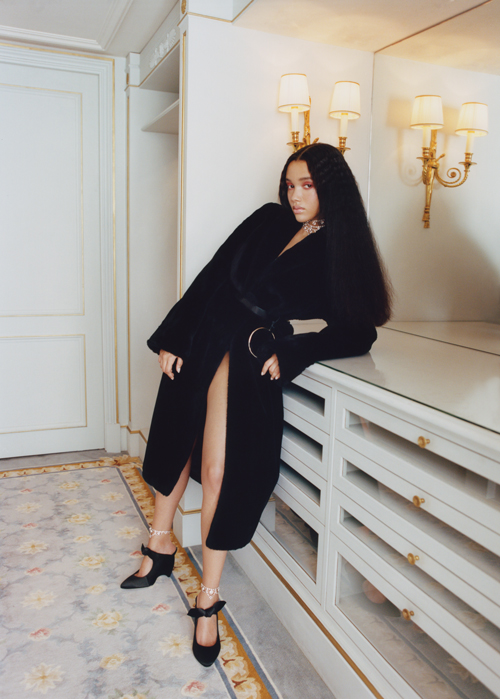 AS YOU GROW AND TRY TO APPEAL TO A BROADER MARKET, HOW DO YOU MAINTAIN YOUR VISION, WHICH IS RATHER FAR REMOVED FROM THE FASHION TRENDS THAT "ALL THE FASHION GIRLS ARE WEARING"? AND WHAT KIND OF BUYER DOES IT APPEAL TO?I will never do street style trends. We have established our core design identity with our silhouettes, our specific construction style and our playful materials. That's why our clients love us and why so many of my clients wear Liudmila for their weddings. Our core range of styles sells well and I think that all it needs is broader exposure. Whenever I design a new collection, I ask myself three questions: is this relevant to my life, is it easy to wear and can I dance in it? The buyers that are attracted to our brand come from across the board but the two main categories are girly/fantasy boutiques and more classically avant-garde boutiques who carry dark Japanese-style clothes like Yohji, Comme des Garçons, Rick Owens, etc. They are attracted to the tight ankle boots and darker styles because proportions-wise they go very well with their clothing.
DESCRIBE THE WOMAN WEARING YOUR SHOES. WHO IS SHE?
She loves to wear her drama, not engage in it. She is an escapist, a dreamer, a girl or lady with a sense of humour. She loves to live the fantasy every day and not just on special occasions.
WHAT HAS BEEN THE FEEDBACK FROM MEN? DO THEY GENERALLY LIKE FOOTWEAR WITH SUCH A STRONG PERSONALITY?
I don't really think about men when I design. My design style is all about what attracts children, and myself.
IS THE RESPONSE DIFFERENT IN THE MIDDLE EAST THAN IN THE US?
Yes. Although we don't have any stores in the U.S. just yet, we have seen a stronger response from U.S. customers online. And though we do have a lot of Middle Eastern clients who love the idea of "fantasy shoes for every day", in general we find they prefer to spend their money on more recognisable mass brands.
WHAT'S NEXT FOR LIUDMILA?
I am very excited for Pre-Fall and Autumn-Winter 18/19, which might be my best collection yet.