December 3, 2015 Nicolas Shammas
The Velaa Private Island may have been named after the sea turtles that have lived here for generations but there's nothing slow about this place.
Picture a holiday in the Maldives and you'll immediately envision azure skies, aquamarine seas, villas built over the water and delightful hedonistic luxury. But it wasn't always this way. Back in the 1960s, experts from the United Nations Development Programme actually deemed the country incompatible with tourism. I know, I can't believe it either.
While we can all laugh at such short-sightedness now, we must consider that, at the time, these experts would have looked at the Maldives, an archipelago of 1,190 islands, spread over an area roughly twice that of Switzerland and accessible only by excruciatingly slow dhoni boats, and figured that with no international airport, no central bank, no electricity and no freshwater plants, the country didn't have a hope in hell of ever becoming a tourist hotspot.
For a while, they weren't wrong. Up until the 1980s, few travellers ever could brave these shortcomings. Those who did were mainly dream chasers, in search of a deserted island with no bells and no whistles. But from the 1990s onwards, the Maldives developed enormously both in terms of tourism, which was fast becoming a burgeoning industry for the country, as well as the general population's quality of life. By the end of the century, 90 per cent of Maldivians had access to electricity and basic hospitals, and education was at the point that the literacy rate had surpassed that of Argentina, Sweden and the US.
It was only logical then that more and more international hotel firms saw the country as an attractive place to invest and, as the competition racked up, so too did the calibre of their offerings. Where initially, providing air-conditioning instead of fans set you apart, soon the Polynesian spectacle of building over the water was a sine qua non. Nowadays, each and every resort has a signature spa and personal butlers are a regular common convenience.
Given this context, when I first read about Velaa Private Island, I assumed it would be just another incarnation of Maldivian sybaritic one-upmanship. After all, this new resort boasts a Clarins spa, the only short-game golf academy in the Maldives, the country's only covered tennis court and its largest wine cellar. You would think that these claims-to-fame would be enough to fill the average journalist's inbox but what piqued my curiosity was the fact that such ambition was stemming from a previously unknown entity. I just had to find out more. And, having recently returned from the place, I can assure you that it's so much more than a few swanky headlines.
For starters, Velaa is unlike anything else out there. How so? From the outset it was conceived as a piece of paradise for just one man, 43-year-old Czech multi-millionaire, Jiri Smejc. A long time vacationer in the Maldives, he had become attached to the place and one day, while holidaying at the Huvafen Fushi, he decided he'd like to buy his own island. So he asked his butler to find him one.
"We'd get these sorts of requests all the time and I guess we just learnt never to take them seriously," explains the butler, Mohamed Nihaj. "But when Mr. Smejc returned for his next holiday, the first thing he did was ask me if I had found him his island. It's only then that it dawned on me that this guy might actually be serious."
According to Nihaj, every now and then, the Maldivian government auctions off some of its many islands, principally through 50-year leases. Till now only 150 have been contracted for, leaving well over a thousand in hand. And while the price, which averages about 1 million USD, can seem mighty tempting, you must realise that for this, you only get a patch of land. The utilities and major investments in infrastructure are your sole responsibility.
Nonetheless, after much hunting, Nihaj did manage to find Smejc the perfect spot. Located near LVMH's Cheval Blanc Randheli (which opened around the same time as Velaa) in the Noonu Atoll, the island is a 45-minute seaplane flight north of the capital. And though this probably sounds like a nuisance, especially if you consider that most of the Maldives' oldest resorts are close enough to Malé that they can be reached by speedboat, it's really not. Velaa makes the trip as painless as possible, even going so far as to build its own exclusive lounge at the seaplane terminal (which happens to look and feel just like the resort itself, thanks to the fact it uses all the same furnishing).
Personally, I thought the flight was a breeze. The rather loud, propeller-driven Twin Otters may not be too luxurious but they are supremely safe. And three-quarters of an hour is enough time to relish those elevated views, both of the picturesque archipelago as a whole and the Velaa Island itself. For if you didn't arrive by air, you would never realise that Velaa (which means turtle in the local language) has actually been designed to resemble the reptile too, with its collection of over-water villas arranged in the shape of its head, and the round half-kilometre wide mainland forming the body.
Stepping off the plane and taking in the beauty of the surroundings I'm stunned by how lush the vegetation is and how elegantly it has all been landscaped. It defies logic to think that the previous residents had stripped the island of almost all its natural vegetation in their farming of papaya. But, in an immense feat of environmental rehabilitation, thousands of indigenous palm trees, plants and bushes were imported from neighbouring islands. And this was just the start of the Velaa project.
"The original plan was to build just the one villa but when we began to see the extent of the investment and staff required, it became clear that we'd need to convince Mr. Smejc to build a small number of guest villas," says Nihaj, who is now the island's resident manager.
In the end, it took over 200 million USD and 366 full-time staff to get it right and this spectacular island now has 43 private villas and houses, as well as two four-bedroom residences (one which one belongs to Smejc).
Normally when you visit a Maldivian resort you'd have to choose between a smaller island, with an unharmed environment, let's call it simple escapism, or a larger built-up resort with activities, restaurants and pampered luxury but at Velaa you get the best of both worlds. "It's a resort where guests can experience the true essence of Maldives and a place where their every need can be catered to," explains the island's Czech architect, Petr Kolar.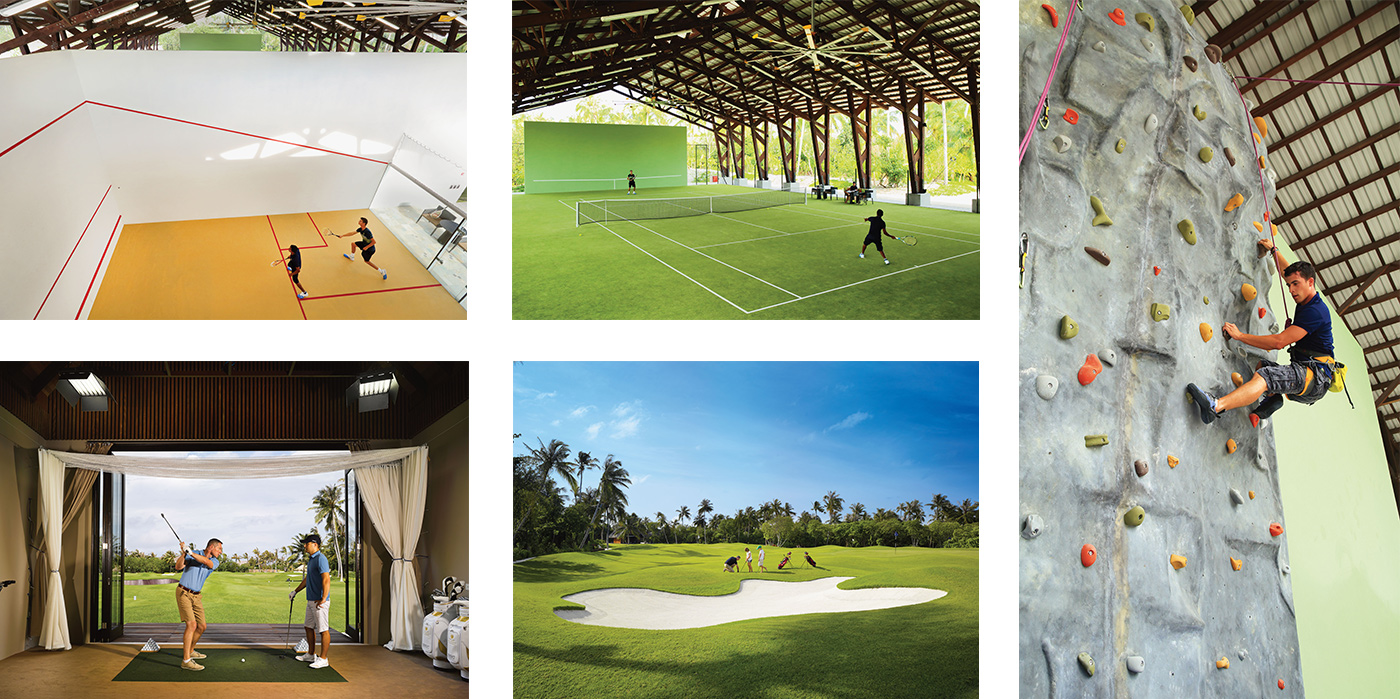 Given the enormous investment, you're probably expecting the tale to turn to the unchecked bravado of a young multi-millionaire and his gold-plated bathrooms but luckily, there's nothing of the sort here. Kolar uses the phrase "polite luxury" to describe the general aesthetic, and I must say I agree. It's all extremely tasteful and beautifully executed too. Imagine untreated Bornean mahogany, intricate lofty ceilings, teak furniture, bamboo light fixtures and rattan swinging chairs and you'll get the idea. "Internally, we kept things natural and tried to fuse traditional Maldivian with modern luxury," adds Nihaj. "Our aim was to free our guests and allow them to fully relish the outdoors."
The resort has 44 guest accommodations ranging from 225 to 1,325 square metres, 18 are over-water villas and the rest are situated along the talc-soft sand beaches. All of them come with their own large swimming pools. Ours was the standard beach villa, which has three main parts. There's the living pavilion, where you have the connected bedroom and sitting room as well as an expansive bathroom. In front, is a self-contained beach area, accessed through wall-to-wall windows, which encompasses a terrace, open-air dining area and the aforementioned private pool. Behind the pavilion is where you'll find a totally sequestered outdoor bathroom connected by a garden atrium where a gazebo-covered daybed overlooks the oversized tub.
While you can easily idle away time in your own quarters – and your dedicated butler will happily serve you your meals here too – there's much to do beyond these confines. The most obvious suggestion is of course to immerse yourself in the exotic deep-sea splendour that has made the Maldives a diver's heaven. The hotel makes this a cinch, providing you with your own snorkelling equipment that you can keep throughout your stay. We loved being able to venture out whenever the mood took us and our best sightings were always around the coral reef where we managed to spot dolphins, eels, mantas and more fish than I have the knowledge to name.
If you'd rather up the tempo, then you'll be happy to know there are four different types of boats at your disposal at Velaa. You can waterski, tube, kayak or kitesurf, there are a couple of seabobs and you can even go diving with the minisubmarine.
There's a lot to keep you active on land as well. Velaa has a couple of yoga studios, one on the sunrise beach, the other in a tree house and there's an excellent gym stocked with Technogym equipment adjacent to the best kids' club in the country. In terms of sports, there's beach volleyball, squash, tennis and even rock climbing. But it's golf that is most unusual in this part of the world. Sure it's not an 18-hole course but the short-game golf academy was designed by two-time Masters Champion José María Olazábal and it features nine different holes. What's more, if you're looking to improve your swing, then you can hit hundreds of balls from the swing studio where a very clever radar system provides the same data that pros depend on to hone their skills.
When I ask Kolar what makes him most proud, he seems at pains to pick just one aspect. "Leisure-wise, I would say the snowroom at the spa. It snows all day in there and it really provides a unique and refreshing way for guests to have fun and relax," says the architect. "Design-wise, I am especially proud of the 23-metre high stronghold, named Tavaru. Its inspiration was a butterfly cocoon and it's a very modern tower that contains a 9-metre high wine cellar, the Teppanyaki restaurant on the penultimate floor, and a relaxing lookout area on the top floor."
Speaking of restaurants, guests at Velaa are definitely spoilt for choice. Apart from Tavaru, there's the all-day dining spot, Athiri, located next to Avi, the casual cocktail bar. It has four areas where you can be waited upon, the first is paved and next to a streaming water feature, the second is by the wood-fire pizza oven, the third is indoors and the last is a covered by thatch roof but underfoot are combed sandy floors. Moreover, there are so many options on the menu it is a wonder how they manage so splendidly, but they do, and the pastry chef deserves his own commendation.
The island's most refined dining option is the signature waterside restaurant, Aragu. Here, the kitchen is overseen by executive chef Adeline Grattard, a veteran of two Michelin-starred restaurants – Hong Kong's Bo Innovation and L'Astrance in Paris – who earned a star of her own at the tender age of 32 for Yam'Tcha, also in Paris. Together with her sous-chef, Gaushan De Silva, she has been directed by Smejc to make Aragu the first Michelin-starred restaurant in the Maldives. It's a tall order but if my creative yet pared-down dinner, which started with a pan-fried quail breast dressed in a roasted walnut balsamic reduction and served with a green apple and black truffle purée, followed by a pepper seaweed crusted fillet of toothfish dabbled with a pickled cucumber and yuzu crustacean jus was anything to go by, then I'm sure she'll succeed. It was literally out of this world.
In the end, I can't imagine what those 1960s UNDP experts would think of the Maldives of today but I would love to invite them to Velaa. Not just because it's a beautiful, luxurious and expensive, but because it's a homegrown product that has managed to elevate local tourism to a world-class level. As Kolar puts it, "Here the essence of Maldivian culture, lifestyle and landscape meets limitless opportunities, where no request is too much, and each guest will ultimately feel that this is their own private island." Amen to that.
what's nearby