April 8, 2017 Nadia Michel
London's beautiful new Four Seasons Hotel at Ten Trinity Square repurposes a historic building, offering a fresh alternative for your next stay in the English capital. Let's face it: London isn't what it used to be. This former symbol of European prowess, royalty and provenance has slowly evolved and shape shifted into a place closer in soul to New York City than Old Europe, with giant billboards and hoards of tourists traipsing down wide commercial streets – although its locals do have better manners and speak English properly. Its transformation can be attributed to the protagonists behind modern capitalism, Western influence and simply, a general shift of global power.
The crux of the matter is that today, most tourists from the Middle East (and a few fashion-obsessed journalists) go to London for the abundant shopping, world-class restaurants, diverse offering of West End plays, unrestricted nightlife and the occasional indulgence in the sanctioned decadence of afternoon tea. There might even be, if time allows, the briefest of stops at Buckingham Palace, to see the charming ritual that is the changing of the guards.

Interestingly, the growing apathy for historical knowledge has become so pervasive, the concept has actually now gained an aura of novelty as a result. So what if a visit to London was all about uncovering its magnificent past and delving into a history that helped shape the world as we know it? That is why we study history at school, after all: to understand how we got here, learn from past mistakes and appreciate how far we've come. This groundbreaking idea surfaced during a recent stay at the newly opened
Four Seasons at Ten Trinity Square, a stylish new property that just might have what it takes to steer a few of us hedonist tourists off course.
How? The secret is in its location. This new Four Season's – the Canadian group's second in London – is smack dab in the middle of the old city, housed in the imposing, neo-classical colonnaded old headquarters for the Port of London Authority in Tower Hill. It's an impressive structure, reminiscent of the Roman architecture of a bygone era but with some Beaux-Arts gravitas.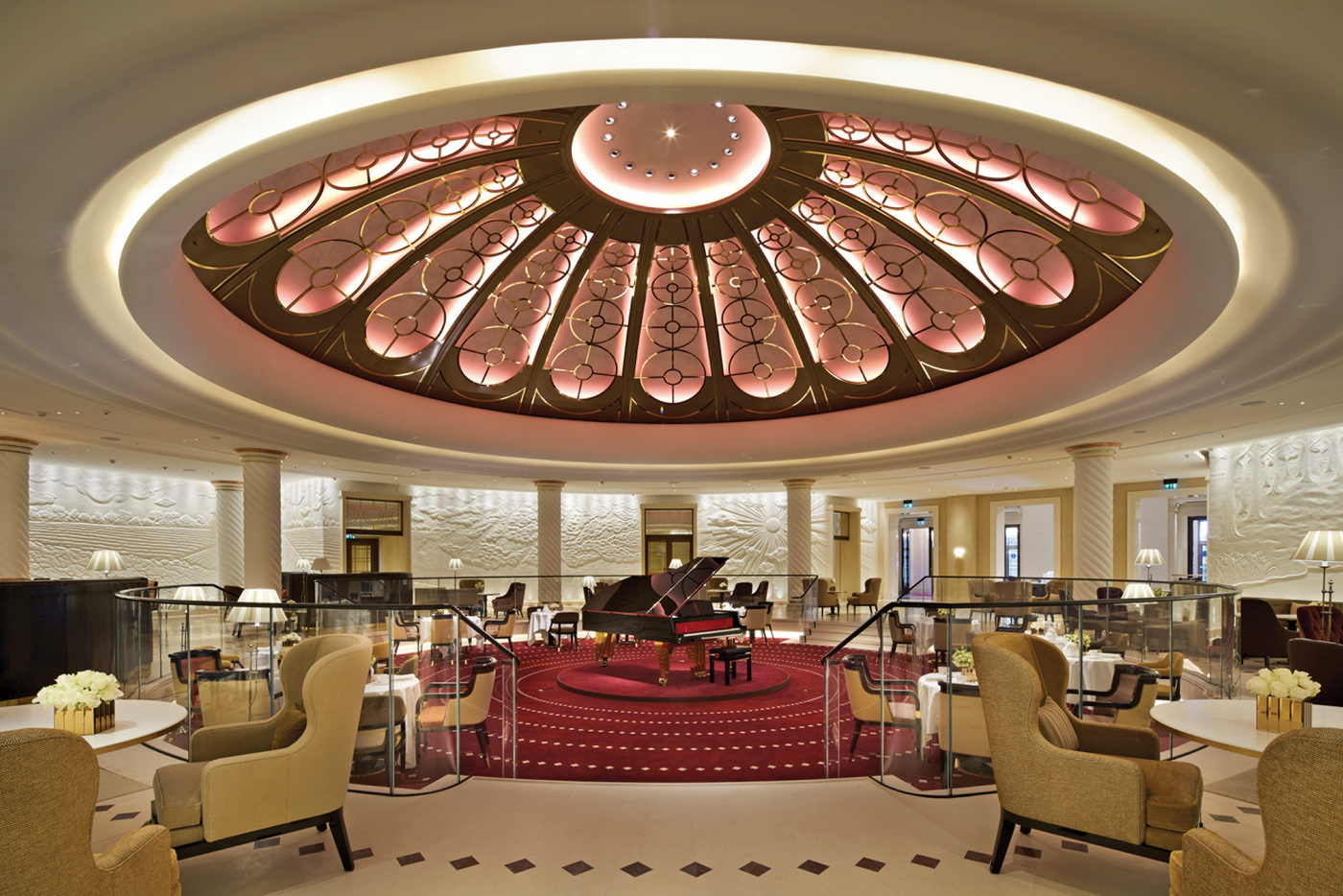 WHILST WE HAVE AN INCREDIBLY ICONIC BUILDING, FOUR SEASONS WILL ALWAYS DIFFERENTIATE ITSELF THROUGH THE WARMTH AND INTUITION OF THE SERVICE.
It's not hard to imagine the wheeling and dealing that went on between these Portland stone walls. Built in 1922 (for an apparently exorbitant sum), it used to see thousands of people a day walk through its Corinthian columns to pay dues on the wares they had brought up the river. In 1940, the Germans destroyed its central rotunda during the heavy air bombings of the Blitz. But just a few years later, in 1946, the monumental building played host to the United Nations' first ever meeting. Then most recently, Ten Trinity Square featured in the 2012 James Bond film, Skyfall. Now though, after a six-year multi-million pound renovation by its new Chinese billionaire owner, the place has been reinvented as a luxury hotel, apartment building and private members' club, operated by Four Seasons.
Crucially, its location remains, as ever, a stone's throw away from the Tower of London, Tower Bridge and HMS Belfast, all of which remind you of the days when Britannia ruled the waves and its monarchy's influence spread across the globe. But if truth be told, in this day and age, many of us red-blooded non-royals have come to expect a little royal treatment of our own. Which is where the importance of appropriate accommodations comes in. "Whilst we have an incredibly iconic building at Ten Trinity Square, Four Seasons will always differentiate itself through the warmth and intuition of the service," emphasises the property's General Manager, Charlie Parker.
Of course, you could stay at pretty much any Four Seasons hotel in the world and it'd be great but this particular one comes with a few extras. Apart from the 100 contemporary and generously sized guest rooms, of which eleven are signature suites offering luxurious extras such as fireplaces, dining areas and, in the case of the Presidential Suite, a private outdoor terrace and garden, there are also 41 Private Residences, the Ten Trinity Square Private Club and a prestigious, old-school private member's club – a joint venture from Reignwood, Four Seasons Hotels and Chateau Latour featuring the first ever Chateau Latour Discovery Room, two restaurants, private dining, a cigar lounge and bar. Still, like any Four Seasons it's the focussed service that really gets you hooked – from the flawless beverage service in the hotel's historic Rotunda during a mid-morning meeting to the brisk delivery of avocado on toast from the heavily Asian-influenced room service menu, to the outstanding meals being expertly dished out at Dame de Pic London – an outpost by Anne Sophie Pic, France's only female three-Michelin starred chef and London's current haute dining spot.

A meal at the Dame de Pic encompasses a series of surprises that will forever elevate and transform your culinary expectations. If the concept of a tasting menu and it's ubiquitous amuse-bouche typically leaves you a little uninspired, the unexpected flavours of the white chocolate ball and curry marshmallow on hand will immediately change your mind. Imagine the seductive feeling of an unsweetened white chocolate truffle bursting in your mouth releasing a perfectly balanced zesty, citrusy liquid.
Extraordinary? Definitely, and an adventurous foodie might easily be tempted to take a whole box home. That's also true for Pic's signature coffee-flavoured butter, a wonderfully odd complement to the crusty sourdough bread that is served alongside dishes like cauliflower foam topped with Mimolette cheese, and a melt-in-your-mouth sea bream served with sake ice cream. And the wines – which apart from the superlative Latours include a couple of standout whites from Mykonos and a teddy bear labelled Côtes du Rhône Petit Ours by Matthieu Barret – are as perfectly paired as they are unexpected.
Simpler bites in the common areas are quite special too. "We are doing some really interesting and creative things in the Rotunda where the menu has an East-meets-West focus. I'd highly recommend the Caesar Salad with mizuna leaves, anchovy, crispy onions and nori seaweed for lunch or the Scottish scallops with crispy cauliflowers for dinner," advises the Executive Chef, Benjamin Brial.
The pièce de résistance might just be the spa though and a few hours here will constitute time well spent. Roman inspired and impressive in size (covering almost 1,700 square metres), there are eight spacious treatment rooms, a 14-metre indoor swimming pool, a vitality pool, a well-equipped gym, a yoga studio, a steam room and a sauna.
"I used to work in Doha and in Egypt and thoroughly enjoyed living there," reveals the General Manager, Charlie Parker. "I've always found guests from the Middle East to be very engaging and curious. I hope that they would be impressed by the grandeur and scale of the property, along with everything we have to offer."
Impressed we are, and thankful for yet another Four Seasons that feels like a perfectly regal home away from home. And while a trip to London wouldn't be complete without stops at Dover Street Market, Selfridges and a few hours at some of the city's hottest eateries like Sexy Fish, Four Seasons at Ten Trinity Square might make you rethink at least some of your usual itinerary.
what's nearby