January 8, 2020 Nadia Michel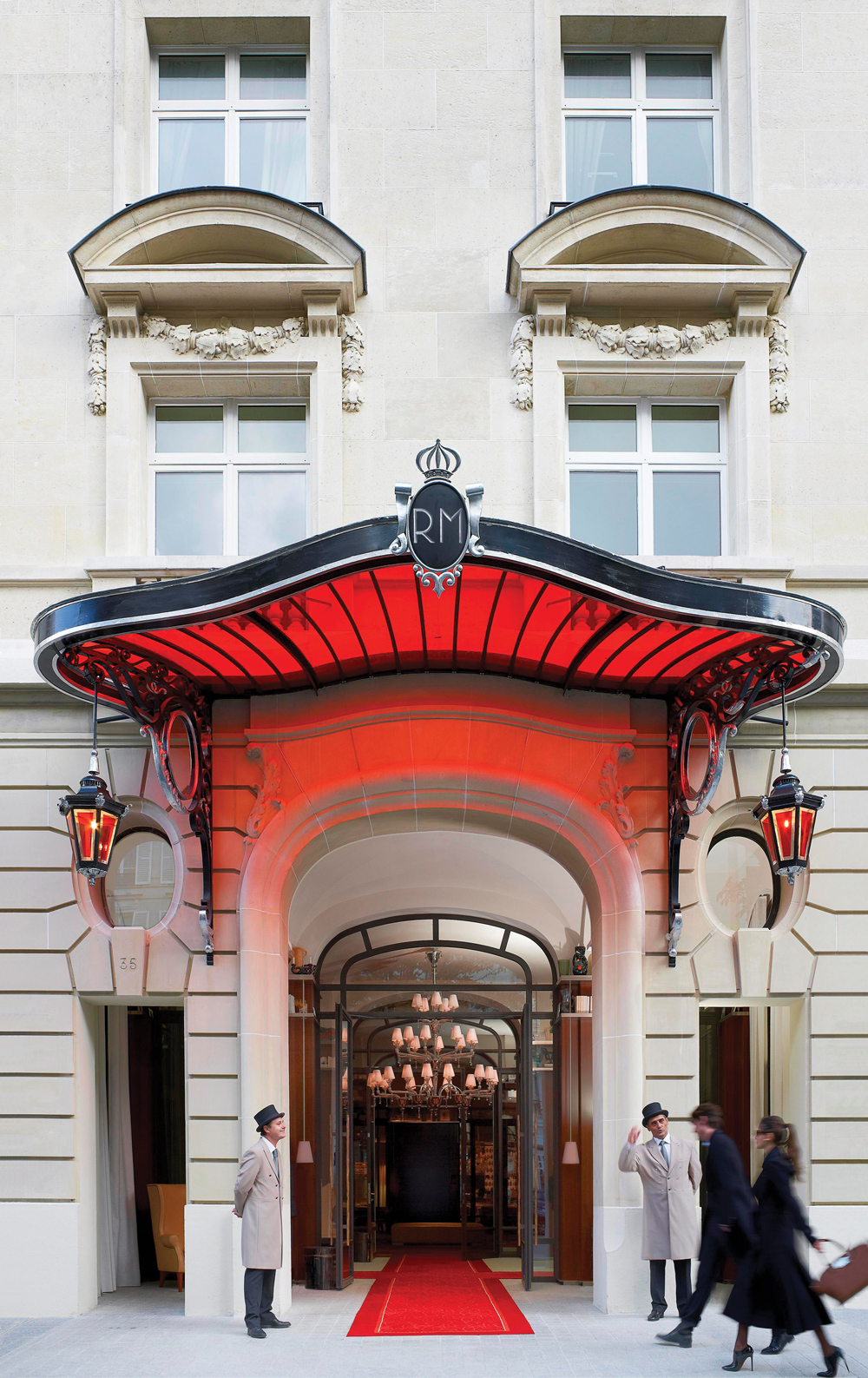 Le Royal Monceau Raffles Paris is a beacon of light in a chaotic world. Combining the refinement of French service with Philippe Stark's playful vision, it's the perfect place for a getaway.
It's a crazy world we live in: raging fires, missile attacks, contaminated waters, tsunamis and abject poverty are just a few of the heart-breaking and infuriating things happening around us. If it weren't for our survival instinct, many of us might just check out and call it a day.
Innately though, the human race is blessed with a sense of optimism, we take it all in while living our lives in the most positively impactful way we can. And being the pleasure-seeking creatures we are, we're also capable of relegating horrific images to the back of our minds while pursuing self-indulgent activities, like spending a weekend in Paris in a five star hotel.
Set just steps away from the Champs Elysées and the Arc de Triomphe, the Royal Monceau Raffles Paris is just the kind of place where you can escape the madness for a little while, and focus instead on the beauty that humans are capable of.
Built in 1928, the palace-grade hotel has a long history of hosting artists and intellectuals, like Ray Charles, Coco Chanel and Walt Disney. It has survived through the chaos of WW2 and passed through the hands of a series of characterful proprietors, including the Damascus-born businessman Osmane Aïdi from 1978 to 2007, during which time Syrian President Hafez El-Assad and his cronies used the Royal Monceau as their Parisian pied-a-terre. But, as that clientele dwindled due to troubles back home, Qatari group Katara Hospitality stepped in and purchased the property (for a relatively bargain-basement price of 250 million USD), before then making it the European flagship of the Raffles Group, and giving Philippe Starck free rein, two years and a lot of Euros to play with. He did a fantastic job though, if you ask us, for not only did he restore the magic of this famed property, he added plenty of whimsy too.
The rooms here are like football fields in comparison to the usual shoeboxes Parisian hotels offer, and that's especially true if you upgrade to a suite, as we did. There are several distinct suites too (the hotel has 64 in total, along with 85 rooms), ours was a 60-square-metre one that came equipped with a cool TV concealed behind a mirror, an acoustic guitar (this hit home), a walk in closet and a large, enchanting bathroom clad entirely in mirrors that is as quintessentially Stark as anything you could ever see. What's more surprising is Monsieur Starck's idea of creating an Art Concierge – a first for a Paris luxury hotel – who advises and provides guests access to everything art and culture, from exhibitions in the hotel's own contemporary art gallery to private viewings of art shows, museums and private collections, to previews, openings, performances and concerts, or even guitar lessons and cultural activities for children. Clearly, art is an intrinsic aspect of the revitalised Royal Monceau, and proof of that was demonstrated as recently as last November when Annie Leibovitz held a new book signing here.
But going back to the mirrored TV and bathroom, Starck apparently wanted to create a modern version of Versailles' Hall of Mirrors, and he has continued the theme across the property, with mirrors everywhere, including both sides of Paris' longest indoor swimming pool. That's actually where we chose to cool off on one of our afternoons, after a steamy few minutes in the spa's Hammam (aka steam room). A few more days here and we'd have definitely tried a little pampering at the Clarins spa but our two-night blitz was more of a city run kind of experience.
The hotel's location is another point scored. Away from the masses of tourists on Champs Elysées, you'll find it tucked away on Avenue Hoche in the 8th arrondissement, close to the Arc de Triomphe, which means you're central enough to walk almost anywhere. For example, the Musée d'Orsay is just a dash away, as is the beautiful 82,000-sqm Parc Monceau (with it's Egyptian pyramid, Chinese fort, Dutch windmill and Corinthian pillars built in 1779 by Freemason Philippe d'Orléans, a cousin of Louis XVI). The new Galeries Lafayettes on the Champs Elysées – a modern and airy, curated temple of fashion, perfume and food – is also just a 15-minute walk away.
If food is your thing then you'll be spoiled for choice. But we'd recommend resisting the macarons (irresistibly made by Pierre Hermé, the hotel's acclaimed pastry chef) and the late lunch in the plush bar, as an empty stomach is best if you are to make the most of dinner at Le Royal Monceau's
Matsuhisa restaurant. It is after all, Chef Nobu's only outpost in Paris, and the Peruvian-Japanese hotspot lives up to its billing. Our meal there began strongly with King Crab served with buratta cheese and sea urchin truffle tacos and hit a high with a spinach salad with dry miso. Clearly, the Italian chef, Emanuele Bombardier, takes food seriously (but in a fun enough way that you can spend the evening chatting with him at the sushi bar). In fact, Bombardier just won the Sushi World Cup in Japan this August, and such mastery is manifested in the creativity of the food he serves here.
All in all, it's hard not to succumb to the majestic architecture, whimsical interiors, flawless service and enviable location of the Royal Monceau. They make this Parisian gem a sure bet for lifting your spirits, at least for a few unforgettable days.
what's nearby