February 14, 2014 Nicolas Shammas
For over half a century, Courchevel and its 600 kilometres of glistening pistes has been one of the world's most spectacular ski resorts. Though the focus nowadays is on how it's attracting the world's most affluent winter vacationers, there's a lot more to this story.
Before Courchevel's manicured heated pavements became dotted with designer boutiques like Chanel, Lacroix and Hermès, before English and Russian replaced French as the most prevalent languages there and before the après became as important as the skiing itself, this picturesque area was a desolate, barren land. Unloved even by farmers, who found the grass too coarse for their cows, it took a Frenchman, Laurent Chappis, to foresee the area's real potential.
Nicknamed the Anarchitect for an unwillingness to compromise on his design ideals, Chappis, who passed away in December 2013 at the age of 98, was an architect, town planner and most importantly, an avid skier. He was also a visionary. His doctorate, which he completed in 1942 while interned in an Austrian prisoner-of-war camp, was all about turning this area of the Savoie into the largest ski zone in the world, through the creation of a new resort that would connect to the then emerging, privately-funded stations of Méribel and Val Thorens or in other words, the place we now refer to as Les Trois Vallées.
So impressive was his vision that in the post-war period, the local authorities not only decided to approve Chappis' project to create jobs and bring skiing to the masses, they also put him in charge.
Chappis was far ahead of his time and his idea would be a resort that was as close to nature as possible. Building heights were to be dictated by the tree line, every rock and tree was to be left untouched and developments would be built following the lay of the land, rather than bulldozed out. Best of all, as this was the first resort in France to be created from scratch rather than based around an existing village, accommodation could be constructed as ski-in and ski-out.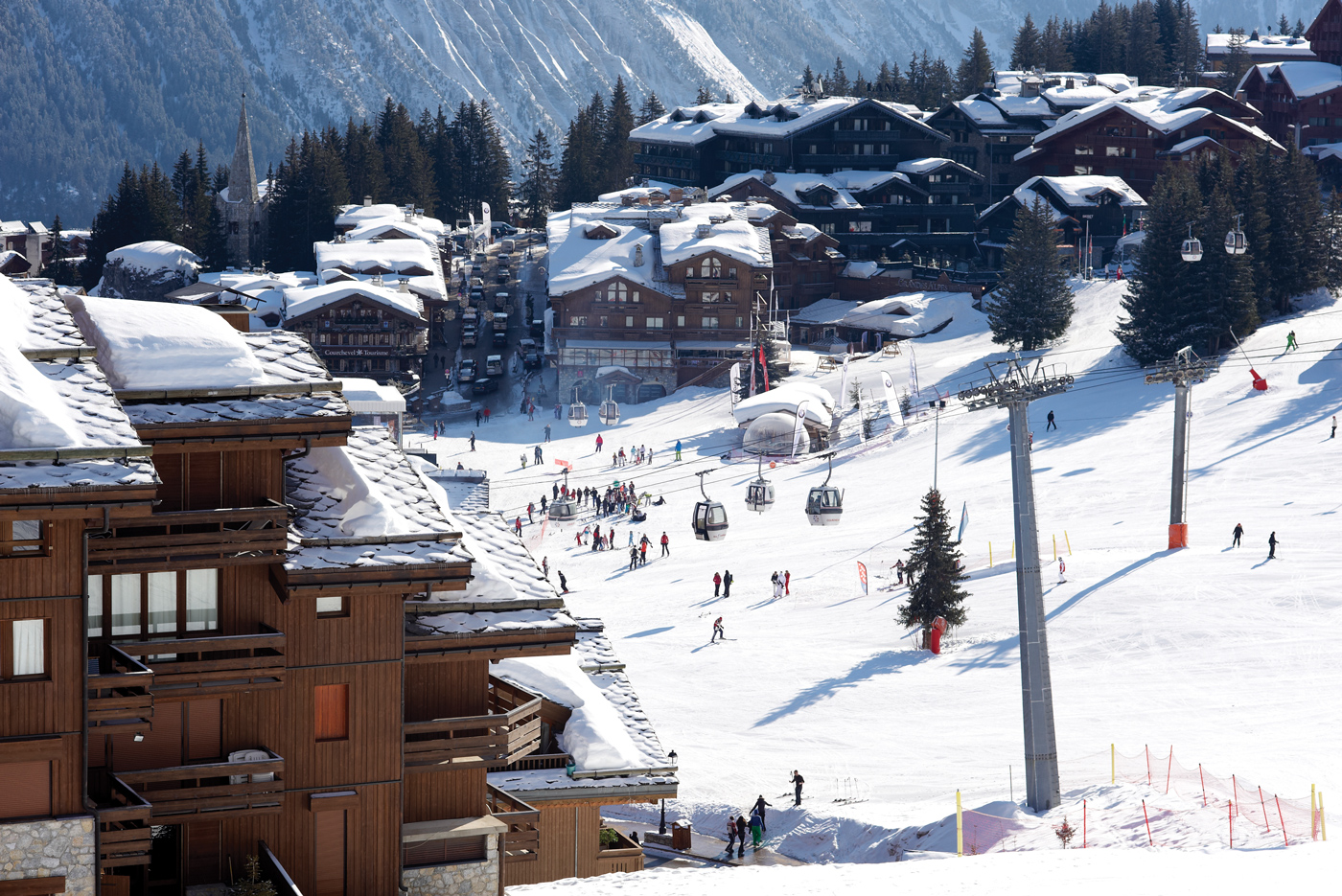 COURCHEVEL IS NOW SECOND ONLY TO PARIS IN TERMS OF THE NUMBER OF FIVE-STAR HOTELS IT HAS AND THIS IS DESPITE THE FACT THAT ITS SEASON IS ONLY FOUR MONTHS LONG.
While most of these principles have remained intact, Chappis' vision of a forward-thinking, Bauhaus-style resort in which modernism would reign supreme has slowly been eroded by a traditional Alpine aesthetic. When Mr. Courchevel was asked last year what he thought of this change of direction, he was as uncompromising as ever. "Why not go back to wooden skis? Back to clogs? To traditional dress?" he retorted, taking no prisoners. "In these 'traditional' chalets you've got all these modern accoutrements, computers and MP3 players but you still have to have a little carved wooden balcony. I don't get it. It's architectural prostitution."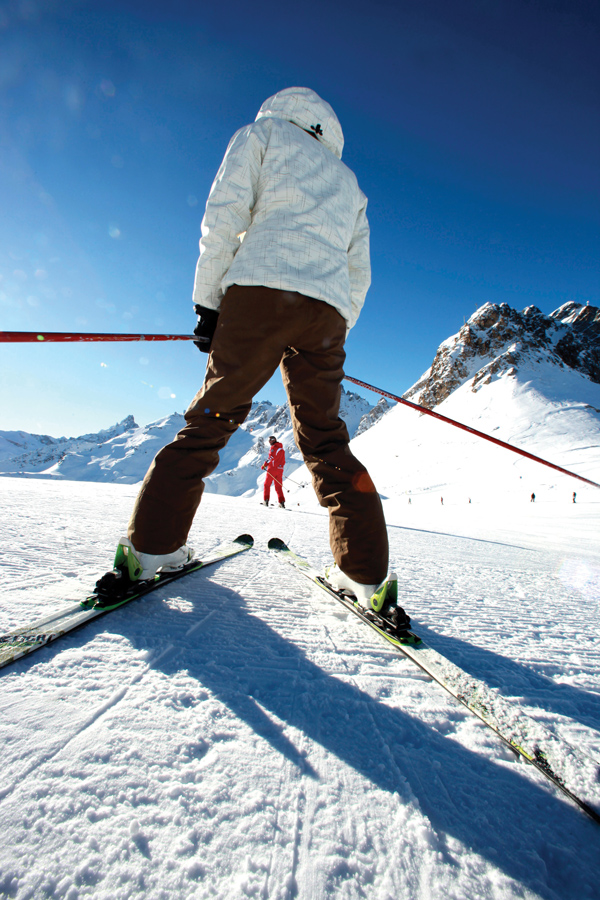 The reason though, is clear enough. Over the past 20 years, no resort has courted the new wealth of emerging markets quite like Courchevel. And as Russians, Arabs, Brazilians and Indians have learned to turn their chasse-neige into a schuss, so too the locals have learned to adapt to the tastes of their wealthy patrons. "We were in an economic war with other resorts and if you want clients, you have to ask what they want," explains Michael Ziegler, a former mayor. "Our answer was snowy pine forests, traditional wooden chalets with stone-tiled roofs, real fires and small windows to make it cosy inside. You can say it's stupid but it's what people want and for our guests, it is about escapism, living a dream."
So that's how Courchevel has stayed ahead of the curve. By being un-French and catering to the wishes of its visitors, it has been able to attract not just more tourists but better ones too.
As someone who has been visiting the place for over thirty years, I can tell you that the clientele has definitely changed. The rich have been replaced with the super-rich and hotel after hotel has opened to cater to this rarefied crowd. Given that there are now 18 five-star hotels here, you sense just how important this tiny village has become to the nation's hotel industry. Extraordinarily, Courchevel is now second only to Paris in terms of the number of five-star hotels it has and this is despite the fact that its season is only four months long.
Most of Courchevel's statistics are mind-blowing. As part of Les Trois Vallées, it has access to more than 600 kilometres of trails, connected by 170 ski lifts, manned by 470 professionals who actually plough the slopes twice a night using the world's only hybrid snowploughs. There are over 1,000 ski instructors here, capable of teaching any skier over the age of 18 months. There are 68 restaurants, five of which have two Michelin stars and two which have one and a whopping 36 of them can be reached on skis.
Its most famous nightclub, Les Caves de Courchevel, may sell an embarrassingly large proportion of the 15-litre Nebuchadnezzar sized bottles Moët & Chandon produces each year but Courchevel itself is at pains to stress it isn't just a playboy's playpen. "Whilst it is obviously true that the top of the range is well represented, we cannot run the biggest ski area in the world with just a minority of very rich people," Nathalie Faure-Bernoud, the Press Office Director, points out. "People may talk about the number of jewellery boutiques we have but there are over 150 shops in Courchevel, catering to wide and varied tastes and we don't only have five-star hotels. We have accommodation from 85 Euros a night and up."
Faure-Bernoud's right. Courchevel is much more than a one-trick pony. And you should never underestimate just how large and diverse its skiable area is. Adeline Roux, the Director of the Courchevel Tourist Office puts it perfectly. "Courchevel's 1001 treasures could almost eclipse its true vocation, skiing. The true luxury of Courchevel is that when you open the door of your residence, the slopes are at your feet. You put on your skis and off you go!"
COURCHEVEL'S BEST HOTELS
We toured all of 1850's finest establishments to help you get a lay of the land. It's hard work, we know.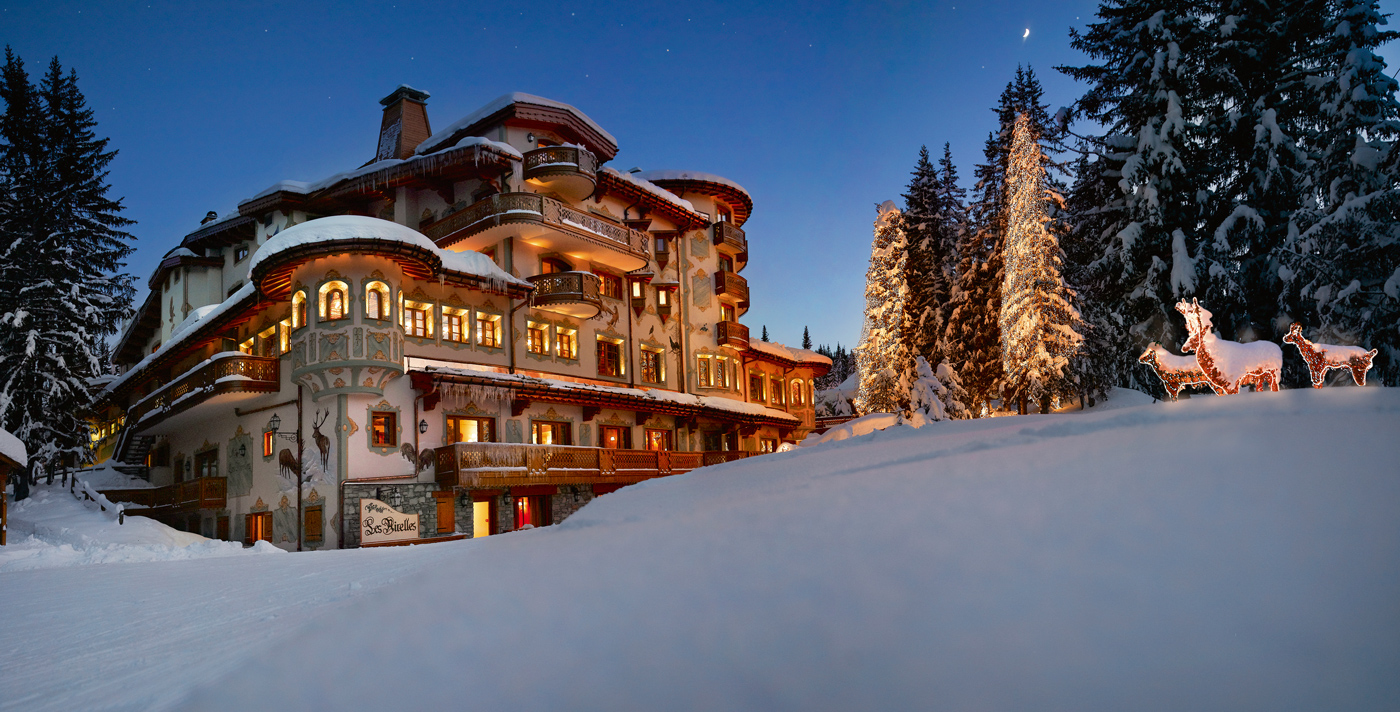 LES AIRELLES
A Banquet for the Senses:
Far and away the best hotel in Courchevel if you're looking to be spoiled. The staff is outstanding, the food's delectable and you'll be pressed to find anything amiss. Admittedly, the rooms aren't that big and the Austro-Hungarian aesthetic is heavy but pedigrees come at a cost.
LITTLE KNOW FACT: Ask the chef to make whatever you fancy and he'll happily oblige. For free too, if you're on half-board.
PRICES: 1,100 Euros for a standard room. 17,850 Euros for the four-bedroom apartment. Separate chalet is POA.
---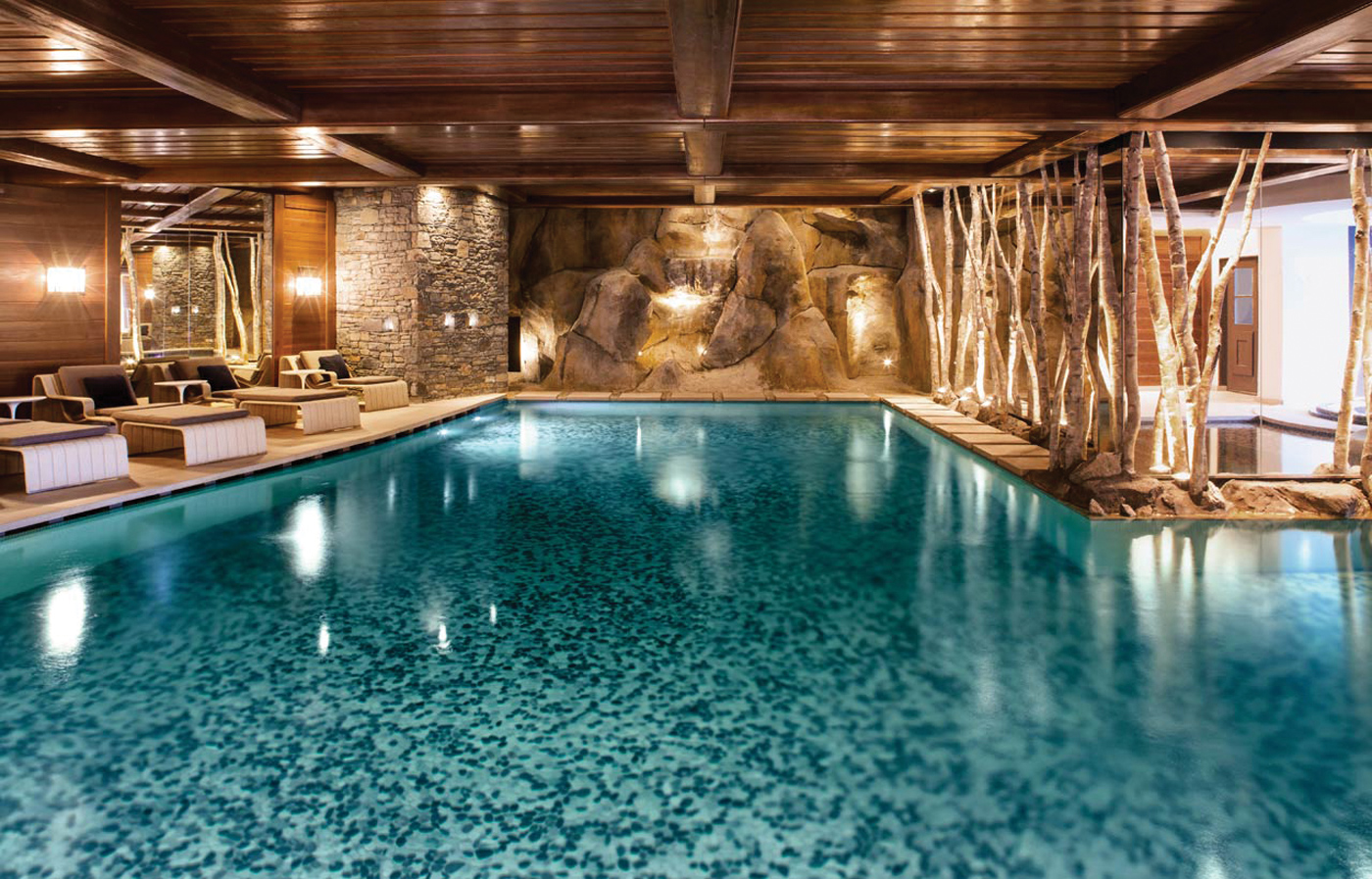 CHEVAL BLANC COURCHEVEL
Sublime to the Ridiculuxe:
This designer property owned by LVMH, comes with all the whistles. A Guerlain spa, a restaurant by Yannick Alléno, Dior and LV boutiques. It's all beautifully done and its association with the labels makes it particularly popular with the Russians.
LITTLE KNOW FACT: Enjoy an in-room haircut by John Nollet, the French hairstylist to Hollywood's biggest stars. A snip at just 700 Euros.
PRICES: 1,800 Euros for a standard room. 30,000 Euros for the four-bedroom apartment.
---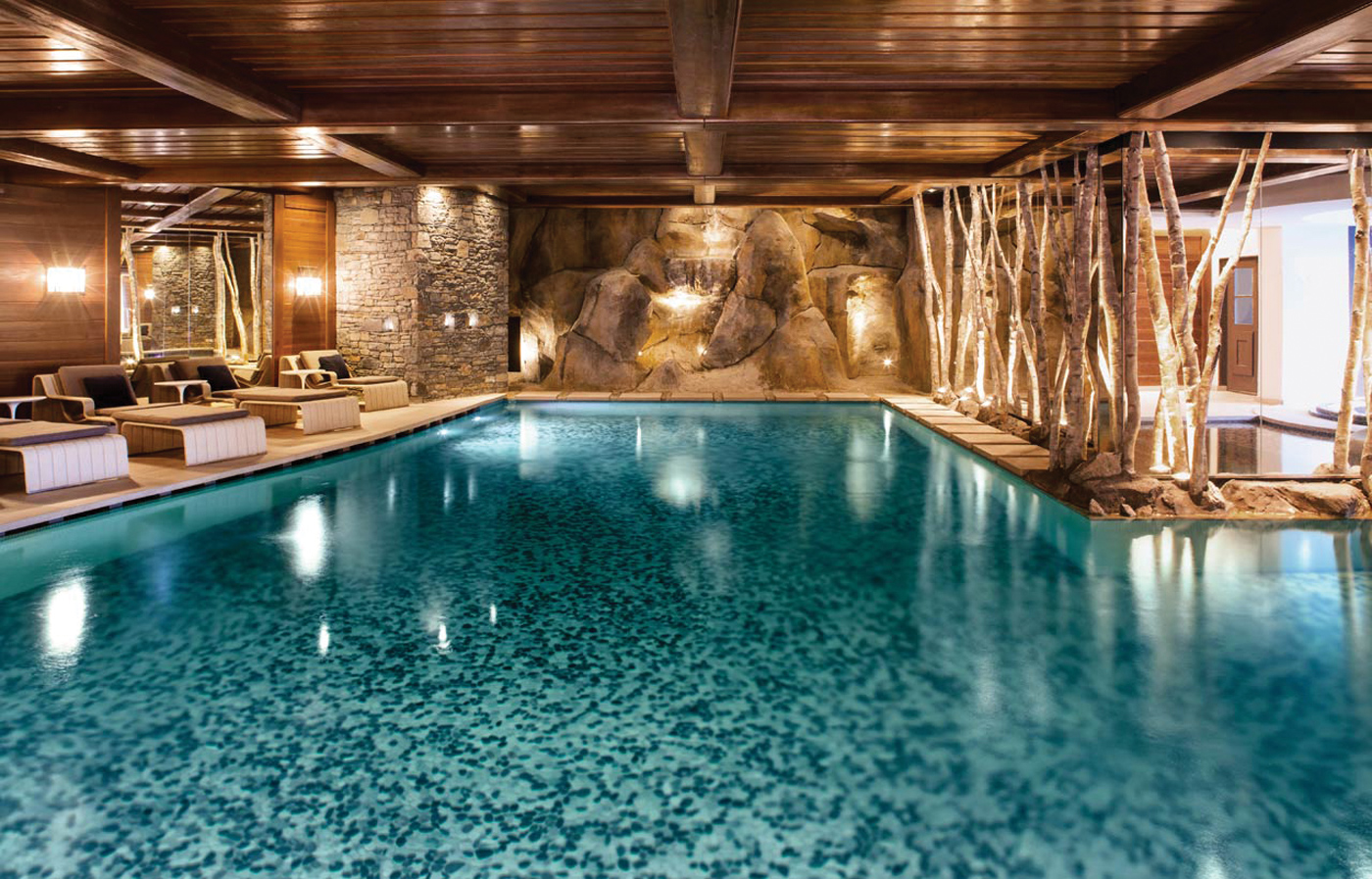 L'APOGÉE
New Kid on the Block:
This sister property to the Hôtel du Cap down in Cap d'Antibes presents a discrete vision of extravagance. The décor is simple, warm and comfortable and feels more like a friend's manor house rather than some designer chef d'œuvre.
LITTLE KNOW FACT: It wasn't supposed to open until next December but work was ahead of schedule so they opened twelve months early.
PRICES: Rooms start at 900 Euros but there are 33 suites ranging from 1,800 to 6,200 Euros. The penthouse goes for 12,600 Euros.
---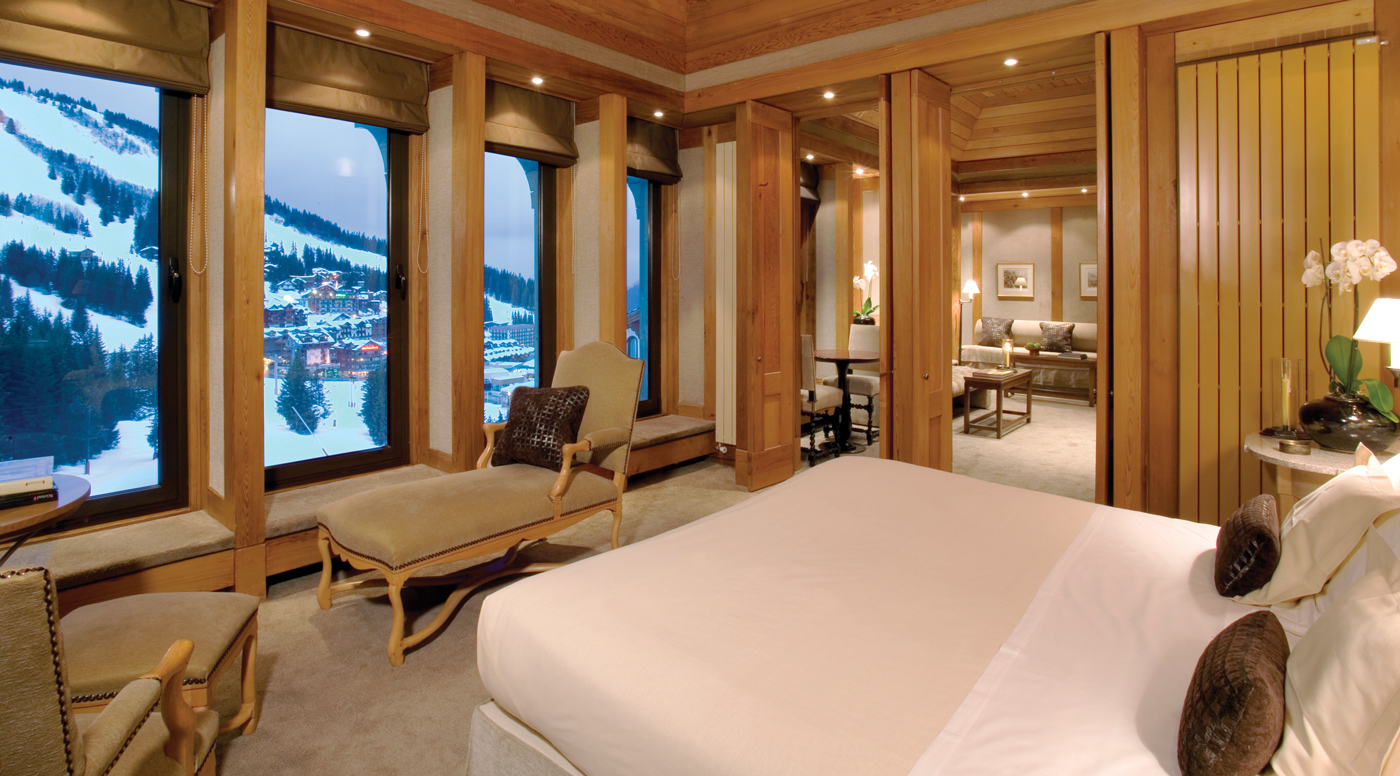 LE MÉLÉZIN
Simply no Excess:
When you think of an Aman, the first impression that comes to mind probably isn't their little-known ski hotel and spa but that doesn't mean it doesn't deserve its credentials. Simple, clean and sophisticated minimalist elegance – classic Aman.
LITTLE KNOW FACT: In a nod to the first-ever Aman (in Phuket), the restaurant specialises in deliciously spicy Thai dishes.
PRICES: 880 Euros for a standard room. 4,000 Euros for the largest (single bedroom) suite.
---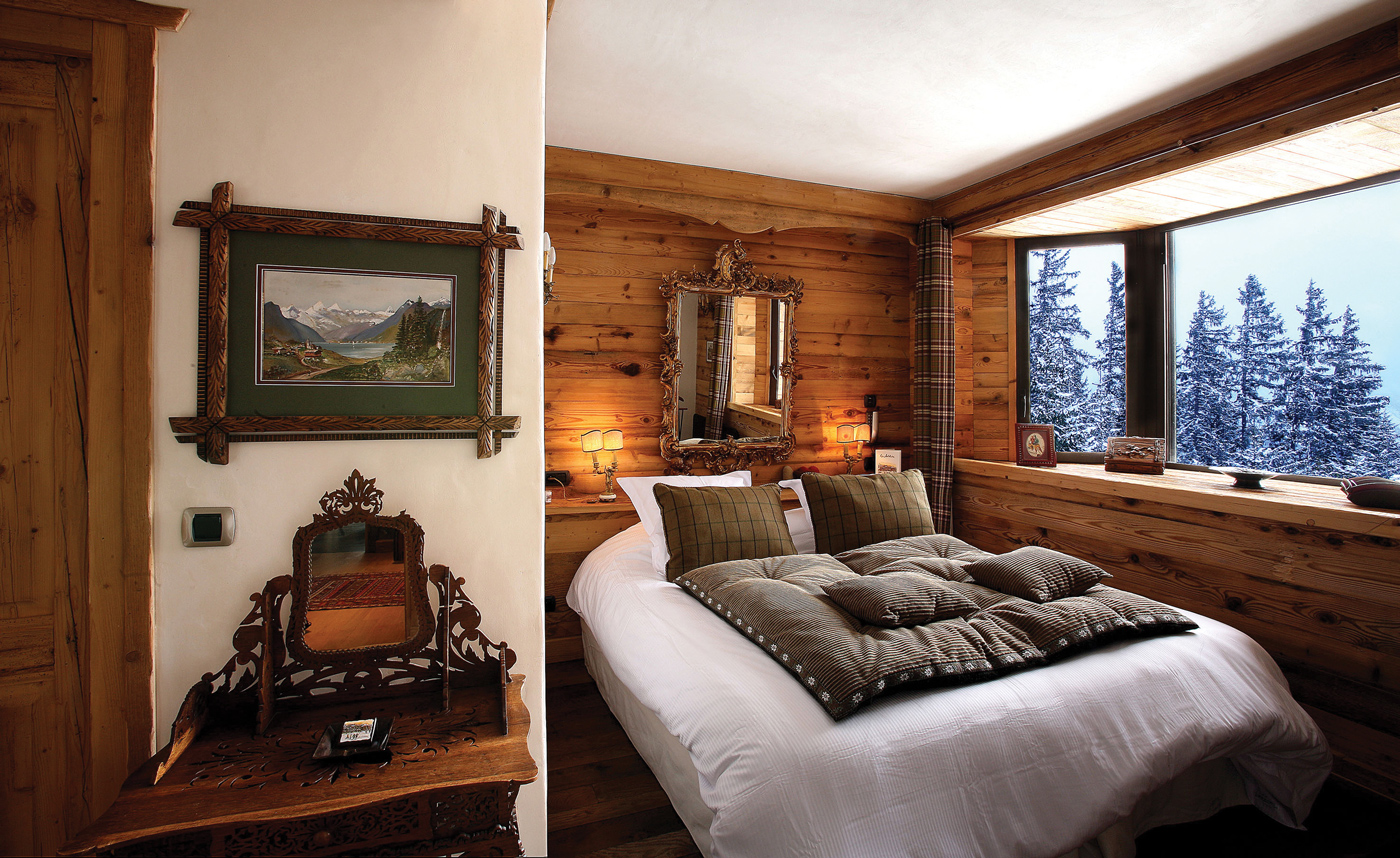 LA SIVOLIÈRE
Not so Humble Abode:
Best described as an enchanting chalet with all the advantages of a 5-star hotel, Mme. Carcassonne, the manager, runs a tight ship. As a result, service is exceptional. It's small, perfectly located, chic and intimate. The spa is a bit small, though.
LITTLE KNOW FACT: La Sivolière has one of the best ski rooms around, run by local outfit, l'Atelier Vuarnet.
PRICES: Rooms start at 725 Euros, suites at 1,350 Euros and the three-room (five-person) duplex apartments go for 4,150 Euros.
---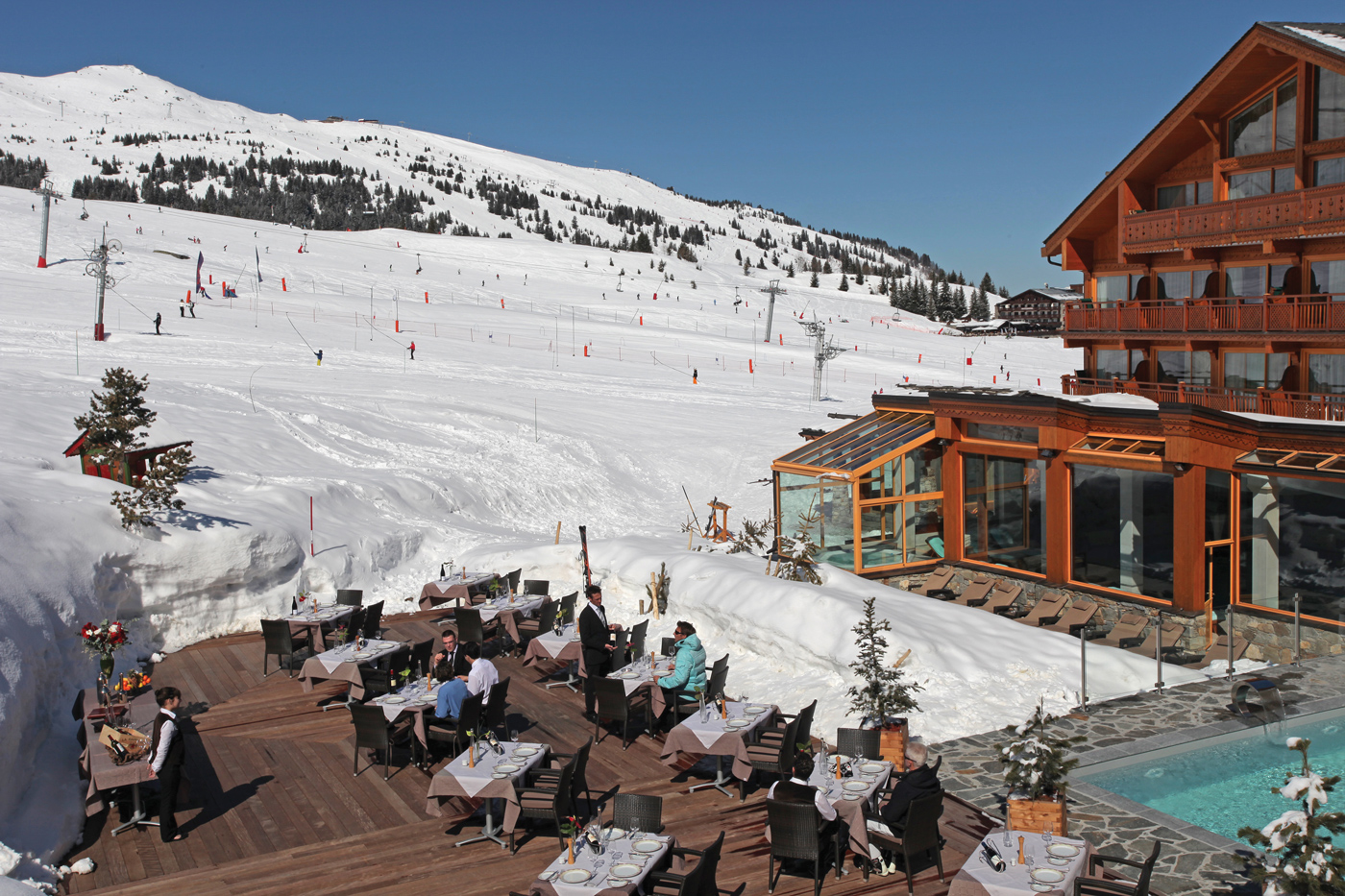 ANNAPURNA
The Spectre of Value:
This unpretentious property is one of the oldest and largest in 1850. While it can't fairly be compared with the three above, it still offers a respectable five-star experience and at less stratospheric rates, meaning it's perfect for large(r) families.
LITTLE KNOW FACT: This is the highest altitude hotel in town so head to the outdoor pool for magnificent piste and mountain views.
PRICES: 580 Euros for a standard room. 5,880 Euros for the two-floor, four person suite.
---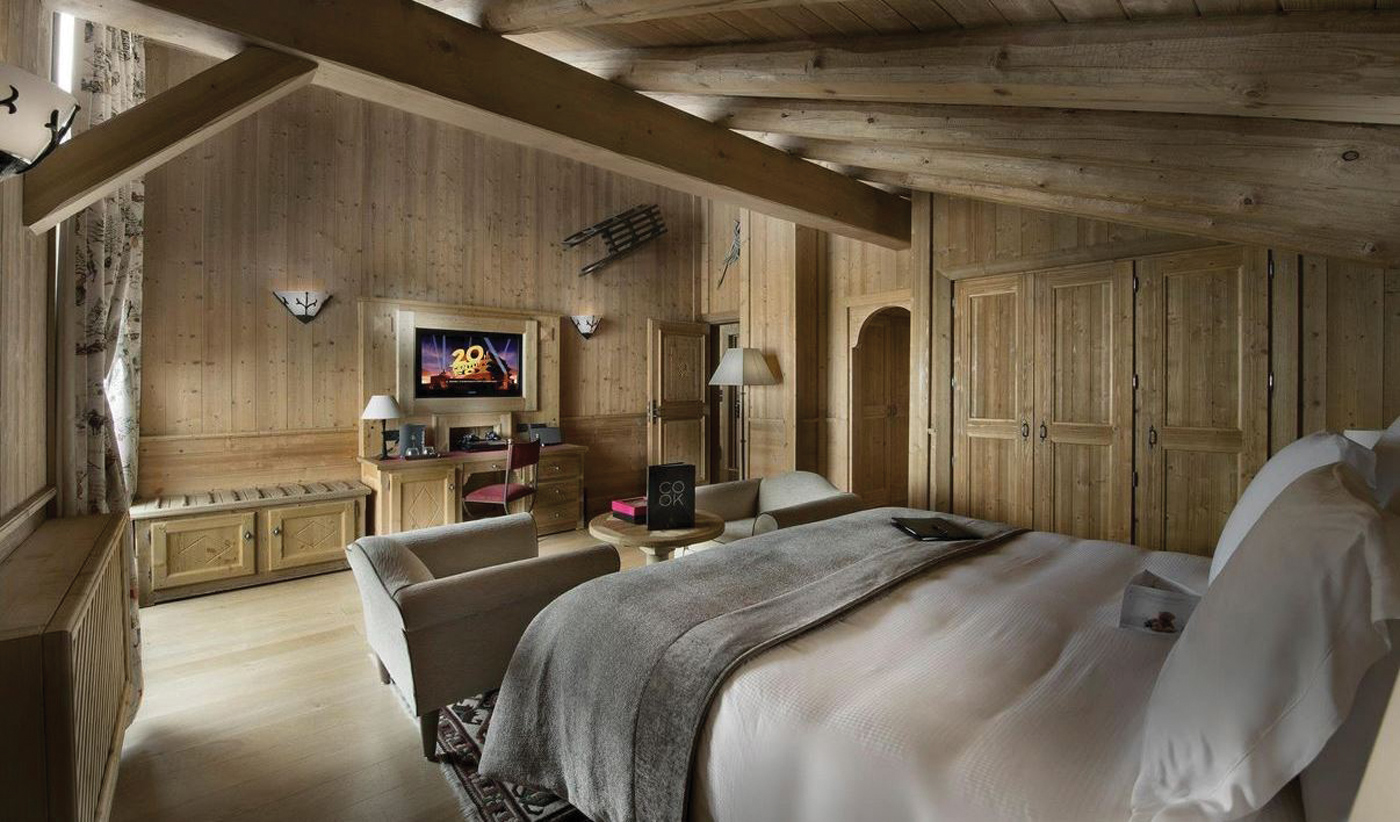 LE KILIMANDJARO
Alpine Hamlet:
Like the Annapurna, this hotel's located on the Pralong Slope, a little out of town. Eleven chalets, ranging from three to six rooms are arranged around a main lodge and spa. Each has its own ski room but beware, rentals are pricey.
LITTLE KNOW FACT: For a more private experience, take an entire chalet and you'll be assigned your own staff and chef.
PRICES: Rooms start at 900 Euros, suites at 1,800 Euros. Taking a chalet will set you back between 5,600 and 12,700 Euros.
---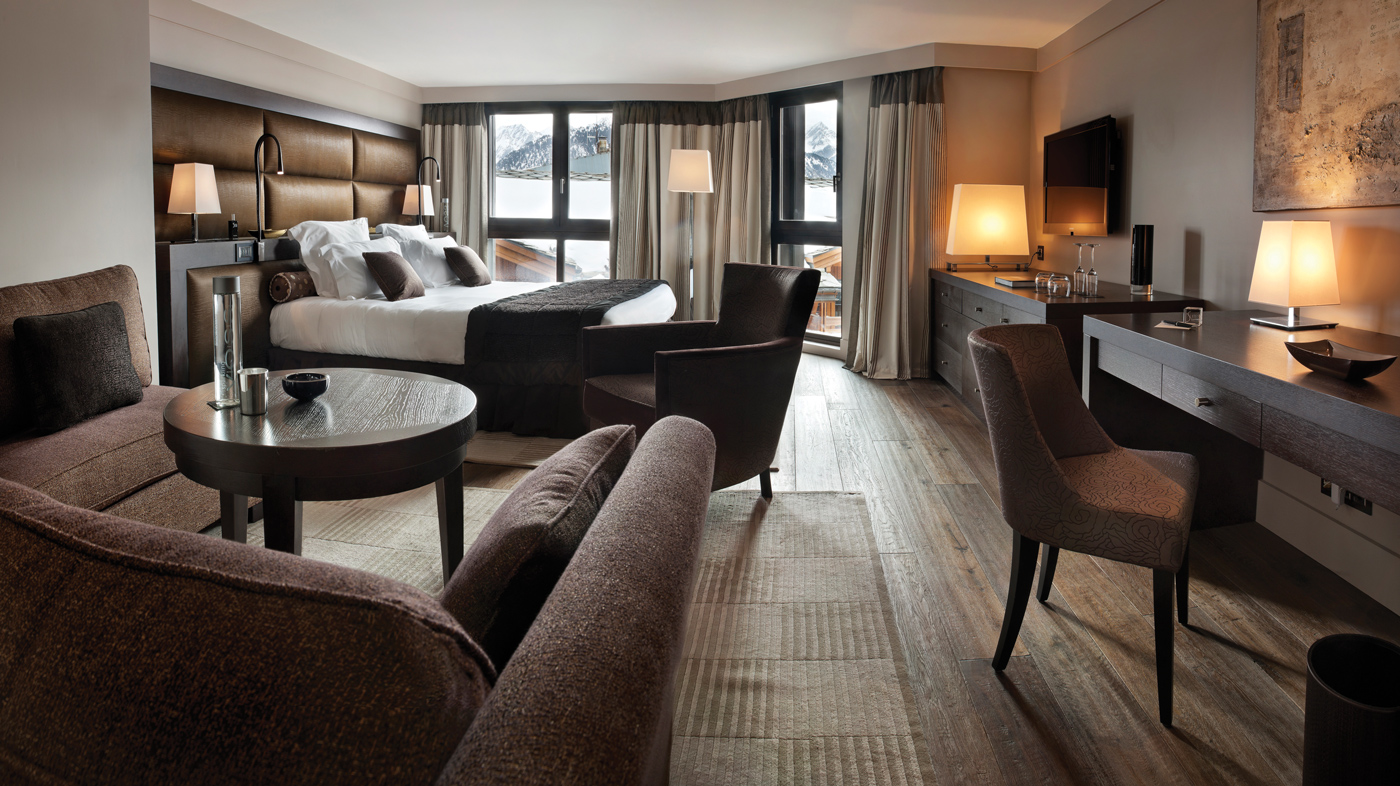 LES SUITES DE LA POTINIÈRE
In the Middle of it All:
Perfect for those mixed groups of skiers and non-skiers. At this beautifully modern all suite five star hotel, sporty types can cross the road to the bubble lifts and non-skiers can revel in being walking distance to almost everywhere in town.
LITTLE KNOW FACT: The ground floor bar serves great drinks. It's a local hotspot and it's the place to start the night.
PRICES: The suites range in price from 1,000 to 2,900 Euros a night and the four-bedroom apartment goes for 13,000 Euros.
what's nearby