June 17, 2021 Vineetha Menon
Taking pride of place in Dubai's Business Bay district, which cradles the record-breaking sights of Downtown Dubai and waterside charms of Dubai Canal, ME Dubai by Meliá is a striking work of art by the late Dame Zaha Hadid. It's the only existing hotel in the world to have had both its architecture and interiors designed by the legendary Iraqi-born British architect, famous for her inimitable designs, angular lines and curved façades.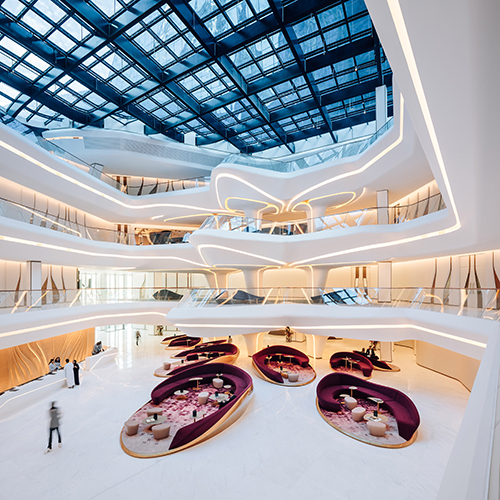 The hotel forms part of The Opus by Omniyat, a mixed-use building featuring a monumental form that rises as two singular towers and merges into a cube with a hollowed 'void'. While its exterior complements the growing list of icons in this city, the hotel's futuristic interiors are extraordinarily out of the norm.
"From exterior to interior, each detail is a testament of her unique aesthetics and vision of the future. The mesmerising building is a celebration of Hadid's work as an inspiring visionary, who reshaped the boundaries of architecture as art and fundamentally changed the way people imagine and experience buildings. Construction began 10 years ago and 4,544 pieces of different shaped glass manufactured from China were required in order to build The Opus. The complexity of this is partly why it took so many years to complete the project," explains Sebastien M. Noat, General Manager of ME Dubai.
Right from the airport runway-like lights on the driveway through to the avant-garde video mapping installation by the entrance, it feels like you're embarking on a journey to a fantastically imaginative space that wouldn't look out of place in a science fiction movie.
In line with Zaha Hadid's signature sensibilities, the hotel is inspired by the natural world of sky, sea and plants. Look closer and you'll see vivid interpretations – the lobby enthrals with a stunning atrium complete with glacial curves and cascading balconies forming layers of a flower, signature petal-like sofas courtesy of ZHD (Zaha Hadid Design) and even delicate stem-like lines in gold. The glass ceiling treats you to incomparable architectural views during the day and a starry sequence of lights at night, all designed to create a sense of freeform wonder.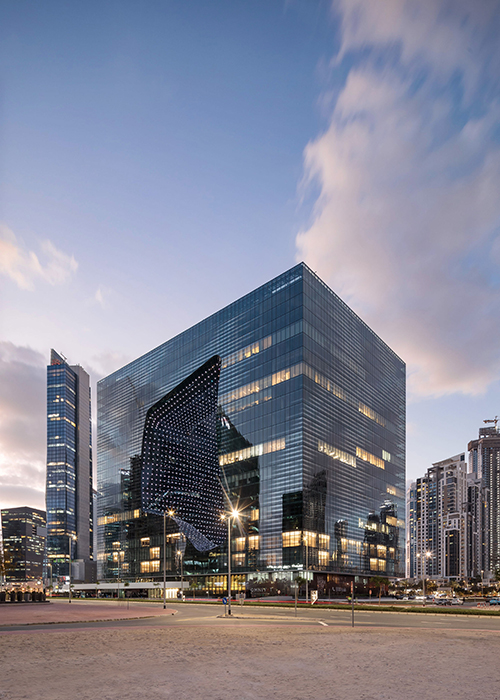 It's a lot to take in at first but, slowly, over time it unfolds and becomes obvious that ME Dubai has carefully thought out every little detail. Case in point? The amount of marble alone used in the hotel covers an area of over 9,000 square metres, spread across the atrium and its rooms.
But there's more to admire than marble in ME Dubai's 93 rooms and suites, each sporting a midnight blue or golden desert colour scheme, as well as elements designed by Zaha Hadid herself. With Bose sound systems, 'Opus' beds and relaxing rain showers as standard, rooms here have an edge (pardon the pun). The in-room experience is also seamless thanks to the hotel's dedicated app that converts your smartphone into an all-access control system – play your own music and let the lights down low, all at the touch of a button.
It's certainly worth the splurge to spend a night at the showstopping Suite ME, which sprawls across 198 square metres and impresses with chic golden chandeliers, curved accents and plenty of mood lighting. It's like a modern remake of 'Mad Men', done right. When not experimenting with mixology in the dedicated bar counter or playing a game of pool at the entertainment space, you can soak away your day in the bathroom's massive jacuzzi. It's also wonderful to note that there are no plastic bottles around, a nice little touch that reflects the hotel's drive for sustainability.
Yet, every stay is an occasion, and credit must be given to the hotel's elevated concierge team who inject life into your sojourn. "The AURA team embodies the ME brand, creating the ambience and energy of each hotel and ensuring that every guest makes a meaningful connection with ME. Highly-networked tastemakers with their fingers on the pulse of the local scene, our AURA team connects guests with the best of their destination. They make sure each stay is tailored to our guests' tastes – from the personalised welcome gifts they select, to the custom recommendations they'll make for each visit," explains Noat.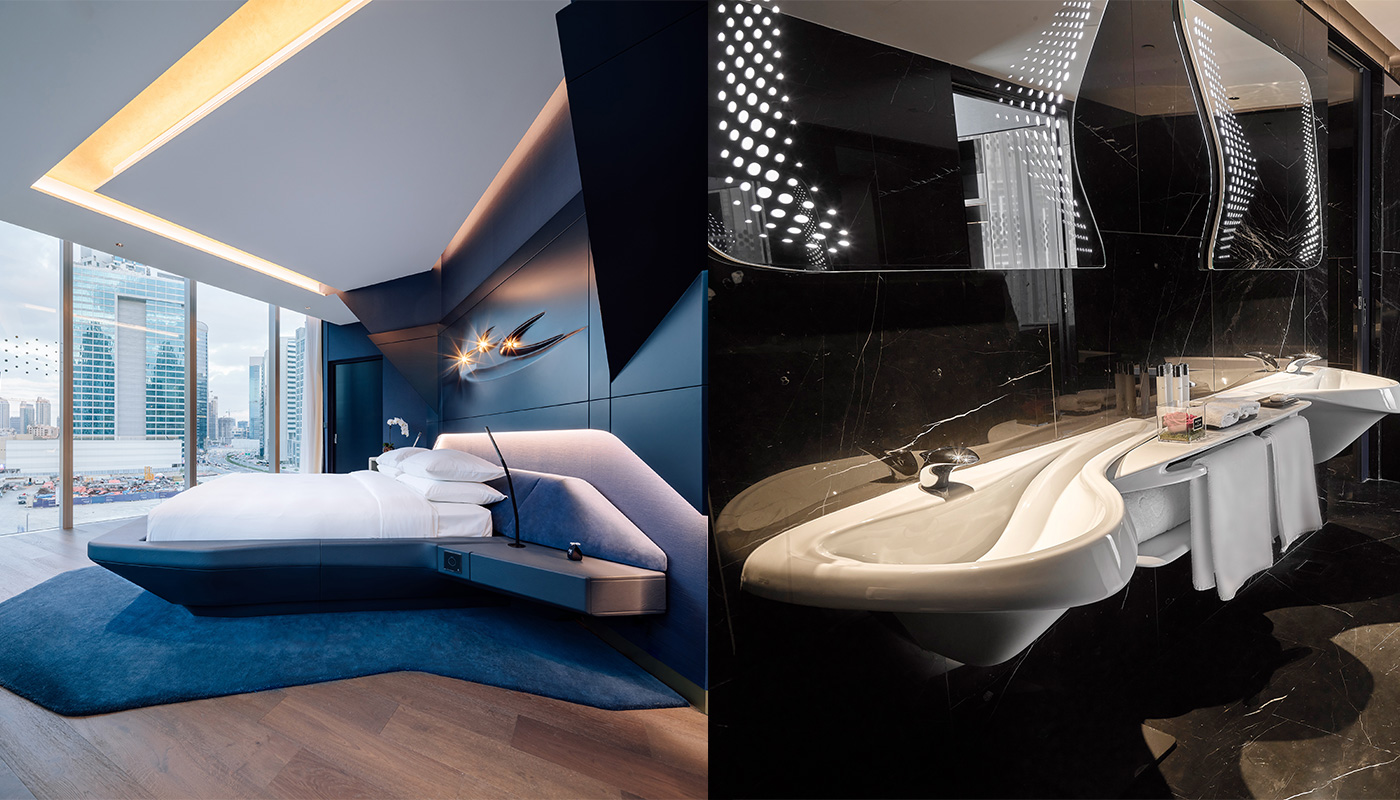 It's worth noting, however, that there's plenty of worthwhile distractions within the property too. For example, the spa is a wellness haven with rituals that champion unique ingredients, offering the perfect excuse to walk in, lie down and bliss out. The health club and gym sport an exceptional range of fitness equipment – including the city's first Technogym Biocircuit for tailored workouts – alongside pops of green foliage and large windows that invite natural light in. A few steps away is the sparkling pool deck, complete with luxe cabanas, upbeat music and sunshine-fuelled views of the iconic Business Bay and Downtown skyline. This laidback vibe spills out to DESEO, a South American-inspired terrace and lounge, that features an urban tropical theme – a fine balance of playful, slick and effortless entertainment.
Keeping pace is the hotel's other culinary offerings, including Central. The homegrown cosmopolitan tapas bar concept is helmed by ME Dubai's Executive Chef James Knight-Pacheco, with a menu full of playful dishes – with names like 'Return of the Mack' and 'Hen Shake' – that fuse traditional Spanish flavours with the world's best cuisines. The restaurant is a reflection of Dubai itself in a way, a city that over a hundred nationalities call home.
Also sharing the prestigious address is seafood spectacular The Maine Oyster Bar and Grill, Roka by Zuma that impresses with modern Japanese flair, alongside the newly-opened Botanica and The Atrium.
The vibrancy of ME Dubai may not appeal to all, but if you're a creative soul or like to let loose in style, you'll find it electrifying.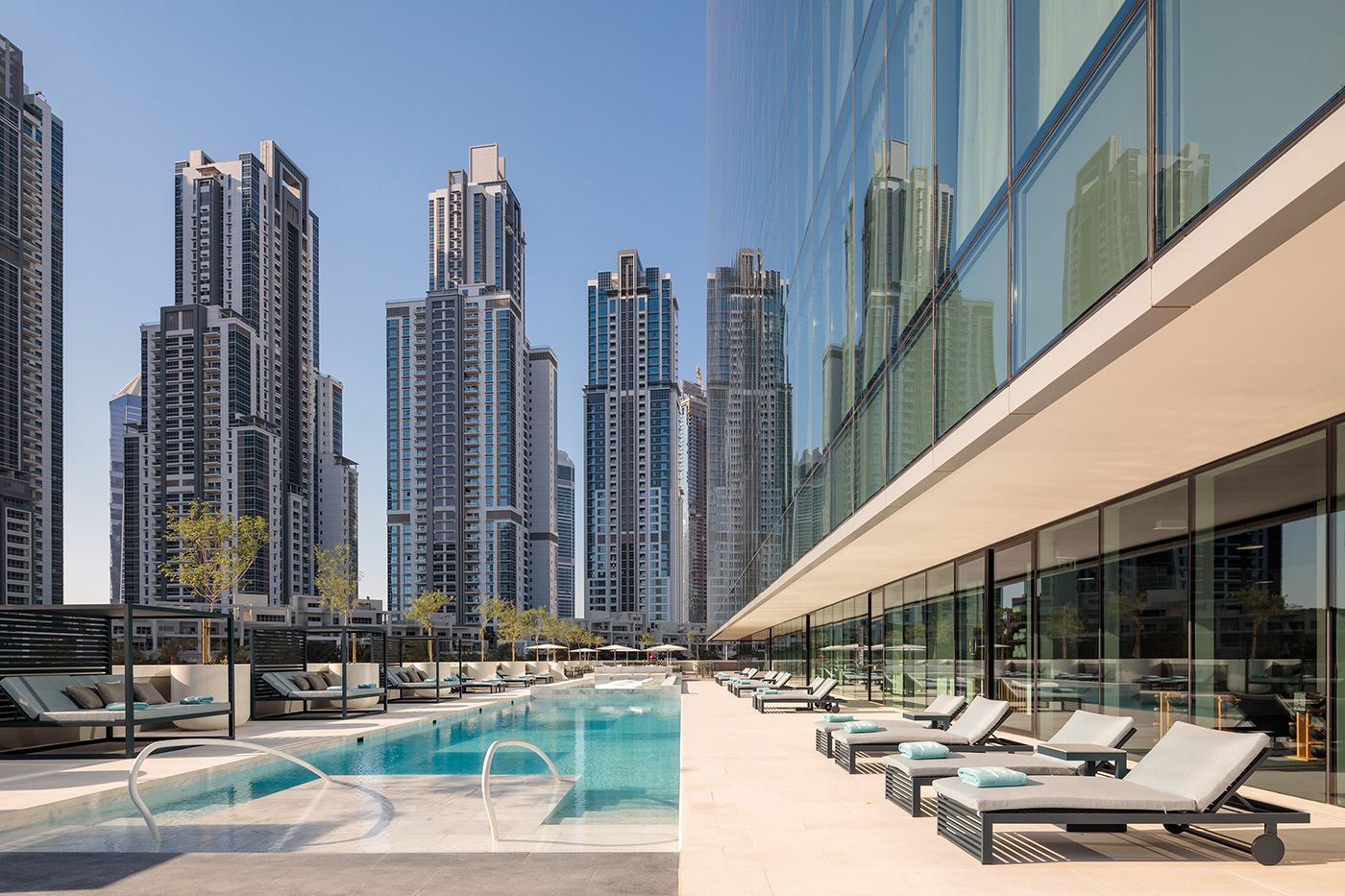 what's nearby