February 4, 2021 Sabina Llewellyn-Davies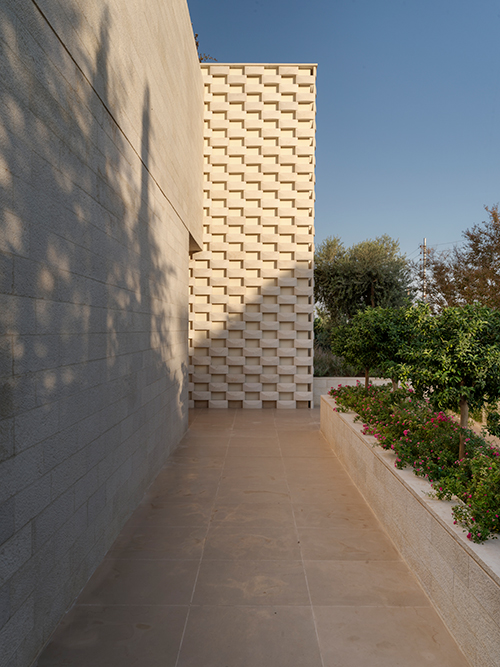 WHAT WAS THE MOTIVATION FOR BOTH OF YOU TO CHANGE CAREER PATHS FROM FILM TO DESIGN AND CREATE TOLLGÅRD DESIGN GROUP?
[Staffan Tollgård] It was our first house project that was the catalyst for my move into the design world. Monique and I met in our twenties on the set of a low budget feature film in London – Monique was an actress and I was the First Assistant Director. We joke that while our film careers didn't last, our marriage goes from strength to strength. After we refurbished our home together in Brook Green [Hammersmith], I started to think seriously about changing to a career in design. I took a year's 'sabbatical' from the film slate that I had in development to study at the renowned Inchbald School of Design – and never looked back. A few years later, Monique jumped ship from making documentaries to study at Inchbald and joined the company. We recently celebrated 15 years of design in our family-run studio. Our background in film and documentary production involves a level of storytelling, just as interior and architecture design do. Design has always had a pull on me, I remember choosing the wallpaper for my bedroom at 11 years old. In retrospect, I can definitely see the similarities between film and design.
YOU LEAD YOUR STUDIO TOGETHER AS A HUSBAND AND WIFE TEAM – WHO RUNS WHAT?
[Staffan Tollgård] Tollgård Design Group has always been a genuinely family-run business. As the company has grown, the roles have become split with Monique looking after the design studio and projects, while I take more of a leading role with the design stores, our curation of the products and product design. As partners in life and work there is constant overlap. We marvel at people who can leave work behind when they go home – we have never managed that. Of course, now in the COVID-19 era no one can; the home/work barrier is truly broken.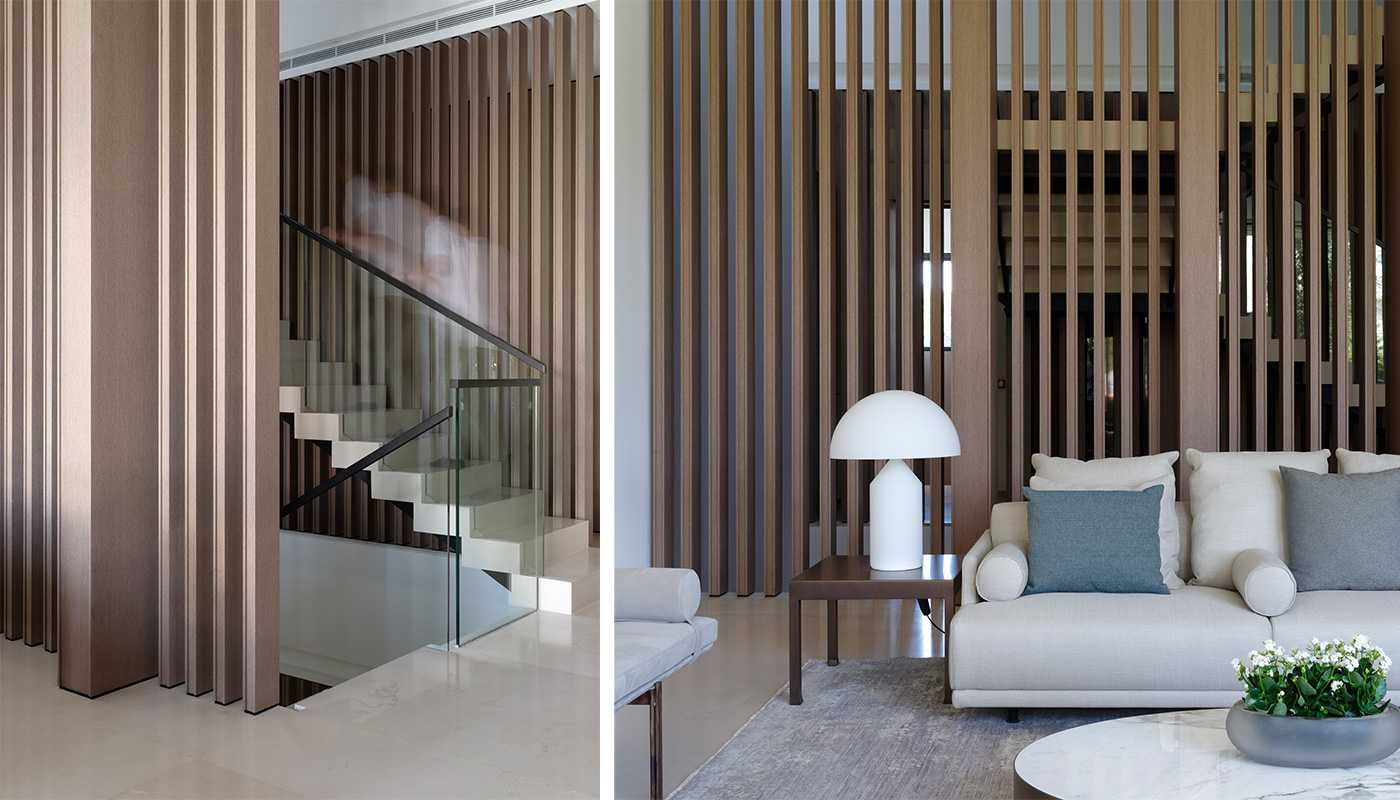 IS THERE A PARTICULAR TOLLGÅRD AESTHETIC? TELL US ABOUT YOUR TWIN PHILOSOPHIES.
[Staffan Tollgård] We would often say that we are led strongly by our clients and not by a certain style. We do, however, have a strongly held set of design values and a design philosophy that informs every decision we make. The search for the "Röda Tråden" or the Red Thread, is the philosophy that we hold onto most tightly. It's a phrase quite widely used where I'm from, and across Northern Europe, so I was really surprised when I used it for the first time and Monique leapt on it, saying she hadn't heard it before. It's used to describe the guiding principle of a creative endeavour, whether it be a piece of art, literature or music. The familiar thread – or trail of breadcrumbs – scattered through the work by the maker that takes you back to the heart of the piece. Once I'd described it to Monique, she realised that it's what we are always looking for in each project we undertake. It's the design DNA that we strive to find and then express in each project. Within the client's lifestyle, architecture and environment are clues to a distinctive and powerful narrative: a unique red thread that we use to tell a new story using the language of design. The Red Thread that runs through all our endeavours is a love of storytelling and a strong, shared belief that thoughtful, responsible and collaborative design can and should make people's lives better.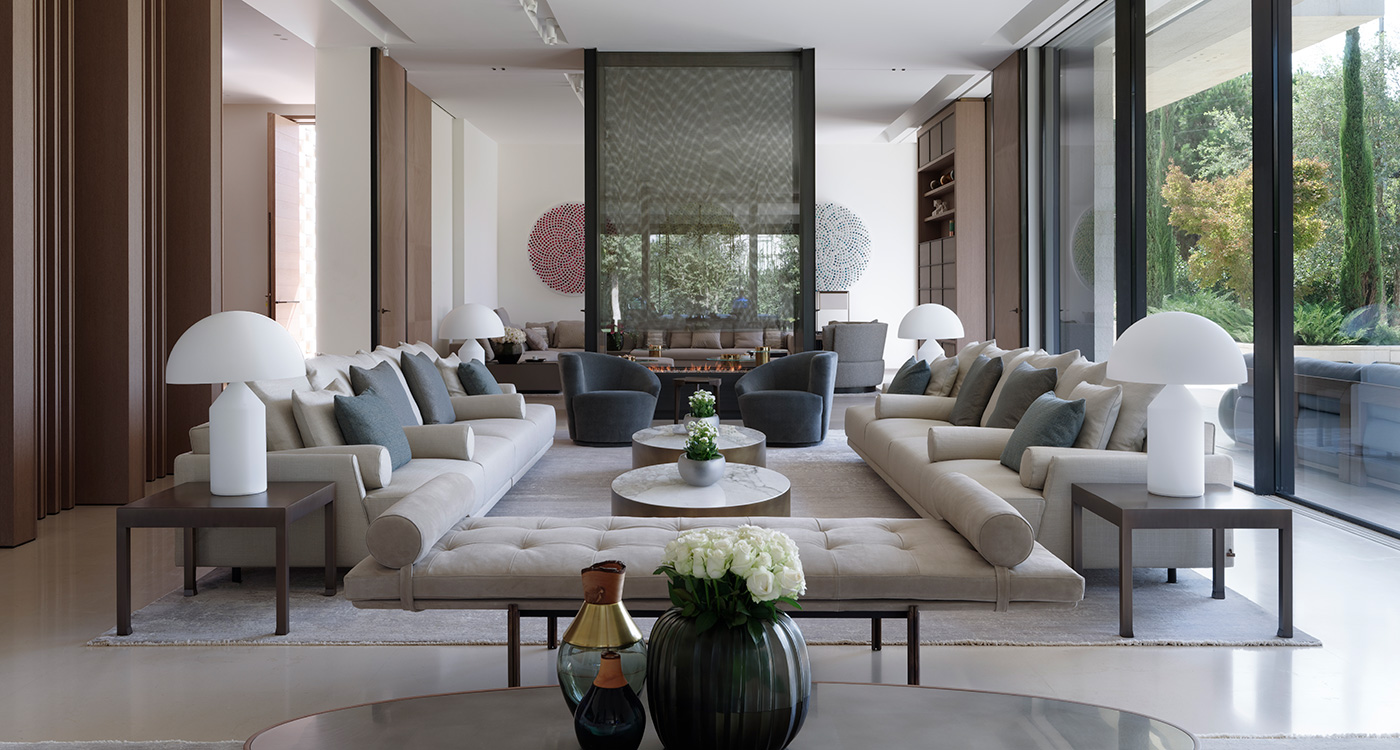 WHO INSPIRES YOU INSIDE AND OUTSIDE THE INTERIOR DESIGN WORLD?
[Monique Tollgård] Both Staffan and I are hoarders of inspiration; we are always on the look-out for ideas. Much of our inspiration comes from the family lives of our clients and creating happiness for them, as we aspire to bring them a little joy with our designs and truly tell their stories. If we get a happy testimonial from a client that is the best reward. The architecture that they choose to express themselves through is also a great source of inspiration. Both of our families inspire us greatly, in and out of work. We also have designers that inspire us and amaze us with their work such as Christian Liaigre and Joseph Dirand.
THE AMMAN HOUSE IS YOUR FIRST PROJECT IN THE MIDDLE EAST – WHAT WAS YOUR OVERALL DESIGN GOAL?
[Monique Tollgård] We wanted to celebrate the story of a young family enjoying their vibrant life in an extremely modern home against the backdrop of Jordan. We coined the term 'Heartfelt Minimalism' to describe this special project. We of course, looked for the 'red thread' and their energy runs like a shot of colour and fizz through the very calm, minimal architectural gem that Lebanese architect Raëd Abillama created.
JUST HOW CRUCIAL WAS IT FOR YOU TO COLLABORATE WITH LOCAL ARCHITECTS, CONTRACTORS AND ARTISANS FOR THIS PROJECT?
[Staffan Tollgård] We worked with a fantastic team of local craftsmen and contractors as well as Raëd Abillama, an awesome architect based in Dbayeh, Lebanon. It was wonderful to see how his work reconfigures local materials to update vernacular traditions. To enable the architecture to resonate indoors as well as outdoors, we then designed the joinery, front-of-house kitchen and furniture in an elegant yet minimal way, bringing in strong colours, texture and pattern through the bold artworks.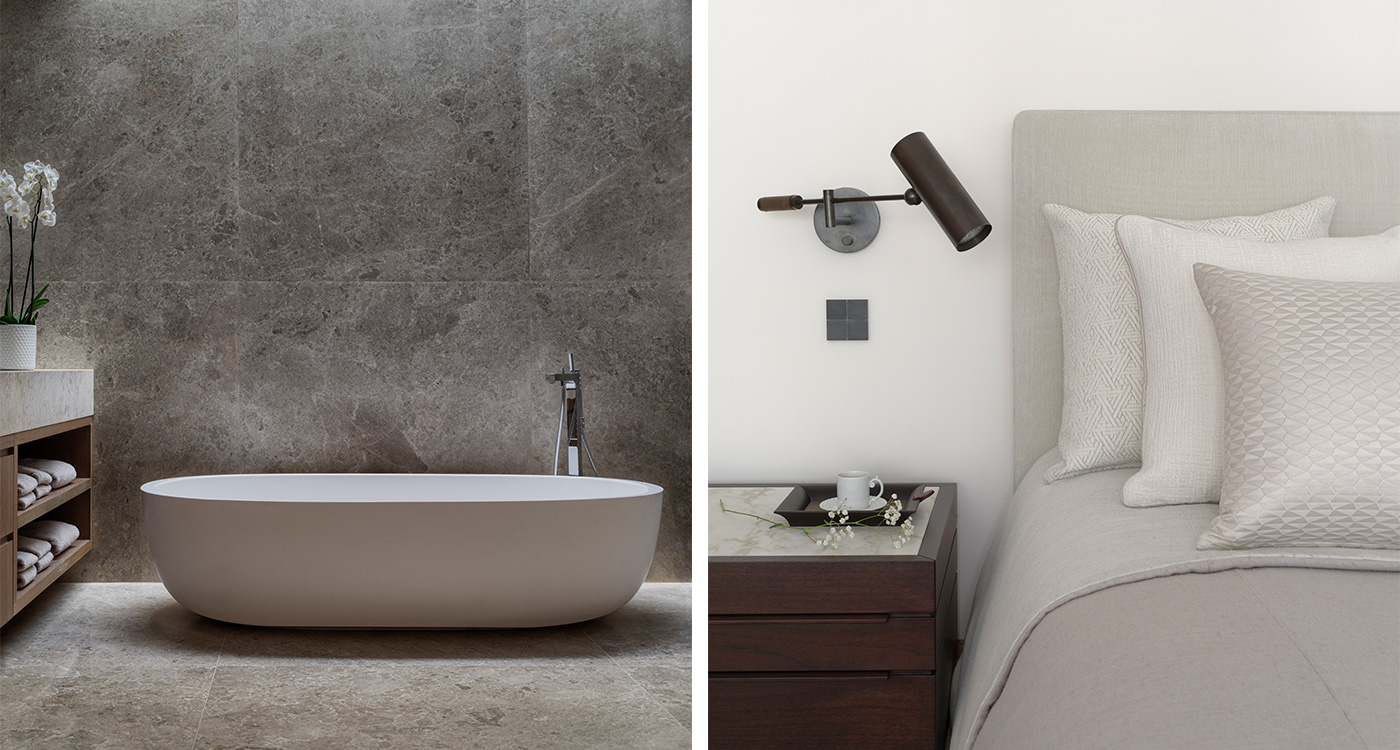 HOW DID YOU DEVISE THE COLOUR PALETTE FOR THE VILLA?
[Monique Tollgård] While neutrals and beiges will never age, they may also never inspire excitement, joy and delight. The material palette – one element of the red thread – of the interior design remains solidly and calmly neutral throughout the Villa. Yet there is life and warmth injected throughout, through the art, soft furnishings, accessories and even the flower arrangements. We often think about colour schemes in terms of seasons, and the palette for this house resonates most strongly with the colours and feelings of Spring. Pastels and vibrant tints of colours – pinks, greens, blues and oranges speak of the burgeoning energetic fizz of spring. Only in the study do the colours deepen into a more autumnal feeling because of the strength of the client's artwork there.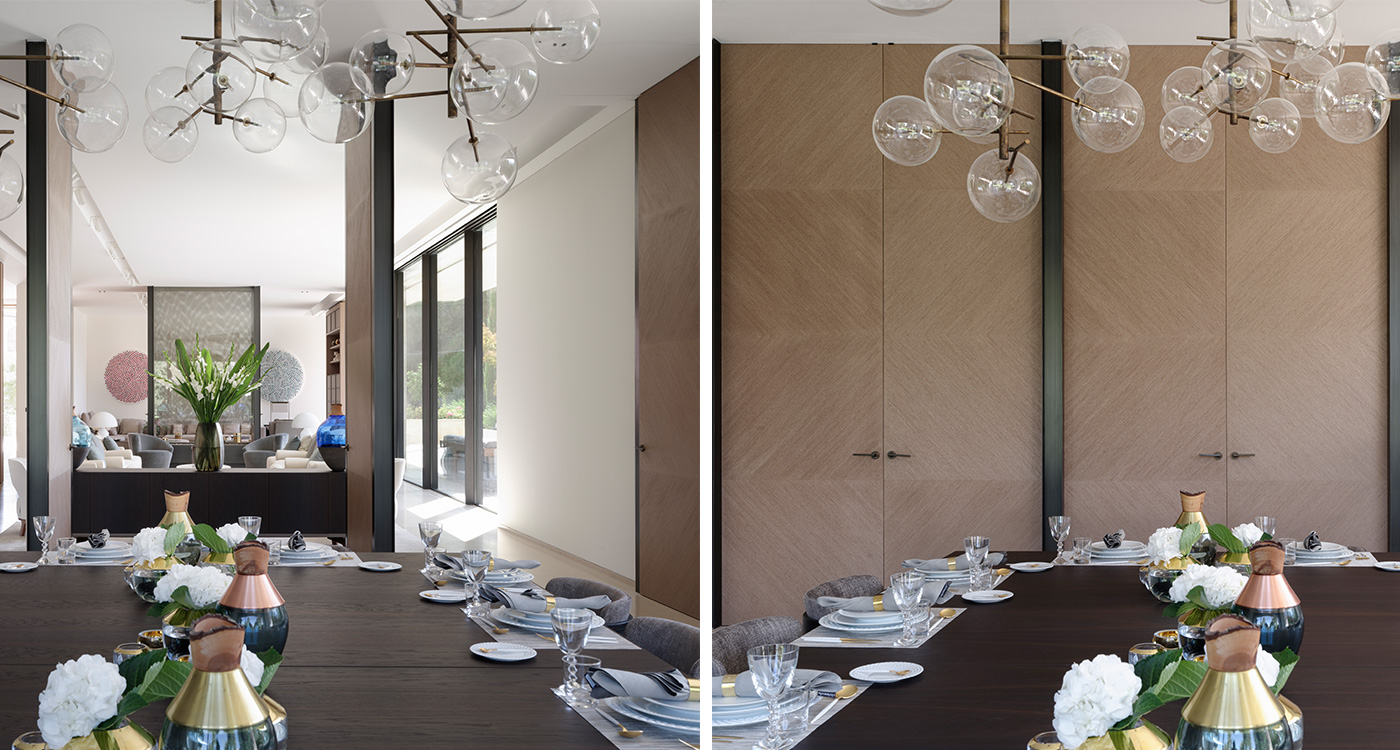 THE METICULOUSLY SELECTED WORKS OF ART IN THE VILLA ARE STUNNING – HOW CLOSELY DID YOU WORK WITH YOUR CLIENT WITH THE DESIGN CHOICE?
[Monique Tollgård] Our goal was to curate a new art collection for the client made up of strong, bold works that wouldn't drown in the large spaces; pieces that would stand the test of time and become as important to the interior as the materials of the building and the furniture inside. Pieces that you would remember if you visited for a party and equally be happy to come home to after some time away.
We worked with an art consultant who was extremely helpful in suggesting artists for us to look at. We then made sure that the client could see the pieces, as many of them have a three-dimensional element to them that's not apparent from photographs.
We placed a selection of different artworks throughout the home; a colour-shifting piece by Zhuang Hong Yi decorates the transition from the reception room to the formal dining room. Artist Susan Shup also appears in the form of a colourful, rather whimsical piece with a special message from the family. We have a Ruth Waller and Lee Hewett large scale circular tryptic on the same floor whose simplicity, using interior textile surfaces, has captured the homeowner's as well as visitors' hearts. In the entrance we have a wonderful, typically whimsical, and colourful piece by Susan Shup with a personal message from the family. In the entrance, there is also a human scale version of the sculpture 'The Visitor' in bronze by artist Guido Deleu welcoming other visitors to the house.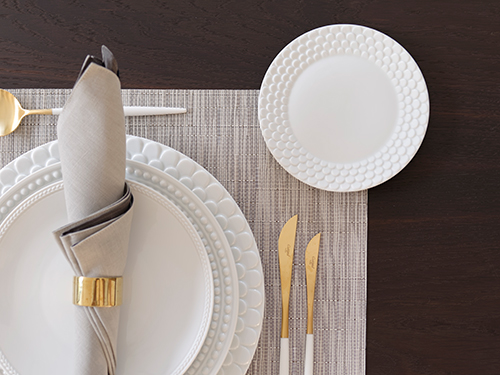 AND, WERE YOU INSPIRED BY THE COUNTRY, THE HISTORIC SETTING OF THE VILLA, WHEN CHOOSING MATERIAL?
[Monique Tollgård] The design team – architect, client and us – were determined to keep the material palette as true to the environment setting as possible. Jordanian limestone and Omani marble are two of the most important architectural elements. In some ways the house is an antidote to the busy urban environment around it, but we definitely tried to inject some of the vibrance and excitement of the city into the villa.
DID YOU FACE ANY PARTICULAR CHALLENGES DURING THIS PROJECT?
[Staffan Tollgård] The public to private transitions between a family home for five and a venue for entertaining 55 certainly posed some tricky questions of living. Flexibility was a key requirement throughout the public ground floor, where areas needed to be closed off for smaller functions or opened up to entertain at a grander scale. The joinery, kitchen and FF&E [furniture, fixtures, and equipment] design elements were designed to create flexible living spaces linked by form, yet separated when function required. Floor-to-ceiling doors were concealed in structural columns clad with timber veneers that allowed for the creation of smaller, more human-sized intimate spaces. We designed a home to provide both prospect and refuge with multiple possibilities: one that adapts to suit the changing needs of the family. Working in a location that was vastly different from many other areas where we have completed projects was also definitely a learning experience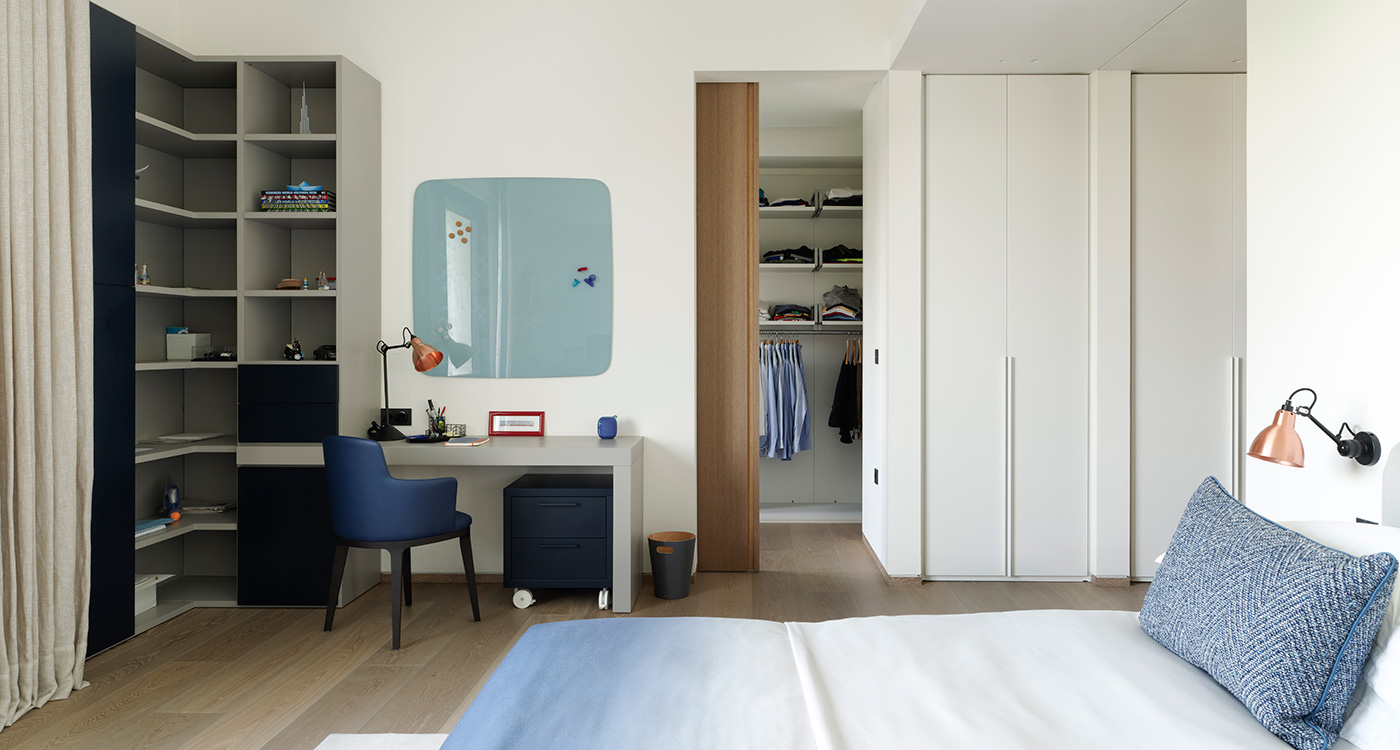 WHAT DID YOU LEARN FROM WORKING IN AMMAN?
[Staffan Tollgård] The design and construction team were a delight to work with, and the clients could not have been more engaged, inspiring and welcoming. We had to visit site several times during the construction period, so we got to know quite a bit about Jordanian culture. I took Monique to see it for the photoshoot and we visited the city's citadel which was an incredible trip through culture and time. This is one of the reasons I feel absolutely blessed to do this work. My eyes and soul are opened to different questions of living: different climates, cultures, food, ways of life and energies. The people in Amman were gracious, friendly and welcoming – whether at the flower market early in the morning, on site, or in the client's favourite falafel restaurant. I will hold this project close to my heart for a long time.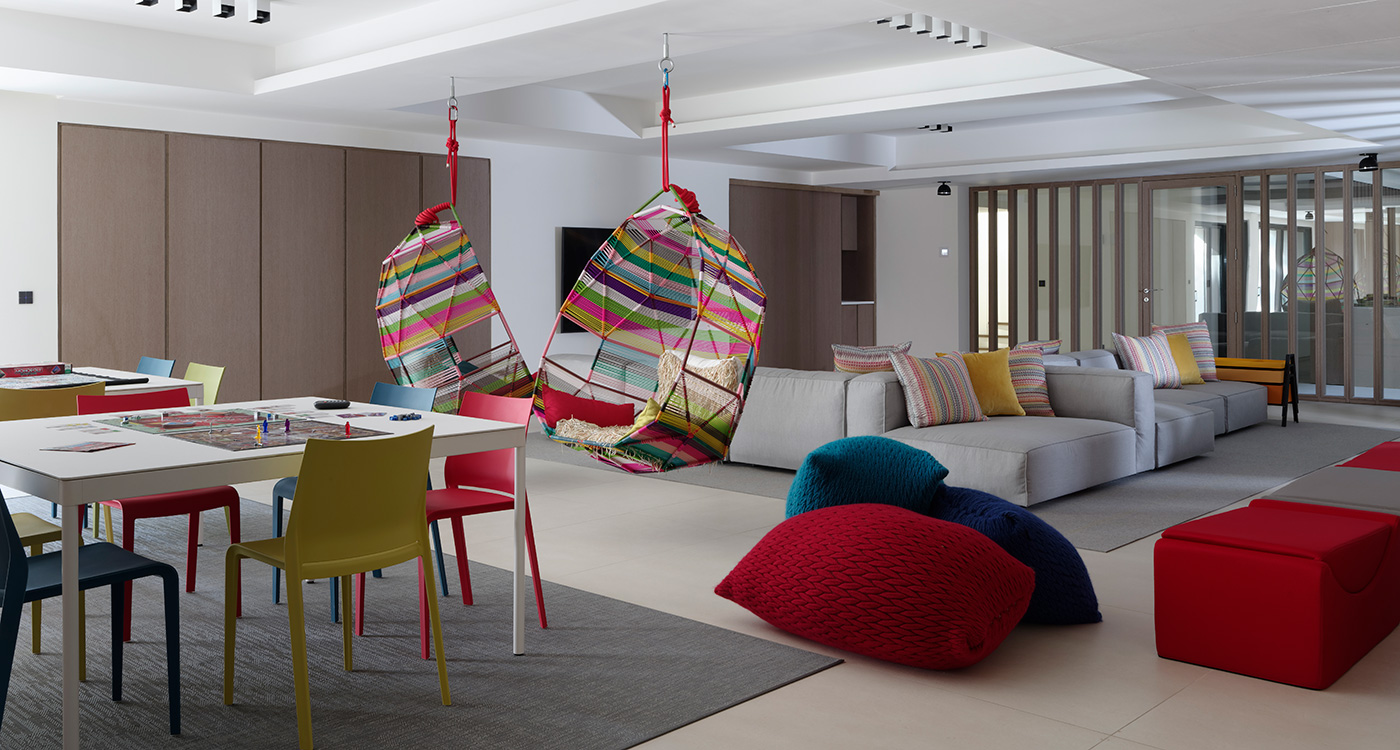 HAS YOUR DIVERGENT UPBRINGING INFLUENCED YOUR DESIGN WORK?
[Staffan Tollgård] We bring a mix of cultures to design; I was born in Stockholm, went to film school to learn film production in Bournemouth and worked in London briefly on a few student and low-budget films at the outset of my career. I met my future wife, Monique who is South-African born, but had grown up in London, on the set of a feature film where she was the actress and I was the First Assistant Director. I can see a common thread between design and film making – the power of story-telling lies at the heart of both, as does the transformation narrative: the 'before and after' story line that is so fulfilling. There's also an element of taming chaos in both industries! The background we have in storytelling, feature films and documentary production definitely characterises our design work. We think about designing a room in terms of a film script: how many heroes can the piece hold? How many hero pieces of furniture can a room hold? What can the budget stretch to? What's the establishing shot? What do we cut away to for the close up? The design approach (much like a film script) starts with, and is centred on, understanding and expressing their clients' sense of identity. Every client has a unique story. We tell it with the language of design.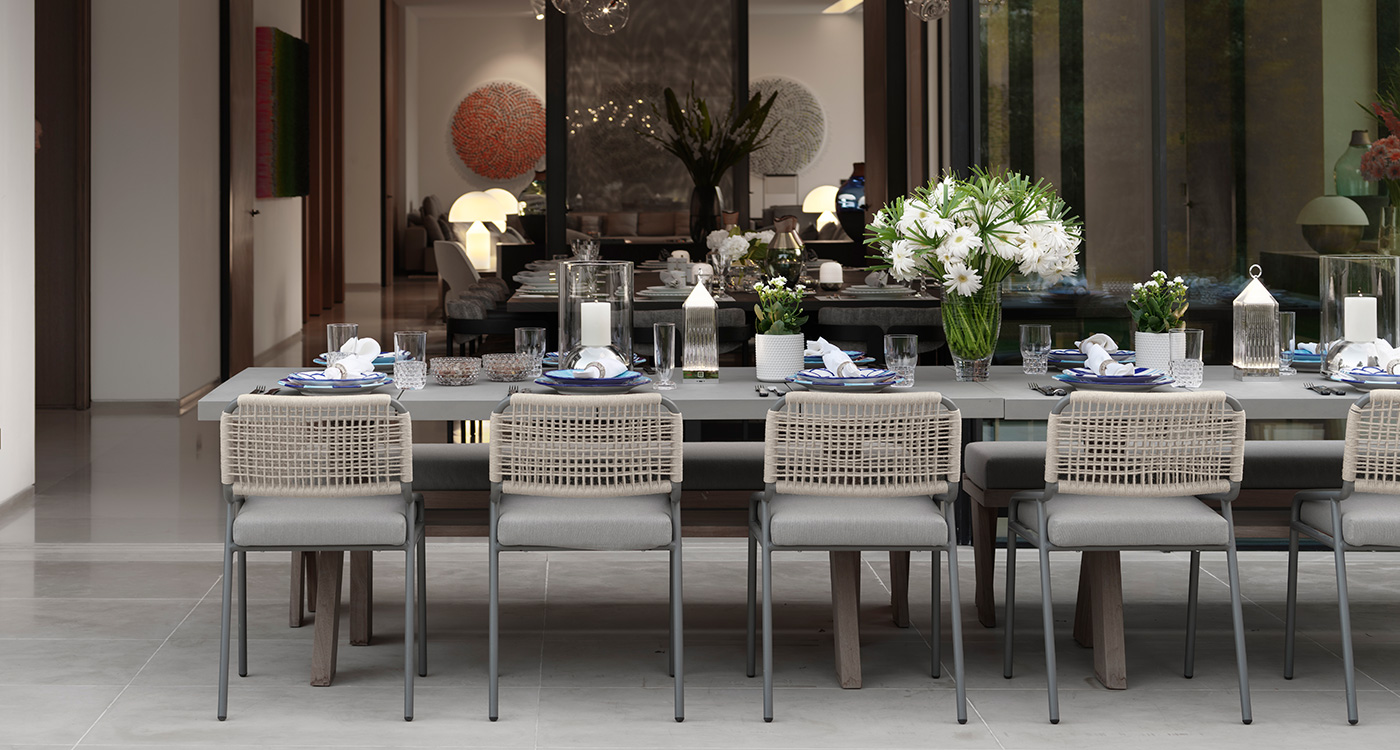 WHAT ELSE HAVE YOU COMPLETED RECENTLY?
[Monique Tollgård] We have completed a few projects recently with a particularly long-running endeavour coming to an end last year in London's Knightsbridge. We've called it the Batman Penthouse and it was something that started in 2015 and finished in 2019. It was a wonderful project using some unique design ideas and a 'more-is-more' philosophy, which was quite a change for us.
HOW DO YOU SEE THE INTERIOR DESIGN MARKET CHANGING OVER THE NEXT TEN, TWENTY YEARS?
[Staffan Tollgård] There has been a general shift towards understanding the importance of well-being and living a more balanced, meaningful and thoughtful life. We work hard to help our clients live happier lives in their homes and we are seeing this approach more generally reflected in parts of our industry as time goes on. One of the only silver linings of the coronavirus cloud is that our clients are getting to spend more time at home with their families, enjoying the spaces that we have created for them.