December 3, 2019 Nadia Michel
Karen Wazen's eyewear label is infiltrating the global fashion market with designer products at high-street prices plus a very of-the-moment digital marketing strategy.
Dubai-based Instagrammer Karen Wazen could easily have been content with her lot as a social media influencer who showcases others' products. But she was clearly too astute for that, realising that such a position won't last forever. So, the mother of three, who has two million followers, chose to put her neck on the line and start an eyewear label, from scratch, with no formal training, no manufacturing contacts, no guaranteed distribution channels and no marketing budget. Amazingly, despite the odds being unquestionably stacked against her, she is building a bona fide international brand.

"I wanted to create something tangible for my followers. Now people feel like they have a piece of me with them," says the petite 33-year-old psychology major, who also explains how she initially relied solely on her Instagram page to push leads towards her website. Even so, the glasses were an instant hit, and her loyal followers proved willing to fork up the almost 200 USD in cash to acquire that little piece of their favourite protagonist. Moreover, in the 12 months that have passed since the brand began, she has shored up global awareness via pop-ups with Maison Pyramide and just recently signed a deal to make her wares available on Farfetch, one of world's largest fashion e-commerce players.
"We're also now working with a PR company in L.A.," reveals Wazen, "who should be getting our glasses on celebrities soon."
Though you might well have thought the sunglasses market was already fairly saturated, Wazen's formula – namely super trendy sunnies at Ray-Ban prices – has proven to be right.
"I found that when I paid 400 to 500 USD for a pair of designer glasses, I'd get upset because the trend would pass and I'd only worn them a few times," she says. "I wanted to create something that I would personally feel comfortable buying, so we've priced them from 150 USD."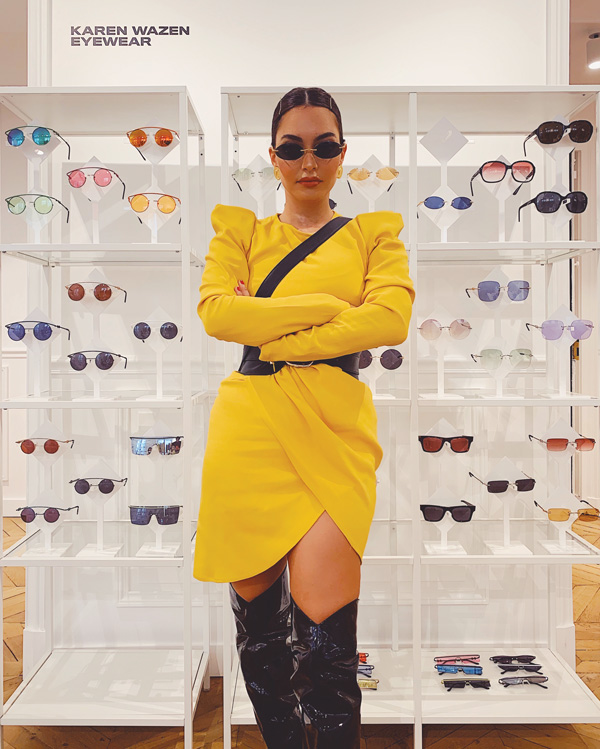 Wazen's aesthetic, when it comes to eyewear, is more fashion than function, and her most popular designs are the kind that can instantly elevate any outfit, perhaps even become a talking point in their own right.
"The first season, the styles were really unique. I could pretty much tell you that that you couldn't find anything that we had in our first season from any of the big brands," she says.
For her follow-up collections, including her third, which launches in February 2020, Wazen proposes styles that are a little more timeless and she's tweaked some of her originals based on customer feedback, including making her signature round Retros a tad bigger.
Conceptualized by Wazen but designed by her shoe-designer sister, Andrea Wazen, the glasses are being produced in a Hong Kong-based factory that was handpicked by Karen herself – a move that opens up more possibilities for the entrepreneur, like producing white label glasses for other designers, for instance. Hers continue to sell mainly via her website, but also at Brown's online and at their London shop, in addition to Farfetch.com. During our interview, she also drops clues about a possible children's line that's in the works, hinting at ambitions that go beyond a few seasons.
Proving that she's more than just a 'Grammer, Karen Wazen has shown the power of a pivot, and with her manufacturing base now ready to offer their know how to others, you can expect further extensions to her sphere of influence.