December 9, 2016 Polly Vernon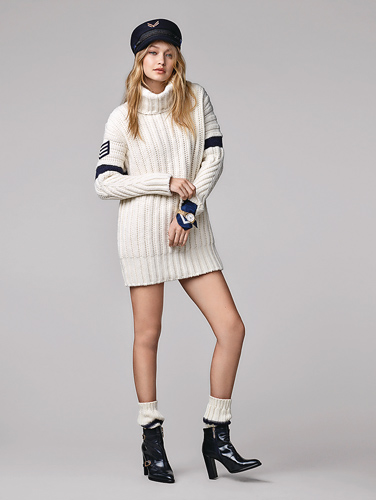 She's got 26 million Instagram fans following her every move and desperate to buy whatever she eats, drinks and wears. We meet with the 21-year old social media phenomenon and her latest accomplice, Tommy Hilfiger.
Gigi Hadid is catnip to the young, and famous in all the ways this generation respects. She is one of the most successful models of the moment, the face and body that adorns every second billboard and bus towards which you cast a cursory glance. She's the sister of another model (19-year-old Bella, Official Bespoke issue 55), daughter of a reality TV star (The Real Housewives of Beverly Hills' Yolanda Hadid) and a Palestinian-American real estate developer (Mohamed Anwar Hadid), best friend to pop star Taylor Swift and (yet another very successful model who is also a reality TV star) Kendall Jenner, girlfriend of former One Direction band member Zayn Malik – and, perhaps most significantly of all, an Instagram sensation.
At the last count, Hadid had 26 million followers on the social media photo-sharing site. That's 26 million young consumers, all desperate to know everything there is to know about her, desperate for an update on Hadid's life, desperate to learn where she is right now, what she's doing – "Just waiting for whatever she offers them," Tommy Hilfiger tells me, his voice filling with absolute awe. "They would want to eat the same sandwich; they would want to drive the same kind of car. They want to go to the same restaurants she goes to. They want to know what music she likes, so they can put that on their playlist." And they would certainly want to buy the clothes that Hadid not merely wears, but has had a hand in designing. Short skirts, cute stripy sweaters and platform sandals by their Instagram icon. Hadid's Instagram feed is one of the most powerful marketing tools available to businesses – which is why Hilfiger conceived of the Tommy x Gigi collaboration in the first place.
The crowd grows hushed as the show begins, simultaneously raising smartphone cameras to capture the moment for digital posterity, and then Gigi Hadid appears: one metre seventy nine, a golden tanned body that looks thin to me, though internet trolls once denounced it as too fat for the runway (Hadid struck back on Twitter with an impassioned plea against the culture of body shaming), clad in leather trousers and heeled ankle boots, a brocade jacket over a T-shirt with an anchor on the front. Her hair flows mermaid long and her legs strut. (Trolls also once attacked her for her "weird walk". Hadid was upset, but then Naomi Campbell practised it with her in a hotel corridor, telling her, "Don't apologise, don't do it. You are perfect the way you are. Everyone said my walk was weird.").
And goodness, she is lovely. Brooke Shields meets Brigitte Bardot, the epitome of all-American beauty, with something more exotic thrown in for good measure – the genetic legacy of her Dutch mother and Arab father. The crowd goes as politely wild as a fashion show crowd ever goes, and Gigi walks on.
I'd met her – and her 65-year-old designer mentor, Tommy Hilfiger – earlier in the day. I'd travelled from London to New York on the promise of a 20-minute audience with her, and a further 20 minutes with Hilfiger. This isn't very long. Generally, you expect an hour with an interview subject – and you'd probably allow extra time for a model, as they're typically tricky interviewees. Not because they're stupid, but rather because they are almost always very young. They may be living extraordinary lives, bouncing from one bizarre experience to another, but they have nothing much to compare it with, no context or experience.
Hadid doesn't even have the benefit of an ordinary background, so there's no rags to riches story to tell. Jelena Noura "Gigi" Hadid was born in 1995 and raised in Los Angeles in gilded privilege by Yolanda and Mohamed, and then by her mother's second husband, music producer David Foster. She started modelling at two for Guess, but packed it in at nine, because Yolanda wanted her to focus on school, volleyball and horse riding, at which she is incredibly good (though not as good as her sister, Bella, who'd hoped to win a place on the 2016 US Olympic equestrian team before Lyme Disease intervened). Hadid has never known anything but the highly glamorous, high profile world in which she now operates professionally.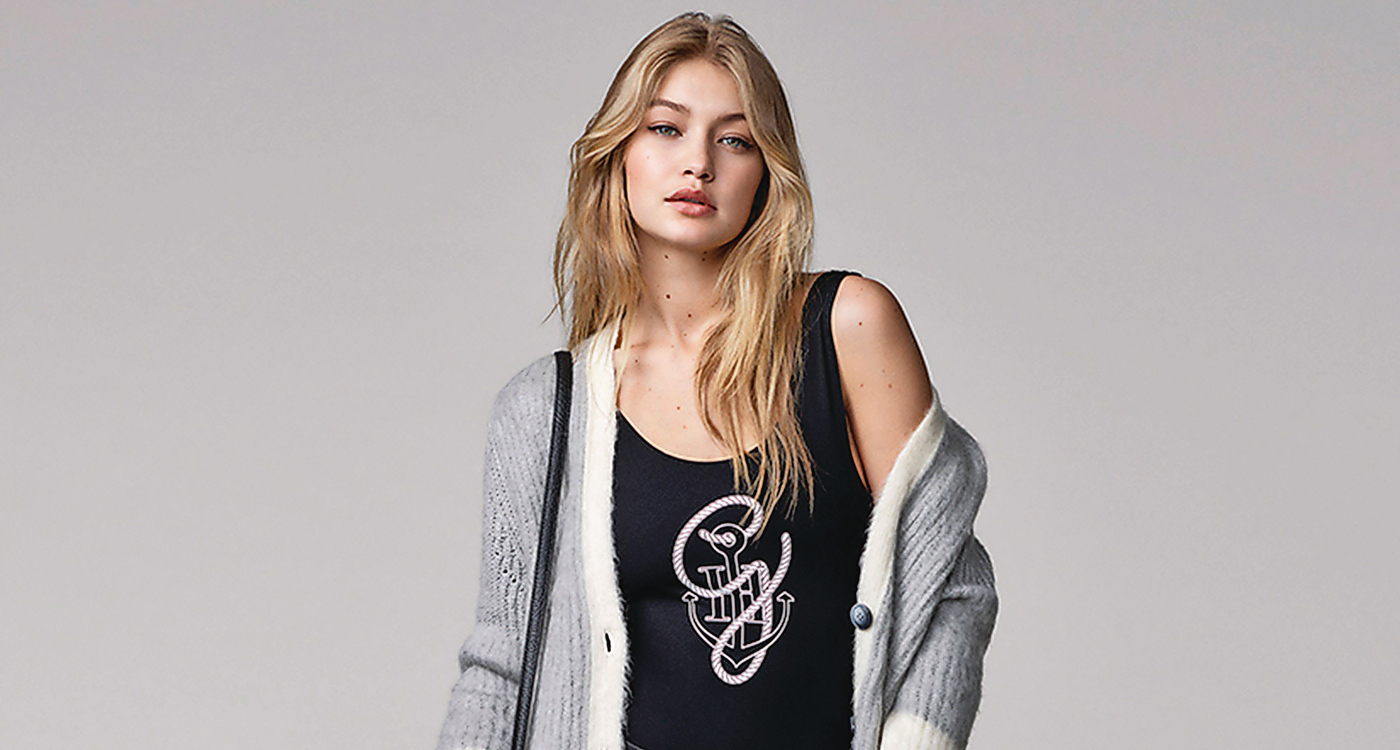 Yet Hadid is interesting enough to get me on a plane. She represents something bigger than just another rich girl turned big-deal model. She represents a new, incredibly potent kind of celebrity, one born of social-media supremacy. The modelling career is just a nice sideline.
I tip up at Tommy Hilfiger's flagship store on Fifth Avenue a couple of hours after the show, armed with a lot of questions for Hadid – more than my allotted 20 minutes will allow. I want to know how she deals with rejection (she was turned down for the Victoria's Secret catwalk show twice before she was finally cast).
I want to know if she recognises her power, her capacity to sell stuff. I want to know if she's ever tempted to exploit it, if she ever has exploited it, or if she ever feels exploited by the blatant eagerness of others to tap into it – people like Tommy Hilfiger, for example.
I want to know if she considers herself a feminist. Hadid is part of a famous, powerful, definitively female set, one which includes Taylor Swift and Kendall Jenner and is celebrated repeatedly in group selfies on Instagram, and also in the video for Swift's 2015 single Bad Blood, which starred a roster of famous girlfriends dressed as superheroes (Hadid was among them, inevitably). Hadid has said, of her all-female friendship group: "A lot of women in the entertainment industry are really supporting each other and showing that it's less cool to be mean than it is to be nice. I think that that's a unique thing to our generation." Does she recognise this as feminism, though? As an incarnation of the idea of sisterhood? Or not?
I want to know if she has a policy on only ever dating other famous people – before Hadid became involved with Zayn Malik, she had relationships with two other pop stars: Joe Jonas and Cody Simpson. I want to know about the stalker she had, who tried to break into her New York apartment five times in 2015.
As I say, that's a lot for 20 minutes. But, oh dear, it's far too much for the five minutes and seven seconds that I actually end up getting with Hadid and Hilfiger together. Here's how that went.
OK. LOOK. I THINK WE NEED TO DO THE ENTIRE FASHION WORLD A FAVOUR AND COME UP WITH AN ALTERNATIVE WORD FOR SUPERMODEL BECAUSE I FEEL LIKE YOU ARE THAT GIGI…
GH (with gracious acquiescence): "Thank you."
TH: "I think she's a superstar. Yeah. She's a superstar. She's a star in many ways. Not only as a model but as a person. As a creative person, she really did this collection, she really, really focused in on creating it, and guiding us in this direction, making it very cool …"
HOW DOES IT FEEL TO HEAR THT GIGI?
GH: "It's like, I have been teary-eyed all day! I'm a very emotional person, but when I hear that… It's like, so crazy. I just, you know, really wanted to make sure I put everything I had into this, and I knew if I didn't give it every second, like, as my eyes were closing, the eighth hour in the studio, if I didn't give everything, then I would regret it later.
(TO TH): IS IT EVERYTHING YOU WANTED?
TH: "It was really way more. Because I've worked with a lot of people in the past. Beyoncé to many of the supermodels. Naomi. Kate. You've been in the business as long as I have, you've obviously experienced a lot of … Gigi is unique in that she is, obviously, as I say, a superstar, but her social-media following is beyond. She has a fanbase, who are waiting for whatever she offers them… So, she's actually an influential pop cultural icon!"
(TO GH): YOU"RE A POWERFUL PERSON AREN"T YOU?
GH: "Ummmm …"
TH: "Yes!"
GH: "Ummmm …"
TH: "She won't say it. But, think of that she's a pop cultural icon."
GH: "I don't even know what to say."
TH: "On the list of what she does, you could also add: nice."
I'd read the "nice" thing while researching her. She does seem to exude nice – it vibrated off her at the press conference – and I'm wondering if it's perhaps the deciding factor in her social-media resonance. In theory, Hadid – with her looks and her background and her pop-star boyfriends – should be supremely unrelatable for girls and young women; threatening, the embodiment of everything they will never be. And yet, millions of them do relate to her, aspire to her. Perhaps this is the consequence of Hadid's niceness?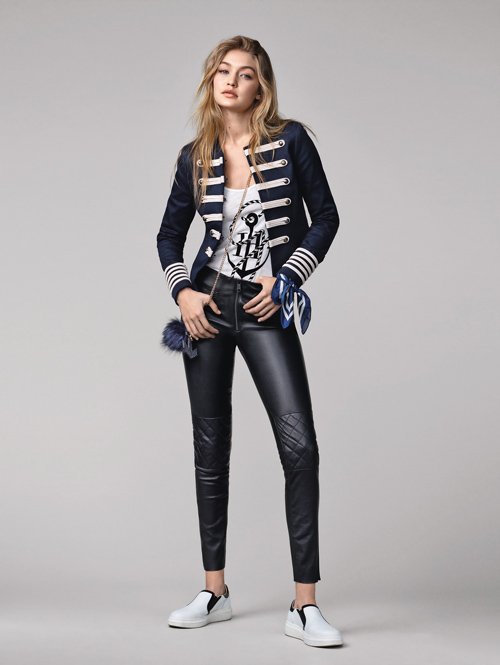 The triumph of it? She makes a tiny gesture during our five minutes and seven seconds together that does strike me as nice. She sees me looking nervously at my tape recorder, watches me push it slightly forward towards Tommy Hilfiger, who speaks very quietly, so she picks the machine up and holds it closer to him, a move that manages simultaneously to convey deference to Hilfiger and a willingness just to make things easier for everyone.
GH: "Oh, that's awesome!"
TH: "Think about it. A lot of people become stars and it goes to their heads, and they forget their friends and they think they're cooler than life. That isn't Gigi. Gigi has her feet on the ground."
IS SHE THE NICEST PERSON YOU"VE EVER WORKED WITH?
TH: "By far."
GH: "THANK YOU!"
TH: "There are some horror stories, about others, that I won't even go into."
OH PLEASE DO!
TH: "No."
It is at this point that a Hilfiger employee winds up proceedings. Hilfiger and Hadid need to be somewhere else. Tommy Hilfiger apologises for the briefness of our interaction; Hadid returns my tape machine. I'm done.
I finally understand what this collaboration actually represents – what Hadid represents. She's the future of fashion, isn't she? Along with her contemporaries with big social-media followings (Kendall Jenner, Cara Delevingne, Candice Swanepoel, Karlie Kloss), Gigi is the future of commerce. Models with as much, if not more, clout than the designers for whom they work. Models without whom those same designers simply won't sell clothes; certainly not in a few years, when those of us who haven't lived our lives online, who still don't really know what SnapChat is, start to die off. Models with more reach and impact than any advertising campaign has had, or will ever have; models who can access millions upon millions of consumers, just by firing up their iPhones.