December 6, 2019 Marwan Naaman
Ghanaian-British architect Sir David Adjaye has cultivated a reputation for being fearless and nonconformist but a new project in Abu Dhabi could well define his career.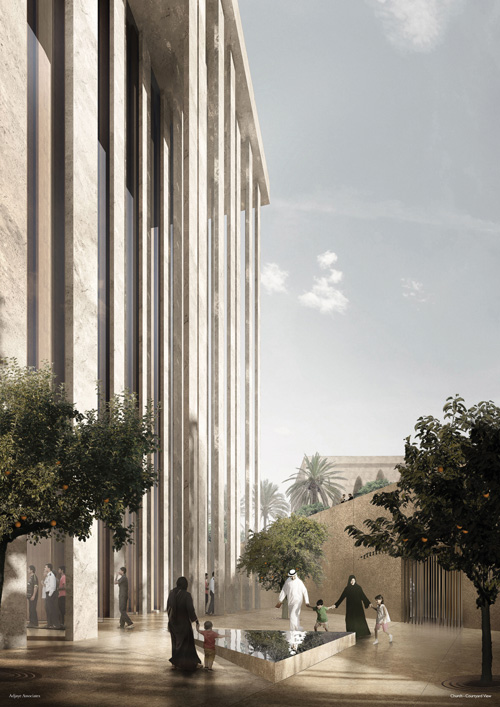 Abu Dhabi's Saadiyat Island is fast becoming the Arabian Gulf's most distinguished cultural hub. Travel there now and you'll find the Louvre Abu Dhabi by Jean Nouvel, as well three other landmark projects under construction, in the form of the Guggenheim Abu Dhabi by Frank Gehry, the Sheikh Zayed National Museum by Foster + Partners and the Abu Dhabi Performing Arts Centre from Zaha Hadid Architects. But in February 2019 we learnt of a fourth and quite unexpected new project on Saadiyat, when the Crown Prince of Abu Dhabi, Sheikh Mohammed bin Zayed Al Nahyan (colloquially known as MBZ) announced plans for the Abrahamic Family House, a building that will, in 2022, house, for the very first time, the three major monotheistic religions in one form. The architecture firm chosen for this ground-breaking initiative? Adjaye Associates.
"We hope we have set out a plan for a beautiful and thought-provoking space that celebrates the three faiths and stimulates dialogue and understanding at a critical time for the world," says the firm's founder, 53-year-old Sir David Adjaye, who grew up in Tanzania, Egypt, Yemen and Lebanon before moving to Britain at the age of nine.
Adjaye has of course already created one of the 21st century's most distinctive buildings – the Smithsonian National Museum of African American History and Culture, which opened in 2016 on the National Mall in Washington DC. And he was the architect of the 2015 mixed-use Aïshti-by-the-Sea gallery-cum-mall in Lebanon, which, not too dissimilarly from the NMAAHC, bears a colourful aluminium tubular structure over its exoskeleton. But for the Abrahamic Family House, Adjaye will be establishing a landmark with far more expectancy than anything he has ever worked on before, as it's a project that creates a physical communion between the world's three Abrahamic faiths. His winning design encompasses three cubic houses of worship connected by a lush central courtyard that encourages visitors to meander from one place of worship to the next.
"This idea of connections and journeys within a building was also part of the narrative strategy for NMAAHC," explains Adjaye. "I wanted to preserve the unique experience of each of the faiths while at the same time connecting them all with one device."
The church, mosque and temple will feature distinctive façades, vaults, screens and colonnades inspired by their unique traditions but reimagined with Adjaye's contemporary architectural style. "As an architect I want to create a building that starts to dissolve the notion of hierarchical difference," Adjaye concludes. "It should represent universality and totality – something higher, that enhances the richness of human life."