February 11, 2007 Nicolas Shammas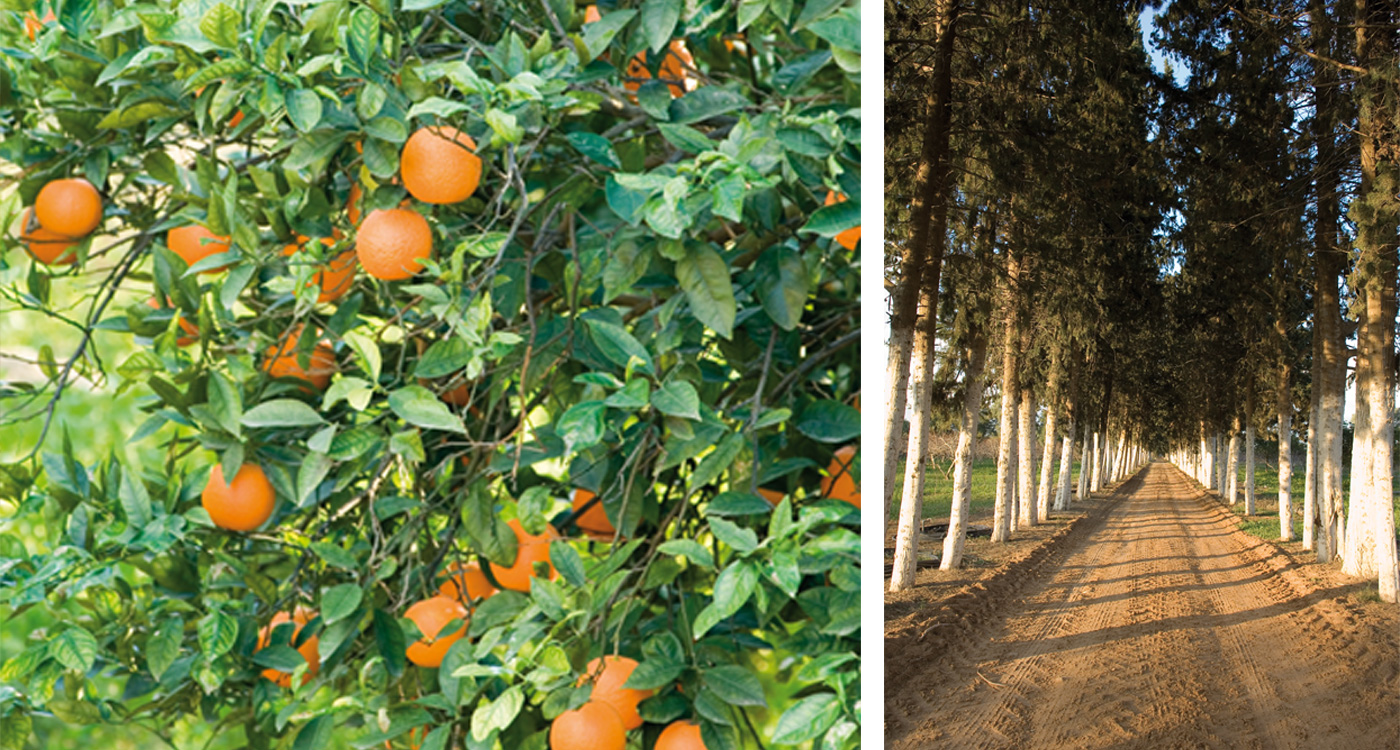 "We're in the wrong bloody airport," says our Libyan host as we touch down in Tripoli International Airport on board the Learjet 45. Of course it wasn't the city we had faulted on but the actual airfield. It seems that after decades of isolation, Libya has re-emerged still somewhat sleepy-eyed and not yet fully alert to the rapid pace that moves such cosmopolitan centres as Dubai, Beirut and Cairo. Sucking my breath in, I remembered that I was travelling to Tripoli as a guest and so expediting matters was no longer up to me. A few phone calls later by our host , a bit of waiting and finally we are on our way to what turned out to be the most unostentatious piece of paradise someone calls home.
The farm is discretely tucked away in the town of Ain Zara just 20 minutes from Tripoli and set within 50 acres of blossoming and seemingly never ending gardens, orchards and farming lands. The land itself was once owned by the Licali family, Italian landed gentry, one of only five families who owned all the land in this area back when Libya was an Italian colony from 1911 to 1947. Of course, the Italians had previously already occupied the North African country but in another incarnation, that of the Romans.
The potential for harvesting on such fertile land was not lost on the Lucalis who arduously grew grapes on the terrain and, I could easily imagine, had enjoyed many a fine vintage from their vineyard sitting out on the lush lawn watching the African sun set over the horizon. They also made some good business out of it as records show that top Italian table wines came from this land. Times changed, alcohol was prohibited, and in 1966 the land was bought by our host's late father. But something of its natural stillness has remained, thanks in large part to the nurturing of the land by our very munificent Libyan hosts.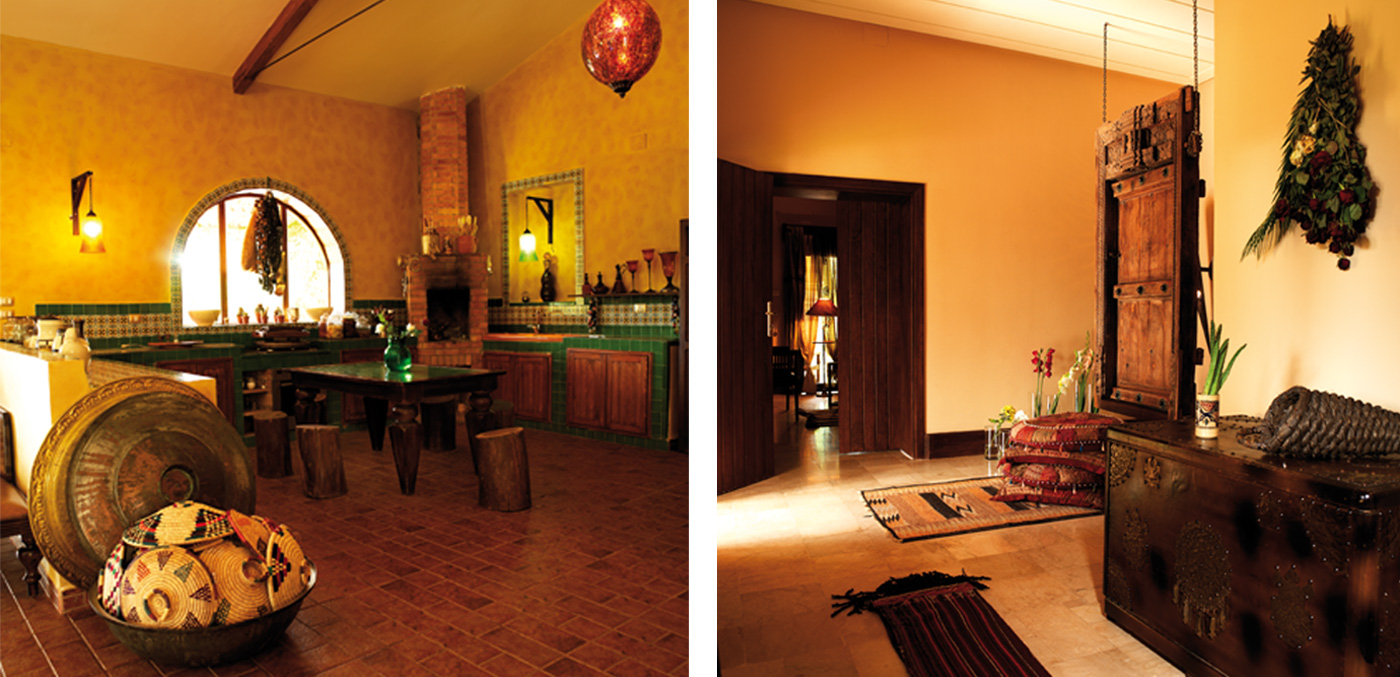 Arriving at the farm, you enter through gates operated by a gateman and are suddenly enveloped in a peaceful, warm and timeless atmosphere where you feel released of the trappings of modern life. There are many lessons to be gained from living on a farm. You have a sudden appreciation for nature, obviously, but the biggest lesson as a farmer is that what is sown into the ground cannot be reaped on the same day. This has never been truer, in my experience, than in Libya where waiting and accordingly, patience are not simply virtues but a way of life.
"The stage by stage refit of the farm took ten years," says our host with pride in his voice. Looking around, you're struck by the unassuming and tasteful décor rich in tradition and meaning, adding to the enchantment this escape bestows. The refurbishment required converting the stables to bedrooms and adding new extensions in the same spirit which are one floor, terracotta-tiled roof structures encircling the very large swimming pool. "We are three brothers and the decoration was really a compromise between all of our wives," quips our host.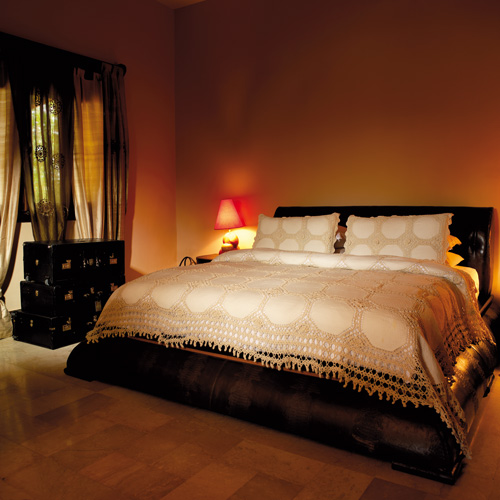 The construction techniques used throughout the premises are very basic and make the most of local talents. Paintings by local Libyan artists like Dr. Mahmoud Bachir are tastefully strung up on the walls and Ali Abbani statues decorate the rooms. There is a particularly interesting statue of a horse and rider standing proudly in the courtyard. "I can't remember his [the artist's] name but what I do remember is what an absolute nightmare it was to bring over because we had to ship it to Egypt, lorry it over and then crane it into position here. It cost an arm and a leg," reveals our host.
Because real country life means coexisting with nature, there is neither central heating nor air conditioning. We had to make do with the abundance of cosy fireplaces which are constantly stoked in winter. In the summer months, the large windows with mosquito netting do a more than sufficient job at cooling.
There is room enough for all the families, guests and 15 workers on the farm who predominantly harvest the most unquestionably delectable oranges to be found on this God-given Earth. The farm is also a montage of different animals that Noah might have herded into his Ark in Turkey just north east of where we enjoyed the lassitude of farm life. And as if by a twist of fate, our hosts' immediate neighbour is a ship builder who uses very old methods in creating boats bearing an uncanny resemblance to artists' impressions of what Noah's Ark may have looked like. In the event that the world starts flooding over again, this small Libyan farm would be able to save its pelicans, ostriches, flamingos, horses, chickens, lamas, gazelles, sheep and cows
But the owner's pride and joy is most notably Torro the enormous bull that our host says he plans on making into Kobe beef. Torro is so colossal, that the farm hands cringe at the idea of having to restrain him should the beast ever be released from his cell. So there he remains busily eating and mating until, unbeknownst to him, his Kobe day comes.
Sipping the curdling sweet but delicious local tea and gazing up into the crystal clear winter night sky, the log fire quietly crackling in the background, it is hard to imagine a more serene place to live. Dwellings nestled in the embrace of surrounding trees, the moon casting an enchanting silver glow over the countryside. And just for a second you can feel the stillness of time