April 27, 2007 Nicolas Shammas
Olga Berluti rarely grants interviews. Her mind, soul and body are dedicated to her trade. So much so that she also has no time for financial analyses or other diversions that may take her away from her passion. Her quest in life is beyond fashion and art – it is about crafting perfect luxurious shoes for men. Nicolas Shammas travelled to Paris to meet the sole female shoemaker in the world.
Olga Berluti is at my feet. Not because she is fitting me with a new pair of exquisitely-made shoes she is famous for. Indeed far from it, as I am in fact here to interview her. She is at my feet because, as she explains, she sees her role in life as being at the feet of men. Almost geisha-like, she kneels delicately on the floor, her petite frame composed, her wild black eyes fixed on mine. Her hair is cut short and wearing no make-up, she is dressed in sensible trousers and flat lace-up shoes. My questions are answered with passion and enthusiasm; she reveals an unhampered fire that still burns within her more than 45 years after she first entered the shoemaking business.
Olga is the fourth generation in an illustrious family of shoemakers, each with their own idiosyncrasies. The founder, Alessandro Berluti loved to fabricate the wooden lasts, the form on which the shoe is constructed; he paid great attention to the act of planing the wood until it was perfect. His son, Torello, could spend weeks in the company of completed shoes since he had a particular penchant for the finished products. Next in line was Talbinio Berluti, who loved the skins – the more exotic the leather the better – and he would search the world over for the rarer hides.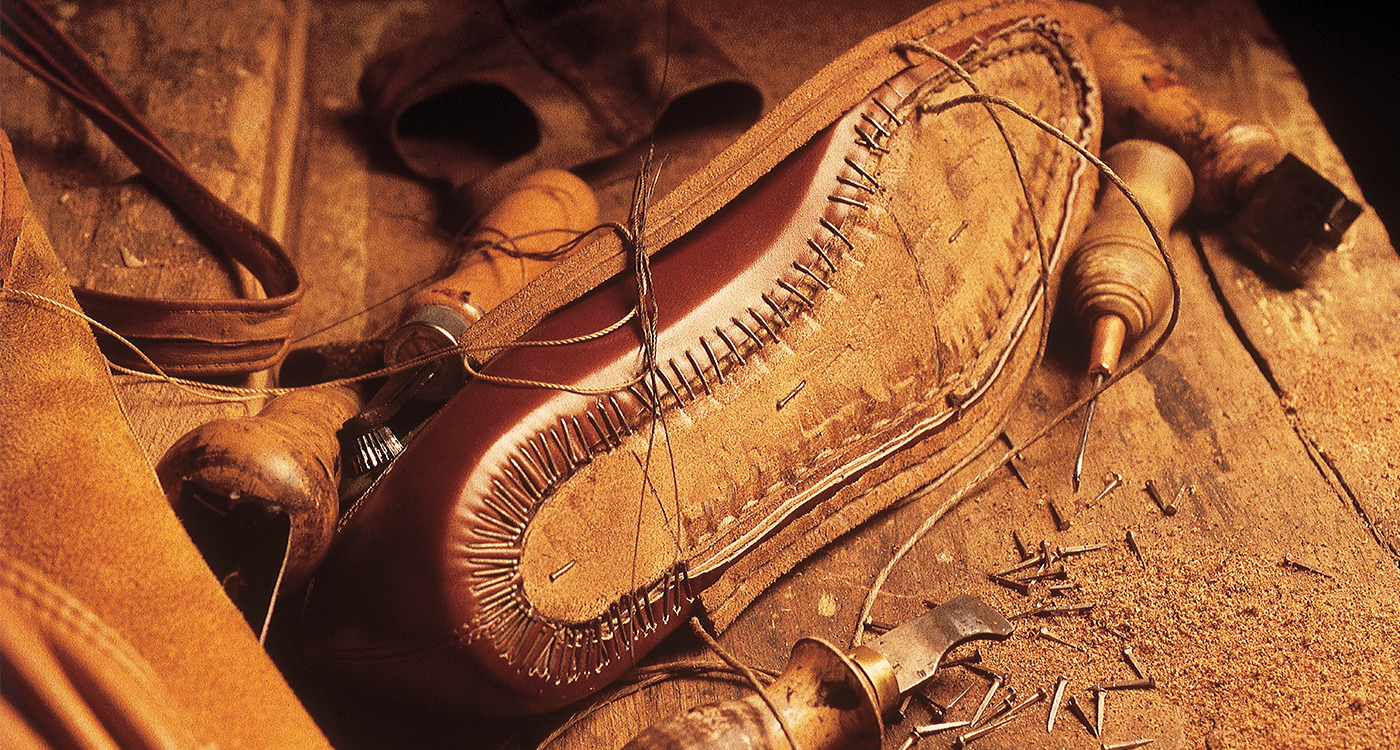 But Olga Berluti, Talbinio's younger cousin, knew from an early age that she was different. None of the sources of her predecessors' zeal meant much to her. Her passion was men. "I love to seduce. I love the eyes of men, their look brimming with happiness with me when I have dressed their feet. I never wanted to be a bottier, I wanted to be at the feet of men," she explains. Born in Parma, she is an Italian by birthright, but her family set up in Paris more than 112 years ago. And the City of Lights is where Olga still works and resides. She was never supposed to be a shoemaker, "My parents came from an old generation of Italians and they wanted me to follow custom and find a good man, marry and have children," says Berluti. That never happened.
I LOVE TO SEDUCE… I NEVER WANTED TO BE A BOTTIER, I WANTED TO BE AT THE FEET OF MEN. 
But one day in 1962, one of her family's more artistically inclined clients stopped by this very same atelier, wanting to order a pair of shoes. Olga who was 17-years-old at that time wasn't allowed near the workshops; she would sweep, dust , and only as a special treat, be allowed to polish back to life customers' old shoes. The artist in question was Andy Warhol and he was holding in his hand a design for a pair of shoes by his good friend Yves St Laurent. "He had a sketch of something square and impossible and said, 'This is what I want'. He placed the order. But when my grandfather came back from lunch he threw the order in the bin because I had forgotten to take a deposit," she remembers.
The incident caused her to burst into tears. An old worker took pity on her, retrieved the order, and secretly helped her execute Warhol's shoes. Mustering the courage to show them to her grandfather, he was less than flattering, "Too long. Too square. The leather is scarred. Dustbin!" recalls Berluti.
Warhol was furious when he came in weeks later and was told that the order had not been processed. But Olga approached him with the shoes that she had made. "They fitted him to perfection. He was so happy he began dancing in them. I did not choose my path, it was chosen for me," she says.
As a woman, the physical labours of shoemaking cannot be easily overcome but Berluti found her own style and techniques. "As a woman I think as a woman [does] and I cannot think as a man. A woman is a sensual provider for man and I work according to this principal. I do not dress the foot. I dress the man," says Berluti.
Typically a pair of bespoke shoes takes more than six months to complete: two months to make the last and four months to make the shoes. It's a piece of craftsmanship that involves no fewer than 350 operations and many hardships. Male bottiers work seated and place the piece between the legs to use their full force. Olga has a different approach, "I figured I had no strength in my legs, so all my life, I have worked standing up with the required strength coming from my shoulders. I had to reinvent shoemaking techniques. Rather than going out dancing, spending time on self-beautification or doing sports, I would rather stay in and come up with new techniques and methods. I sacrificed my life as a woman, but I honestly found true happiness," she explains.
Her atelier speaks volumes of her passion for her craft. The walls are adorned with paintings of shoes she herself made throughout the years. In a corner is a samurai statue that protects the secret Guerlain creams she uses to add softness and transparency to the leathers. The tabletops are decorated with wooden lasts of famous Berluti customers. All have been ornamented and personalized by Olga. The most distinctive belonged to Frank Sinatra, Dean Martin, Toulouse-Lautrec, the Duke of Windsor, Richard Burton, Ettore Bugatti, Henry Royce of Rolls-Royce, JFK, Pablo Picasso, and of course Andy Warhol. "I decorated the lasts because I have the highest respect for the people we have shod over the years. It was with infinite devotion, after caressing them for hours, that I decided to instil in them a breath of spiritual life. I wanted to give them, in my own way, eternal life… [just] like the Pharaohs."
Before Olga entered the family business, Berluti shoes were predominantly in black with a few in chestnut-brown. Today, you can find smoked blacks, blue-greys, yellow-browns and grey-greens; in fact the options are infinite. You can also find amazingly deep transparencies to the leather. Olga reveals that, "We are aided by some very famous chemists, amongst them Guerlain who provides us with creams that increase the suppleness of our leathers. Well, these creams, which we copiously massage into the leathers, actually give a certain transparency. I discovered that if you expose this leather to the moonlight during the first-quarter of its cycle, then you will achieve greater transparency."
She goes so far as to apply Dom Perignon champagne to the massaged leather, to absorb excess grease and ensure the leather is radiant. Olga Beluti is a pioneer in many ways. She invented the use of tattoos on the leathers of her shoes, drawing on the talents of one of her customers, until the process was perfected. "This is the art of disobedience; my grandfather would always say creation stems from disobedience," she says.
These days there are some 3,500 loyal customers to the Berluti brand including the president of LVMH, Bernard Arnault, who bought the brand in 1993. "The perfect shoe is a perfectly proportioned one. A shoe that is perfectly elegant has to be perfectly balanced and fitted to the foot. It should attain the three principals of comfort, longevity and uniqueness. Because the feet are protected by just a few centimetres of leather, those few centimetres should be the best," Olga explains. But she is quick to point out that, "Practicality is vulgarity. Sometimes with a perfect pair of shoes you will immediately take ownership of them. Right away you will fall in love with them. But I think that there are also the more challenging perfect shoes that you may choose because you wish to be the man that wears those shoes, but in fact you are not yet ready. So in truth you have chosen them, but you do not yet merit them. You keep them, you admire them and one day they become you, and only then will you deserve them."
During the course of my afternoon with Berluti I had a revelation. I realised that, like her shoes, Olga Berluti is one of a kind. It is a tragedy that many people will never have the chance to understand her. What I discovered was a free-thinking individual so admirably at odds with the world. In this day and age of cost-based analyses, price to earning ratios, market shares and corporate consolidations, this woman chooses to pursue only one aim in life: the happiness of her client. "I really never think in terms of business but rather in terms of happiness. With the opening of new stores such as the ready to wear store in Dubai, I think of all the men I do not know but who will know me through my shoes and will in turn love me," she says.
If Olga is correct in her belief that leather is a continuation of the human skin, then there is much to be said about a pair of  Berlutis: the more they age, the more they resemble you, the more you will wear them. Truly elegant gentlemen understand this.