April 1, 2020 Kevin Hackett
It's been quite a rollercoaster ride for Saudi businesswoman Princess Deena Aljuhani Abdulaziz. The former Editor of Vogue Arabia has moved on from her dramatic and highly publicised ousting but she's holding on to her crown as one of the Middle East's main fashion protagonists.
As far as magazine launches go, Vogue Arabia was a big one. It had been a long time coming – too long, in fact, for the countless fashionistas of the Middle East – but in September 2016, publishing house Condé Nast confirmed its 22nd international edition was to launch in spring 2017 and its editor would be one Deena Aljuhani Abdulaziz.
A bona fide princess, Abdulaziz had been a mover and shaker in Saudi Arabia's fashion scene for years and her royal position in the highest realms of society helped propel the story of Vogue's Middle East arrival into headlines around the world. Seven months later, however, with just two editions under her belt, she was gone – ousted and immediately replaced by Condé Nast veteran, Manuel Arnaut.
In with a bang and out with a deafening silence, her firing was shrouded in secrecy and Abdulaziz, now 44, is remaining tight-lipped and frustratingly off the record when talking with Official Bespoke about her tenure and departure, although she's resolutely upbeat regarding her experiences as the region's most talked about magazine editor. "I'm still grateful that I was able to give birth to this," she remarks. "Nobody can take it away. I'm proud of what was achieved, no matter what."
Reluctant as she may be to discuss her ill-fated magazine career and current projects, Abdulaziz is a natural and engaging conversationalist. She speaks quickly, yet every word is perfectly enunciated in a mildly husky voice that's an intoxicating blend of American and Middle East-tinged English. "I'm a hundred per cent Saudi," she says. "Born in California and the family lived there for a while. We were always back and forth between Saudi, Europe and the States, and as a result I've always felt Western and Middle Eastern at the same time."
I'M STILL GRATEFUL. NOBODY CAN TAKE IT AWAY. I'M PROUD OF WHAT WAS ACHIEVED, NO MATTER WHAT.
The eldest of three children, her father worked as an economist for the Saudi government but it was the family matriarch who evidently made the biggest impact on her – a woman she animatedly describes as being exceedingly glamorous at all times. "She's like a supermodel, which was something uncommon at the time when I was growing up. For some reason, most women, once they became mothers, became more 'motherly'. Not mine, never, and she still looks amazing now."
Abdulaziz's interest in fashion began early, with her claiming that, by the time she was three, she had developed an appreciation for what looked good. Her constant visits to Europe and especially the UK during her youth, exposed her, not only to Vogue, but to art and music that she still holds dear. Get her on the subject of 1970s and 80s pop music and you can't help but feel she'd make an ideal pub quiz combatant – Roxy Music, Madonna, Wham!, Sade and others made an indelible mark on her tastes and she raves about Smash Hits, the irreverent, iconic fortnightly music magazine that was an indispensible part of growing up for British youngsters.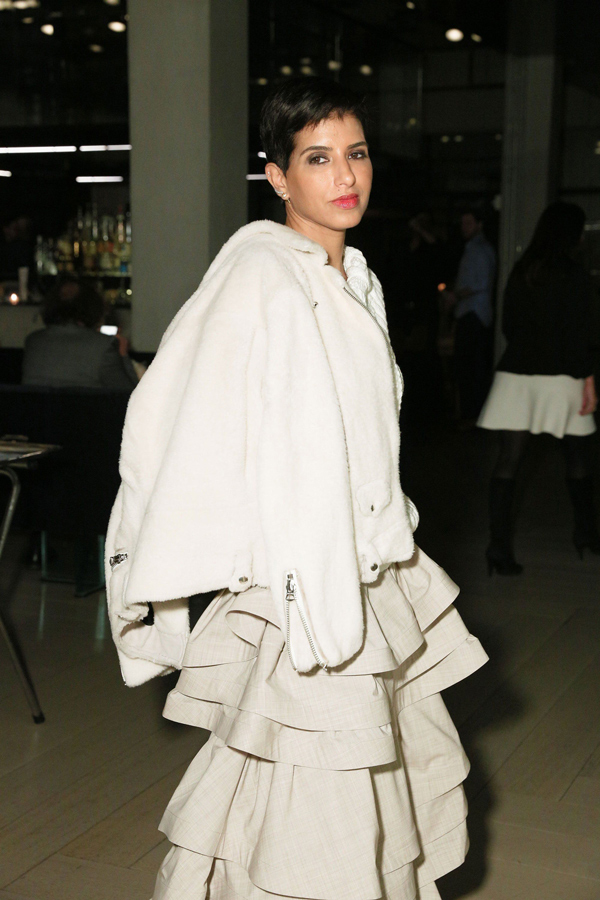 This deep, multi-cultural immersion has never really stopped, even after she met, fell in love with and married (at the age of 23, wearing shoes specially designed by her long term friend, Christian Louboutin) her literal prince charming, HRH Prince Sultan bin Fahad bin Nasser bin Abdulaziz, with whom she has three children. "Really I'm a commoner," she smiles, "a princess through marriage [referred to as Her Highness, rather than Her Royal Highness] but I am very much my own person."
His career meant moves to Geneva and New York, neither of which did anything to quench her thirst for fashion. "It was before the Internet took off and I spent all my money on fashion books and magazines. Being able to meet and mix with others who shared my interests was a really big deal. It wasn't just the actual fashion that fascinated me but the creative processes involved in it, and there are few places in the world where you can be immersed in that better than New York."
Predictably, she hankered for a career in the industry but her royalty proved to be an immovable stumbling block when applying for roles. Her father, whom she praises for having been a constant rock in her life, suggested starting up her own venture once the family moved back to live in Riyadh, and she conceptualised her own boutique, which opened – for invited guests only – in September 2006. Being extremely well connected served the business well and she threw lavish parties where the 'who's who' of female Saudi society gathered to talk style, beauty and spend money on couture via the boutique, known as D'NA.
Its success prompted the opening of a second, in Doha, followed by an online venture. These businesses, however, had to go when she assumed the editorship of Vogue Arabia, lest there be conflicts of interest. "Nothing is left," she laments. "I sold my shares to my partner and everything is now closed down." When asked about her vision for the future, there's perhaps a hint as to what's to come, and it's obviously not Saudi runway shows.
"I'm not interested in creating something nobody will show up for," she says. "Really, only Paris is relevant nowadays. My aim is to create things that are institutional, to create a culture – the equivalent of V&A (London's famed Victoria and Albert museum) in Saudi, that brings together couture and local traditions. I'd also like to create some sort of fashion district, where things can be designed and made from scratch – harnessing the creativity possessed by women in the Kingdom."
And times, as Bob Dylan famously wrote, they are-a-changin' in Saudi Arabia – something Abdulaziz can't help but be excited about. Speaking about the unprecedented modernisation witnessed over the past three years, she's practically lost for words.
"I never thought I'd see it in my lifetime but the last two years seem to have moved at lightning speed," she reflects. "And it's worth remembering that the country has only existed [in its current form] since 1932. Saudi has never been colonised, never really exposed to other cultures until very recently. So the fast pace of change now is incredible and it makes me extremely proud. These are exciting times.
"The fact is, women in Saudi Arabia are no different to those from any other country. They are either interested in their appearance, or they're not, and those who are, are passionate about fashion and beauty in every respect. Which is why having our own Vogue – an edition that spoke to us, one that we could relate to – was such a big deal."
Something the wider world saw as a really big deal when it comes to recent Saudi Arabia's reforms, has definitely been lost on her, though: she has absolutely no interest in driving a car. "In that respect," laughs the princess, "I'm truly a New Yorker – I must be the only woman in the kingdom who doesn't know how to drive!"
Passenger, wife, mother, princess, style icon and visionary with plans up her immaculately tailored sleeve – we've certainly not seen the last of Deena Aljuhani Abdulaziz.