May 23, 2019 Nicolas Shammas
Amsterdam may be small and easy to navigate by bike, but it's never dull. A prime example of progressive living, bottled inside a charming 17th century city, it offers art, culture and gastronomic delights in spades.
For decades, Amsterdam was characterised as a drug-dealing, sex-crazed, freewheeling city of psychedelic misadventure. But the heyday for such pursuits came and went well before the turn of this millennium. And with various countries, most notably Canada and Uruguay, going substantially further than Holland in legalising prostitution and mild drug use, it would appear that a person who was looking to partake in such vices now has a multitude of options, and probably much nearer to home. This might therefore explain why Amsterdam has chosen to clean up its act, and why its former red light district is in the midst of a multi-million Euro makeover, with bordellos being turned into upscale homes, and marijuana-selling 'coffee shops' re-emerging as trendy coffee-selling cafés. Indeed, there's a slew of new art galleries, stylish boutiques and buzzy restaurants to visit these days, and
the big-hitting museums have also upped their game, spending vast fortunes on improvements and renovations.
Visit Amsterdam nowadays and you can't help but notice the evolution. What's more, unlike Venice, which has a similar patchwork quilt of canal-bordered islands, anchored upon millions of wooden pilings, Amsterdam is not a city that's content just looking backwards, nor does it show any tentativeness in its pursuit of progress. Simply put, this place is boldly striding forwards into a future of trendiness, good living, avant-garde art, progressive jazz, and all with its perennial spirit of live-and-let-live.
Maintaining that spirit will be the key to this renaissance but, like many other capitals attempting to juggle regeneration and gentrification, the character of Amsterdam will surely change. For now it's a super cool place of accepted paradoxes, a place where churches are situated next to brothels. Where antiques shops can be found right next door to experimental design galleries. And where the suited working masses vehemently demand the right to smoke a joint after work, with total impunity, even if the vast majority of them choose not to. It's a place where idiosyncrasies work for the greater good. For example, the quirky system of 'social control' allows a man to feel safer in his home knowing his neighbourhood is being watched by the hookers next door. But the city's growing popularity also bears some of the hallmarks of Berlin between 2005 and 2015. Both cities were once off-the-beaten path, and unless you made the effort to discover their secrets, you'd find each to be uninviting and inaccessible. Crucially, just like Berlin, whose uncoolness once constituted the key factor in what made it cool, Amsterdam's newfound hipness threatens to actually undo its charm. With 5.3 million people visiting Amsterdam last year, up from 3.4 million in 2000, it's clear you'd better move fast if you want to enjoy this place while the trendsetters are still there (and before their followers go and ruin it).
So first and foremost: how long should you stay in Amsterdam? The answer is that you could spend a couple of weeks without getting bored but three days is our tried and tested bare minimum. There are now loads of design-savvy hotels to choose from, so a few short trips rather than one long one provides an opportunity to try more of them. Speaking of which, we've long been fans of the elegance and service of the Grand but there's also Hotel de l'Europe (owned and operated by Heineken), an historic hotel with a contemporary makeover. Then there's the intimate yet detached Dylan, the up-and-coming charmers Sir Albert and Sir Adam, and of course the new W, which we have yet to try. But if you want sleek, hip minimalism à la Bulgari and Armani, then there's really only one place for you, and it's The Conservatorium.
This 129-room hotel occupies an imposing 19th century building originally constructed as a bank before later becoming the Sweelinck Music Conservatory. Many of the building's original features remain intact, like wall tiles, stained glass, timber beams, even vaulted doors but Italian interior architect Piero Lissoni has managed to make it into a modern hotel, with an uplifting expanse of tasteful minimalism. The rooms are furnished in a contemporary, worldly way, using a colour palate that favours muted earth tones. At the hotel's centre is a huge atrium, framed by a one-sided glass wall, as well as a ceiling of glass, and it makes for by far the most impressive lobby-cum-lounge in town – where even on cloudy days, you can enjoy the feeling of sunlight flooding into the space.
The rooms are all different in size, which adds to the charm, and the service is top-notch, but the hotel's not without fault. For example, the Floris bath amenities are of the eco-unfriendly, teeny-tiny variety, there are only four hangars in your cupboards, the windows hardly open and electrical outlets are often installed only on one side of the bed. Then there's the fact that at 700 USD a night, you'd have thought they'd throw in free breakfast, or at least the measly cost of the bicycle rentals, but they don't. On the plus side, the beds are wonderfully comfortable, there's an excellent spa with an 18-metre pool and in terms of its location (which is smack bang outside the Van Gogh museum), you couldn't ask for much better.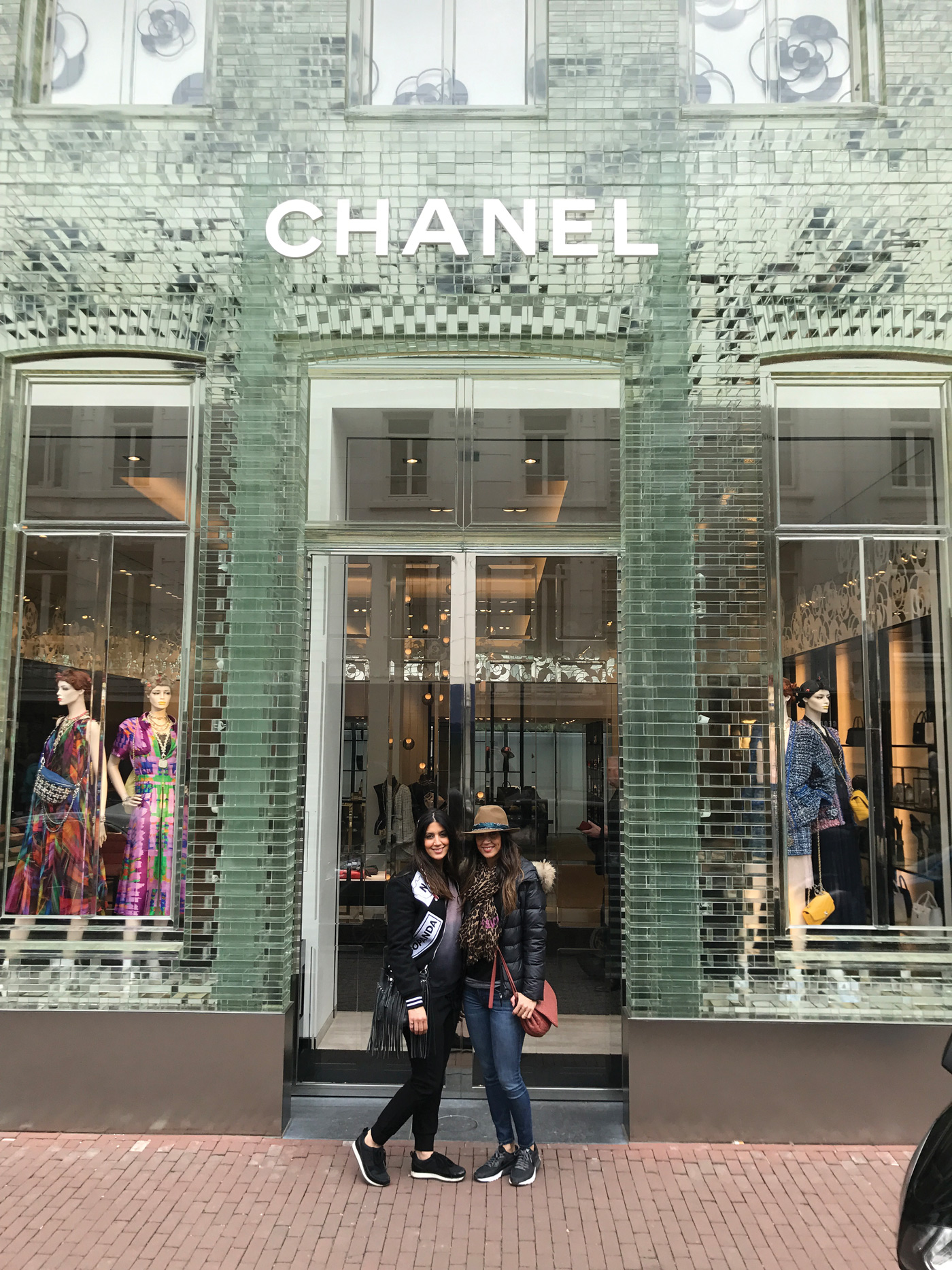 DAY 1
On your first day, after checking into the hotel, head straight to the Rijksmuseum, the Dutch national museum of art and history, which reopened in 2013 after a decade (and half a billion dollars) of reconstruction. Gone is the labyrinth of claustrophobic rooms, in its place is a series of grand galleries designed by Spanish architects Cruz y Ortiz. Two whole floors were even ripped out to make way for a vast sky-lit entrance foyer. And as expected, Rembrandt's magnificent 'Night Watch' remains the centrepiece, but all around it has changed, including most importantly, a daring and inventive presentation of collections. Once you've finished taking in the art, make sure you check out the museum's beautiful south-side garden, where visitors can sit and enjoy a glass of wine. And pop by their Michelin-starred restaurant Rijks, although you won't have time to eat there, at least on this trip. Instead, try something quicker and lighter – Singel 404.
Singel 404 is easy to miss when you're on a bicycle, as it's an unassuming canal-side lunchtime café, but what it lacks in size, it makes up for in its menu, which is huge. There are over 75 sandwiches to choose from as well as a number of interesting salads. When you're done, get back on your bike and take a five-minute trip to Moooi Gallery.
The glorious Moooi is ostensibly a furniture and home accessories shop, yet its wares are beautiful enough to display as art. It was founded by Dutch designer Marcel Wander who believes it's "a collection of everything possible", from a life-sized black horse lamp and a 'Turbo' table, which look like a child's drawing of a car come to life, to the 'Killing of the Piggy Bank' ceramic pig vase, complete with gold hammer and all.
For dinner, The Duchess, is a kind of trendy mix of La Petite Maison meets The Wolseley. Housed in a dining room that dates back to the Belle Epoque era, The Duchess once served as the counting office (whatever that is) of a bank but it's now part of the W Hotel. Framed by an enormous and distant, stained-glass roof, decorated with swaths of dark marble and furnished with countless deep-padded leather seats, it offers Mediterranean dishes with a modern twist. Mind you, the starters are more interesting than the mains so load up on the prawns in warm olive oil, foie gras-filled donuts and baked scallops with mushroom before sharing a Beef Wellington, broccoli and truffle gnocchi and grilled lamb cutlets with figs. Following that, you'll definitely be in need of a breather, so why not burn off some calories by taking an eye-opening, heart quickening stroll through the red light alleyways of De Wallen?
DAY 2
A hearty breakfast at The Conservatorium is a perfect way to start an easy morning off. Those who want to shop can walk two blocks north of the hotel, where they'll find Amsterdam's version of Rodeo Drive: Pieter Cornelisz Hoofstraat, and those who don't should simply stay put and enjoy an indulgent morning at the spa. Common ground will be found over lunch at Lion Noir, a super 'in' restaurant created by the owner of one of the city's best-known nightclubs (Jimmy Woo). Tables upstairs in the deep-green walled main dining room are popular, but real insiders know to ask for a spot in the courtyard garden, beside the building's supremely elegant rear façade.
Next head to De 9 Straatjes (The 9 Streets), which is the city's most photogenic micro-neighbourhood and the best place to stroll about and get a feel for the city's trendy local boutiques. Two absolute musts are: The Otherist (which has an interesting collection of curiosities) and Van Stapele (which sells only one product – the most delicious Valrhona chocolate cookie you'll ever try). Save some space
though for dinner, which is at Ciel Bleu, the only two-starred Michelin restaurant in Amsterdam. It's located on the 23rd floor of the Okura Hotel, one of the tallest buildings in town, so apart from sumptuous fare and impeccable service you'll also get to enjoy a rare and unrestricted view across the city. Without giving too much away, Ciel Bleu will likely be the highlight of your trip.
DAY 3
Start the day with a breakfast-brunch at Little Collins, which offers Dutch staples such as kedgeree and eggs hollandaise as well as original creations like oysters with tequila-lime granita. After breakfast, cycle over to Menno Kroon, an upmarket flower shop that sells beautiful ceramic tulip vases by Anouk Kramer and don't worry about carrying one on your bike, as these guys are already the florists for The Conservatorium and will gladly drop off whatever you buy, right to your room. Next stop, it's Vondelpark, Amsterdam's largest – and most famous – municipal park and once you've circumnavigated it, hopefully stopping to smell the tulips, you'll no doubt be ready for Ron Gastrobar by Chef Ron Blaauw, who shut down his double-Michelin-starred restaurant to turn it into this gastropub, which serves impeccable yet affordable cuisine. There are about 25 one-flat-price tapas-style dishes, including lamb tacos drizzled with harissa and yoghurt, Wagyu sliders served with a coating of blue cheese and served in brioche buns, and spaghetti slathered in beurre de Paris, oyster butter and poor man's caviar. To be frank, this is the one place that should never be missed by anyone visiting Amsterdam.
Next stop is the Van Gogh Museum, because who are we kidding, what is a trip to Holland without taking in the works of its most famous artist? Then if you have the appetite, you should really consider stopping by Ten Kate Friet, for some exceptional fries (which by the way are an obsession in the Netherlands). Finally, make your last dinner Vinkeles, situated in a former bakery at the Dylan Hotel. Chef Dennis Kuipers' Michelin star is well earned and his refined dishes betray a dedication to purity, in terms of flavour and presentation.
You'll leave Amsterdam inspired by its culture, food and service and, after all we have accomplished in just three days, I defy you to not want to return to this charming city of dinky gabled buildings, pretty bridges and quiet canals. Until next time, Amsterdam.
what's nearby