February 27, 2023 Nicolas Shammas
What makes a hotel great? Clearly space, design, service and amenities all play their part but given the top tier of the industry is all too aware that they're competing on these points, the difference – more often than not – comes down to details and the coalescence of all those important elements. Aman pretty much wrote the playbook on this and that's why they have long occupied the zenith of luxury travel, but things were different back in 1988, when they started. Their pioneering strategy of creating stunning hotels in far-flung locations with limited rooms at high rates – discreetly advertised just by word-of-mouth – changed Hoteldom. It may seem obvious nowadays, especially given it has been copied left, right and centre but up until the Aman was founded by Adrian Zecha (the legendary Indonesian-born hotelier), most resorts were clunking structures with bedrooms off linear corridors. "The market didn't know it wanted something new until it saw it," Zecha told Official Bespoke in an exclusive interview 15 years ago.
Indeed, before Aman, the great and the good (together with the monied middle classes) wanted hotels to replicate their homes. But after Aman, laid-back private hideaways became the ultimate in casual chic. With a wealth of new money in the 1980s came new customers who wore shorts and flip-flops (it was the staff who wore the suits) and they now wanted their houses to mimic the hotels.
As such, design became the key differentiating factor. Not only were Amans limited in terms of rooms (50 or less typically), they were vast in terms of space, luxury and amenities. Moreover, Zecha and his chief designers – namely Ed Tuttle, an American based in Paris, and later Jean-Michel Gathy, a Belgian based in Malaysia – were obsessed with design that reflected the surrounding culture, becoming the original champions of Oriental minimalism, reflection pools, private pools, spa-like bathrooms with freestanding tubs and Buddha sculptures as decorative objects. "We're not just architects, we're lifestyle product designers," Gathy told us. "Design is also about daring and challenging rules. I know what people like, what people talk about. It's actually more important to please the heart than the eye. A lot of architects and designers forget this." Zecha clearly never forgot it but he also knew the importance of telepathic service. In Aman world, there are at least four staff per guest, but you never see them. Obviously, it helped that all the original Amans were in the Far East and India, where labour is abundant and inexpensive, the attitude gentle and soft-footed but could the Aman recipe ever work in a metropolitan Western city? And moreover, could it work in the vertical layout of a skyscraper? They certainly proved the latter with the Aman Tokyo, which opened in 2015. But, this past August, they attempted the former with the 34th hotel in their burgeoning portfolio – the Aman New York.
Located in midtown Manhattan, at the cross-section of 57th and Fifth Avenue, the newest Aman takes over the Crown Building, which was at one time New York's tallest skyscraper. It's an historic building that was designed by Warren and Wetmore, the same architects who built Grand Central Terminal. Originally constructed in 1921, it has, over the years, housed many prime tenants, including MoMA (who opened their first gallery here before moving to 53rd Street in 1939), and later Playboy and Dior. Interestingly, Aman plans to recoup its considerable 625 million USD investment through a three-tier approach of: the hotel, residences (there are 22 in all, and from what we have been able to ascertain, it seems as though the penthouse alone just sold for 180 million USD) and an Aman Club (which provides New Yorkers access to the hotel's two off-limit restaurants, its incredible three-floor spa, a 20-metre indoor pool surrounded by firepits and daybeds, plus its Technogym-stocked gym for an eye-watering 200,000 USD sign-up fee, as well as 15,000 in annual dues).
From the moment you step up to the property you're puzzled, intrigued and bewitched to say the least. Old-school Aman devotees – or should I say Aman Junkies – might grumble that it's not what they're used to. It certainly breaks from tradition but right off the bat I can tell you that it's undoubtedly New York's most luxurious hotel. It better be, mind you, considering the cheapest suite (there are no rooms here) will set you back 3,200 USD a night. Still, you enter through the welcome of a gaggle of friendly security and bellboys and from there you walk through a ground floor foyer and into a lift that takes you up to the 14th floor. As with most Amans, there's no lobby per se. Instead, when the lift doors open there's a lounge bar dead ahead that leads onto Arva, an Italian restaurant (where they also serve breakfast), as well as a spacious year-round garden terrace. If you go right instead, you'll find a Japanese restaurant called Nama. And, if you follow the corridor as it bends round to the left, you'll come across the discrete front desk and concierge counters facing it, after which you'll pass the lifts to the residences, and then finally come to the lifts to the hotel's suites (and spa). Contrary to what you might expect, the suites are actually located down from the 14th, on floors 12 through 7. Our room was on the 11th and to say it was large would be an understatement. The décor is minimal and clean, rendered in natural materials like stone and wood, and shades of oatmeal and slate, cream and black. There's an obvious Japanese sensibility to the aesthetic with textured panelling for instance, behind the emperor-sized bed that resembles a shoji screen, not to mention the delicate, ink-painted washi paper mural running along one wall that we were informed was inspired by a 15th century masterpiece by Hasegawa Tohaku. This calm Zen-like oasis is further enhanced by some formidable insulation that prevents any noise from the hustle and bustle of the Big Apple below from disturbing your peace.
As you'd expect from a Gathy-designed Aman, the bathrooms deserve a special mention. They're divided from the bedroom by a set of pivoting panels (which are backlit, and inlaid with intricately detailed rice paper panels) that can be closed or left open depending on your mood and/or preference. As always, there's a freestanding bathtub but it's the sauna-sized shower that's the show stopper this time – although some might be more impressed with the throne-like Toto toilet housed in an adjacent chamber.
Should the spa-like bathroom not be enough of an escape for you, there is, as I mentioned before, a huge three-floor spa located on the 11th (as well as 10th and 9th floors). It covers an area of 2,320 square metres, which Elle Sacerdote, the property's PR & Marketing Manager, informs me, makes it almost exactly the same size as the one at Amangiri in Utah (where there was no limit to space of course). That's amazing. There are also regular treatment rooms, medical treatment rooms and even palatially-sized ones too for those who want the whole Monty. We sampled their signature Aman New York treatment and it was a lovely way to spend two hours: first you're given an exfoliating scrub and then a strong deep tissue massage. It was unforgettable. As is the Aman, for not only has it raised the bar for what's possible in New York City, it's attracting sophisticates to the city, while also giving New Yorkers the greatest reason ever to staycation.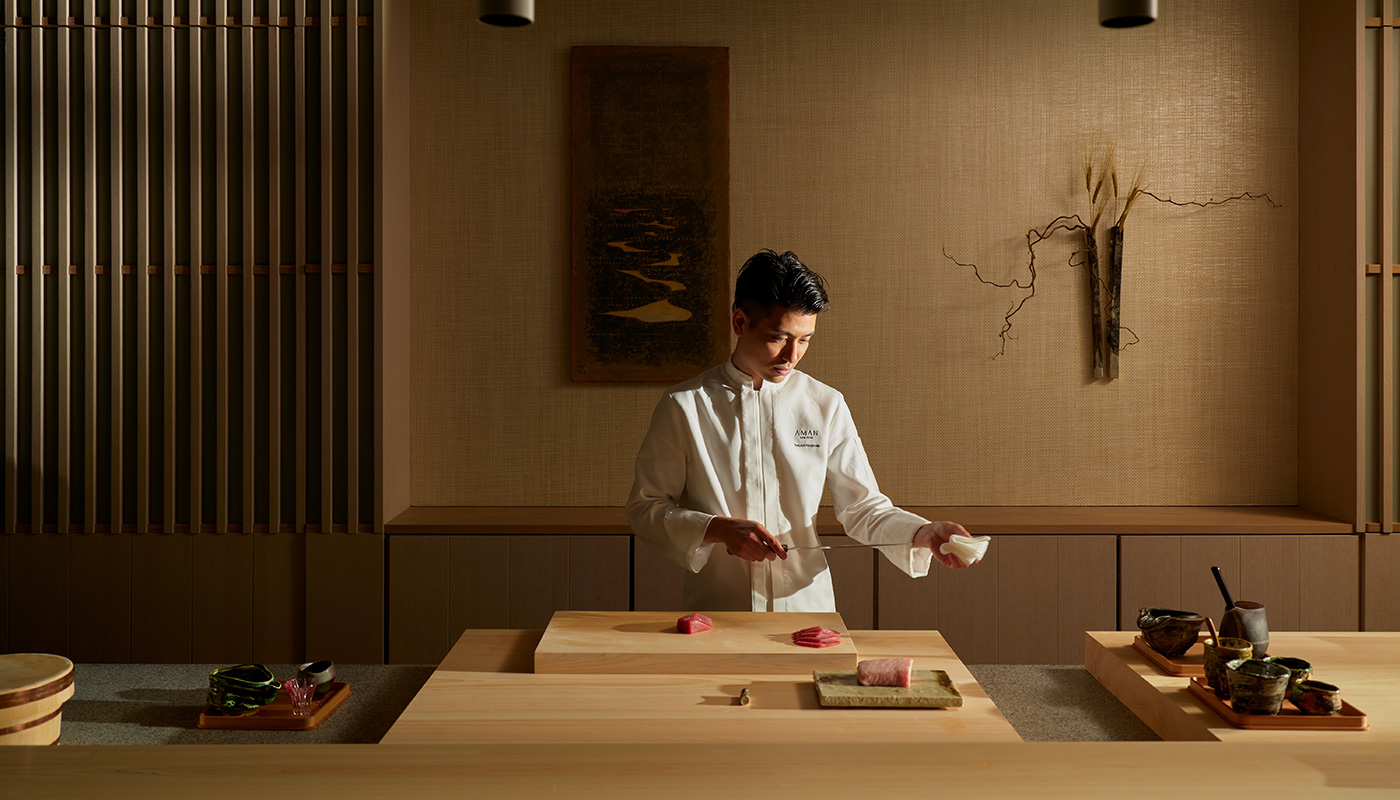 what's nearby