December 23, 2019 Nadia Michel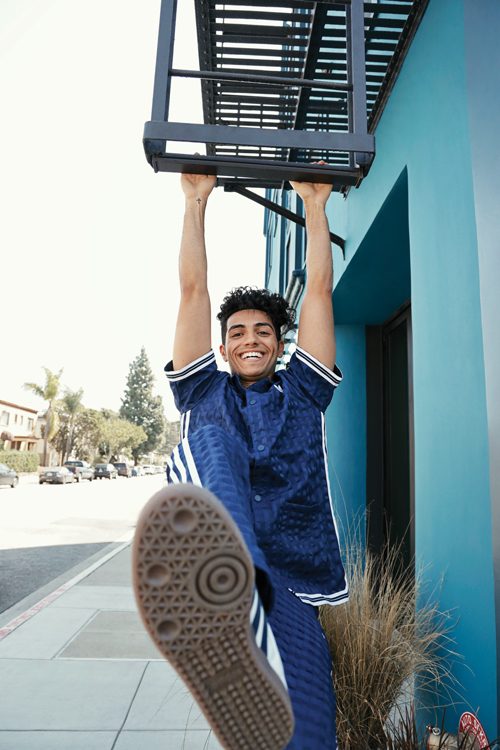 Fresh off the heels of his role as Aladdin in the blockbuster Hollywood film, Mena Massoud is speaking out about the lack of diversity in Hollywood, saving the planet and his new Hulu series 'Reprisal', a neo-noir thriller set to launch this December.
ALADDIN EXCEEDED ALL EXPECTATIONS AND GROSSED OVER A BILLION DOLLARS. HAS THIS CHANGED YOUR CAREER AS YOU EXPECTED?
No it hasn't. Doors didn't open with endless opportunities as one might imagine and in a lot of ways, it's actually been harder.
HAVE YOU NOTICED ANY SHIFT IN HOW ARABS ARE PERCEIVED IN HOLLYWOOD DURING THE TIME YOU'VE BEEN IN THE ACTING BUSINESS? WHAT WERE YOUR FIRST ROLES LIKE?
Yes, I've noticed a shift in how North African and Middle Eastern actors are perceived for sure. My first union role ever as an actor was back in 2011 and I played Al Qaeda #2. I think those kinds of roles are seen less and less in Hollywood, but ever since 9/11 there's been a narrative that, anyone who looks like me, has to overcome.
YOU STARTED A CHARITY PROJECT CALLED THE ETHNICALLY DIVERSE ARTISTS FOUNDATION. HOW DO YOU INTEND TO AFFECT CHANGE IN AN INDUSTRY WITH SUCH DEEP-ROOTED TRADITIONS OF CLICHÉS AND CULTURAL REPRESENTATIONS?
By helping the actual artist. Most artists of colour stem from immigrants who do not encourage their children and grandchildren to pursue the arts and that stalls the whole process. The only way to make a change is to keep pursuing your dreams, and the Foundation will help artists do that by providing them with essential and necessary resources to advance their pursuit: headshots, studio space, networking opportunities, master classes, equipment – as long as an artist knows exactly what they need help with, the Foundation will aid them.
I THINK THOSE KINDS OF ROLES ARE SEEN LESS AND LESS IN HOLLYWOOD, BUT EVER SINCE 9/11 THERE'S BEEN A NARRATIVE THAT, ANYONE WHO LOOKS LIKE ME, HAS TO OVERCOME.
AFTER TOURING THE WORLD TO PROMOTE ALADDIN, INCLUDING EUROPE, JORDAN AND MEXICO, WHAT IMAGE OF HUMANITY HAVE YOU CONSTRUCTED IN YOUR MIND?
That we're all the same. We all love and mourn and stress and desire the same. Humans are the same everywhere, but unfortunately the opportunity to learn, and create and prosper doesn't exist equally.
YOU WERE BORN IN CAIRO BUT GREW UP IN ONTARIO, CANADA FROM THE AGE OF THREE. DO YOU IDENTIFY MORE WITH ONE OF THESE CULTURES THAN THE OTHER, AND HOW SO?
I'm Egyptian-Canadian. That's how I identify. I was born in Egypt and have deep roots there, but I grew up in Canada. So naturally there are instilled traits in me from both cultures and experiences. I think that's why it's difficult being an immigrant – because I'm not just Egyptian and I'm not just Canadian, I can't identify with just one thing.
CAN YOU RECALL MOMENTS WHERE YOU THOUGHT YOUR PARENTS WERE TRYING TO FEED YOU OLD-SCHOOL EGYPTIAN CULTURE, BUT NOW YOU'RE THANKFUL FOR IT?
Ha! All the moments. My household growing up was very much an Egyptian household. Egyptian food, music, television, language – everything. But I'm incredibly thankful for it. When we went to Jordan for Aladdin I was especially thankful because I could relate so much to everyone we met. I spoke Arabic to everyone, knew the music, and everything reminded me of home.
HOW DO YOU KEEP YOUR FOCUS AND MAINTAIN YOUR DISCIPLINE?
I just remember what I used to tell myself back in theatre school, which is, "Even if it takes me my whole life, I'm going to try and make it as an actor." I still tell myself that every single day of my life.
'EVEN IF IT TAKES ME MY WHOLE LIFE, I'M GOING TO TRY AND MAKE IT AS AN ACTOR.' I STILL TELL MYSELF THAT EVERY SINGLE DAY OF MY LIFE.
WHAT ADVICE WOULD YOU GIVE AN ARAB ACTOR WITH BIG AMBITIONS?
My advice to any artist of colour is don't give up. If this is something you really want to do, be prepared to work harder and longer than the person sitting next to you. It's a very tough industry because you're taking two things that don't necessarily belong together – art and business – and trying to make it work.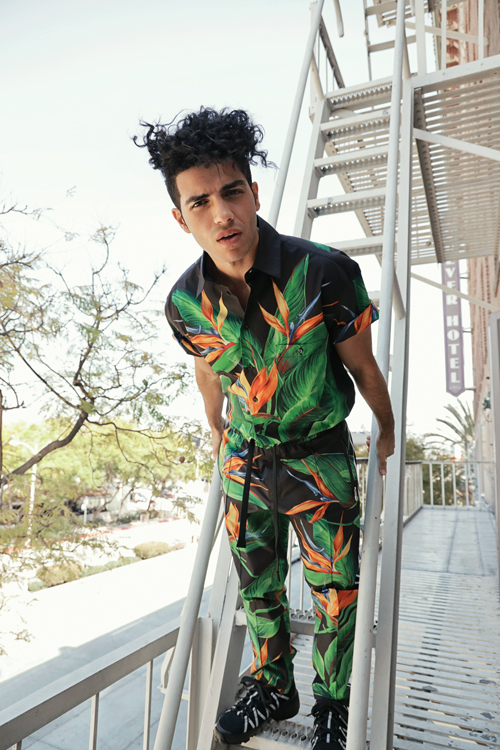 IT'S WIDELY KNOWN THAT YOU ARE VEGAN. WHAT'S YOUR REASONING?
I started Evolving Vegan to encourage more people to eat plant-based. Our planet is dying and the number one thing that you can do to make a difference is through the food you put into your body three times a day or whenever you're eating. Yes, you can ride your bicycle to work, or line your roof with solar panels, or recycle, and all of that will help, but eating habits will make more of a difference for the average person.
WHAT'S YOUR ROLE IN REPRISAL, THE TV DRAMA YOU HAVE COMING OUT? DOES IT BREAK AWAY FROM CONVENTION IN ANY WAY?
I play a character named Ethan Hart, and without giving too much away, he's really the person that is chosen by Doris to help her seek her revenge. In a lot of ways, I think he holds the most power but doesn't know quite how to use it. So, it's a journey to say the least. And we do a lot of things in this show to break away from convention – the style, the music, the casting – it's a really fresh take on a dramatic television series.
Photography: Kathryn Page Grooming: Rachel Burney / Styling: Evan Simonitsch