February 5, 2020 Nadia Michel
Khaled Kteily founded Legacy so that men could protect their most valuable assets. And by offering state of the art cryogenic technology and convenient direct-to-consumer deposit kits, he's also ensuring the survival of the fittest.
It would be hard to find a topic of conversation more acutely uplifting than male fertility. That is, of course, unless you consider the dire numbers. "A statistic came out in 2017 showing that male fertility had gone down by 50 per cent over the last 40 years," says Khaled Kteily, the founder and CEO of Legacy, a sperm bank startup that's swooping in to save the day.
Launched in 2018, the Boston-based company offers a convenient and affordable way for men to ensure the survival of their genes. Eschewing the cringey magazine and DVD-filled rooms of traditional brick-and-mortar sperm banks, Legacy offers a DIY sperm collection and freezing kit that's shipped straight to your door and then picked up and sent straight to sophisticated cryogenic facilities around the US.
"We use a preservative that keeps the sperm alive. Typically, sperm would only live for a few hours. With our preservative it lives 24 hours, which is enough time for us to pick it up, ship it overnight to a clinic and after have it tested," explains Kteily, who is of Palestinian origin but grew up in Beirut.
Once there, the deposit is analysed for the five key factors that affect fertility in men: volume, count, concentration and motility (how well the sperm swims) and morphology (how normal it is genetically). Based on this, Legacy can make any number of recommendations (from taking D-aspartic acid or zinc supplements to something as simple as not using a laptop placed on your lap) in order to help clients improve their sample, which they can then repeat three months later – the amount of time it takes for the male body to produce an entirely new batch.
Legacy is capitalizing on a new trend that's making healthcare easily accessible – everything from genetic testing to erectile dysfunction and hair loss can now be taken care of in the privacy of your own home. "It's helping men take on issues that are otherwise quite sensitive and intimate," Kteily points out. His own experience with sperm banking at the age of 25 (shortly after a life-altering burn accident) at a facility in Massachusetts which was located right next to a Chinese restaurant and staffed with a nurse that told him he had five minutes before the next customer needed the room, was in fact a catalyst moment for him. "It was just the most awkward, uncomfortable experience of my life," he recalls. Legacy takes all the ick-factor out of the process and turns into a VIP experience that comes with highly personalized service, sleek packaging and the latest scientific research.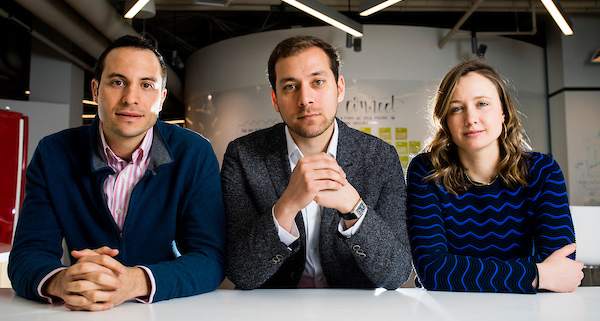 Moreover, digital platforms like this one also have the added benefit of having lower operating costs than old-school facilities, which translates to better prices for clients. A typical sperm bank charges around 1,000 USD for the initial deposit and then 500 USD for storage annually. Legacy, on the other hand, can collect the deposit for as little as 350 USD and store it for 200 USD a year, but they also offer a high-end Platinum package that can go up to as much as 10,000 USD and includes lifetime storage and highly customized services and multiple deposits to allow for the highest possible quality. "We also take each sample and send it to multiple locations. Then within each location we divide it into multiple tanks. This is to ensure a level of security and redundancy in case something is ever to happen in any of the tanks," explains Kteily, who holds a Masters in Public Policy from Harvard.
That level of detail is part of the Legacy's ethos, something that was inspired by Kteily's time spent working as a Senior Manager at the World Economic Forum in Geneva. Legacy, which astutely calls itself "The Swiss private bank for men's most valuable assets," is in fact registered in Switzerland, and extreme privacy is at the top of its sales pitch. "We make sure everything is encrypted and anonymous and privatized. We don't used our client's names, we use a client ID that is unique and anonymous," he explains.
Kteily speaks to us on the phone from San Francisco, where he and his team are finishing up their stint at Y Combinator, a 3-month Silicon Valley programme that helps startups prepare for successful funding rounds. In Legacy's case, however, it's more about perfecting the pitch. The company has already raised 1.5 million USD from Bain Capital Ventures last June and another 2 million USD around the time we spoke. "And we're looking to raise more than that," he adds. The company is planning on expanding into Europe and wants to continue to invest in R&D. "We think male fertility is a grossly understudied field. Its important for us to be pioneers in leading the research," he tells us. "Up until now, people thought fertility was a woman's issue, but that point of view is outdated."
Legacy's clientele, he says, ranges from young chemotherapy patients (who are always advised to freeze their sperm) to athletes, military men and firefighters who are exposed to risks on the job, or older men who are getting a divorce and making contingency plans. For now, deposits can only be made from inside the US (though Keitly points out they have a number of international clients who time their sperm freezing with their travels). But the plan is to expand into Europe, something that's bound to happen quickly if Kteily's track record is any indication.