February 5, 2020 Nadia Michel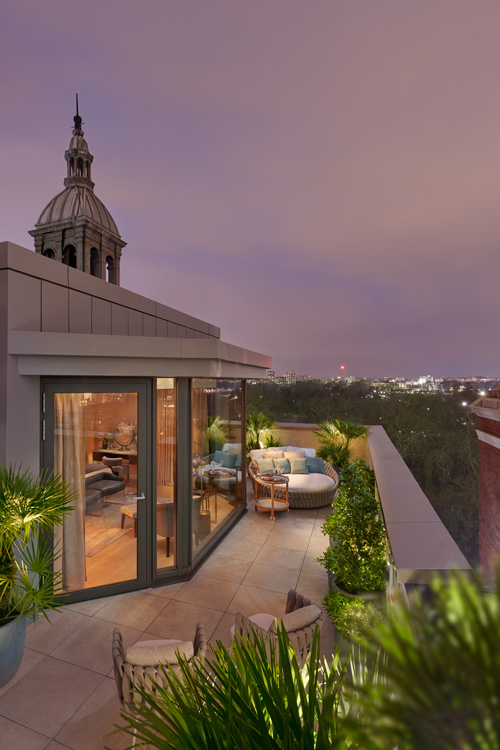 Checking into the Mandarin Oriental Hyde Park feels like one of those moments when you should count your lucky stars. The hotel, which is located on the south side of Hyde Park, at 66 Knightsbridge, is an imposing Edwardian-era structure with a pedigree to match, not to mention a tumultuous past beset by twists and turns. Case in point, you might recall that (in June 2018) – just as it was nearing the end of its most extensive restoration in a 115-year history – a massive fire broke out in the hotel sending thick plumes of smoke billowing above the capital. But in a literal tale of rising from ashes, the property once again opened its doors this past April with a new and improved lustre to its shining glory, and not just in places you can see.
For example, in the six months it took to complete the 28 million USD post-fire repair work (shooting the overall renovation bill to 130 million USD), the Mandarin retained all of its staff and continued to pay them to do charity instead, racking up over 40,000 hours of aid work, even having their chefs prepare a series of charity meals for a foundation which raises funds to help find a cure for spinal injuries. And although that might not have been a bid to invite good karma, it was probably a case of better safe than sorry, especially considering it wasn't the first time the property caught fire. It turns out that honour happened in 1899, with a blaze that left plenty of damage in the top three floors of the Knightsbridge wing including a partially destroyed roof. Thankfully, everyone escaped, as did guests and staff in the most recent incident, but needless to say, no one wants to see a repeat.
At any rate, none of that drama sprung to mind when we stepped inside the marble-clad lobby on a Thursday afternoon. Instead, a sense of solid security prevailed, the kind that comes with polished, experienced staff and palatial interiors. And by the time we stepped into our finely appointed Turret suite, a 47 square-metre finely appointed haven of comfort, the only thing burning was our desire to explore the hotel and its surroundings.
The bright, spacious suite overlooks Knightsbridge and like the rest of this 181-room hotel, exudes timeless British elegance. The seating area by the fireplace makes for a perfect place to unwind post-flight, and the art deco inspired furnishings and soothing, classic palette help melt away any residual travel tension. There's plenty of closet space and a large marble bathroom, and it's almost a shame that only a fraction of our time will be spent here.
But not really. The hotel in fact has so much to offer you'll be glad you stepped out. New features include an all-new spa equipped with the latest in fitness and Pilates paraphernalia, as well as a generously sized, 17-metre pool. Moreover, the Mandarin has brought in some industry heavyweights to help elevate this new space – namely prominent-in-the-UK, award-winning private trainer Hollie Grant, internationally-renowned manicurist and pedicurist Bastien Gonzalez and an experienced Chinese medicine specialist offering ancient, time-tested remedies for your aches and pains. Indeed, this is not just some fancy spa with a label on it, but a serious health and beauty hub.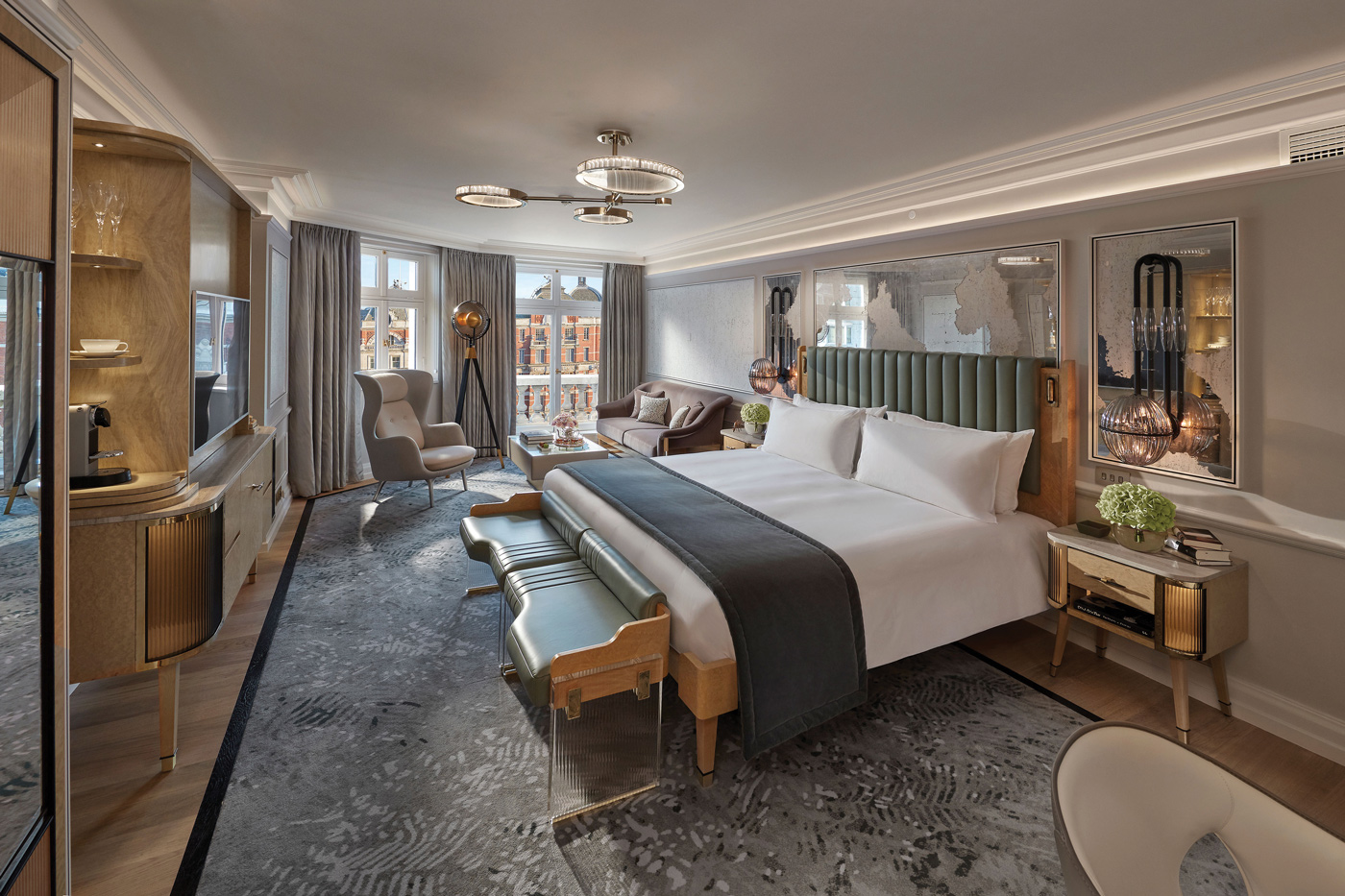 Hong Kong-based designer Joyce Wang is the mastermind behind the 181-room hotel's cohesive new ambiance, which extends from the wall behind our leather-clad desk (textured to resemble the bark of a tree) to the glass chandeliers in the lobby. The first in the entrance represents a large open flower, while a second one nearby, hanging over a new, bright seating area where the reception desks used to be, is closed. These, like the rest of the scheme, are subtle nods to the hotel's proximity to Hyde Park.
Then there's the food. Of course, daily breakfast overlooking the park is a joy and you'll want to indulge in the hotel's famous afternoon tea at Rosebery, with its delicacies served perched atop branch-like displays. But the hotel's Bar Boulud is a can't-miss highlight in London, whether you're staying at the Mandarin or not. As the sister restaurant of Bar Boulud in New York City, the bistro serves up decadent burgers and freshly chucked oysters alongside refined dishes like sea bass baked in fig leaf with braised fennel and roasted figs or roasted venison filet with sea buckthorn, with the option of a perfectly paired wine chosen by the well-versed sommelier. Or, you could opt for a quintessential British supper at Dinner by Heston Blumenthal, particularly well suited to special occasions with its tasting menu and plush setting.
In a nutshell, you might want to extend your stay in London if the Mandarin Oriental Hyde Park is your pied-a-terre, because there's enough in this architectural landmark to fill a good block of quality time. Its location makes exploring London a breeze, with easy access to everything from the V&A museum to lively Mayfair. It's been a long road, but the Mandarin Oriental Hyde Park sure got it right.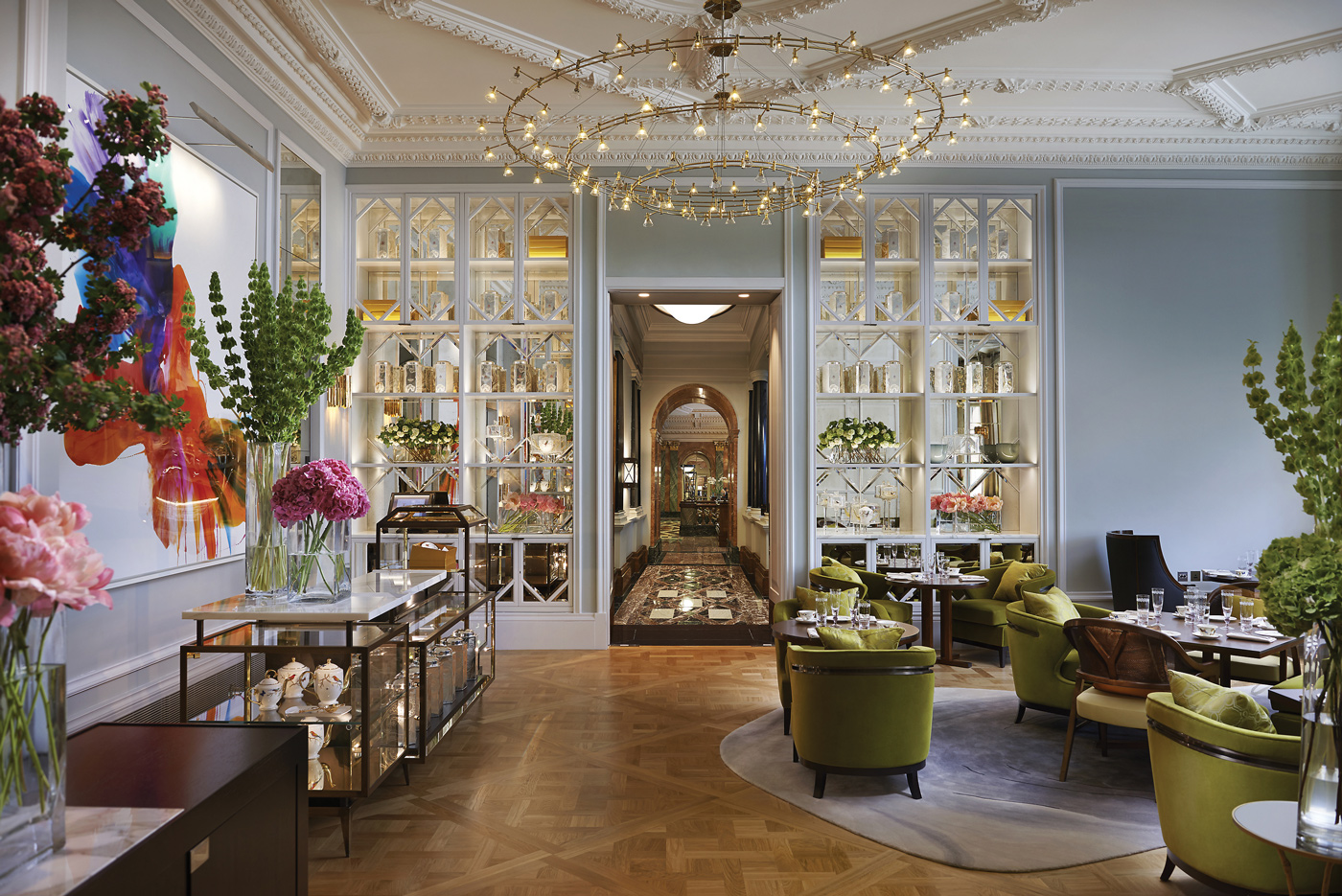 what's nearby