May 2, 2019 Nadia Michel
Discretely built into volcanic rock and surrounded by the curative waters of Iceland's most popular tourist attraction, The Retreat at Blue Lagoon is the country's first five-star resort and a perfect way to brave the Arctic Circle.
Winter can take its toll on even the hardiest of Canadians, which is why many of us have a genetic predisposition to want to fly away to warm and sunny destinations, preferably replete with palm trees and a gentle breeze. But in this fluid, global world, where the norm is to have been transplanted to new geographic coordinates, often places where palm trees line traffic-jammed roads (sound familiar?) and winters are a poor imitation of the original, sun and sand suddenly seem, well, lacklustre.
A good old dose of frosty fun beckons instead, in the form of Iceland's first five-star hideaway, the Retreat at Blue Lagoon. Opened last April and set on an 800-year-old lava flow in the heart of the Reykjanes UNESCO Global Geopark, the Retreat is a 62-suite hotel that finally brings real luxury to this raw, mostly untouched landscape. Encircled by the Blue Lagoon's mineral-rich waters, it's literally the ideal place for soaking away all your troubles.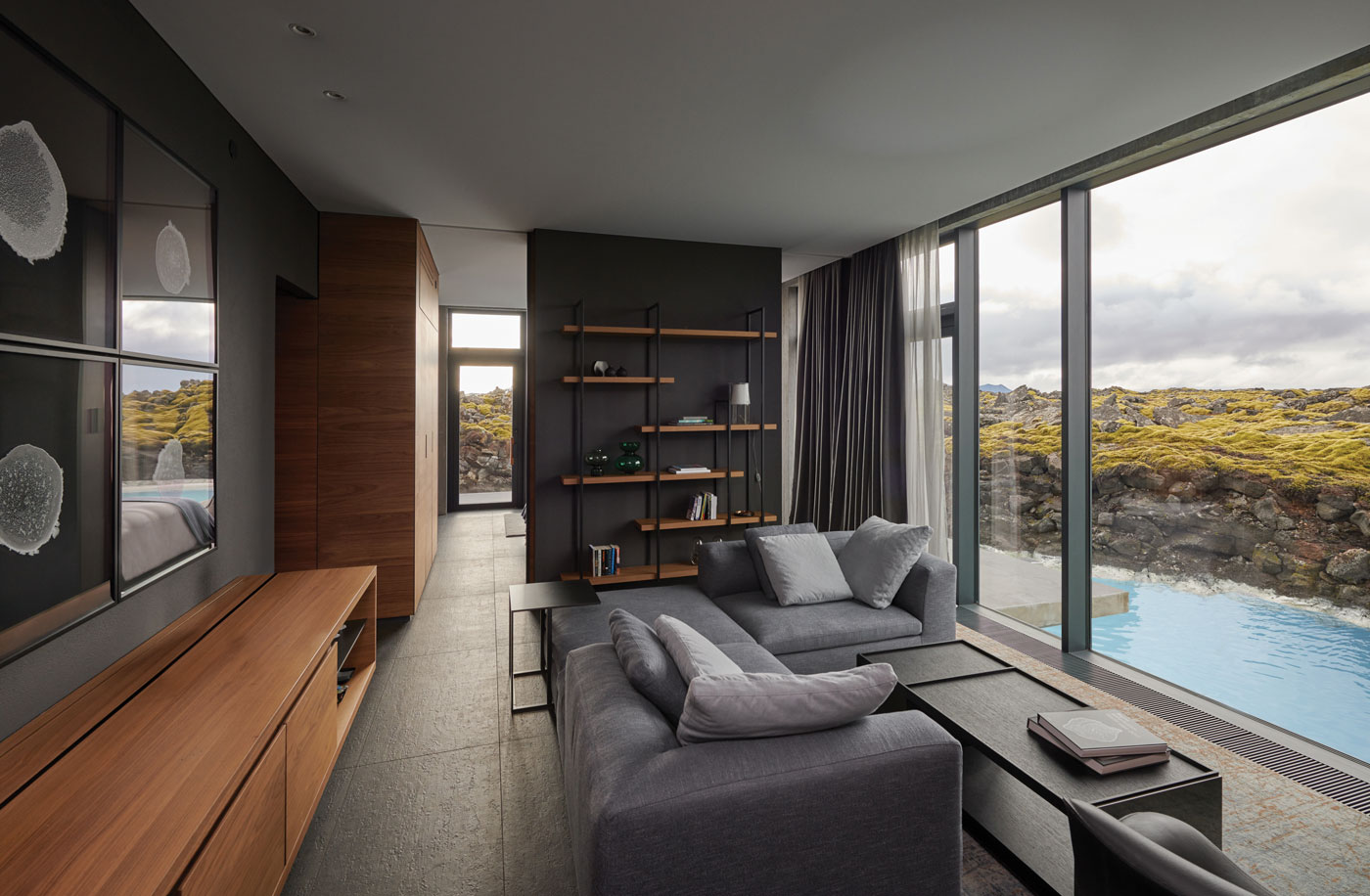 This particular geothermal lagoon is the country's most popular attraction, drawing just over 1.5 million visitors in 2017 (which is more than four times the population of Iceland) and the main reason is the water, which contains plenty of mineral salts, silica and algae, and has been found to help heal skin conditions such as psoriasis. Contrary to what you might think though, this attraction is in fact man-made, a pool of run-off water from a nearby geothermal power plant that was built in 1974. It has since been developed, mainly by Icelandic doctor, founder and CEO Grimur Sæmundsen, who established the Blue Lagoon as a spa facility in 1999, and advanced the concept further when he opened the minimally chic Silica Hotel in 2005. Sæmundsen has now taken it a step further with The Retreat, a thoughtfully designed haven with direct access to the lagoon and a spa that puts most other spas to shame. It's a fact we discover soon after checking in.
Despite brisk winds and heavy snowflakes, a pre-dinner dip in the Blue Lagoon provides the ultimate reboot after a long day of travelling. While the Retreat has a private lagoon reserved for guests, the spa also gives access to the broader, public body of water, and that's where you'll really get to enjoy the steamy experience, chasing very hot currents and spotting the occasional millennial capturing cheeky selfies. (As a sidenote, Iceland is a hot topic on Instagram now so if that's your M.O. then you'll have plenty of leverage with this hashtag.)
But back inside, it's the spa that really captures our hearts. At 4,000 square metres, the Retreat Spa might seem overwhelming but as you descend three metres into volcanic earth into the warm, enveloping space, you experience a rare sense of quiet. Dimly lit and with dark concrete walls that echo the landscape, it draws you into a world that is slow and restorative. It starts with a black and white full body, self-administered salt scrub, followed in the next space with a silky, soothing silica mask and then a eucalyptus-infused algae mask. As if this wasn't indulgent enough, the staff then hand you an ice cold face cloth that is meant to close the pores on your face (though if feels more like a rude – albeit fresh – awakening) before they then spot a few drops of a perfumed oil into your hands that you then rub into your skin to instantly transform every inch into the softest silk imaginable. It's enough to convert even the most sceptical anti-sybarite into bona fide spa addict. And it's such a pleasurable way to spend an hour or so that we returned to the spa every day, just to indulge in the Ritual.
Food is also at the centre of the experience at The Retreat, and it starts in the morning at the breakfast area, which is set up at the far end of a stylishly appointed, spacious lobby. There you'll find a juice bar, which has been appropriately stocked with some local treats including cod liver oil shooters, which are apparently the perfect way to start an Icelandic morning. The spread also includes other healthy standouts including tasty coconut-topped Chia seed pudding, a rich display of exotic fruits and smoked fish – arctic char and salmon are plentiful here and superb in quality, thanks to the lava-filtered, mineral rich water that is also home to local sea life.
Lunch in the Spa is where you'll find light and nutritious options like ceviche and kale, in addition to sushi and pureed avocado. Served with a freshly squeezed mimosa, it's a decadent way to top off a few hours at the spa. A meal at Lava is also picture-perfect: built into an 800-year-old lava cliff on the west bank of the Blue Lagoon, it offers resplendent views though vast windows and artfully prepared cod fish left us light and satisfied.
But the real gastronomic adventure happens at Moss. Occupying the highest point at Blue Lagoon Iceland, Moss Restaurant has some fantastic views, though you might not notice them on a winter's evening (this wouldn't be the case during summer, especially in June, when there is sunlight for up to 23 hours a day – effectively providing a unique opportunity for 3 AM golf). Regardless of the season though, the hotel's incredible wine cellar is an adventure on its own. Dug into the rock 20 metres below ground (so as to provide an ideal storage environment), it is stocked with 3,500 bottles from all over the world and it's not be missed.
Our seven-course tasting menu and wine pairing is the equivalent of an Icelandic amusement park for the taste buds. It kicks off with beets served with blue cheese snow (yes, it is cold like snow) followed by benchmark-setting, house-cured gravlax. Local lamb, a source of pride for Icelanders, is delivered on a log and served with mustard seed alongside traditional lamb soup, a broth so warm and rich you might well be able to withstand the elements without any outerwear for a few hours after eating it. The veggie option, a highly flavourful, barley-based dish, is our personal favourite and indicative of the ubiquity of vegetarian options throughout the island (there are so many meatless options at all the restaurants we visit in Iceland, which is culinary evidence of the country's synchronicity with global trends.) Then desert is Nordic decadence at its best: white chocolate mousse served with dill (what else?), cucumber and skir. Skir, it's worth noting, is the local equivalent of labneh, though a little less firm and slight more acidic, and you'll find it is served at pretty much every meal. Also on repeat is tap water, the freshest, purest water you've ever tasted and, as a local points out, far superior to anything that's been bottled and tainted by plastic.
Experiential luxury is at its best here, including the calming effect that is achieved by the carefully controlled lighting (that is literally set at "cosy"). But aesthetics and design are also at the forefront, with furnishings mainly by B&B Italia, in both the public spaces and the well-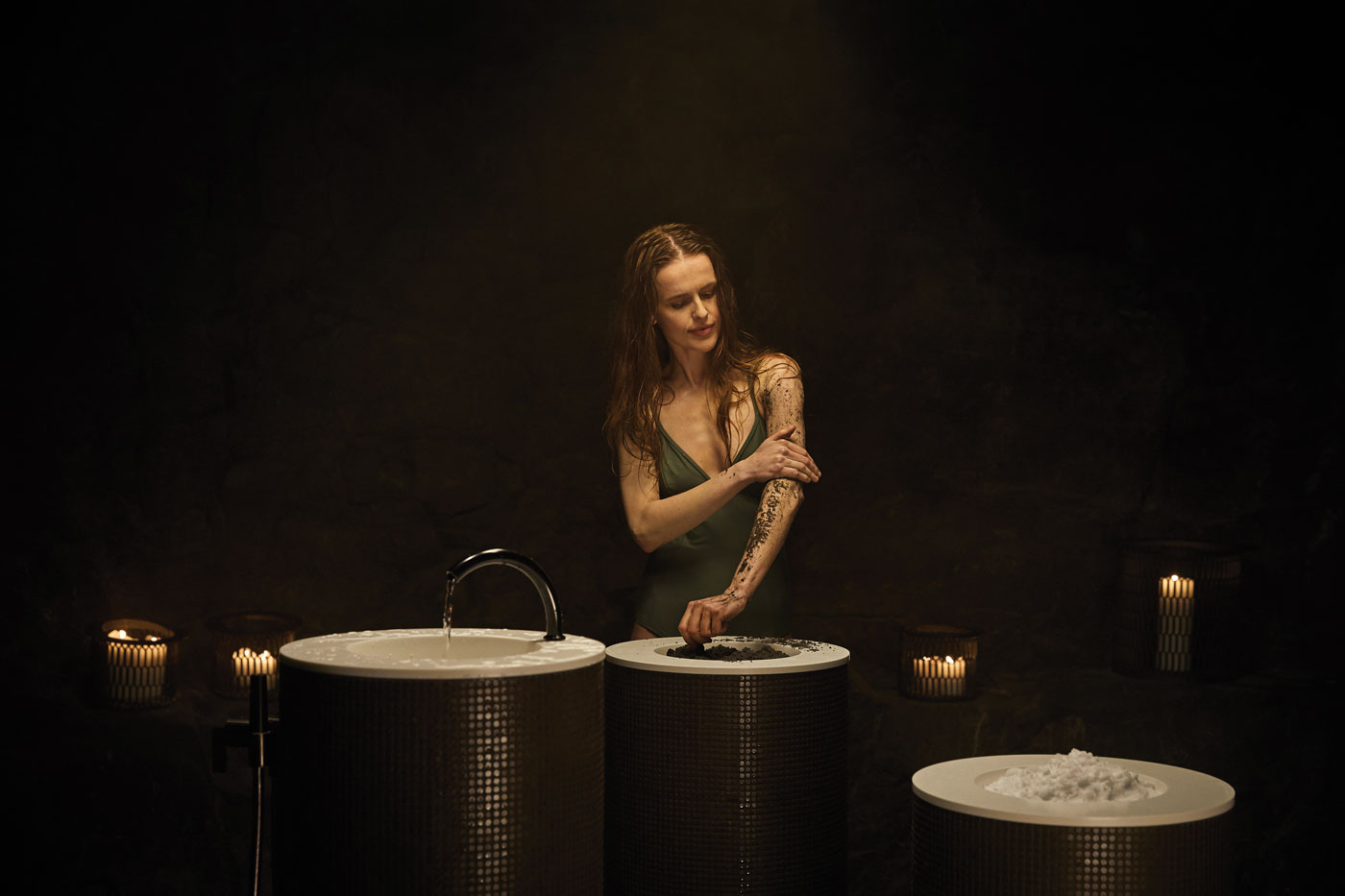 appointed suites, and custom-made tables and bars carved out of the local volcanic stone, a scheme conceived by the obviously well versed team at Reykjavík-based Basalt Architects. It was this team who was also responsible for devising a structure that is both indulgent yet in no way ostentatious – even from the outside, The Retreat is discreet and harmonious with its surroundings, practically indistinguishable from the volcanic landscape.
Although there's enough going on here to make the various painful, airline security lines getting here seem irrelevant, Iceland as a destination also has much to offer and a snowmobile journey proves to be the ideal way to explore the glaciers, specifically the country's second largest, Langjökull, which covers 953 square kilometres (and is therefore larger than Bahrain). You can also go inside the 300,000 year-old ice thanks to a special tunnel carved out by The Heart of the Glacier, local developers who are keen on educating tourists on the beauty and fragility of the ice masses. It's something that's definitely worth doing, especially as it is predicted these glaciers will have melted away within a hundred years or so.
All in all, Iceland has long been a fascinating and unusual bucket list kind of destination, yet it has also traditionally fallen well short of the discerning traveller's expectations. So the good news is that the Nor'easter has finally pulled its socks up and, now, thanks to The Resort at Blue Lagoon even the most indulged and cossetted travellers have a space to rest their weary souls in a unique part of our amazing planet.
what's nearby