April 8, 2017 Marwan Naaman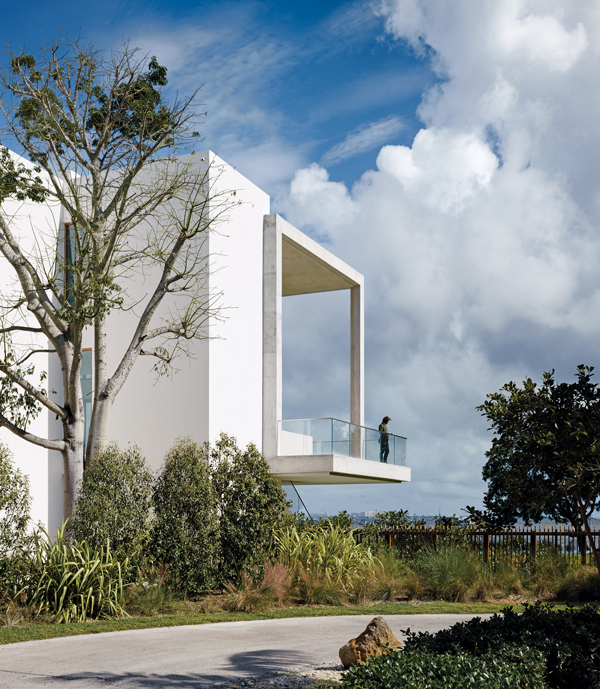 Filmmaker Alejandro Landes' glorious contemporary home in Miami, on the shores of Biscayne Bay, is as captivating as a cinematic masterpiece.
Casa Bahia unfolds like a cinematic dream. The luxurious home (which at 50 million USD, is one of the most expensive properties on the Miami market) literally floats above Biscayne Bay, with views of azure waters, lush palms, sailing boats and the downtown Miami city skyline in the distance. Built by 36-year-old filmmaker Alejandro Landes, with interiors conceived by his mother, designer Catalina Echavarria, Casa Bahia is located in Coconut Grove, right next to the neighbourhood's bustling shopping and restaurant strip, and adjacent to the historic Barnacle House. But because it's shaded by abundant greenery and set back from Main Highway, it's completely invisible to passers-by.
To access Casa Bahia, you enter a secured gate behind which lies an exclusive community. A five-minute walk leads you to the water's edge, and there, jutting out on the bluest of peninsulas, stands the magnificent house. Covering about 2,000 square metres over three floors, Casa Bahia is a Modernist fantasy, inspired by mid-century architecture, but also espousing contemporary and Far Eastern flair. "It took two-and-a-half years to build the house," says Landes, who studied political economy at Brown University in Rhode Island and possesses no formal architectural training. "I hired architect Jerry Gavcovich to put my design into city-approved plans," Landes explains. "In South Florida, you need an architect of record. But I'm the designer and curator of the house. I went about creating it as I would a movie."
Landes' acclaimed first film 'Porfirio', a documentary/fictional project that premiered in 2011 at the Cannes Film Festival, was based on the real life story of Colombian Porfirio Ramirez, who became paraplegic after being hit by a stray bullet. His second feature, 'Monos', which he's currently completing, tells the tale of a group of armed adolescents living as they please – a seemingly new take on 'Lord of the Flies'. In both films, Landes shows a deft, sensual hand, lovingly depicting tremulous flesh and haunting landscapes. This same sensuality is at play in Casa Bahia, most notably in the pure, elegant lines that characterise the architecture and the nobility of the materials used. "I really liked the idea that it was something that was monumental in size, but at the same time something that you want to feel in your hand," says Landes of Casa Bahia. "It's amazing to touch the walls, the concrete, the tactile plaster and the porous elements. A lot of honesty and emotions went into the form of things."
To enter Casa Bahia, you go through an open-air courtyard with a dramatic suspended stone staircase. On the ground level, you have a dramatic pool that directly fronts the bay. A living space, with an oversized dining table and a lounging area, is set under an overhang, so it's open to the bay breezes, but still shielded from the elements because it's roofed in, allowing outdoor enjoyment on virtually any day of the year. This level is also home to a glassed-in yoga room overlooking Biscayne Bay. Every piece of furniture here – and almost every single item of furniture in the house – was created by Echavarria herself: the hand-woven linen sofa, the lounge chairs made from Indonesian wood, the Borneo wood stools and the sculptural dining room table. "I wanted to create a spiritual place," Echavarria says, "with a sense of peace and wellbeing."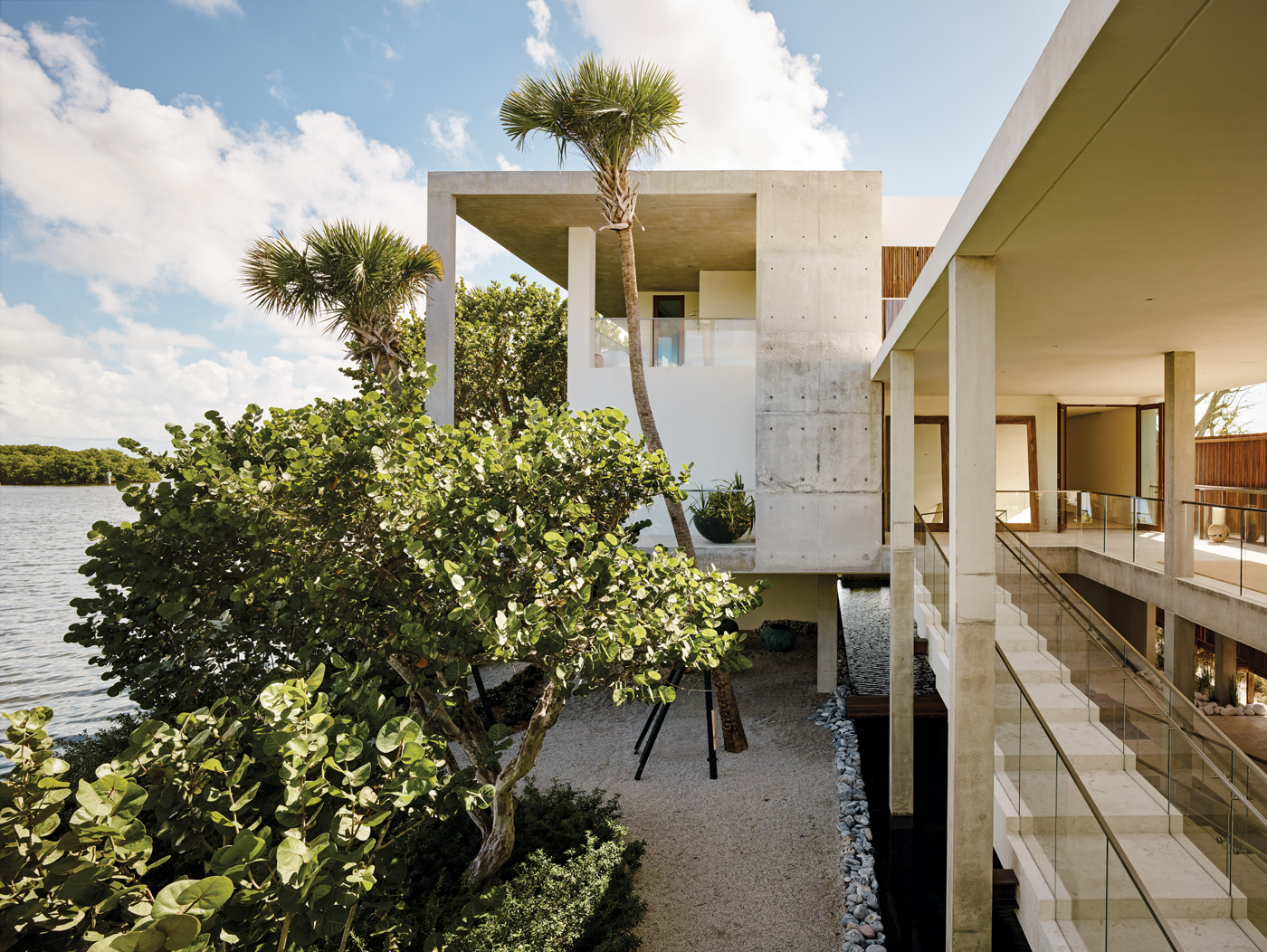 Echavarria designs under her own CEU Studio label, inventing pieces of furniture and home accessories that possess her trademark sculptural feel, most of them made in Bali where she resides. "Alejandro likes angles, and I like textures," she says. "Everything is truly custom-made and handmade," Landes adds. "The pieces are designed exclusively for the space." Echavarria even created the cutlery, dishes and drinking cups, to offer a complete lifestyle experience for the eventual homeowner.
Directly above, you have the main living area surrounded by an abundance of floor-to-ceiling windows. "The windows are moving doors," Landes says. The virtual absence of walls contributes to the feeling of infinity, akin to what you would feel if you were sailing on a luxury yacht amid the wide expanses of the Caribbean Sea: nothing obstructs the water views, and when the sliding glass doors are open, you're caressed by blissful sea breezes while listening to the soothing sound of the wind rippling on water. "I'm attracted to the indoor/outdoor aesthetic," Landes says, "like the work of Oscar Niemeyer, who brought the outside in."
The kitchen is on the back wall, with invisible appliances carefully tucked away behind sleek drawers and smooth surfaces. Most of the home's seven bedrooms and eight spa bathrooms, as well as an additional living area, are on this floor as well.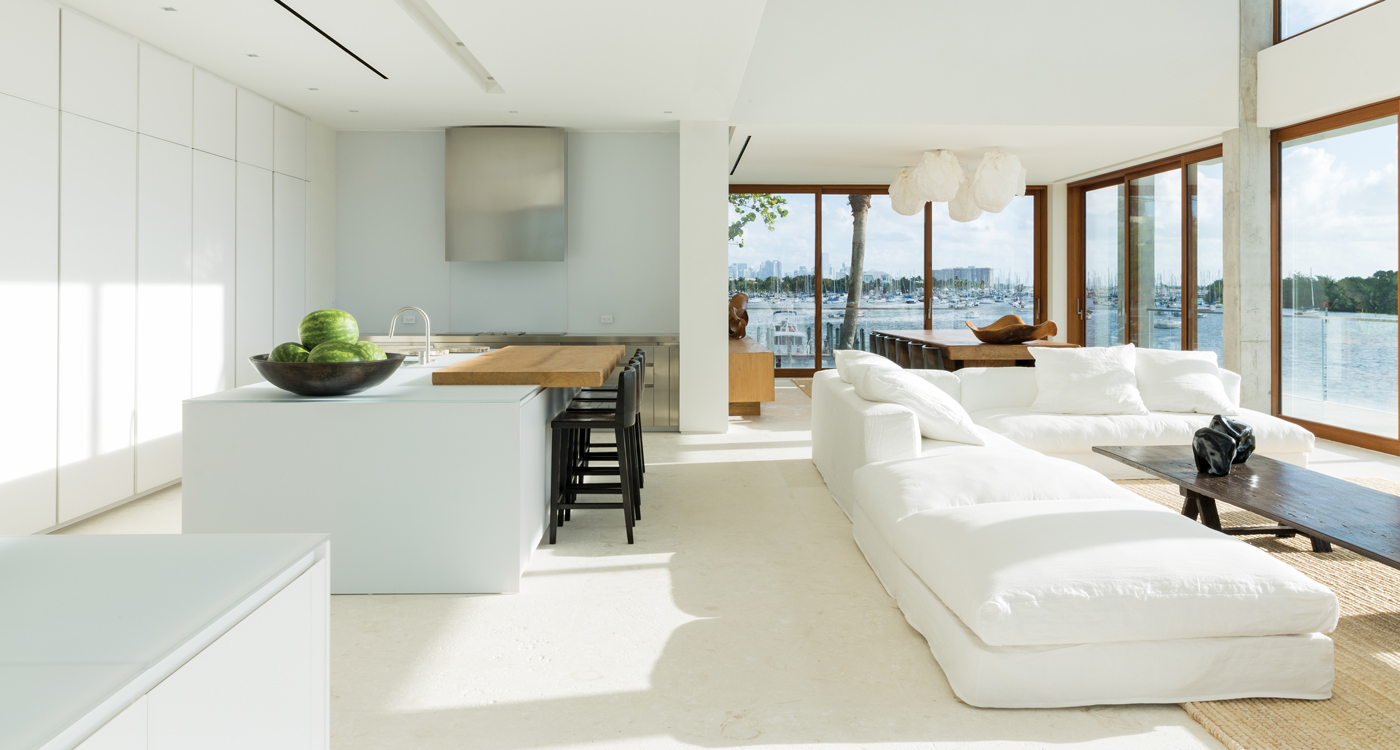 The master bedroom occupies the entire top floor of the home. In addition to walk-in closets that are as big as bedrooms, an extra kitchen and an outdoor Jacuzzi, the top level has a bathroom that wraps around an entire side of house, allowing you to shower or bathe while enjoying a breathtaking, panoramic view of Biscayne Bay. There's even a guest cottage in back, allowing visitors both privacy and easy access to the main home. Other features include a 12-person elevator, a 700-bottle wine room, a theatre room and a car park for eight vehicles.
"The house hugs the ocean. Even rooms in the back have an ocean view," Landes says. "When you're on the balcony, you have the feeling that you're on a boat or an island, with sailboats out front, and yet you're a five-minute walk from the cinemas, shops and restaurants of Coconut Grove: that is real luxury."

Clearly captivated by the home she and her son created, Echavarria says that theirs was a veritable labour of love. "Alejandro dedicated himself to the architecture, and I dedicated myself to the feeling inside the house, the sensation you can create with materials and special objects. The place is a story, a narrative." She also refuses to stay in the house – Casa Bahia has never been lived in – because she believes that the space should remain empty until its rightful owners move in and infuse it with their own energy.
When asked it it'll be difficult to part with Casa Bahia once it's sold, Landes says no. "My connection to Casa Bahía is emotional because I made it from scratch, but it will be a joy to see a person or family that appreciates architecture live in it. My joy – and that of my mother – was in the making."
While the 50 million USD tag sets Casa Bahia at the very top of the Miami housing market in terms of price, there are really no properties that even come close to this home's magnificence. Much like he did for his films, Landes applied a loving lens to Casa Bahia, creating a place that speaks of golden memories, unbound sensuality and dreams of a sun-drenched future.
PHOTOGRAPHERS: Joe Fletcher and Claudia Uribe