April 1, 2017 Nadia Michel
Poise Design Creative Director Emma Boutros gives women more than must-have footwear. Balancing a nod to Arab culture with her unrestrained design philosophy, she's creating shoes that make an unabashed statement. The kaffiya pattern that's on heavy rotation and has been the brand's claim to fame print, resonates with the regional market and her playful designs and unabashed use of colour really bring it home. But the recognisable motif she is harnessing (thought to have originated two thousand years ago as a Mesopotamian representation of fishing nets) is not a total crowd pleaser.
In fact, the brand's use of the kaffiya pattern ruffled a few feathers last year after a joint collaboration with Coca Cola that featured the red and white iteration. When the capsule collection of six styles of footwear was launched exclusively at Dubai Mall's Level Shoe District, the choice of colour and its reference to specific cultures raised questions about what the pattern symbolizes. But Emma Boutros, the brand's Lebanese founder and creative director, is quick to point out there is no hidden political message. "The kaffiya is the only print that is symbolic of the Arab culture," she says. "It's not religious and it's not a flag, so that is how I explain my designs. I do this to celebrate my culture."

THE KAFFIYA IS THE ONLY PRINT THAT IS SYMBOLIC OF THE ARAB CULTURE. IT'S NOT RELIGIOUS AND IT'S NOT A FLAG, SO THAT IS HOW I EXPLAIN MY DESIGNS. I DO THIS TO CELEBRATE MY CULTURE.
Boutros started designing shoes almost seven years ago, in a bid to elevate her own style, which was limited by the unavailability of stylish clothing for plus-sized women. "Shoes were always my way of expressing myself because they always fit, no matter what you had for lunch or dinner," she confides. The bubbly, high-energy blonde has a well-known penchant for Nutella, which she keeps in her office and on her nightstands, as well as a special fondness for cooking. "When I'm not designing shoes, I'm in the kitchen. I'm a great cook," she says, before sharing her favourite edible creation – a kind of red velvet croissant stuffed with cream.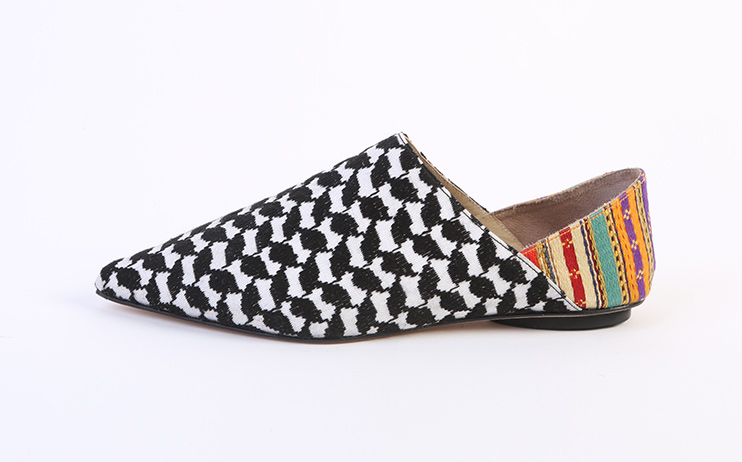 Admittedly, Boutros' passion for food is part of a broader appetite for life. Her day begins at 6am and ends at 2am, chock full of meetings, negotiating and – mostly in the quiet of evening – designing. "I believe sleep is a waste of a lifetime. I can't wait for the sun to come up so I can go to work," she enthuses.
Poise Design's autumn/winter 2017-18 collection is inspired by Saint-Exupéry's 'The Little Prince', a book she reads every five years to refresh her take on things. "You understand it differently every time you read it, depending on your own perspective as an individual. It addresses issues we face in the world today, like the importance we give to the unimportant," she muses. The collection is also the first to be fully crafted in Italy, a move made as a response to a lack of materials and quality craftsmanship in the region. The designer explains how she used to import material to Lebanon and craft the shoes locally but this became prohibitively costly and not as efficient as streamlining the process in one place. "If you want to expand and have points of sales worldwide, you have to rely on a sustainable chain of production," she reasons.
Poise Design has a men's collection in the works, an on-going bridal collaboration with Superga, and a highly popular four-year strong line of transparent PVC-panelled pumps that give both Gianvito Rossi and Yeezy a run for their money. There's no question, the future looks bright for this purveyor of practical self-expression.