May 17, 2021 Alain Elkann
YOU'RE FROM COMO IN ITALY. YOU STARTED YOUR CAREER IN YOUR FATHER GIANFRANCO'S CLOTHING COMPANY IN THE US THEN CAME BACK TO ITALY AND CREATED YOUR OWN BRAND, NEW ENGLAND, WHICH YOU SOLD IN 2000. WHEN DID YOU BECOME THE CREATIVE DIRECTOR OF MONCLER?
[Remo Ruffini] In 2000.
MONCLER WAS STRUGGLING THEN, COULD YOU HAVE KNOWN IT WOULD BECOME THE EXTRAORDINARY GLOBAL SUCCESS IT IS TODAY?
When I sold New England, I started looking for a prominent brand with a strong proposition. Moncler was familiar to me, because as a boy I used to wear Moncler every day in winter. I love the mountains, skiing, winter, and I have loved the Moncler logo since forever. When they told me Moncler was on the market, I was very interested. It was founded in Grenoble in 1952, worn by the French ski team at the Winter Olympics in 1968, and in the 1980s was very fashionable for the younger generation in Milan, Tokyo and Paris. I started by working on the quality, because quality in these kinds of products is very important, so I reorganised the company's production facilities and systems, and I opened my first store in Paris in 2009. This was a turning point.
IN THOSE DAYS YOUNG ITALIANS WORE OVERCOATS IN THE WINTER. THE MONCLER ANORAK WAS CONSIDERED SPORTSWEAR. NOW THAT HAS ALL CHANGED AND MOST PEOPLE DON'T EVEN HAVE A COAT, THEY USE ANORAKS, DAY AND NIGHT, ON MOUNTAINS AND IN CITIES. HOW DID YOU BECOME THE PIONEER OF THIS INFLECTION POINT?
In the 1970s and 80s, the Moncler jacket weighed more than one kilo. It was great for mountains, but even in Como was too hot for the winter season. Now one jacket can be 100 grams, how you wear it is very flexible, and it is convenient to pack when you travel. You can use them every day in the city, but when I bought the brand, it was basically sporting goods, alpine and ski wear. My plan was to work very hard to turn the company from an Alpine mountain product to a city product, where the big market is. Goose down is a light weight magician that is both comfortable and very warm at the same time. Today the company is international; we sell all over, whether LA, Hong Kong, Tokyo, Shanghai. We have a collection that can cover every region, every moment of the year. You could say that they don't need them in Hong Kong in July, but they actually do because offices are very cold in Southeast Asia!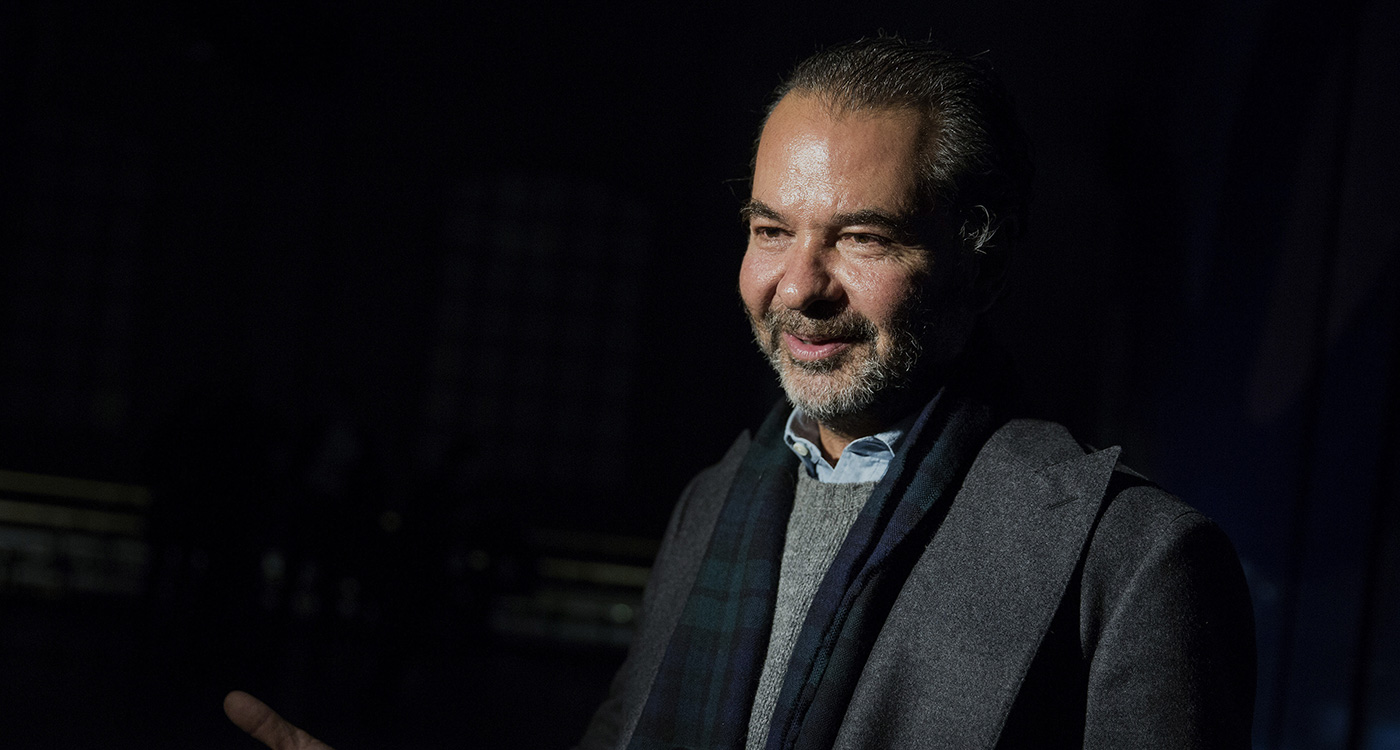 LIKEWISE, UNTIL A FEW YEARS AGO, NOBODY WORE SNEAKERS IN DAY-TO-DAY LIFE, OR AT WORK, BUT NOW EVERYBODY WEARS THEM AND WE HARDLY WEAR LEATHER SHOES ANYMORE. ARE WE IN THE MIDST OF A REVOLUTION IN THE WAY WE DRESS?
Five or six years ago the world changed a lot, and what we call casualization is becoming stronger and stronger. In the United States now you normally don't see men in suits and ties, the classic garments. This casualization movement made sneakers, sport jackets, and sweatshirts very fashionable and trendy. It is a totally different way of dressing. Stores that sold classic shoes, now around 70 per cent of their offer is Nike or Adidas, and all the luxury brands like Gucci and Saint Laurent make sneakers. Even Loro Piana, which was one of the most classic brands.
DOES MONCLER MAKE SNEAKERS?
Yes, but our culture is really the down jacket, and it is not an obvious move to turn Moncler into a sneakers company, but people ask for a Moncler sneaker.
MONCLER IS QUITE EXPENSIVE, IN THE LUXURY GOODS NICHE. MANY OTHER COMPANIES MAKE ANORAKS, LIKE UNIQLO, WHICH ARE VERY LIGHT AND CHEAP. ARE YOU IN COMPETITION OR IS THEIRS A COMPLETELY OTHER WORLD?
In today's world, quality and brand perception means a lot. Uniqlo is an amazing brand and they make very good product. It is not cheap, it is inexpensive. It is in a totally different world, and we don't compete with them. Uniqlo is this huge fast fashion brand where you can find anything and everything, not only down jackets, and at prices 90 per cent less than the fashion brands.
They say that you are personally attentive to each and every product detail. Is this true?
Yes. I work a lot on the product, because it's very important for our long term strategy and vision. We have worked really hard on traceability, and animal welfare and all our down is certified under a strict protocol. We have the best quality product available on the market, and it's very difficult, because we need tonnes of high quality down every single year.
WHAT IS QUALITY TO YOU?
Quality means it must last for life, and for me this is one of the biggest values of Moncler. I have a jacket that I bought in 2003 that I still use in the mountains every winter. After so many years, you have a good romance in your mind, you tell your son, you tell your friends, and this good perception is the real advertising. Maybe you didn't buy two jackets in the last 15 years, but you make a lot of advertising when people feel it is an amazing product.
WHY DID YOU CREATE THE MONCLER GENIUS PROGRAM, WHICH GIVES DESIGNERS LIKE CRAIG GREEN, PIERPAOLO PICCIOLI OF VALENTINO AND SIMONE ROCHA THE OPPORTUNITY TO CREATE A NEW COLLECTION?
When the world changed over to digital, it gave us an opportunity to talk with our global community of customers, on a daily basis. So two or three years ago, I decided to turn our seasonal business – spring/summer and autumn/winter – into a business that delivers content and projects, with a collection every month. Not just to sell more, but also to have an easier discussion with my customers. Where five or six years ago, you shot a campaign with a famous photographer, a fantastic model and then bought pages around the world in magazines or newspapers, and your marketing strategy was more or less finished, now the only way to talk with the young generation is through a social network, and because social networks are completely different in Asia, Japan, China, Europe and the US, you need a lot of content and you need a lot of culture. This is why I founded Genius. It is basically a house with eight floors with eight designers inside. Each designer can develop his own creativity with his own ideas, and every month we present a collection in the stores and we have new content, everything is 360 degrees around that designer. Unique in our industry, Genius was a turning point for Moncler.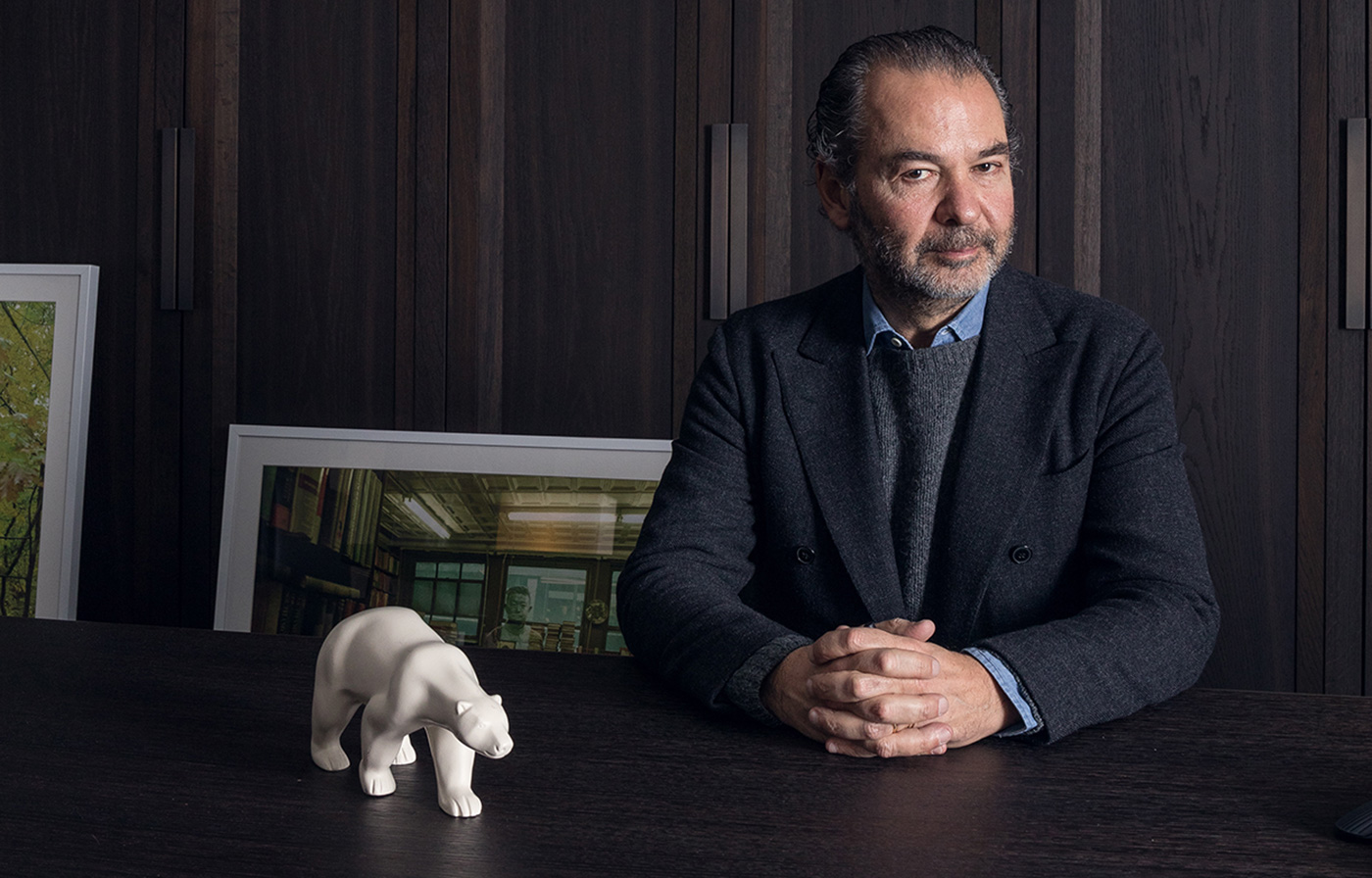 MONCLER LOST MONEY FOR THE FIRST TIME EVER THIS YEAR DUE, OF COURSE, TO THE CORONAVIRUS. IT SEEMS THAT HAS INCENTIVISED YOU TO CHANGE YOUR E-COMMERCE STRATEGY, AS YOU'RE NOW ENDING YOUR LONG-STANDING COLLABORATION WITH YOOX NET-A-PORTER (YNAP). CAN YOU EXPLAIN YOUR THINKING?
The communication, the advertising, the way we talked with our customers, was already 80 to 90 percent digital. My e-commerce has been outsourced to YNAP for about 10 years, and I talked with the CEO and said you did a very good job, but I now need to take back my business, as I want to improve the digital culture inside my company. In today's world, you cannot just have a digital department, every department must talk digital in every moment of every day. But I also don't think the physical spirit is going to disappear. We have to integrate the digital experience with the physical store one. That is why omni-channel is the future. What I mean by that is people get in contact with the brand through different touchpoints from physical stores to e-commerce, e-tailers to social media. In the multichannel experience, online and offline coexist.
WHAT WILL CHANGE OFFLINE?
The experience. Three years ago transactions were only made through stores, but the future will not be the same. You can have the experience in store and then make the purchase at home on your computer, or when you leave the store you can buy your jacket on your mobile. In short, people will not go into a store to buy a product. That's why we are going to open a new store in Paris soon where we really explain to the customer what's going on with the brand. Today, brand perspective is much more important than anything. Product quality is always very important, but to build up a dream and give a lot of energy and a strong sensation to the customer is much more important than everything. You can do a lot of things through digital, and when you are really able to combine the physical channel and the digital channel, I think you can win the game.
WHAT ARE YOUR WORRIES CONCERNING COVID-19?
The world is very big and the Asian markets are growing very fast, but I don't know if people are going to travel as before. Europe is a big market for us, mostly made up of travellers, but in the future are there going to be planes full of people who travel to Paris to go shopping? Maybe we will have to fine-tune something in our distribution. We have to wait and see, and flexibility is the word of today and of tomorrow morning. We have to learn how to listen to people around the world. This is the key for the next twelve months.
IS THAT THE LIMIT OF HOW FAR ANYONE SHOULD PLAN AHEAD NOW?
A plan is very important in normal life. In today's world, you cannot make a three-year plan or a six-year plan. I care most about staying close to my customers, listening to them, tuned into the market and trying to be as flexible as possible, capable of modifying our vision, our strategy, and our plan in the really short term. This is important.
CLEARLY, THESE ARE CHALLENGING TIMES BUT ARE YOU NOT A MAN WHO LOVES CHALLENGES?
Yes, I like challenges, and there is also opportunity in today's very uncertain world. The first five big technology brands doubled their market cap in three months. We are not in that new economy, but we try to be as modern as we can. We are not depressed at all. We can find good new market opportunities and build a different company, one that is closer to the attitude that today needs.
Photography: Alessia Pierdomenico