July 24, 2018 Nadia Michel
Known for her savvy political commentary and rhetoric on international news networks, Raghida Dergham is following up a stellar journalistic career with a turn on the other side of Middle East policy.
The first time I met Raghida Dergham was at a summer party in the charming modesty of the deep South of Lebanon. It was set in a beautiful, new contemporary villa with the proportions of a small resort. Dergham arrived fashionably late and cool, making her way around the pool, until one of the guests pointed her out to me, briefing me on her impressive resume in a deferential tone. That's partly because Dergham's reputation as an international no-nonsense journalist and commentator on foreign policy precedes her, but she also projects a sort of tough dignity, the kind that keeps you on your toes.
There was an obvious jostling for position around her, as those with an interest in current affairs hoped to get some kind of inside scoop. When it comes to understanding the intricacies of regional power, there's no question Dergham is a source of knowledge. The former senior diplomatic correspondent for London's Al-Hayat newspaper has spent 40 years covering the UN and has appeared as a commentator on countless international television news programmes. She is also a well-respected and widely read senior columnist, currently published in The National.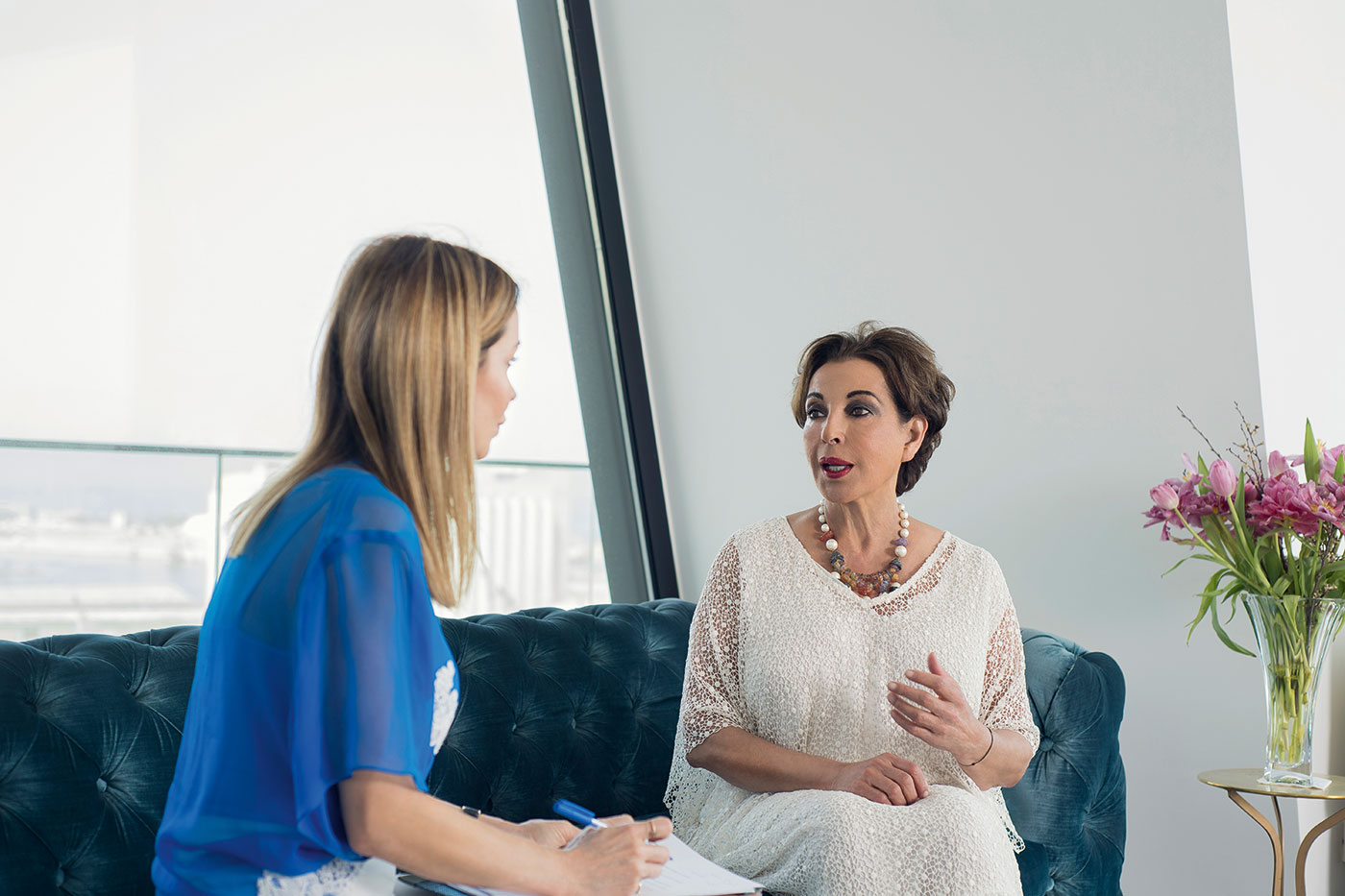 Her somewhat staunch opinions on regional affairs are no secret, but on the day we meet in an airy Beirut apartment, it is the future she is most adamant about. She is in the midst of planning her next Beirut Institute Summit (May 12 & 13, 2018 in Abu Dhabi) a meeting of regional minds that brings together senior policy makers, prominent intellectuals, leading CEOs and political leaders to come up with strategies, and to set an agenda.
It's the second time around for the think tank (the first summit was in 2015) and Dergham points out that though the name can be misleading, the organisation has the entire Arab region in its sights, with a mission that includes shaping the policy debate in the Arab world, while fostering Arab – East – West relations. It's no small order, but Dergham has assembled an impressive, international Board of Directors that includes HRH Prince Turki bin Faisal Al Saud, Lakhdar Brahimi, the former Foreign Minister of Algeria and Dr. Barham Salih, the former Deputy Prime Minister of Iraq, among others.
The premise, Constructing the Arab Region's Engagement in the Emerging Global Future, is in a nutshell, what Dergham is all about. "That is what we should be talking about. My daughter is 27. What is her interest in life? It's tomorrow, not how bad the past has been," she says, emphatically. "If the youth don't engage in a useful way, if they don't learn from the mistakes of others, we're getting nowhere. Change is not a picnic. It's a big task, a destination."
"If the youth don't engage in a useful way, if they don't learn from the mistakes of others, we're getting nowhere."
At the time of our meeting in late March, Dergham is also debating whether she'll run for a parliamentary seat in her own country. She recently returned from a life abroad, in the US and the UK for the most part, with the determination of someone who is tired of standing on the sidelines. She has joined and dropped a few electoral lists in Beirut's fiercely disputed District 2, and she is still unsure whether she will stay the course, mostly, she says, because she is uncomfortable with the way the groups are coming together. Her vision, however, is crystal clear.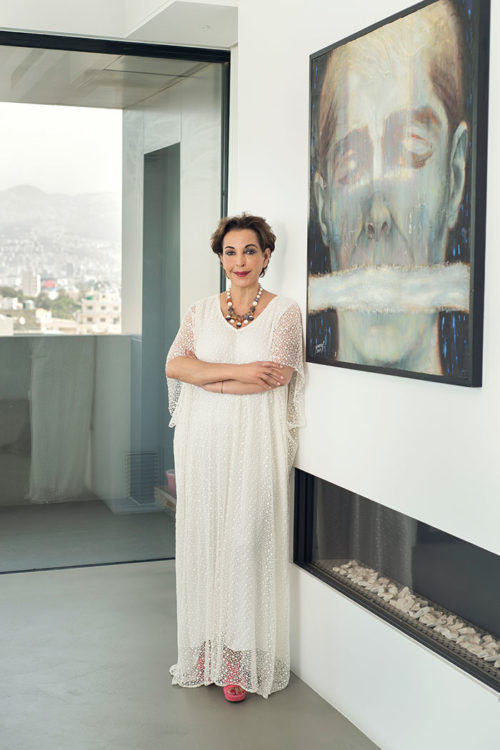 "I will push for the equal status of women. It is absolutely necessary to have a quota for women in the parliament, or else you'll never catch up," she says. "Women have to be involved in the decision making process, whether it relates to security, the economy or to the political decisions or the direction of the country, because it is about their lives too. It's not only about the lives of men."
As she says this in her usual polished and articulate manner, it's easy to imagine she may eventually get what she wants. Many women, even those who call themselves feminists, might be unconvinced that a quota is really necessary, in part because it has the acrid aftertaste of overused affirmative action. However, she makes a good point: there are currently few laws protecting the rights of women in Lebanon, and there is a growing call for change. And, if religions and sects deserve parliamentary representation of a certain number, shouldn't women also?
But that's only the tip of the iceberg for Dergham, as her scope is much wider. Behind the local political rhetoric is a burning desire to impact regional political context.
"We are kidding ourselves if we think Lebanon can live in a cocoon of its own, or pretend that its not at the heart of a polarization, particularly in the Iranian-Saudi context," she admits, when pressed about the pressures coming from external regional powers. "Certainly, we live in a tough neighbourhood. But who says that having the support of regional partners means you need to sell your soul to them? Who says support means you have to pledge your allegiance to Riyadh or Tehran? There is a definition for the word 'sovereignty'. You have to be sovereign in the sense that you rule yourself."
That's the dream. Interestingly, the day after our interview, Dergham withdrew from the parliamentary election following a meeting with Prime Minister Saad Hariri. And in reality, Dergham admits to having her own ideas on who should be Lebanon's most supportive allies. "I do not hide the fact that I welcome the correction that is taking place in the relations between Arabs and Iran. Barack Obama put Iran first in his policies toward the region. He even turned a blind eye to a genocide in Syria because he was so preoccupied with his nuclear deal," she comments. "I'm someone who does not believe in imposing religion on states," she adds.
Of course, that problem is not unique to the country she is referring to, and even the most well informed, objective journalist would find it difficult to point a definitive finger at what is wrong and what is right when it comes to regional policy. Dergham's ideas for reshuffling the cards, though, provide some kind of hope for a fresh start.
"I think its time to stop the notion of 'it is what it is' and you can't change it. You need a little bit of a rebellion. I don't want to sound like a revolutionary, but I think it will take a bit of patience and a bit of rebellious spirit."