April 5, 2019 Nadia Michel & Maya Khoury
Heralding a new dawn for the region's emerging fashion industry, Fashion Trust Arabia's inaugural ceremony was held in Doha, Qatar on March 28th under the patronage and presence of HH Sheikha Moza bint Nasser Al Thani. Co-chaired by founder Tania Fares and Sheikha Moza's daughter, Sheikha Al-Mayassa, FTA announced its allocation of annual grants to six emerging designers, selected by an impressive panel of 23 judges with an eye for potential. There was no shortage of star power as VIP guests strutted down the red carpet, but in the end it was all about the emerging talent. As part of its support, FTA will provide the awardees – regional designers who have already established themselves as bona fide labels but have room to grow – with guidance and mentorship in addition to up to 200,000 USD of funding. Considering FTA is an offshoot of the British Fashion Trust, which helped labels Christopher Kane and Nicholas Kirkwood make it big, it's a safe bet these prize winners are going places.
THE WINNERS
EVENINGWEAR Krikor Jabotian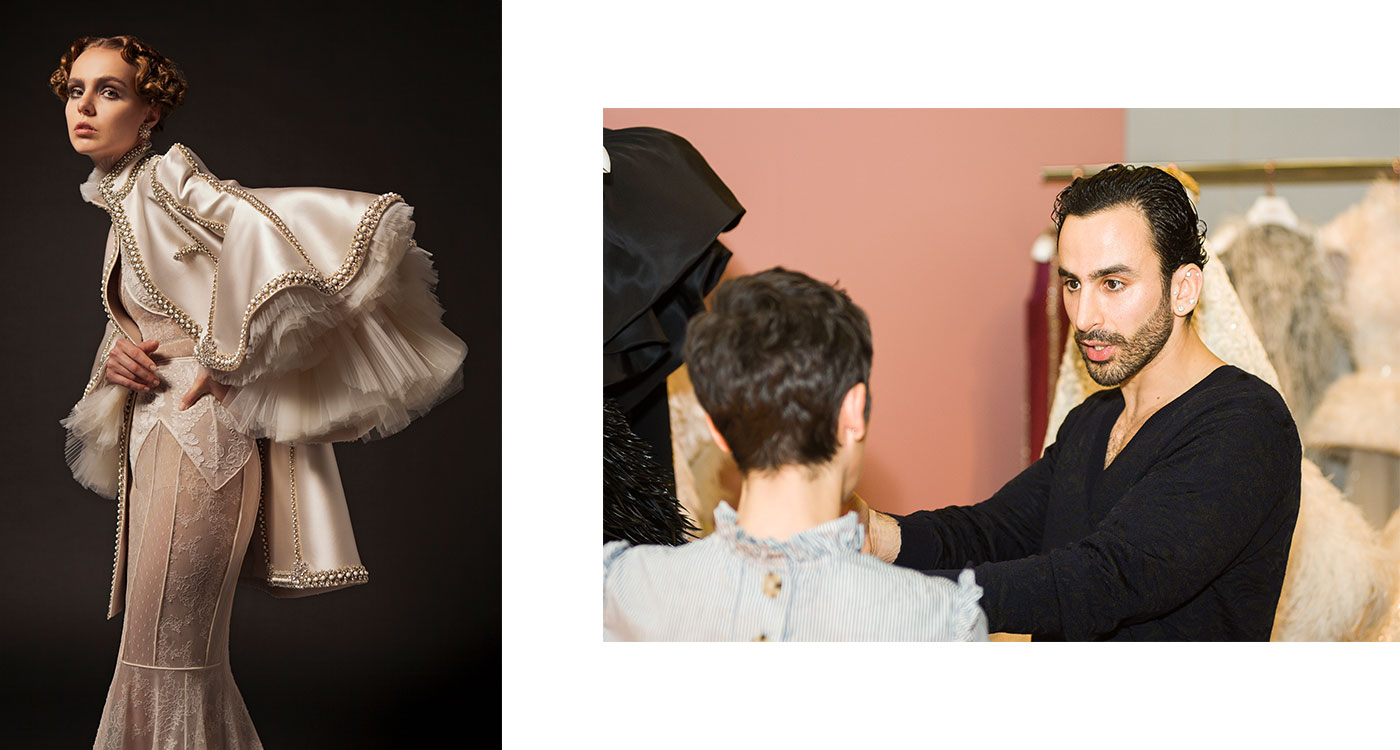 CONGRATULATIONS ON WINNING THE FTA EVENINGWEAR PRIZE. WHAT'S THE FIRST THING YOU WANT TO DO?
– Right now I want to call my mum! But afterwards, I want to throw a little party for my team in Beirut. Without them, this would never have happened. I need to thank them one by one, maybe give them each a rose.
AFTER YOU GRADUATED FROM ESMOD IN PARIS IN 2007 YOU BEGAN YOUR CAREER UNDER A LEGEND IN THE FORM OF ELIE SAAB. BUT THROUGH FASHION TRUST ARABIA'S JUDGING PANEL YOU HAVE HAD THE OPPORTUNITY TO MEET SO MANY OTHER LEGENDS OF THE INDUSTRY, WHAT WAS THE BEST PIECE OF ADVICE YOU RECEIVED FROM THE JUDGES?
– I loved Pierpaolo Picciolio's [Valentino's Creative Director] feedback, he was actually the only one who gave me advice. He felt that I have a soft spot in my work and he believes I need to work on that and showcase it more. Basically, I should look back to my old days when I first started doing couture and working with fabric manipulation and experimenting with volumes more. Of course, I'll take his advice.
HOW DO YOU PLAN TO TAKE ADVANTAGE OF THIS OPPORTUNITY?
– I believe this will change things for the better. We've long wanted to test a ready-to-wear line, so now we can definitely work on that, as I think it is the right time. Hopefully it will work.
JEWELLERY Mukhi Sisters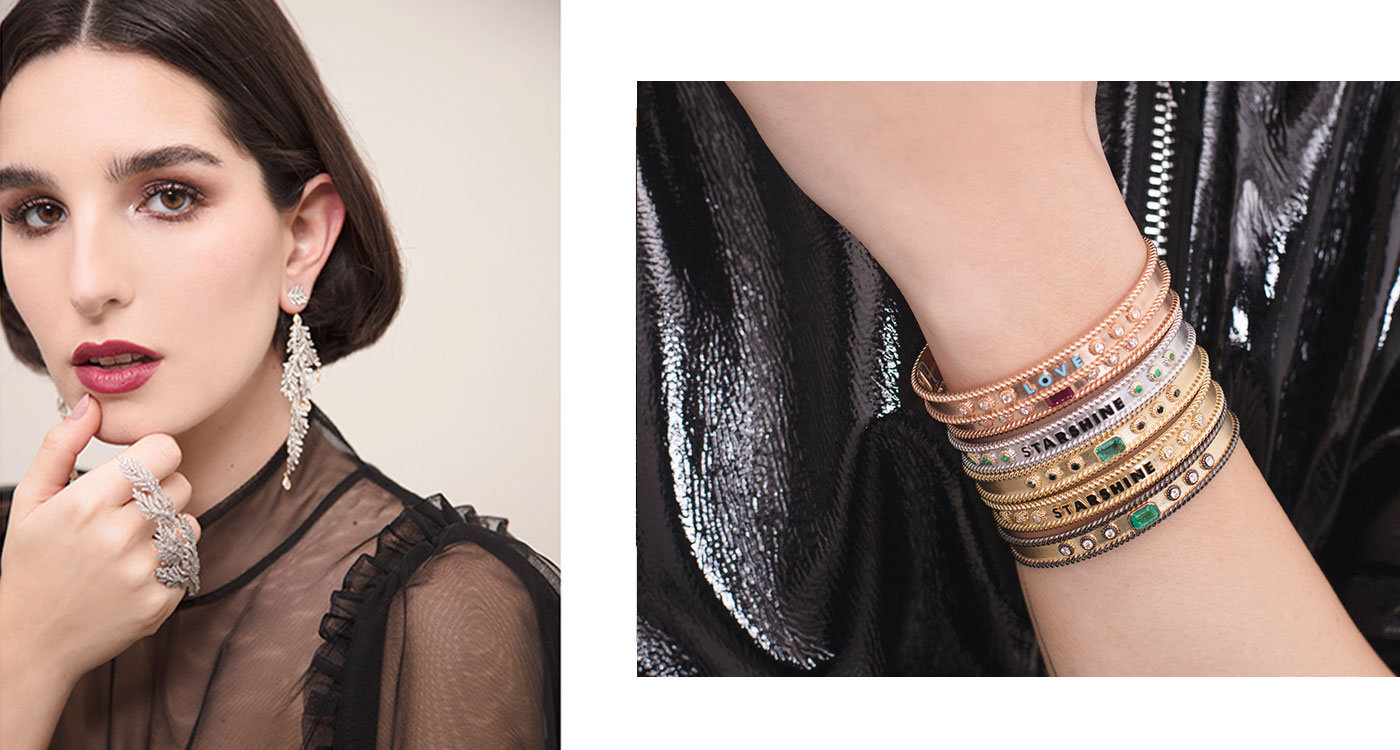 WHAT ARE YOUR THOUGHTS ON YOUR EXPERIENCE WITH FASHION TRUST ARABIA?
– Fashion trust Arabia has been an amazing journey and it's a wonderful initiative by Qatar that really gives the region's designers an opportunity to grow. We're so greatful to Sheikha Moza and Sheikha Al-Mayassa Al Thani.
YOU (MAYA, MEENA AND ZEENAT) BRIDGE CULTURES AS THE DAUGHTERS OF AN INDIAN JEWELLER AND A LEBANESE JEWELLER YET YOU SPENT YOUR FIRST DECADE IN BUSINESS FOCUSSED ONLY ON LEBANON. WILL THIS PRIZE CHANGE THAT?
– We have actually long had plans to expand beyond Lebanon but the political situation in our country has prevented us from doing so. Hopefully with the support of FTA we can now take Mukhi Sisters one step further. We're definitely ready to go international.
SO WHAT SPECIFICALLY WILL YOU DO WITH THE SUPPORT YOU'LL HAVE ACCESS TO?
– We'll be developing a new collection with the financial award. Part of that funding will go towards production and part of it will go towards digital marketing.
AND LASTLY, GIVEN THE CALIBRE OF THE WIDE-RANGING JUDGING PANEL, HOW IMPACTFUL HAS IT BEEN TO MEET ALL THESE SUCCESSFUL FASHION INDUSTRY PLAYERS AND DO YOU HAVE ANY FUNNY ANECDOTES THAT YOU CAN SHARE?
– All the judges we met were incredible but to name a few: Giambattista Valli was really positive and supportive, as was Alexander Wang. And Diane Von Furstenberg was an especially good critic, as she looked at each of our collections and gave us specific feedback, which – and coming from her – meant so much. She's an absolute legend of the fashion industry, right?
SHOES Zyne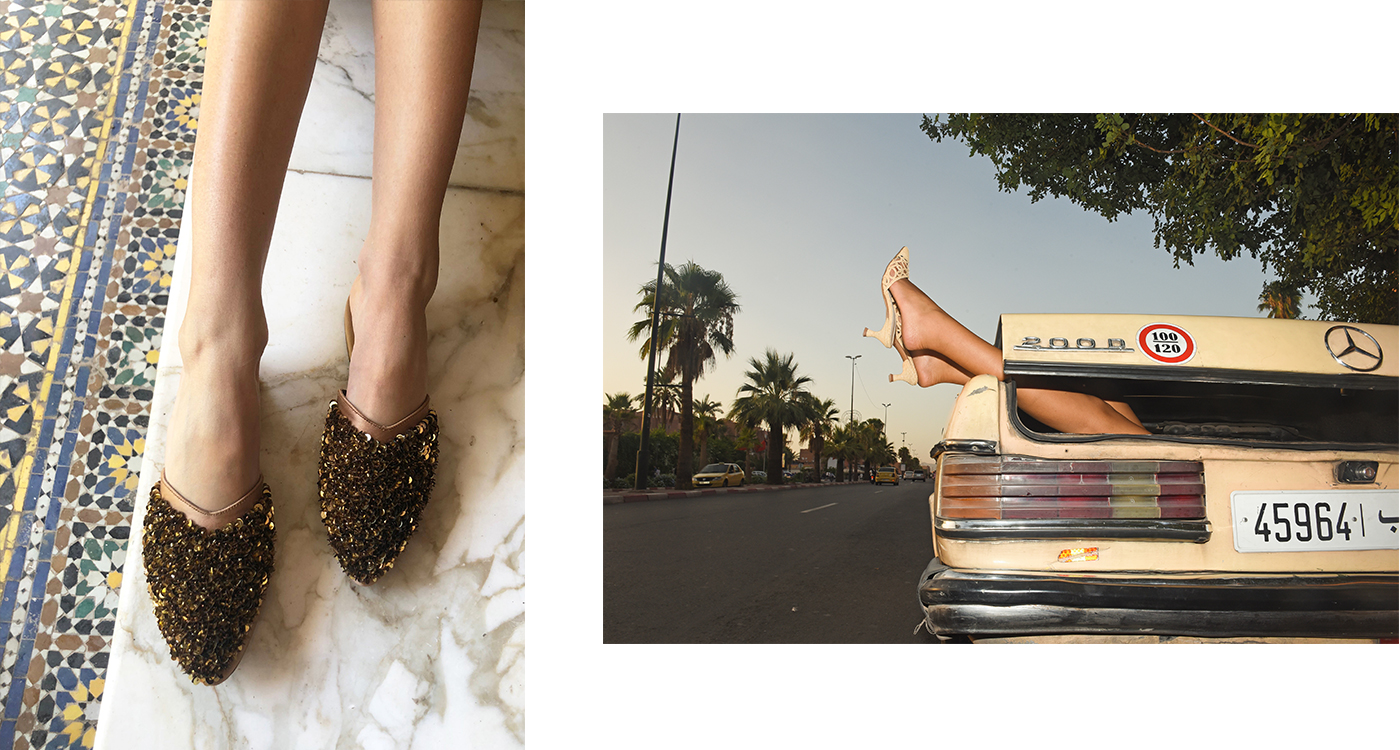 WE HEARD YOU GUYS (ZINEB BRITEL AND LAURA PUJOL) TELL THE JUDGES YOU'RE ON A MISSION TO BRING THE ANCESTRAL MOROCCAN FOOTWEAR KNOWN AS BABOUCHE INTO THE 21ST CENTURY, IS THAT THE ESSENCE OF ZYNE?
– Yes, we started two years ago and we're so proud to be able to show the world Morroccan craftsmanship. Our product is 100 per cent hand made and it takes from eight to 22 hours to make a single pair of Zyne shoes. The name of our brand means 'beautiful' in Moroccan Arabic.
OVER THE TWO DAYS OF JUDGING WERE THEIR ANY MEMBERS OF THE JURY THAT YOU CONNECTED WITH MORE THAN OTHERS?
– Diane Von Furstenberg was amazing.She's created this whole movement that empowers women and we can't wait to be a part of it. Giambattista Valli was also very encouraging. He seemed to be impressed with our techniques and the luxury of our product.
HOW WILL WINNING THE FTA PRIZE FOR FOOTWEAR CHANGE ZYNE OR THE WAY IT PRODUCES SHOES?
– We really want to invest in our workforce of women by improving their skills and creating more jobs, and to expand our team as much as possible. We started two years ago with two women and now we have about 50 and we want this number to grow as much as possible.
YOU ALREADY HAVE SOME SUPERSTAR CUSTOMERS LIKE CHIARA FERRAGNI, SO WHAT'S NEXT IN TERMS OF SCALING UP THE BRAND?
– We believe there's room to grow Zyne beyond just shoes. We want to create a lifestyle brand, with things like belts and hats that also showcase Moroccan craftsmanship. We also want to have pop-ups and showrooms all over the world and really get feedback from our customers so as to be able to understand what they want, and create with them.
HOW DO YOU PLAN TO TAKE ADVANTAGE OF THIS OPPORTUNITY?
– I believe this will change things for the better. We've long wanted to test a ready-to-wear line, so now we can definitely work on that, as I think it is the right time. Hopefully it will work.
READY-TO-WEAR Salim Azzam

YOUR BRAND CLEARLY RESONATED WITH THE JUDGES. WHAT STOOD OUT FOR YOU WHEN YOU MET THEM?
– The highlight for me was Valentino's Pierpaolo Picciolio and the advice he gave me. I felt the judges' really connected with my story. It's not just my dream but a dream I share with the community of women I work with.
YOU HAD ONE ONE OF YOUR EMBROIDERERS, A DRUZE FEMALE ARTISAN, WORKING AT YOUR STAND AND THAT REALLY REINFORCED YOUR BRAND MESSAGE, DIDN'T IT?
– Yes, she had a very big impact. She's been on the team for two years and this is actually the first time she leaves Lebanon.
SO WHAT'S NEXT NOW AND HOW CAN YOU SCALE UP A 'SLOW FASHION' PRODUCT SUCH AS YOURS?
– I'm going to open my own atelier in the mountains, where I got the inspiration for all of this. It's also where the women will feel most comfortable producing and reviving their craft. I want to bring all these women together and create more job opportunities. I have 400 applications so I'm going to hire as many as I can. We'll also develop our e-commerce, it's time to be online, I guess.
READY-TO-WEAR Roni Helou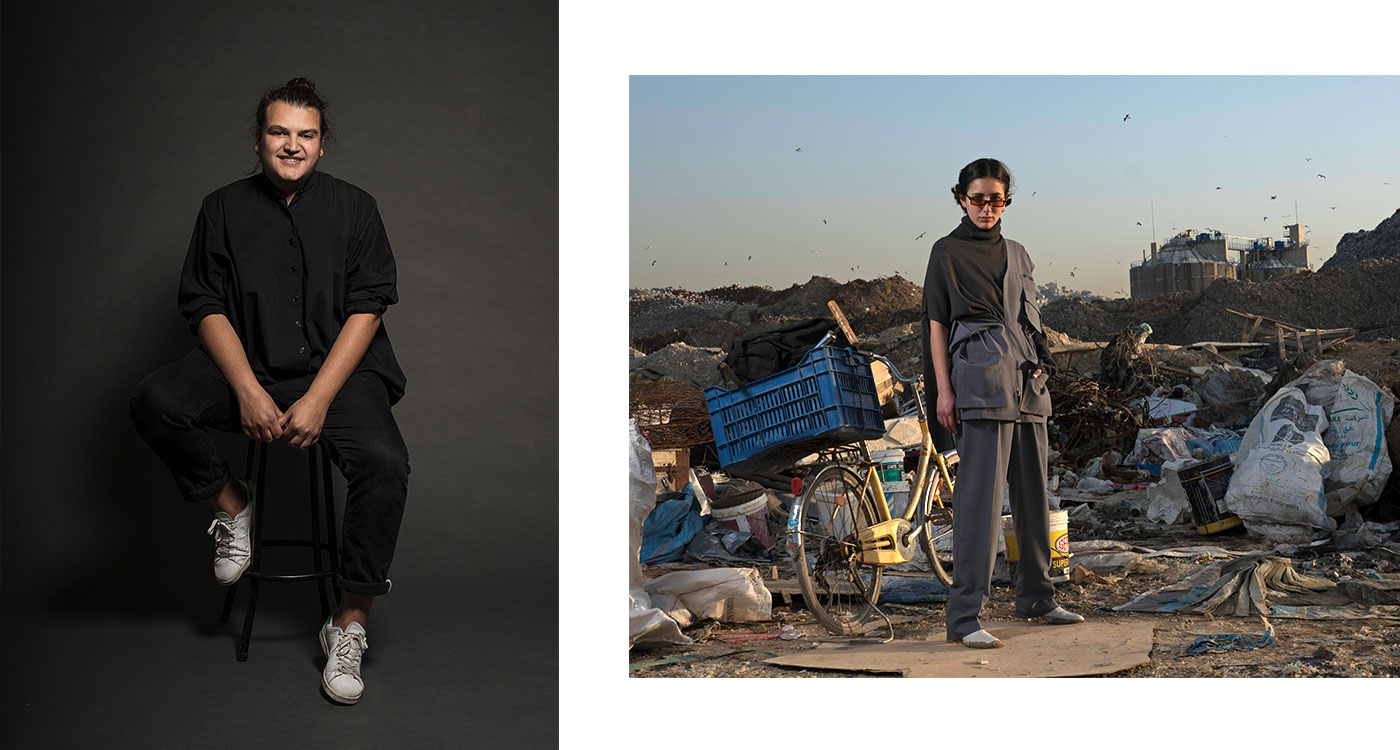 CONGRATULATIONS, IT'S AMAZING THAT THE JUDGES DECIDED TO GIVE TWO RTW AWARDS. WHY DO YOU THINK THIS HAPPENED?
– Honestly, in my case I think it's about more than creating clothes. I think it's about the messages I convey, about the story the brand tells. I personally come from a humble background and Creative Space Beirut changed my life because they provided me with a free education. Now, as a designer I'm giving back to them, and people appreciate these stories of gratefulness. Also, my brand respects the environment and everything that surrounds us, I think people relate to that now more than ever.
COULD YOU TELL US A LITTLE MORE ABOUT THAT ENVIRONMENTAL MESSAGE?
– Yes, the fashion industry is one of the world's most environmentally disastrous and my brand avoids waste by sourcing its materials from dead stock. Essentially, we dig through markets and find beautiful quality vintage fabrics with which we create our clothes.
HOW WILL YOU INVEST THE MONEY THAT COMES WITH THIS AWARD?
– We want to invest in our PR, marketing and showrooms. We also want to outsource sustainable fabrics from abroad, because for me that's very important. It's a lot of money, and thank God we got it.
FINALLY, WHY DO YOU THINK MIDDLE EASTERN DESIGNERS NEED SOMETHING LIKE FTA?
– We have so many constraints! We don't have the big production houses, we don't have the best technology, we don't have any government grants or aid, so designers must go through a lot of hardship to get things done. And still we don't have much visibility so for us to have something like FTA that recognises talent and helps us grow, that's a really big deal.
BAGS Sabry Marouf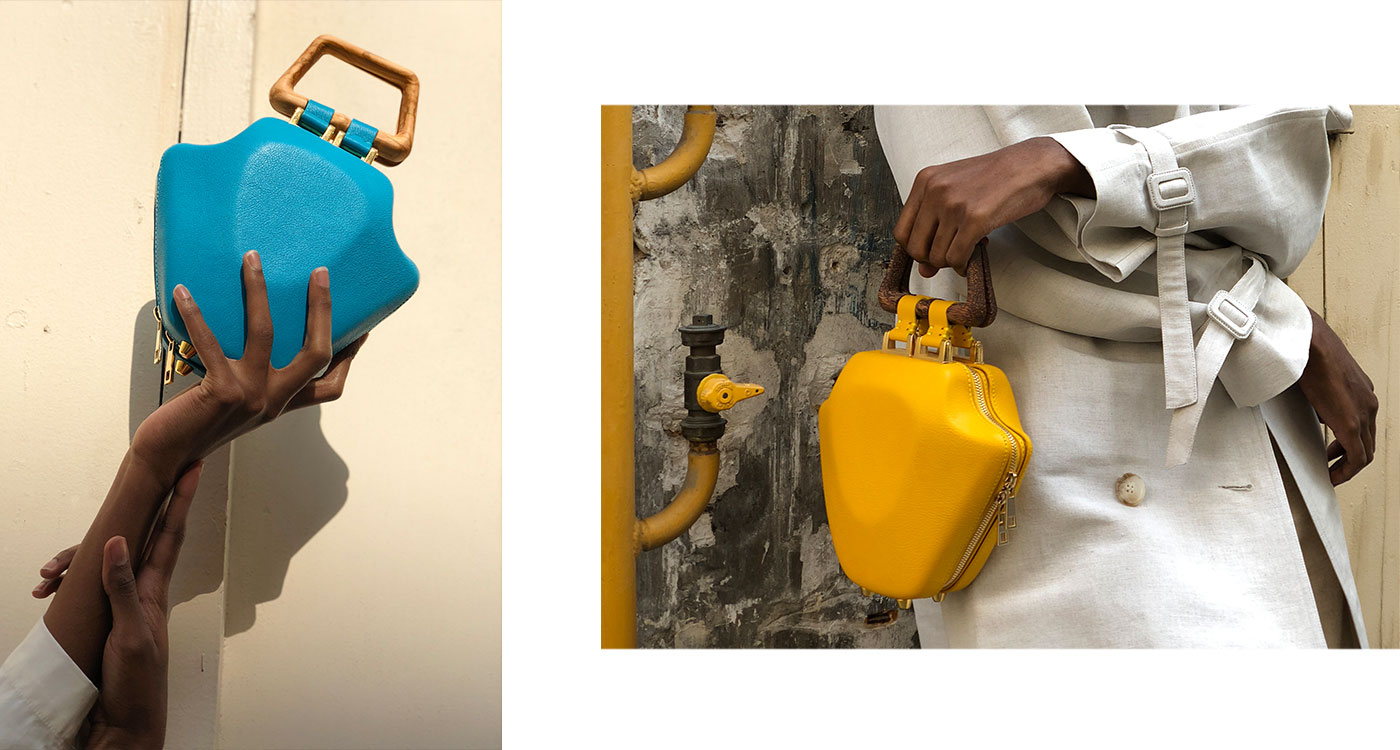 AS AN INDEPENDENT EGYPTIAN LABEL, WHAT DOES IT MEAN TO WIN THE FTA AWARD?
– It all feels very surreal and kind of like the twilight zone. A lot of people were rooting for us, though, and it means a lot. We've stuck it out on our own since 2012 and it's been tough, but now it feels like it's getting real. Our ultimate goal is to bring all of of this back to Egypt and help save our crafts and heritage. We'll be able to do this with these incredible mentors and judges.
WHAT'S UNIQUE ABOUT YOUR BAGS?
– Besides the fact they they are inspired by Ancient Egypt and it's symbols, like the Amarna scarab bag, we've developed this inner coating that allows us to shape the leather. We also use sustainable materials like repurposed olive and sycamore wood for our handles.
SO, HAVING ALREADY DEVELOPED NOVEL TECHNIQUES AND INNOVATIVE DESIGNS, WHAT'S NEXT?
– It's our chance. We don't want to be media buyers like other brands, we want to be content creators and publishers ourselves. We have plans to do a documentary on Ancient Egypt from our point of view, because I think a lot of our heritage is being watered down and diluted and gets portrayed as this mystical past, but we are very connected to ancient Egypt, it's very real and we need to learn more about it.
THE JUDGES
Olivier Rousteing
When he was appointed to the helm of Balmain in 2011 at the age of 24, Rousteing became the youngest creative director in Paris since Yves Saint Laurent. But armed with the experience of having worked at Cavalli from 2003, he was able to do a formidable job boosting Balmain's revenues by almost 20 per cent between 2012 and 2015, leading to its acquisition by Qatar's Mayhoola in 2016.
Natalia Vodianova
Forced to drop out of school at 11 and sell fruit on the street with her single mother in Russia, Vodianova's stardom in modelling ascended so precipitously that it earned her the nickname "Supernova". Although she still models a little, most of her time is now spent as a philanthropist for her Naked Heart Foundation and Elbi.
Zuhair Murad
Just two years after he opened his atelier in Beirut in 1997. With an aesthetic that combines sensuality, femininity and glamour, he has become the go-to couturier for royals and Hollywood stars, while also building a solid ready-to-wear business since 2005.
Giambattista Valli
Roman-born Giambastista Valli honed his design skills at Capucci, Fendi and then Emmanuel Ungaro before deciding to go solo in 2004 using his own money and no outside investor (aided in part by consulting for Max Mara Atelier and directing Moncler Gamme Rouge.) His label has since expanded into couture and a street savvy Giamba label.
Carla Bruni
Former French First Lady Carla Bruni was one of the 1990s highest paid fashion models before she transitioned into a successful music career in 1997. The Italian-French singer/songwriter then sold over five million albums. And in 2013, after leaving the Élysée Palace, she returned to modelling as a Bulgari jewellery brand ambassador.
And more…
Alexander Wang, Antoine Arnaut, Caroline Scheufele, Diane Von Furstenberg, Edgardo Osorio, Erdem M, Farida Khelfa, Haider Ackerman, Maria Milano, Natalie Massanet, Natalie Kingham, Imaan Hammam, Pierpaolo Piccioli, Remo Ruffini, Sara Sozzani, Maino, Sarah Mower, Stefano Tonchi and Sonam Kapoor.
INSIGHT 
by Rita Lamah Hankach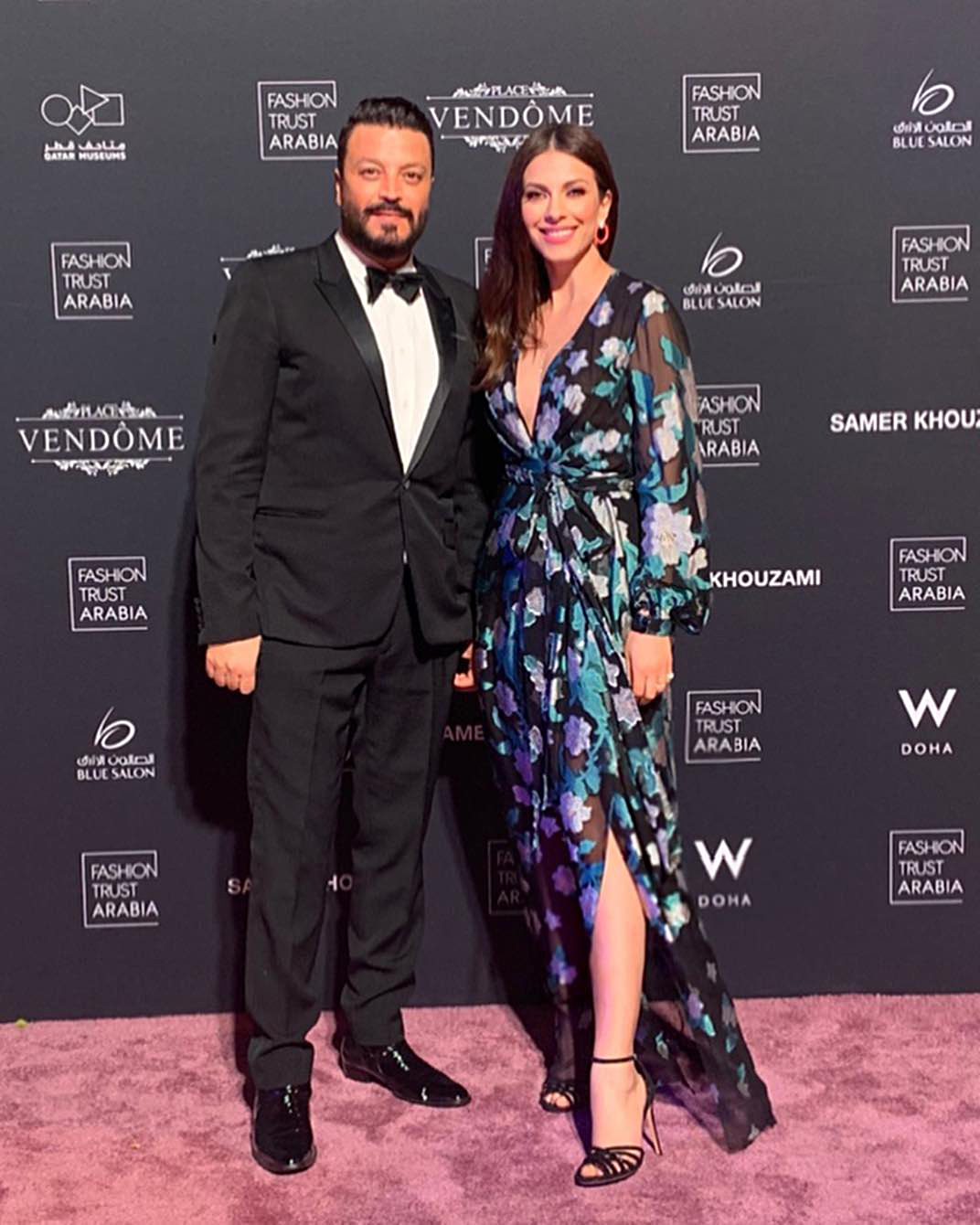 With a résumé that reads 2013 Miss Lebanon contestant, Miss Universe Japan judge, fashion marketeer, stylist and blogger, Rita Lamah Hankach was uniquely equipped to be our guest contributor at the FTA event.
I had just booked a flight to Paris when I got a call from Official Bespoke extending an invitation for me to join them at Fashion Trust Arabia's inaugural award ceremony in Doha. It was especially exciting since I had been following FTA's news since their launch and was familiar with Tania Fares and her involvement with the British Fashion Trust. Needless to say I postponed that trip and began planning the coverage with OB, a magazine I've been a huge fan of since it launched in 2007, when I was the Marketing & Communications Manager at Zuhair Murad. And I must admit I do still enjoy reading print magazines, flipping through the pages and even the smell of paper.
On Thursday March 28th, I woke up to a crisp ray of sunlight streaming into my spacious room at the W Hotel in Doha but little did I know just how this day was going to be one for the books.
After getting ready in a black Lama Jouni blazer and pants, paired with striped black and white Moroccan slippers with a big side bow, I went down to the lobby where I bumped into the elegant and poised Tania Fares, who was busy making sure everything was going as planned. I remember noticing her beautiful yellow power suit, which seemed to radiate positive energy. And with no time to dwell, it was off to Msheireb Museums where we spent a morning meeting the FTA finalists, as well as the international judges.
A highlights for everyone in attendance was when Sheikha Moza, the Honorary Chair of FTA, graciously passed by each and every one of the designers' booths, taking time to talk to them and discover their creations. It was a proud moment for the finalists many of whom, I was happy to note, are focusing on sustainability while keeping it glamorous, wearable and stylish, all at the same time.
Rousteing and my old friend Zuhair Murad, mingled with the finalists before heading to the panel room. Natalia Vodianova looked poised and earthy wearing a brown dress with pleats at the bottom, while Victoria Beckham's attire was serious: a long black frock and peep-toe boots.
Back at the hotel, I met Edgardo Osario, the man behind my favourite shoe brand, Aquazzura, who shared with me that "the key to a perfect shoe is for it to be beautiful, comfortable and make women feel amazing." He also confided that what had interested him most was the designers who were working with local artisans and their commitment to nurturing craftsmanship. The celebrity-packed lobby also had Izabel Goulart and Caroline Scheufele running to their makeup appointments, and Olivia Palermo who always seems so cool and collected, while Matchesfashion.com, one of the official partners of FTA, hosted a Style Suite for their Qatari shoppers.
Wearing a Zuhair Murad dress, Aquazzura Studio sandals and jewellery by L'Atelier Nawbar, I set off for an interview we had managed to secure with Bollywood superstar Sonam Kapoor in her 29th floor suite. But, with the elevator stopping on each floor, I ended up being five minutes late, but much the wiser having glimpsed many of the night's amazing looks. Sonam, who was ravishing in a pink sari and a gorgeous headpiece, shared advice for the younger generation to "read lots of books" in order to stay grounded and not be affected by the shallowness of social media.
Later, FTA's ceremony witnessed a stellar roundup of international figures and industry experts. On the red carpet was the inventor of the wrap-dress, DVF, who complimented me on my look.
It was a windy night in Doha, our hair was flying, and our dresses flailing but none of us minded the chilly breeze. In fact, I'd say we were more concerned with keeping tabs on the who's who of famous guests like Naomi Campbell, who stunned in a floral frilled yellow dress, and Carla Bruni who surprised us all with a musical performance. Then when all was said and done, it was time to head back to the W for an after-party where we capped off our adventure by dancing the night away with Naomi Campbell, Pierpaolo Piccioli, Haidar Ackerman and the finalists.