June 6, 2015 Victoria Townsend
Not everyone is fortunate enough to gain access to the inner sanctum of the Patek Philippe world. For those who do, it becomes ever so clear how this prestigious brand has attained its eminent status.
Standing in front of the Patek Philippe Manufacture at Plan-les-Ouates in Geneva, I admire the enormous sculpture that spirals out from the entrance. I'm here to learn about the almost-mythical watch brand that consistently draws record prices at auctions worldwide – most recently, a Patek Philippe Supercomplication pocket watch made in 1933 for New York banker Henry Graves sold at Sotheby's for almost 24 million USD, becoming by far the most expensive timepiece ever sold.
Once through the security check at reception, I proceed to the locker room and rid myself of unnecessary items and dust particles that might damage the micro-precision instruments, components and timepieces I'm about to discover. Appropriately dressed in lab coat and slippers, my tour begins.
My guide asks me if I'm familiar with Patek. "I know it is reputed for quality and precision, incredible complications, enamelled and engraved domed clocks and pocket, pendant and wristwatches. It has its own museum in Geneva, has just celebrated its 175th anniversary, and is discreet", I throw out, hoping to impress. But I soon realise that I don't actually know as much as I think I do. For instance, I'm not aware of their first major breakthrough that transformed the world of watchmaking.
EVERY MINUTE REPEATER HAS ITS OWN UNIQUE SOUND AND THE STERN FAMILY PERSONALLY LISTENS TO EACH GONG AND RING TONE FOR FINAL APPROVAL.
This occurred when Polish immigrant Antoni Norbert Patek, who had founded a company in Geneva in 1839 that assembled and sold ornately decorated pocket and pendant watches, learned of the keyless winding system invented by French watchmaker, Jean Adrien Philippe, which not only dispensed with the winding key but enabled setting both the time and winding the movement with a single crown, and all this in a small and elegant encasement. As a result, he made Philippe an associate and travelled throughout Europe and North America to expand his client base, which soon included the Grand Duchess Catherine of Russia, Queen Victoria, and Tiffany & Co in New York – the company that presented the first Patek Philippe watches to the US in 1851 and still has a special relationship with the brand today.
"Today", my guide continues, "the company has 2,000 employees, with 1,800 in Switzerland of which 1,600 are in Geneva. 200 are qualified watchmakers and 50 are specialised in the creation of complications and 'Grandes Complications', which count as a collection, along with Calatrava, Ellipse d'Or, Nautilus, Gondolo, Aquanaut, and Twenty-4."
It was former president and current honorary president, Philippe Stern, who bought the company in 1932 (Patek died in 1877 and the company has remained in Philippe's family since), and who built these premises in 1996 to accommodate for the administration, research, design of new mechanisms, development, production, and restoration of Patek Philippe watches.
Inside the components workshop, dozens of technicians verify and control microscopic metal pieces that are carved and cleaned by machine tools. "Mr. Stern likes to say, 'we have bigger and bigger machines to make smaller and smaller components,'" confides my guide, adding that the company has 400 production machines to date.
From pinions to bridges to gear trains, 15 million components are assembled every year for a total annual production of 55,000 timepieces. To put this in perspective, a 'basic' movement has 160 parts, an annual calendar 300, and a perpetual calendar 325. Exceptional complications require hundreds more. I learn that it takes 40 different operations to make one gear train, and 1,200 operations to make a 'simple' movement showing just the hours, minutes, and seconds.
Peeking through the glass walls of the balance springs unit, we continue, without entering, to avoid contamination. The interaction of balance springs (or hairsprings) and balance wheels with escapements, provides the energy needed for mechanical movements. At Patek Philippe, these movements are all made in-house, subject to on-going research for new proprietary designs, techniques, and materials, such as the patented silicon-based Silinvar, which boosts the performance of the movements and increases the power reserve.
My guide enthusiastically lists more of the company's hundreds of patents: the perpetual calendar mechanism for pocket watches in 1889, the split-second chronograph movement in 1902, the world's first perpetual calendar wristwatch in 1925, the time-zone watch in 1959, the Calibre 89 with 33 complications and 1727 parts launched in 1989 to celebrate the company's 150th anniversary and still the most complicated portable timepiece today and then the Annual Calendar mechanism launched in 1996, which became public domain 10 years later.
She tells me about the Patek Philippe Seal that was created in 2009 – a label with 65 detailed regulations that attests to the quality of all the mechanical watches. It is currently the only seal of quality that assures the life-long maintenance of a timepiece, regardless of the date of completion. Indeed, when visiting the restoration unit, I see several 'Before & After' photos of old timepieces, some with rusted movements that then leave the Manufacture looking like new.
Fourth generation Thierry Stern, son of Philippe Stern, became president in 2009. One of his passions is a house specialty: the minute repeater – an extremely challenging complication that provides an acoustic indication of time upon demand, by pushing a button that indicates the number of hours, quarter hours, and minutes with different gong and ring tones.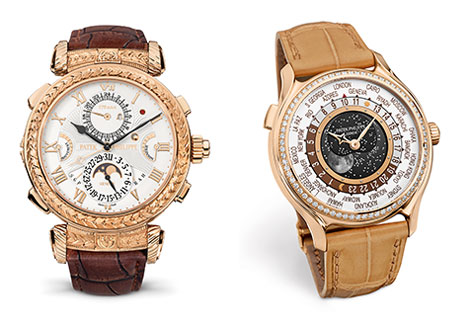 Ushered into a special room to listen to the different repeaters, I count the time and close my eyes, imagining those who, at the end of the 17th century when the minute repeater was invented, first 'heard' time. The master watchmaker tells me it takes between 200 to 300 hours of work to develop this complication, and that it can only be executed by those with decades of experience. He adds that every minute repeater has its own unique sound and that the Stern family personally listens to each gong and ring tone for final approval.
In 2013, Thierry Stern brought his passion for the minute repeater together with the handicrafts of enamelling, engraving and stone setting when he released the superb double-faced 6002 Sky Moon Tourbillon. Its front dial shows standard time with a perpetual retrograde calendar and the caseback reveals sidereal time and astronomical functions. One of its 12 complications is a minute repeater and the hand-engraved white gold sculptured case is lavishly decorated with different enamelling techniques (cloisonné and champlevé) on deep blue dials. It's currently the most expensive timepiece in their range.
Last year marked the 175th anniversary of Patek Philippe. Its commemorative collection, devoted to rare mechanisms and aesthetic refinement, culminated with another exceptional double-face timepiece; 'The Patek Philippe Grandmaster Chime' that took seven years to develop and has six patented innovations, including one for a reversing mechanism that allows the amazingly compacted wristwatch to be worn with either dial on view. Its 1,366-part movement has 20 complications with five musical time functions, the Grande and Petite Sonnerie, the minute repeater and two world firsts: a patented alarm that strikes the time and an acoustic date indication with a strike that's activated on demand.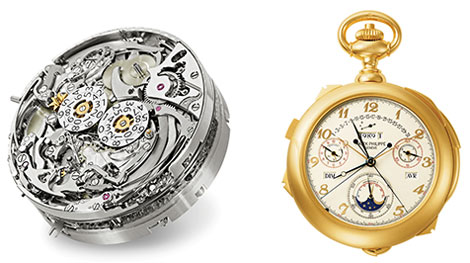 This collection, which recently travelled to the Saatchi Gallery in London, where it was on display from May to June before being temporarily exhibited at The Patek Philippe Museum in Geneva (where I got to see it), which is well worth a visit. I, myself, spent hours checking out the almost 2,000 rare and exceptional creations spanning 500 years of horological history, half of which are from the Patek Philippe heritage collections.
After all this, I still had one question that had yet to be answered: What have they got in store for us in the future? After all, Thierry Stern had teased us by announcing "What we did for the anniversary was just the beginning," at this year's BaselWorld. What I was able to ascertain was that total annual production is not expected to significantly increase over the next few years despite the fact new premises of nearly 50,000 square metres are being constructed but these are primarily to bring specialised activities such as rare handicrafts closer to the Manufacture. Due for completion in 2018, the site will also house research and development, training, and newer machines. According to Thierry Stern, Patek Philippe might "need more people, more machines, and more parts, but it is still one watch."
Perhaps, the future is already here for Patek Philippe. Honorary President Stern has four grandchildren now – they're often around during company events. And they are the next generation of Stern family watchmakers, true insiders who appreciate the value of quality time.