January 8, 2020 Stephanie d'Arc Taylor
Women couldn't drive in Saudi Arabia until last year, but race driver Reema Juffali is taking her right to drive to the next level. Against all odds, she's forging a trailblazing career in the male-dominated world of motorsports.
Five years ago, no one would have believed that a Saudi woman would be racing in the Brands Hatch Formula Four British Championship motor circuit – least of all Reema Juffali, the 28-year-old Saudi woman who, in April, did just that. Despite a lifelong love and working knowledge of cars, Juffali thought the obstacles against her becoming a racing driver were simply too high. Foremost among them, of course, was Saudi Arabia's ban on women driving, in place until last June.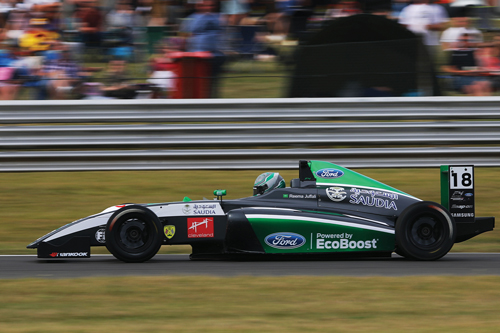 "As long as I can remember, I've wanted to get behind the wheel of a car. At age six, I never had Barbies or dolls, it was always cars," Juffali says, on the phone from her home in London. "I learned to drive at our beach house in Jeddah. As a kid I would always try to get on my dad's lap and try to take the wheel, just to feel I was in control of a car."
The Saudi government's decision to lift the ban was unexpected for Juffali, she says, despite the efforts of a number of women activists who had bravely fought for this right. (She says she didn't get involved with the activists because "I prefer to show people what things mean rather than put my voice out there.") But once it came, she was overcome with emotion. "That day, the 24th of June, was a pinnacle day for me. I was thinking about how far the country has come, and that we, the women of Saudi Arabia, are the door that's opening Saudi to the world."
That Juffali is breaking down boundaries for Arab women seems fitting with her tenacious, somewhat cheeky character: as a teen, she would sneak a family car out on Jeddah's streets prior to the ban being lifted. Later, having gotten her US driver's license while attending Northeastern University in Boston, she rented a car with a manual transmission – having learned only on an automatic – to throw herself into the deep end. "I had to figure it out while I was driving. I learn by doing. There were some close calls!" she laughingly admits.
Because of where she grew up, she felt at a disadvantage to her peers, many of whom have been racing shifter karts from a very young age. (Lewis Hamilton and Sebastian Vettel began their karting careers at age eight and had won five Formula One world titles between them by the time they were Juffali's age.) "I didn't start until college, on a track in the UK in a normal car," she says. "I didn't have the contacts and I didn't know how to go about getting a racing license."
That all changed with a chance meeting with Susie Wolff, a former Formula One development and test driver (and wife of the Mercedes F1 Team Principal) at the 2017 Abu Dhabi Grand Prix. Wolff's encouragement represented a turning point for Juffali. "The confidence I got from that meeting was all the push I needed. Less than a year later, I'm doing this full time and I'm fully committed," she says.
Juffali may have had a late start but she's now in overdrive. "I'm giving myself a few years to put in the effort and make up for all the time I didn't train as a child to gain the experience. My goal is to race at the top level of motorsport. I don't know if Formula One is a reasonable goal because it's something you have to train for from such a young age but a top level GT race like Le Mans seems realistic."
"The goal," she says, simply, "is to put everything in, and see what comes out."