November 11, 2021 Alain Elkann
PIERPAOLO PICCIOLI, YOU HAVE A WIFE, CHILDREN, A DOG. YOUR WORK IS VERY GLAMOROUS BUT YOU DON'T EVEN LIVE IN ROME. WHAT KIND OF LIFE DO YOU LIVE?
I don't want to change my simple life in Nettuno, the place where my wife Simona and I grew up, and the place I wanted to escape from when I was a kid. Our children grow up there and it's where we feel most comfortable. As a kid in Nettuno I dreamed of couture, fashion, even cinema, and it all looked so far away. I was looking at couture through images, not in reality. When I saw the reality of the clothes, I understood that when you see an image there is always a projection of yourself, and I wanted to keep my identity in that projection. I love my job and I want to be faithful to who I am, because that's very important.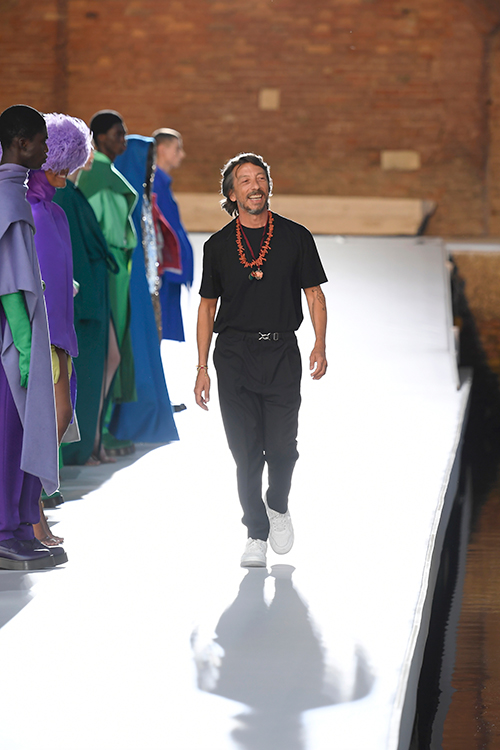 WHAT DOES BEING CREATIVE DIRECTOR ENTAIL?
As a Creative Director, you are the designer of the clothes, accessories and so on, but you are also responsible for the brand's values. Collections become the keys with which you can deliver those values, ones that hopefully you believe in too. That's why Valentino is my place. It's where I can easily talk about my aesthetic and my vision. At the end of the day, our job is about witnessing our time through our vision of beauty.
YOU JUST HELD A SPECTACULAR HAUTE COUTURE SHOW IN VENICE, VALENTINO DES ATELIERS. HOW CAN HAUTE COUTURE SURVIVE IN A WORLD WHERE MOST PEOPLE BUY ZARA AND UNIQLO?
Haute couture is the ultimate limited edition. Women who buy couture also wear denim and sneakers and things from Zara. It's not dictatorial anymore: couture today is about the self-expression of women that want to be bold and unique. A celebration of one-of-a-kind-ness, you can embrace a different world through couture. It's fine when a woman buys an haute couture coat and wears it with denim jeans and a t-shirt. Couture is not meant to be a total look.
IS THIS A BIG SHIFT FROM WHEN VALENTINO WAS VERY WELL KNOWN FOR ITS 'LIFESTYLE'?
I'm trying to include people that can appreciate beauty. I want to create a community of people that share the same values rather than a 'lifestyle'. When celebrities like Frances McDormand and Carey Mulligan wear my collection at the Oscars, they're beautiful and glamorous, as in the past, but they also stand for the values I stand for. It's a link that goes deeper than just the aesthetic. It's more emotional.
VALENTINO IS FAMOUS FOR THE USE OF RED, BUT IN VENICE YOU USED A FULLER ARTIST'S PALETTE.
Art is for art's sake, fashion has to be related to the body. They are different languages with different purposes. Being in dialogue with artists, mostly painters, I didn't want just to create a couture dress with a painting applied on top, like a museum t-shirt. Talking with the artists changed my ideas, because I wanted not only to translate the space of the artwork but also to get the same spirit of the artist, to create movement and dimensionality. The painter Jamie Nares, with whom we did the last dress of the show, uses these big, big brushes to make just one sign. I decided not to do the coat that I had in my mind but to go with a very feminine and dramatic dress, because it was more meaningful. Seeing this very feminine dress which came from our conversation as the last dress of the Venice show was an emotional moment for me that was both professional and personal.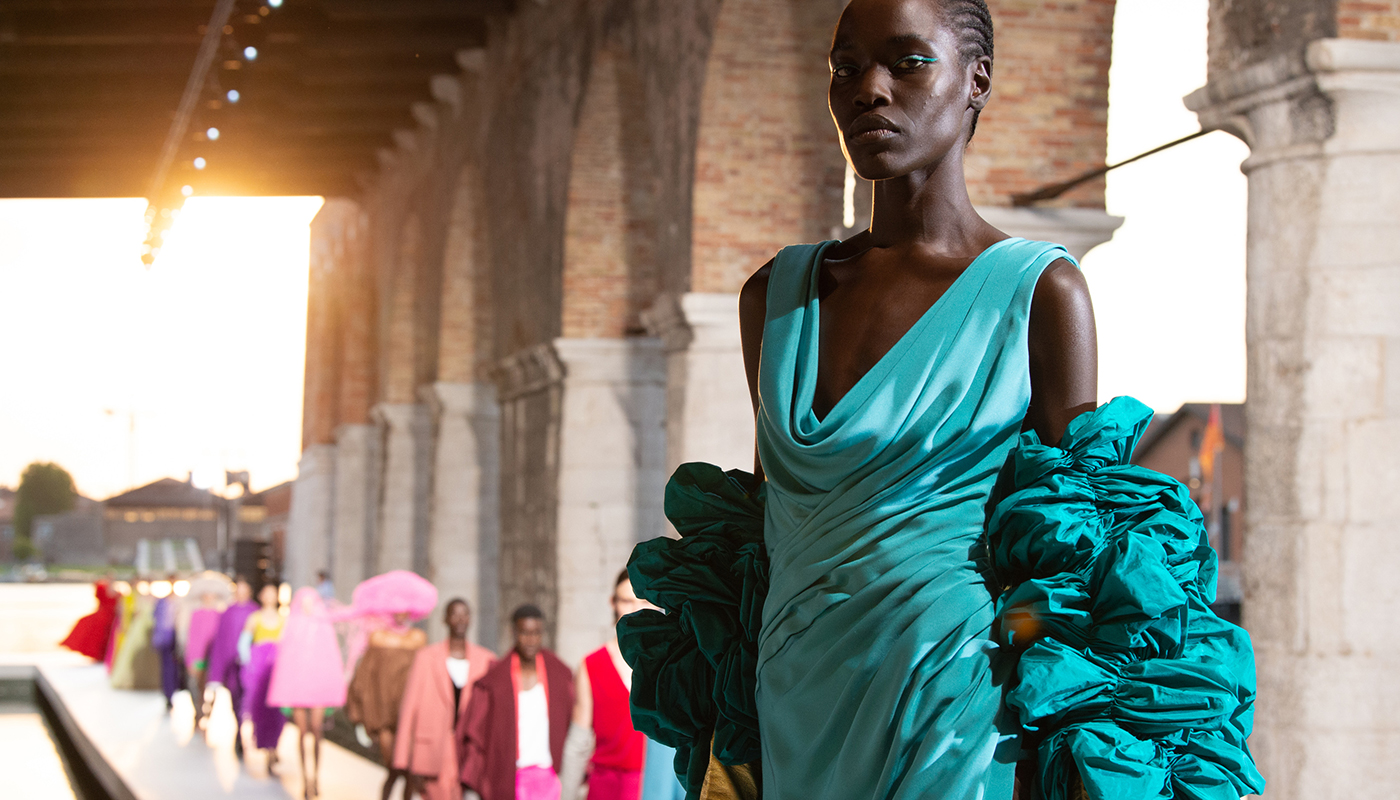 ART HAS NO PRACTICAL PURPOSE AND IS MADE TO LAST. IS FASHION MADE TO LAST?
Fashion is not art because the purposes are different, but fashion can have the same dignity as art. Fashion is not forever as art should be, but our wish is to be a lasting witness to our times. Yves Saint Laurent led the change for women in the 1970s. His collections in the 70s and 80s were of the moment, but they will last forever because they witness a change of society, not only of clothes. A designer has a voice. Hopefully, as a designer doing couture you use your voice to lead change in the world of men and women.
HOW DO YOU WITNESS THIS COVID TIME, WHICH NONE OF US COULD HAVE IMAGINED BEFORE?
By hoping for a world with no boundaries, of genders, characters, sizes, ages, whatever it is. Values are much more important than barriers.
WHAT IS VALENTINO TODAY?
It is freedom. It is equality. It is still beauty, but more beauty of identity than beauty of aesthetics. It's deeper, multi-dimensional. I want to propose values to fashion. I want to be relevant, to embrace the world of today. I want to face it and not live in the past. Mr. Valentino himself is part of my job; I worked with him, I have a lot of respect for what he did, but without nostalgia. This house welcomed me years ago, and I'm very grateful for this but I have to be faithful to who I am. Being in Valentino for twenty years is also part of my DNA, my identity. Like Rome, it's a past that lives in the present. But it is definitely the present. Valentino today is about now.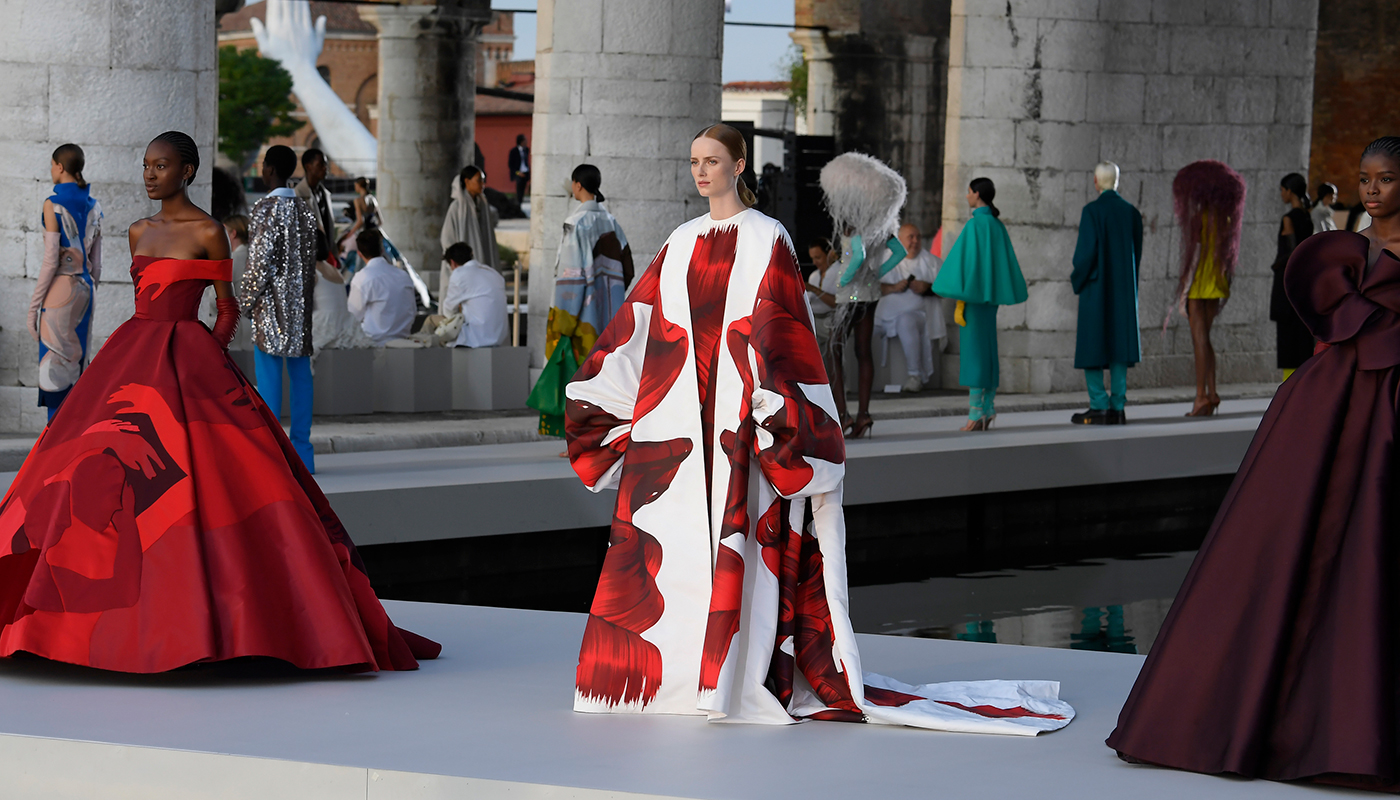 WHAT ADVICE WOULD YOU OFFER THE NEXT GENERATION OF ASPIRING FASHION DESIGNERS?
I would tell them to be faithful to who they are, not to change, and not to feel that they have to follow the stereotypes, to be in a box. I didn't follow any rules. I come from the seaside and that's part of who I am today. A designer has to have something that is beyond fashion, to believe in something deeper, something more emotional that touched you. It's the same for fashion, for music, for cinema. You can create emotions through delivering your very personal idea of beauty.
THEN ULTIMATELY YOU DO WANT TO MAKE PEOPLE BEAUTIFUL?
I want people to be proud of who they are, exactly how they are. For both men and women I always look for grace, the harmony that comes from aura, more than beauty. It's about something that comes from inside and outside together, and you can look for the same in both men and women. I think that it's important today that we say, "Come as you are. You will be welcome." That's the most interesting idea of beauty for me.