June 27, 2019 Nadia Michel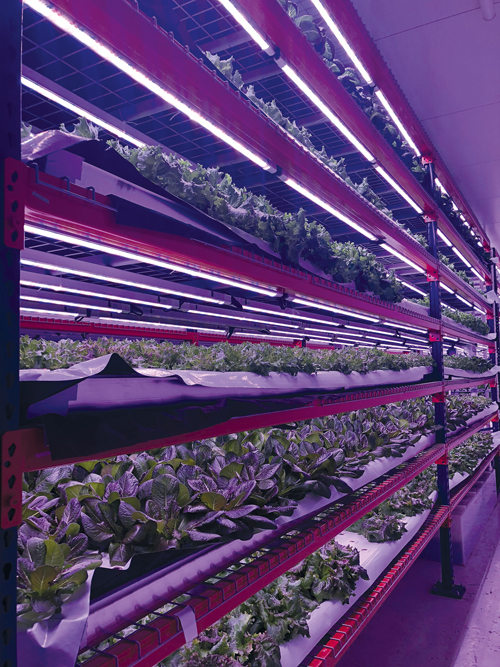 Crop One Holdings is bringing mass-scale vertical farming to the Middle East. The California-based company has inked a deal with Emirates that looks set to be a game changer in the region's food supply.
It's hard to grow lettuce in the desert but Emirates Flight Catering is countering that with highly innovative farming techniques – and that's an intentional pun. California based Crop One Holdings is building the world's largest vertical farm for the airline carrier as part a 40 million USD joint venture.
"The Middle East is an excellent market for vertical farming because of the lack of water and the high degree of food importation," explains Crop One Holdings' CEO Sonia Lo.
To illustrate the point, it's worth noting that vertical farming uses 1/2500th of the water used in field-based growing. It's also remarkably efficient in terms of space requirements (an obvious advantage in real estate terms): you can grow as much produce in one of Crop One Holding's 30-square-metre units as you could on 77,000 square metres of farmland. That's just the kind of solution Emirates was looking for when the company decided to bring its raw food supply production in-house.
"The farm is slated to produce 2,700 kg per day of product. A typical US family of four will eat 70 grams of salad per meal. Using this measure, the farm could produce 38,400 meals per day," estimates Lo. That's rows and rows of lettuce and other greens growing in hydroponic containers stacked 15 metres high.
So you'd think vertical farms would be a thing already, right? Not so. The technology, up until now, has been cost prohibitive and not really all that appealing to the average entrepreneur. But, Crop One claims it operates at 25-50 per cent of the capital cost of any vertical farm, due to its unique combination of a proprietary technology platform and best-in-class plant science, which is why the company is gaining traction here, and also in the US where it operates Fresh Box Farms, supplying fresh greens to the Boston metropolitan area. "The plant science has focused on developing proprietary algorithms for each cultivar that we grow. These algorithms include both the nutrient dosing formula for each cultivar and the relevant environmental set points for optimal growing," she clarifies.
Plus, there's the economy of scale factor. "We really believe in being large scale. We have seen the cost reduction even between our initial farm and the new scale farm and believe we can take costs in the next three years to be comparable to produce grown in the field," says Lo, who stepped in as CEO soon after Chalsys, the investment firm where she served as Managing Director, financed the company.
Lo, whose background includes culinary school in London, also emphasises the palate-pleasing perks of vertical farming. Fresh produce from vertical farms can be delivered to kitchens within hours of harvest, ensuring maximum freshness. And, because there is no soil involved, the product is pesticide, herbicide and fungicide-free. "We describe ourselves as being 'beyond organic," explains Lo. "Hydroponically grown produce can be classified as organic but the fertilizer would have to contain animal faecal matter in an organic 'tea' and we do not use this because of the potential pathogen risk," she adds.
Crop One's new 12,000 square-metre facility for Emirates is slated to be completed by end of 2019, when it will begin delivering fresh produce to Emirates Flight Catering's customers, including 105 airlines and 25 airport lounges.
The US-based company announced the opening of its new Dubai office last February, which, if Lo has her way, forebodes the beginning of a revolutionary new food supply industry in the Middle East, where the unforgiving climate has been an impediment. "Fresh produce is expensive and can vary widely in quality today, and this type of farming should be transformative for the region," she concludes.