March 20, 2019 Nadia Michel
Born in Moscow and raised in Syria, Dina Saadi has been transforming walls around the world with her large-scale murals for the best part of five years. Part pop art and part poetry, they'll leave you with plenty to reflect on.
Based in Dubai since 2012, Dina Saadi is an artist, illustrator and vlogger who fled the political situation in Syria shortly after completing a degree in Visual Communications at the Damascus University of Fine Arts (for which she also took some credits in Amsterdam). Following a stint as Art Director at an advertising agency, Saadi has become a fixture at street art festivals around the world. She has also been tapped by global brands, including Apple, Instagram, Uber, Audi, Nike, Levi's, Estée Lauder and most recently Aldo, for whom she reimagined the Mx3 sneaker with a kaleidescope-like pattern depicting parrot fish she saw while diving in the Philippines and patterns inspired by traditional fabrics from the UAE.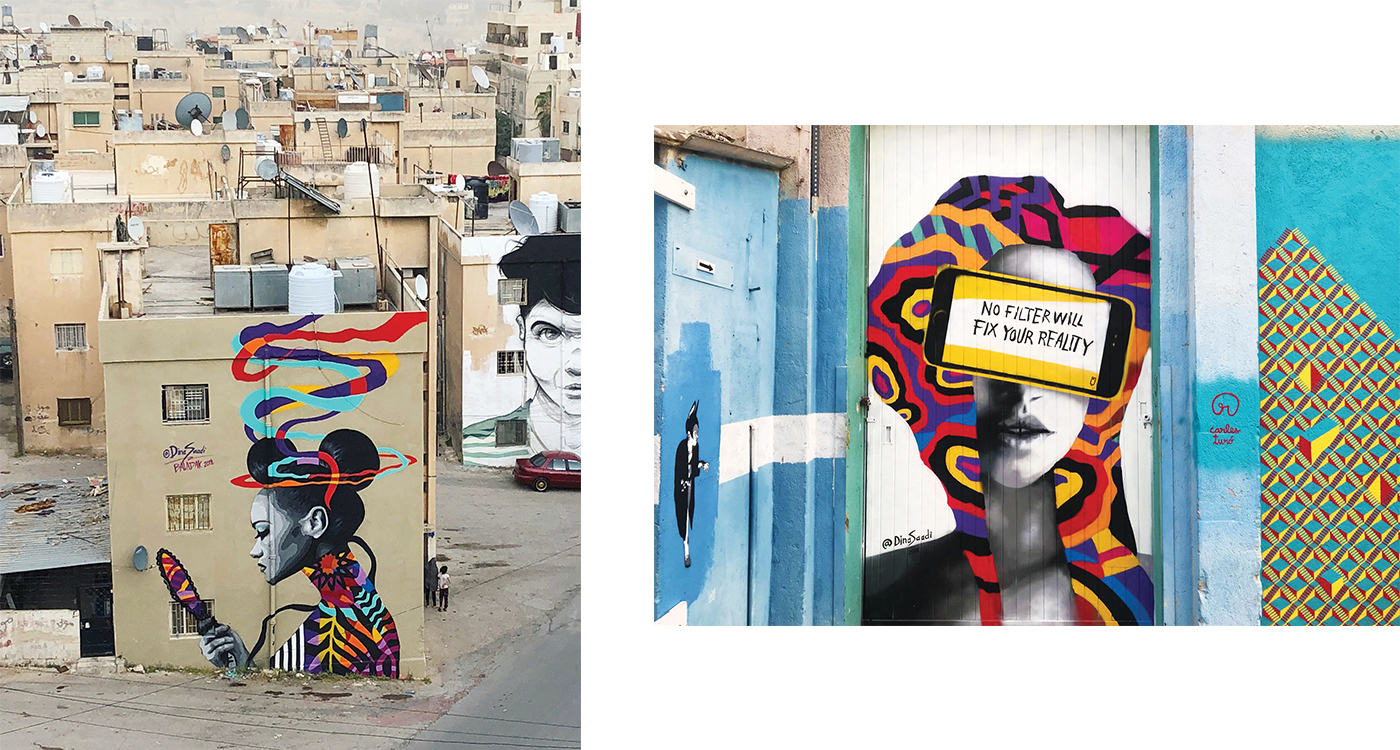 Left: 'Reflections', Amman, Jordan.
"This is a mural I painted as part of the Baladk Street Art Festival in Amman. I believe that our true 'reflection' is not the image we see when we look in a mirror; it is the reflection of our souls, thoughts, and values which is represented by the colourful elements and patterns above the woman's head in the mural."
Right: 'No Filter', Barcelona, Spain.
"No filter will fix your reality and no perfect selfie will hide the truth. We always try to portray the ideal image of ourselves to look better in front of others and to get a validation stamp from society, but will this ever fix our broken souls and feed our hunger for fulfilment?"
I BELIEVE THAT OUR TRUE REFLECTION IS NOT THE IMAGE WE SEE WHEN WE LOOK IN A MIRROR; IT IS THE REFLECTION OF OUR SOULS, THOUGHTS, AND VALUES.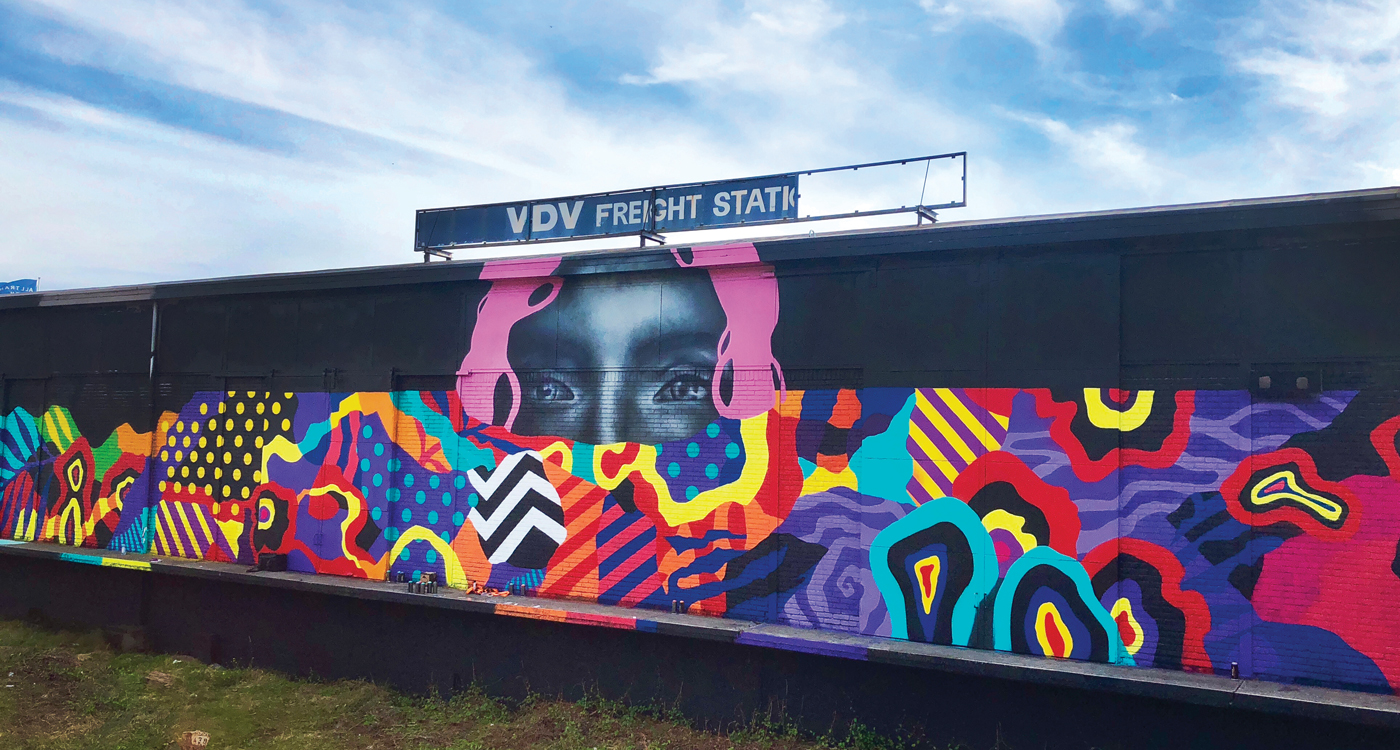 'Drowning', Rotterdam, Holland.
"This 40 metre mural was my participation in the first edition of POW WOW Rotterdam festival and my biggest mural so far. I collaborated on a 100-metre wall to paint a long mural with two very talented artists: Zepha and Dilk. This mural is about anxiety in a fast, modern corporate world, the woman in the mural provokes thoughts and emotions with her staring eyes and the lost look on her face, she's drowning in a sea of colours, which represents overthinking and drowning in your own mind and thoughts."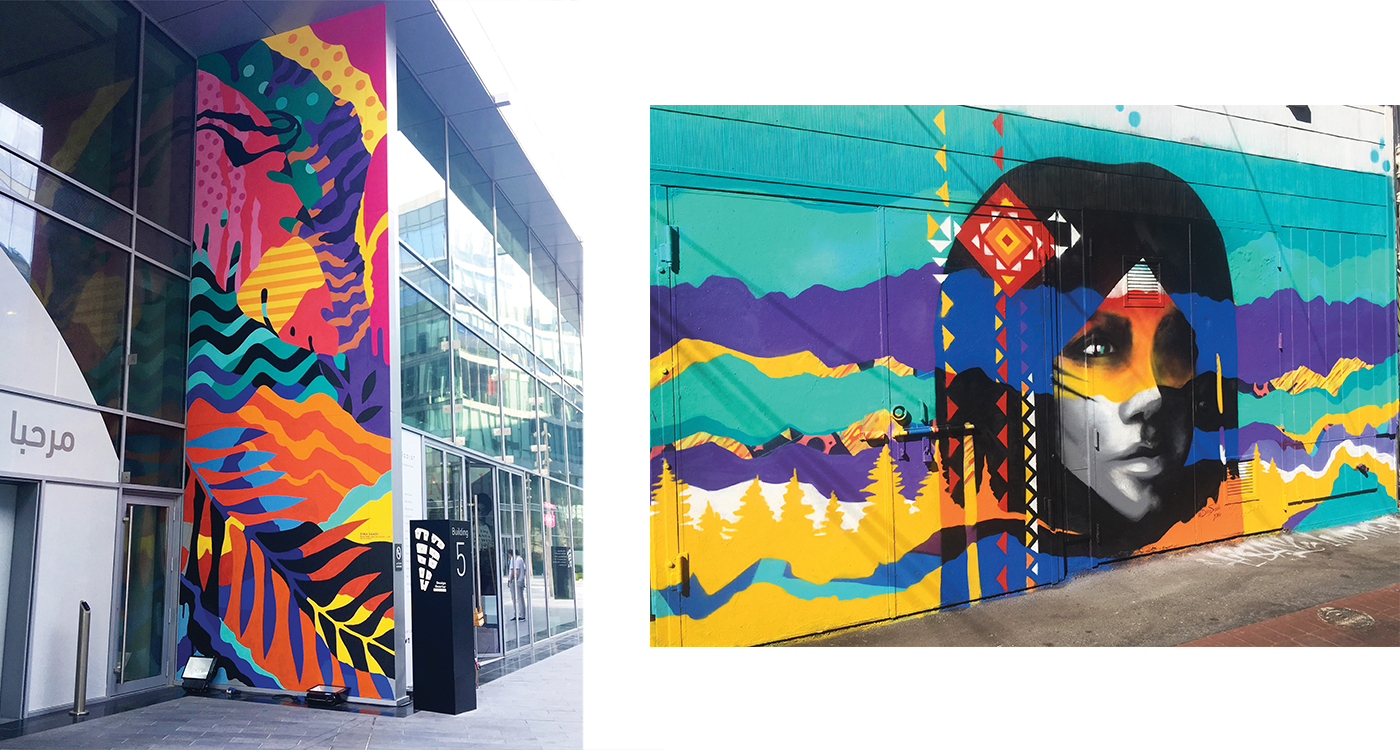 Left: 'The Essence of Life', Dubai, UAE.
"There is pleasure in the pathless woods, there is rapture in the lonely shore, there is society where none intrudes, by the deep sea, and music in its roar; I love not Man the less, but Nature more. Nature does not hurry, yet everything is accomplished. Nature always wears the colours of the spirit." Lord Byron, Lao Tzu & Ralph Waldo Emerson.
Right: 'Aiyanna', San Francisco, USA.
"Aiyanna is a portrait of a beautiful Apache woman surrounded by the forest and the land of her ancestors. This piece is a tribute to her fascinating culture & deep roots that she is so proud of."