June 10, 2017 James Quinn
Virgin Group founder Sir Richard Branson ruled the skies with his airline. Now, the unconventional entrepreneur and philanthropist is aiming even higher. Sir Richard Branson could be forgiven for looking a little worn out. In the week prior up to our meeting, he visited Singapore, Malaysia, Dubai, New Zealand, Los Angeles, and, latterly, Seattle. As well as a series of paid speeches, he launched a mobile phone company in Dubai and a new Virgin Active gym in Singapore.
Two nights before, he dined with a small group of guests including 47-year-old former Kiwi supermodel Rachel Hunter and New Zealand's 2016 bronze Olympic medal winning Pole Vaulter Eliza McCartney at Auckland's Seafarers Club to talk about entrepreneurship.
When we meet, he is in the capital of America's Pacific Northwest for 36 hours before travelling to his island home of Necker in the British Virgin Islands for a charity event before a week's holiday. He looks, unsurprisingly, tired.
Underneath his trademark white shirt with plunging neckline, a plaster sits on his chest, and he offers his left hand to greet me, as he has injured his right. Are these the last visible signs of the motorbike crash last year which he himself said he was "incredibly lucky" to survive?
Not quite. His hand's ills are the result of tennis elbow, while the plaster is the result of a routine medical. But still, more so than when I last caught up with him in Edinburgh a few years back, Branson, now 67 years old, is looking his age.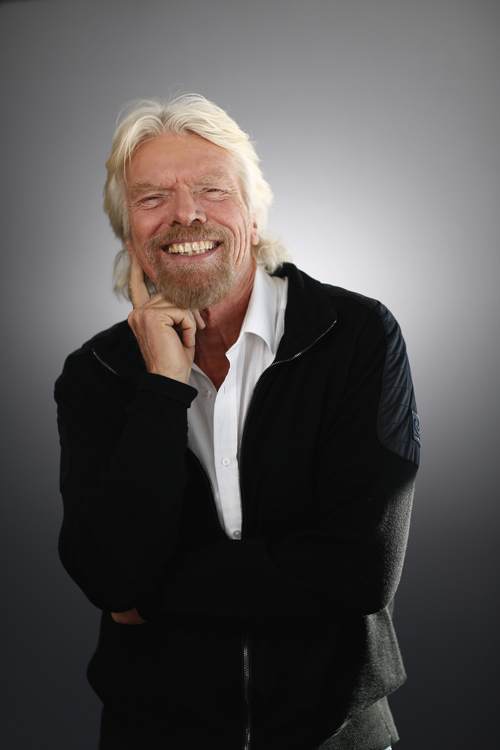 However he may appear outwardly, the entrepreneur shows no signs of slowing down, and dismisses out of hand any suggestions he may be close to stepping back from public life.
"That's a polite way of saying you're getting old," he retorts, when asked about succession in his Virgin empire. His companies span everything from healthcare to technology, and operate around the world, investing in some 60 firms in 35 countries with a combined annual turnover of more than 24 billion USD, employing in excess of 71,000 employees.
"I delegated responsibility of the day-to-day running of the Virgin Group years ago [six years ago to be specific, and it was to Josh Bayliss, who is still the chief executive today] and we've got a fantastic team in place," he goes on. "Holly and Sam [his adult children] will continue to be involved with it, and they'll continue to be involved in our foundation which is where the three of us, the family, spend the most time these days."
His foundation, Virgin Unite, was established by Branson in 2004 to channel money to a range of good causes, from human rights to climate change to healthy oceans.
"But that doesn't mean the group isn't busy. We've got three cruise ships being built in Italy, three new [Virgin] Atlantic routes in the last few days; a hotel opening in San Francisco in a couple of months' time, and a hotel in New York in six months' time after that. And we've got spaceships going into space in the not too distant future."
"So apart from the fact that I've become a sort of serial philanthropist in that we're launching as many philanthropic organisations as companies, if not more so, I and the group have a lot going on."
So no signs of a slow-down then? "Fortunately my parents lived well into their 90's, so hopefully I'm still going to be bothering you for the next 20 years or so," he grins. But, as he freely admits, Branson is spending a significant proportion of his time on charitable projects, leaving Bayliss and his team to get on with continuing his business legacy.
The 10 million USD he makes on average a year by giving speeches goes direct to the fund, and he is part of the Giving Pledge – set up by Bill Gates and Warren Buffett – which means that 50 per cent of his wealth is devoted to good causes. "We call it the Living Pledge," jokes one of Branson's aides, "as he spends so much of his time running around the world to fulfil it."
"I'm busy," confesses the entrepreneur, "but busy combining the two and that makes me happy."
AMERICAN WOES
One area that has kept him particularly busy of late has been the sale of Virgin America, the US domestic airline, which Virgin started in 2007. The business was floated in New York in 2014, leaving Virgin with a 30.85 per cent stake, but fewer voting rights due to US Department of Transportation rules around non-citizens' control of airlines. As such, when domestic rival Alaska Air came knocking, Branson was not able to stop the sale, which completed in December for 2.6 billion USD.
Last month, Alaska announced it would be retiring the Virgin America brand from 2019, even though it had been voted America's favourite airline on multiple occasions. And though many of the features Virgin helped pioneer have become commonplace on major US airlines, some of its unique quirks will be missed by its frequent fliers: things like fresh flowers at check in, on-board sculpted translucent bulkheads, mood-lighting, and of course touchscreen televisions for at-seat food and drinks service. Branson even wrote an open letter questioning the decision.
To say he is unhappy about the situation would be an understatement. "It is baffling and sad and I think some companies should realise that companies are more than just money-making machines where they try to maximise the dollar, which I don't think they actually will do with this," he lambasts. "I just wonder what it was that Alaska bought; why did they bother?"
Branson expresses his gratitude to the thousands of airline staff who have worked for him over the past decade, as well as "the thousands and thousands" of passengers who "sent in such great notes." Despite being publicly opposed to the deal, he did spend time with Alaska's management before it completed: "I genuinely believed they would treasure the people and the product."
Instead, he asserts, the rival has "ripped the heart out of it", despite being contracted to pay Virgin a licence fee for the brand until 2040; a point Alaska's owners are understood to contest. "I thought I'd be polite, but I decided not to be," he smirks, well aware Virgin America's new owners could well be listening.
STILL DREAMING OF SPACE
Recently, however, the entrepreneur – who regularly polls as the UK's most recognised businessman – has been less keen on speaking on his project to take people into space. Virgin Galactic, as the fledgling business is known, has been beset by technical and other difficulties, not least the fatal crash of its SpaceShipTwo in California's Mojave Desert in October 2014.
Despite the idea proving popular with future travellers – some 500 potential customers have spent 250,000 USD on reserving their spot on one of its trips – it is perhaps the one business he has found the hardest to get off the ground.
After the crash, Branson said his dream of space travel may have ended. But Galactic, under boss and former NASA chief of staff George Whitesides, has regrouped, redoubled its focus on safety, and appears to be making progress.
Last August it received its first operating licence from the US Federal Aviation Authority, subject to a series of conditions, including the regulator verifying testing results before any passengers can board its SpaceShipTwo – designed to hold two pilots and six passengers – which will be carried by launch craft White Knight Two 100 kilometres into the sky.
"The test programme is going really well, and as long as we've got our brave test pilots pushing it to the limit we think that after whatever it is, 12 years of hard work, we're nearly there."
When exactly will he be nearly there? After all, Branson himself – and some of his family – have committed to being on the first flight. "Well we stopped giving dates," he confesses. "But I think I would be very disappointed if we're not into space with a test flight by the end of the year and I am not into space myself next year, and the programme isn't well underway by the end of next year."
Whether that date holds is open to debate, but it is clear that despite his years – he turned 67 in July – the bearded billionaire is far from slowing down.
A BRIEF HISTORY OF VIRGIN GALACTIC 
2004  Sir Richard founds Virgin Galactic, claiming the first launch will take place in 2007
2007  Three workers die in an explosion during testing of SpaceShipTwo. New Mexico agrees to build 250 million USD spaceport, Spaceport America
2008  Sir Richard says that the maiden voyage will take place within 18 months
2009  Sir Richard says that flights will launch from Spaceport America within two years. SpaceShipTwo is unveiled.
2010  Virgin Galactic snags George Whitesides, NASA's chief of staff, as its new chief executive. Sovereign wealth fund of Abu Dhabi, Aabar, secures 32 per cent stake in Virgin Galactic for 280 million USD.
2014  Sir Richard claims that first commercial flight will take place in early 2015. Later in the year there is a fatal accident during a test launch of SpaceShipTwo.
2015  Virgin Galactic announces deal with OneWeb. The company prepares for the mass production of LauncherOne.
2016  Test flights of SpaceShipTwo resume
PHOTOGRAPHER: Simon Dawson