June 3, 2017 Ramsay Short
"Happiness is waking up and knowing," Isaac Carew says, a little cryptically. Tall, chiselled, blessed with classical good looks, and at 29 years of age on the cusp of a successful television/YouTube career, little wonder the green-eyed chef-turned-model-turned-chef again is so confident.
"Yeah, you know I am a chef who also happens to earn a living from modelling and vice versa! So I pose in front of cameras, travel the world and last but not least cook and come up with as many (of my own) recipes as possible."
And though the modelling came easy – "If I'm honest it fell in my lap while I was in between chef jobs. I was scouted in London back in 2008 and since then have enjoyed the ride" – he's had to work hard at his passion. A discerning public can spot (and taste) a poor chef a mile away, and checking out Carew's foray into demonstrating his recipes online at his website and YouTube channel 'The Dirty Dishes', it's clear he not only knows what he's doing but is incredibly endearing while doing it.
So who, really, is Isaac Carew? "I was just a kid who loved cooking. I used to mix things up for my mum when I was small, then hung out with my dad and godfather whom are both chefs, watching them in the kitchens, doing chores like picking spinach and cleaning mussels," he says.
After school he went on to train at culinary school for two years and got his break in 2007 landing a job with the Gordon Ramsay Group, cooking alongside Angela Hartnett at The Connaught in London and Cielo in Miami, where he developed a passion for homemade pasta.
Then, by chance, came the modelling. Hanging about outside Selfridges, Carew was picked up by a scout and his world changed. From low-pay and long hours working in kitchens he found himself fronting campaigns for Hermès, Moschino, Valentino and shooting with Zara, Lee, Reiss, Etro and Topman, to name a few. Fashion's most famous snappers wanted to shoot him – Rankin for the cover of Hunger magazine, as well as Nick Knight, with spreads in Harper's Bazaar, Dazed, Vogue Hommes, L'Officiel, Hommes, GQ, The Rake and Elle Men. In the world of male modelling, he's no small fry.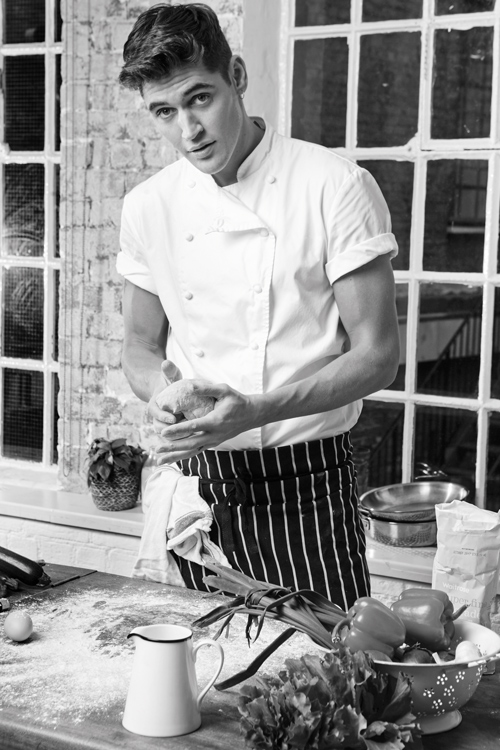 "It has been such an amazing experience, I've been able to travel the world and meet some really interesting people. By being both a model and a chef I have been exposed to some incredible experiences. There've been many amazing modelling moments but they haven't all been perfect, I've had some bad ones too."
Indeed modelling alone was never going to be enough to keep him happy, and so his burgeoning brand – the aforementioned 'The Dirty Dishes' dedicated to easy, delicious meals – was born.
"What is life without food," Carew says. "It just makes everyone happy. I also think there's always a new food or new interesting recipe to discover. Cooking is important because it's a creative outlet for me in a way modelling is not and it's something I just love to do. And 'The Dirty Dishes' is a place to find healthy, tasty dishes that can be cooked by anyone with a little knowledge around a kitchen."
Launched just over a year and half ago at the beginning of 2016, 'The Dirty Dishes', has become a real online hit attracting tens of thousands of viewers. Carew engages with his audience not only by looking good – which obviously helps – but also by speaking clearly and honestly with little of the pretentiousness that many celebrity chefs put across. It's a winning formula.
So much so he's been picked up to join Michelin-starred super restaurateur and Masterchef host Michel Roux Jr. as his right hand man on new Channel 4 primetime show, 'Tried and Tested: The Ultimate Shopping List'. The programme, currently filming and on air later this year, will follow the pair as they attempt to collate a definitive guide to the best food and drink products available in the UK today.
But can you really be super into food and be a successful model? Some of the recipes he makes – Banana & Salted Caramel Pancakes, Tamarind Treacle Tart, Bacon and Truffle Wedges – don't scream healthy eating.
"I eat everything and anything. Right? Food is happiness. But I still eat pretty well and healthily while not being restrictive. Natural sugars are ok. Leading an active life is important if you want to stay fit, and just being a bit careful about what you eat, but not overly so," Carew says.
His buff physique proves it works.
A key to being good on TV is the ability to improvise and have on the button responses for different situations. Time for some quick-fire questions then.
ISAAC, WHAT'S THE FIRST THING YOU DO WHEN YOU WAKE UP?
Glug water and prize myself out of bed to the kitchen. I'm the worst on an empty stomach.
MOST UNUSUAL THING ABOUT YOU THAT WE WOULDN'T KNOW?
I can make it look like I only have four toes on both feet – should I really be telling you that?
WHAT'S YOUR GREATEST FEAR?
Having my legs crushed between two cars. I know it's weird right. It used to be heights but I sky dived to get over that one.
NAME ONE PERSON DEAD OR ALIVE YOU WOULD LIKE TO COOK FOR?
Salvador Dalí.
WHAT OBJECT (OR OBJECTS) CAN'T YOU DO WITHOUT?
It's sad but my iPhone, definitely. And also my chef's knives.
TITLE OF YOUR AUTOBIOGRAPHY?
Who says there'll be one?
Autobiography or not, there's definitely going to be a book. "I am currently working on my first ever cookbook called 'Isaac Carew's Dirty Dishes.' It's going to be published by Bluebird/Pan MacMillan," he says. "At this stage I'm just doing a lot of recipe testing and a lot of writing. But I'm really enjoying the process. It should be out in 2018."And all this while continuing to model, and support a charity that is close to his heart – Dyslexia Action – via his own clothing label.
"I'm a big believer in charity and giving to people worse off than you. It really helps other people and your own conscience, it definitely makes you happier. I was a little horror in school, one of those kids that nearly every teacher loved but also hated due to my, er, let's put it this way, hyperactivity."
"But I was also dyslexic, and Dyslexia Action really helped me as a kid. A lot more people than you would think have dyslexia in varying forms and it can have a really big impact in people's lives. So my friend Ty Akingbola and I created a graphic t-shirt label, Mercy & Wild, where 25 per cent of each t-shirt sale goes to the charity."
As the saying goes, what's not to love? It's no wonder Carew's got over 90,000 followers on Instagram. He's 'hot', he cooks and gives to charity. Perhaps that's what he means by the statement, "Happiness is waking up and knowing."
"I suppose," adds Carew. "The key to being happy is to breathe, and surround yourself with good, loving, generous people. Oh, and to eat great food of course!"