April 15, 2007 Nicolas Shammas
At the age of seventy-four, hotel magnate Adrian Zecha is an hotelier phenomenon, though he's quick to dismiss it. Currently the executive chairman of Aman resorts and chairman of the luxury hotel management company GHM, Zecha, in a rare interview, talks to Nicolas Shammas about hotels, lifestyle and why he chooses his staff for both beauty and brains.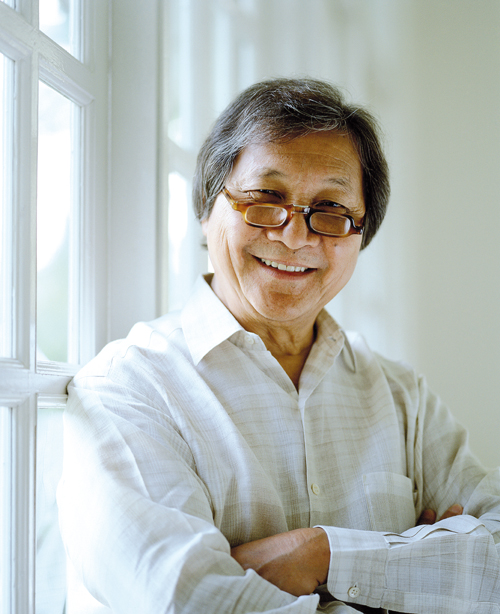 Adrian Zecha has a passion for hotels and journalism – though he prefers to stay out of the glare of the media. He actually began his career as a journalist with Time magazine and then went on to launch a Sunday supplement Asia magazine (amongst others) in 1961 before "censorship matters" he says caused him to retire and turn to the hotel business in 1972.
The first hotel venture he was involved in was the successful Regent International chain which was sold to the Four Seasons twelve years later. But his legacy lives on to this day with the jewels in the Four Seasons crown, namely the flagship New York hotel on 57th Street and the Milan hotel among others which were originally part of the Regents. Regardless, he teemed up with one of his Regents' partners, Georg Rafael, and founded Rafael Hotels which was later sold to Mandarin Oriental Hotels.
Continually looking to the next venture, he went solo and set up the Beaufort Hotels which built hotels in Singapore and Bangkok. He then teamed up with South Pacific Hotel FDH, the largest hotel chain in the South Pacific. Today, Zecha sits on an impressive empire of niche hotels and resorts that cover exotic locations from Morocco and Oman to Miami, Bali and Phuket.
You are almost a legend in the hotel industry what do you think accounts for that?
[Laughs]. Well first of all I didn't realise I am a legend. Legends are usually dead.
Let me rephrase and say that you are a living legend…
[Laughs even harder]. I really don't know how to answer! Well, I have been involved in the business over the last 35 years. I started out in the hotel business by pretension because I am not born to it. But I have been involved with a hell of a lot of hotels. I guess I have been around for a long time.
How do you select the locations? Do you buy existing hotels and redo them or do you start from scratch?
Normally we prefer the easier and more cost effective route of starting from scratch and that's what we continue to do most of the time. How do we select them? I get this question often, and they ask if I do market research and my answer is 'yes, of course'. But, I also rely on one method and that is listening to my stomach [laughs]. It is very difficult to articulate why I might find one site suitable and another not, it's basically gut instinct.
Which is the most profitable of your hotels?
Actually profitability varies from year to year. If all my customers were to have one favourite then I'd be in trouble. [Laughs]. So everyone has a favourite and it is very difficult to predict year to year which will be on top. The Amanjena resort which is in Morocco was the most profitable last year.
The lifestyle strategy appeals to a very niche clientele, do you ever think of widening your scope?
It is very much a niche market. The Aman product is certainly a niche product. There was a definite decision to specialise in small but very upmarket and highly personalised lifestyle products. Clearly, that is a limited market and if we were to go beyond that, which is always possible, then we would be changing our product. That is why we created GHM. For example the Setai [in Miami] has 125 keys where no Aman can go beyond 50. The GHMs have a deliberately wider scope than the Amans do.
But the Setai is one of the most expensive hotels in Miami.
[Laughs]. Yes I realise that it is contradictory but I suppose that in the sense of America, 125 keys is very boutique. It is about one-twentieth of a Las Vegas hotel.
Who is the hotelier you most look up to?
Oh very easy. Georg Rafael. He was my partner in the Regents and Rafael Hotels. He is retired now, but I hope he will stop trying to be a retired gentleman and come back to the industry. He is, in my opinion, the best hotelier bar none.
Who is your typical client?
If you take the typical Aman junkie, their words not mine, I am not trying to put anyone down. But according to residency, the single largest component of clients is from the US with about 22 per cent. Europe is the biggest overall because the EU comprises the most countries and accounts for 45 per cent right now. India accounts for less than three per cent as does the Middle East for the moment.
Following the Chedi in Oman and Amanjena in Morocco, what's next for Middle East?
Oh, of course. This is a booming market. I am a great admirer of what has been done in Dubai. When you recall that ten years ago Sheikh Mohammed said he was going to make Dubai a tourism hub nobody took him too seriously. But look at what he has done, it's absolutely incredible. But one of my favourite countries is Lebanon. Before the war Beirut was one of my favourite cities of all. I remember staying at the St.Georges hotel and I still remember the bar there. And of course [there was] the Cave du Roy. I still remember the bartender that would flip the cigarettes from his lip. One day I would like to be in Lebanon.
How has the spa added to or reinvented the
exclusive resort?
Spas have now become an indispensable part of any resort or even hotel. Spas in city hotels are a bit of a contradiction and even there you see them appearing but certainly in resorts, spas play just as important a part of the product as do rooms, food and beverage.
How do you select your staff, because our review of the Setai states that the staff is very good looking?
[Laughs]. You know what they say, it is better to be sad and rich than sad and poor, the same thing applies to looks, it is great if you have good looks and brains but you better have the brains when you are not that good looking. To think we only pick them based on looks would not be very good for service would it!