September 4, 2019 Nadia Michel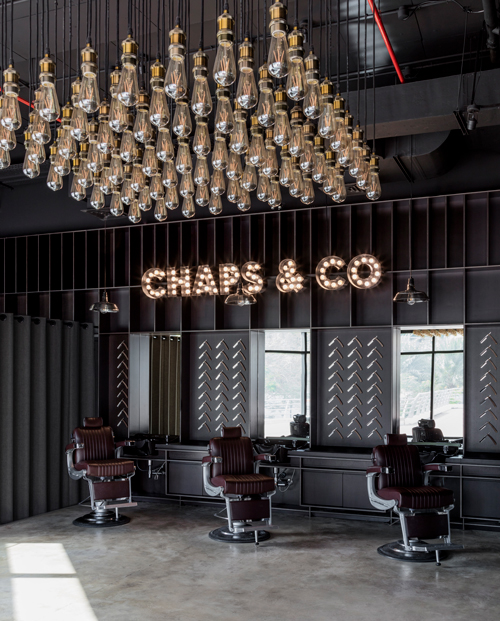 Chaps & Co's motto of "bringing back the old-school traditions" of the barbershop may be great and all but it's the approachable staff, stylish décor and affordable prices that'll have you coming back for more.
A trip to the local barber has the power to be rejuvenative. Not just because, with a few snips and some precise razor blade action, a skilled coiffeur can radically improve the way you look but because there's something about a great grooming experience that's just so delightful; it's a failsafe mood booster.
To be fair though, there's still a common complaint with barbershops and it's that too many of them offer a lacklustre atmosphere. Such places are often throwbacks to a past era or merely uninspired functional spaces, but they're relics all the same but it's now time to adapt or be left behind.
"Concept barbershops are a booming trend in Western Europe," says Jordan Davies, the Welsh founder of Chaps & Co, a chain of barbershops that has been spreading across the UAE since 2015, with three branches already in Dubai, one in Abu Dhabi and another two locations – one of which is rumoured to be Riyadh – in the works. Whatever the case, it's evident that there's a regional demand for stylish, high-end barbershop experiences and Davies says he's happy to fulfil that demand, wherever it may be.
IT HAS NOT ONLY BECOME MORE ACCEPTABLE FOR MEN TO TAKE MORE CARE OF THEMSELVES, BUT IT'S AN EXPECTATION.
The look of Chaps & Co's spaces, which were designed by London-based Nicholas Szczepaniak Architects, certainly help attract a more sophisticated crowd, harkening back to the days of gentlemen's clubs with interiors that are based around a manly scheme of smoked timber joinery, large sheets of steel and simple raw concrete, complimented by furnishings that include black leather chesterfield sofas, faux stag's heads and a cluster of bare light bulbs suspended from the ceiling.
There's also that tightly curated selection of grooming products, like beard oil and moustache wax by Captain Fawcett and high-shine hair pomade
by Gentlemen's Tonic, to make sure that clients can maintain that fresh-from-the barber look all week long. "It has not only become more acceptable for men to take more care of themselves, but it's an expectation," Davies points out.
"Our mission was to transform a regular chore into a pleasurable experience for men," he says. And although the emphasis is on the basics, namely cleanliness, impeccable service and specialised barber skills, the shops also offer online bookings, facials and massages, because gentlemen appreciate those too.
what's nearby