March 30, 2018 Sudeshna Ghosh
First there was what seemed like a pale shadow in the sky. It brightened to become a distinct green, twitched a little, then danced around above our heads as we looked up in wonder. The shape-shifting shaft of light engorged to slowly spread across the entire night sky, washing its inky blue in a luminescent shade of green. She – because, of course it's a she – almost seemed to be engaged in a seductive dance with the twinkling stars, bewitching in her beauty, playful in her dynamism, flirtatious in her fleetingness.
This was my first encounter with the Northern Lights, one of those rare travel experiences that cannot be controlled by humans, an elusive sight that only a lucky few get to witness.
The reality is, there is never any guarantee you'll catch sight of this natural phenomenon caused by electromagnetic particles from the sun colliding with elements in the earth's atmosphere, scientifically known as the Aurora Borealis. All one can do is plan carefully, and hope for the best. And that comes down to two essential things: location and timing.
Although there are other places on the planet where you might see Aurora Borealis, a combination of factors point to Northern Scandinavia, which is above the Arctic circle, as being one of the best primed spots. And while the natural light show in the sky takes place all year-round, winter, between September and March, is the only time they can be seen, because clear dark skies are necessary.
Even then though, there are some serious challenges to consider when it comes to a Northern Lights adventure. First, nothing can truly prepare you for just how cold it gets in the Arctic. Luxury resorts will usually kit you out with ski suits and other outerwear, but you'll still need to be well-prepared with several layers of warm clothes, including thermals.
Getting to the remotest reaches of the inhabited planet is no small feat either. The easiest way to get to Scandinavia is with Emirates, which offers direct daily flights to Stockholm from Dubai. From Stockholm, you can take a domestic flight north to Kiruna (for Swedish Lapland), or fly to Helsinki from where you can connect to Ivalo (for northern Finland). Getting around within Lapland isn't easy, as inter-nation connectivity is limited, so the best option is a car, meaning you either drive or take a taxi.
And once you're there, while there are some luxe options that ensure you don't have to rough it out amidst these snowy, lunar landscapes, the definition of luxury here is more about functionality than frills, as the focus is really on providing access to such remote areas without compromising on comfort. In other words, forget about butler service and silk furnishings.
Nevertheless, these hardships seem insignificant once you are rewarded with the ultimate prize – Mother Nature's greatest show. Bragging rights aside, it's one of those magical, goose bump-inducing things that justify the cliché of 'having to see it to believe it'.
Whether you're headed to the Arctic for an epic adventure or a family getaway, here are three of the best spots to see the Northern Lights in style.
ICEHOTEL (Jukkasjarvi, Sweden)
Somehow, calling this a hotel feels inadequate, as it is as much a hotel as it is an art project. This, the world's first ice hotel – and there have been many imitators since it first opened in 1990 – recruits artists and designers from around the world to create themed ice sculptures that make up the different rooms. The entire building is carved out of ice, including everything inside, from the beds to decorative elements like a giant mermaid, and deer heads.
Historically, the hotel is built every winter, and melts away in the summer, but in 2017, they pioneered a brand new technology to create the Icehotel 365, a structure built of 'snice' (snow and ice) that can survive all year round.
Spending a night here is an unforgettable experience. The civilised way to do it is in one of the luxurious deluxe suites in the aforementioned Icehotel 365, which feature a 'warm area'. But with waterproof mattresses and pillows, reindeer skin throws, a super-thermal sleeping bag, and a consistent -5C indoor temperature, you can enjoy a surprisingly snug sleep in the ice room.
A range of Aurora tours are available among the winter activity options, of which the self-driven snowmobile one are the best option, as a motorised vehicle lets you go further into the wilderness, and therefore, provides better opportunities for seeing the lights. After a few hours out in the bitter cold, you get to thaw out over a home-style dinner of goulash and bread enjoyed around a warming fire in a traditional wooden hut, while swapping stories with fellow travellers.
KAKSLAUTTANEN ARCTIC RESORT (Saariselka, Finland)
While there are now several igloo hotels in this region and beyond, this family-run and family-oriented property was the very first, having pioneered the glass igloo technology. The resort is spread across two sections called East Village and West Village, which are literally small, fully formed townships containing igloo and log cabin accommodations, as well as common areas where guests converge for meals and various activities.
The igloos – the ones you've probably seen on your social media feed – can be quite compact and basic, so the better option is to splurge on one of their Kelo-Glass igloos. These spacious log cabins ooze rustic charm, complete with traditional Finnish design accents, family-friendly bunk beds and private sauna. They also feature a glass igloo bedroom extension, and therefore offer the best of both worlds.
The property is also home to a very special attraction of particular interest to families, Santa's village. A lifelike replica of Santa's home, a cottage complete with year-round Christmas tree and gift-wrapping table, plus elves' huts, all nestled in a picture-perfect winter wonderland setting, brings the Santa Claus myth to life in ways that are exciting beyond belief for children.
To go Aurora-hunting here, you're best off opting for the unique Snow Tank experience. The tour takes place in a repurposed army tank, which can forge its own path across extreme wilderness taking you further afield than any other vehicle. Like most night safaris in this region, the tour is punctuated with a stop in a traditional Finnish kota, around a warming fire with a drink and a snack.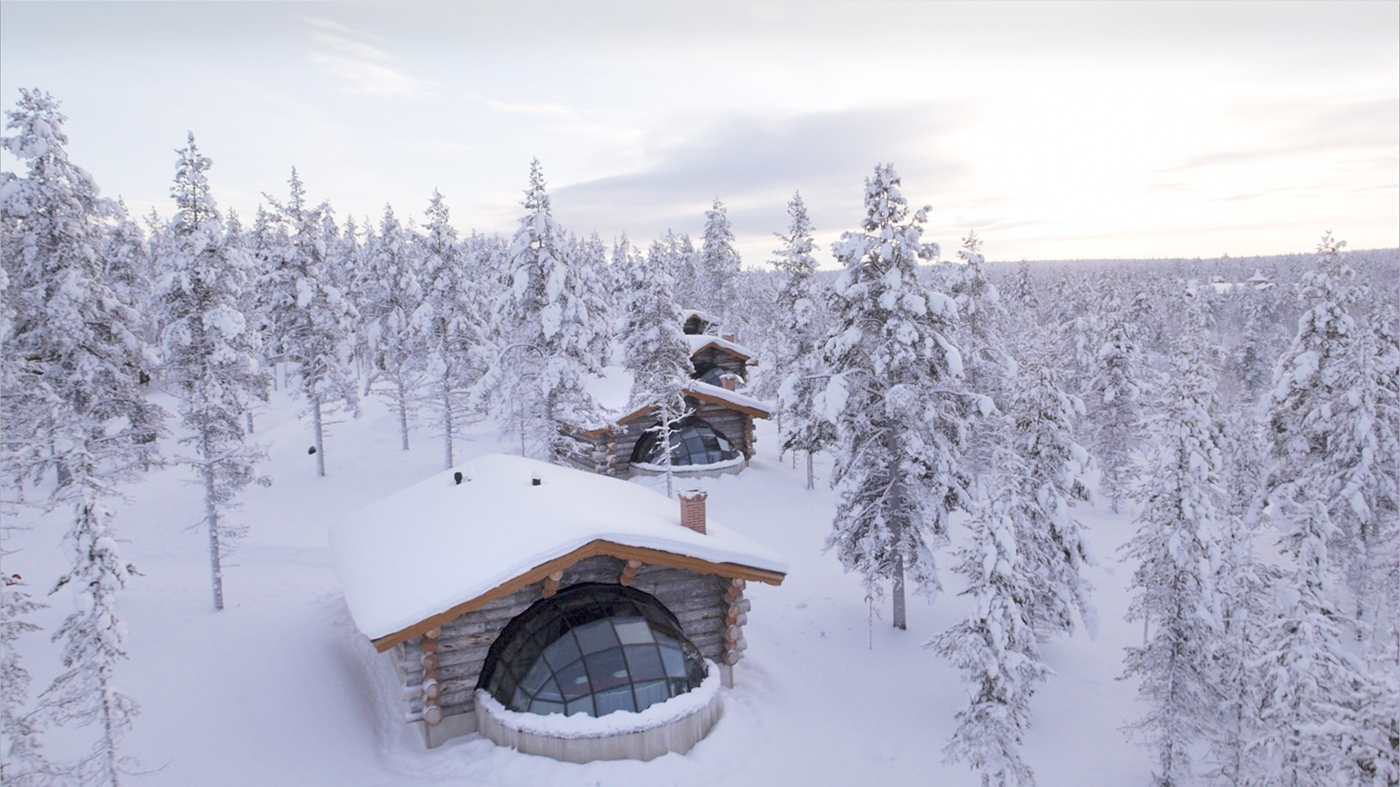 GOLDEN CROWN LEVIN IGLUT (Levi, Finland)
If the glass igloo concept was pioneered at Kakslauttanen, here at Levin Iglut, it has been perfected. This intimate, exclusive and romantic resort is home to just 18 igloos, each of them surprisingly spacious, and tastefully appointed with fine fabrics, generous bathrooms (by igloo standards) and a fully equipped kitchenette.
Levi is a popular ski town, but the hotel's location slightly outside the town on a 'fell' (Finnish for hill) provides a serene setting, and makes it a prime Northern Lights viewing spot.
Relax on the thoughtfully placed chairs by the glass wall, or take a walk in the fairyland-like forest surrounding the hotel to truly feel like you've escaped from it all.
Continuing the theme of glass roofs is the Restaurant Aurora Sky, where you can dine under the stars, or perhaps even the Northern Lights, if you're lucky enough. And if you can tear your attention away from the seriously cool vantage point, you'll discover some modern and delicious Nordic dishes made using only local ingredients – think roasted reindeer in a sherry sauce, served with Lappish potatoes that have been pureed and seasoned with truffles and cèpe; or Arctic cloudberry soup with financier cake and vanilla crème. You can also book the private fireside cabin to enjoy an ultra-romantic evening.
what's nearby