July 21, 2012 Nadine Khalil
Having just opened at the end of May 2012, the Bvlgari was readied just in time for London's Olympic rush. With a two-floor spa, its own cinema, a ballroom, 85 rooms and suites, this shimmering gem isn't cheap. But then the best things in life never are.
I must confess, I don't like jewellery all that much. Some women don't. Really. Even when confronted by the meticulous craftsmanship of fine jewellery, I'm oblivious. When I do wear gold or precious stones – and always with caution – the more subtle or imperceptible the pieces, the less burdened I feel. Given the choice, I'd much rather go for a pair of pricey shoes than an equally expensive necklace.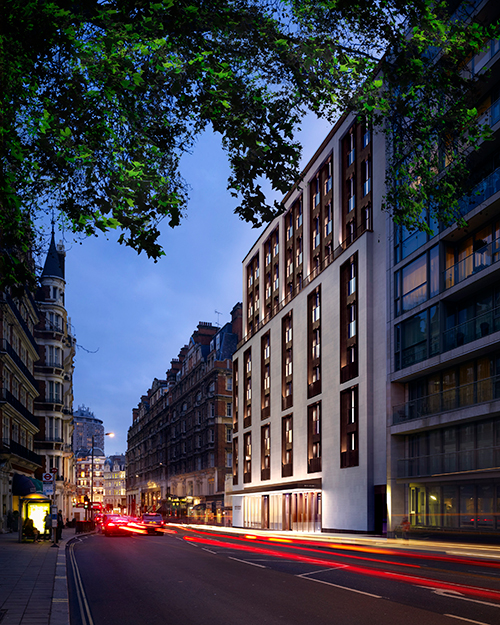 So, when I was invited to visit the recently opened Bvlgari Hotel in London's Knightsbridge, I am ashamed to admit that I wasn't enormously excited, given the brand's association with jewellery and watches. But never having visited its other properties – there are Bvlgaris in Bali and Milan – I really wasn't sure what to expect. Perhaps somewhere shiny, with lots of metal? The kind of interior that suggested the cut and colour of gems. Well, wouldn't you?
When I arrived, instead of finding myself in some pleasure palace studded with glittering jewels, I encountered a very different kind of rock: an understated interior that aesthetically verged on the bare. Even the ultra-cool flower arrangements in their larger-than-life vases looked raw and leafy, like they had been plucked straight from the ground, their vivid greens even more stunning amidst the sombre black granite interior. In fact, the only overt reference to jewellery I found at first was in the ceiling-high glass cabinet in the lobby near the lifts, which subtly displayed a mix of Bvlgari treasures and 17th and 18th century Roman silver pieces from the company's private collection. Naturally, these were not for sale.
As I entered my suite's expansive living room, its furnishings covered in subdued, neutral shades of black, grey and beige, what struck me most was that the space had the contemporary chic feel of a bachelor's pad. Along with this came the cosmopolitan sense that you could be anywhere but, most importantly, wherever you were, it had to be in transit. From the impressive travelling trunk-shaped mini-bar in black leather, to the curving varnished mahogany doors and walls – which very much felt like the inside of a yacht – there were clever allusions to travel everywhere. And a distinctively masculine touch. That is, until I ventured into the bedroom, which was more ornamental and, somehow, feminine.
The dark velvet-grey sheen curtains were printed with an intricate 19th century silver brooch, designed by the brand's founder, Mr. Sotirio Bulgari. The king-size bed's all-encompassing headrest, in lustrous pearl-grey silk, bore an idiosyncratic floral pattern originating in Bvlgari's silver Chatelaine – originally ornate watch chains for the elites – which gradually became decorative belt hooks used by housekeepers in the 19th century, to which all the tools necessary to keep the house in order could be attached.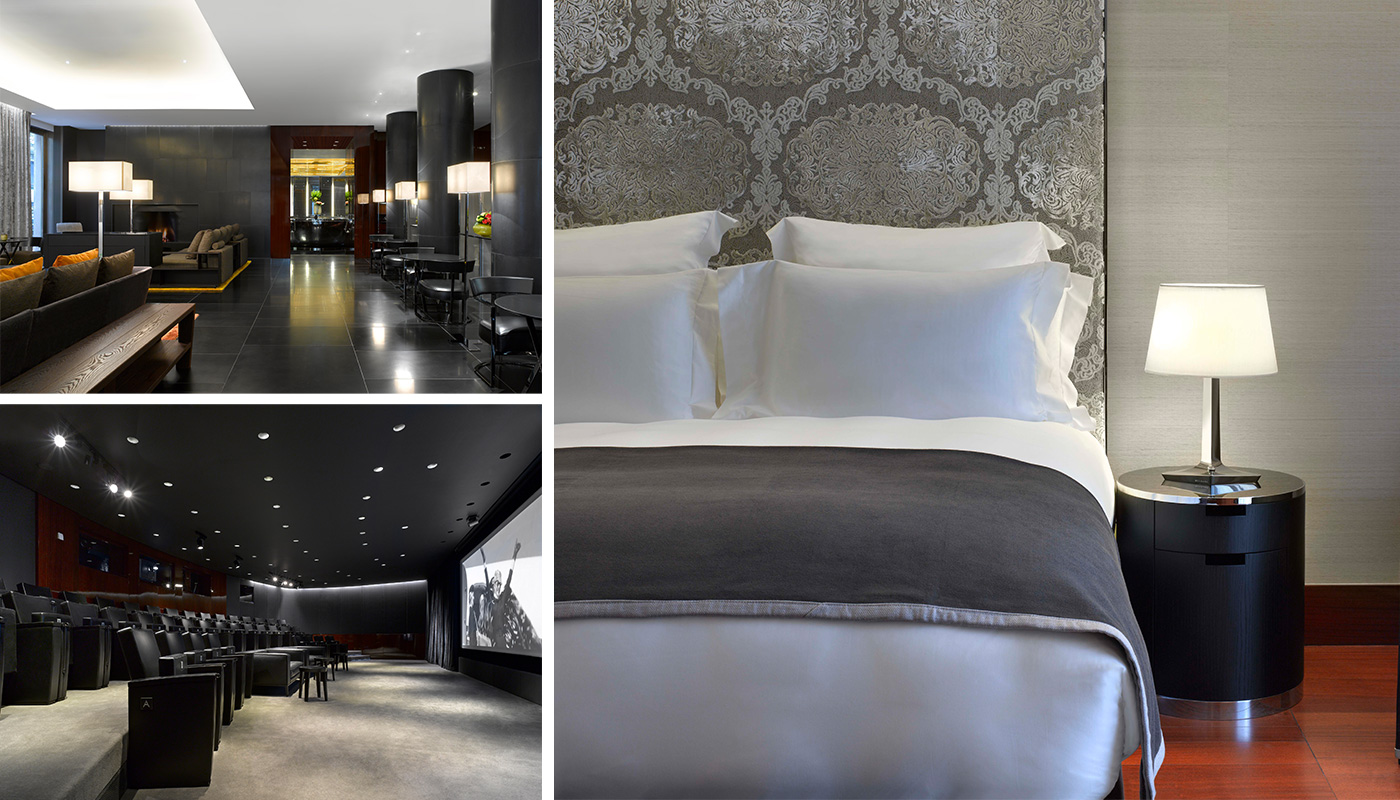 And everything was in perfect order. From the 24-hour butlers (their business cards on the desk) and the complimentary champagne and strawberries in the salon, down to the bedside chocolates one day, perfume on another, and a book – Marcus Aurelius' 'Meditations', a collection of the Roman Emperor's writings on Stoicism – for my own reading pleasure. It was only by peeking through the curtains at the world outside that I could snap myself out of that perfection, and remember that I was in the middle of one of London's busiest districts, on some of most expensive property in the world on a metre by metre basis, with Harrod's and more upscale brands than can be mentioned in a single sentence just around the corner. Stylish shoppers were everywhere, frantic. The facades of neighbouring buildings – mansions, rather – loomed nearby, reminding me of the luxury of having so much space. And of how much it must cost.
Curiosity nipping at my heels, I decided it was time to shed my travelling clothes and indulge in everything the hotel had to offer. Stepping into the dramatic U-shaped bathroom, done out in gleaming black Marquina marble interspersed with streaks of white glass, I encountered a free-standing bathtub adjacent to which was a walk-in shower with three water dials, including a waterfall option. The bathroom was at least the size of several dressing rooms and as I soaked in fragrant, green tea-infused bathwater, I almost changed my mind and stayed in my room.
Of course, I didn't. And just as well. As I discovered, it might be difficult to leave the rooms at the Bvlgari but leaving the hotel isn't easy either. And in quest of fresh indulgence, I headed for the basement.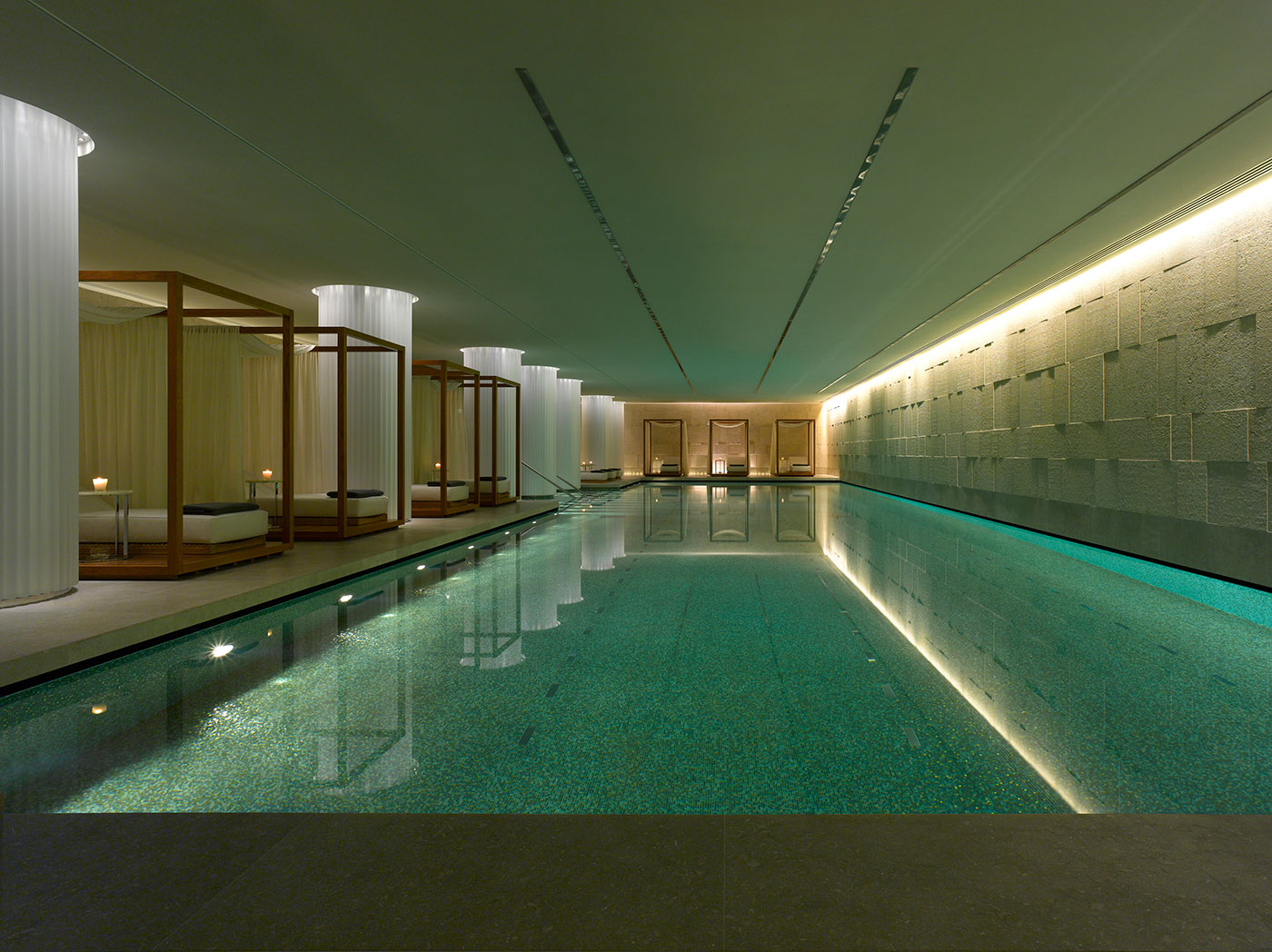 There, over two floors, I discovered the hotel's spa; a 25-metre swimming pool, 11 spa treatment rooms and a fitness centre. After an ESPA body radiance treatment, which left me glowing brighter than the lights and included such personalised care that you get to choose the scents and oils that suit you most, I found myself floating in the pool, mesmerised by the flickering reflections of the ripples of water against the golden mosaic tiles – the only gold you'll find in the hotel – by the Jacuzzi.
More highbrow escapism lies below, where a private theatre comfortably seating 47, offers guests a choice of over 500 classical and contemporary films. During my visit, there was a special tribute to the Italian cinema of the 1960s. Original posters of Fellini's La Dolce Vita and Antonioni's Blow-Up greeted filmgoers, setting the stage for our break with neorealism. Just as visual was the library in the business centre, which had titles like Taschen's Stanley Kubrick Archives and books on David Hockney and Pop art amongst others.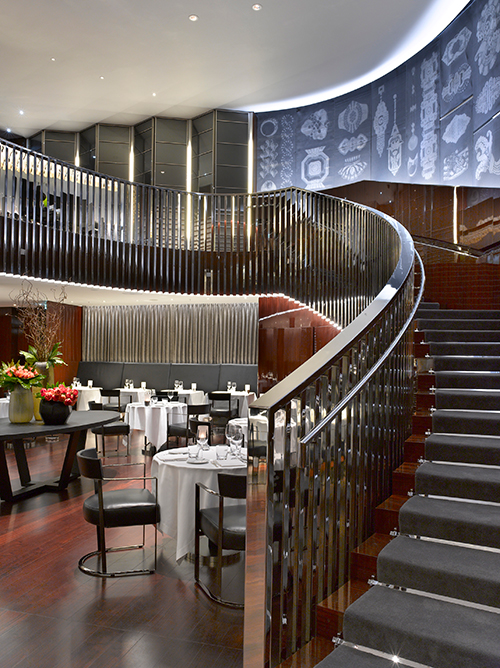 Of all the worlds the Bvlgari offers, its main dining outlet, Il Ristorante, is perhaps the most complete. In keeping with his Scottish-Italian heritage, Chef Robbie Pepin, a graduate of Alain Ducasse's La Trattoria in Monaco, adds a British twist to the menu, which showcases regional Italian cuisine.
I could go on for hours about how delectable Chef Pepin's creations were; the smoky richness of the culatello, the creamy gnocchi di Mazara del Vallo, with prawns, cocoa beans and chanterelle mushrooms, the melt-in-your-mouth oysters, pungent aubergine caviar and the sublime Baba al limoncello, or (for me) the real dream, the herb encrusted cod filet with caponata. I could tell you that the rare Asian tea selection is cleverly named after gemstones (think ruby, sapphire and emerald) and the cocktails after fragrances. Instead, because it's all so good, let me just recommend that you begin your meal with a morello cherry-pistachio Bellini and round it off with a 'special' tea, the Au Thé Vert, which is a potent concoction of lemon, oak moss syrup and jasmine tea with lashings of Tanqueray gin.
Given the nightly buzz of visitors at the bar and restaurant and the enthusiastic waiters rushing back and forth on missions of great, if mysterious import, I was glad that breakfast, which is also served in Il Ristorante, was a more sedate affair. Though it's supposed to be over by 10:30 am, thankfully the courteous staff won't say no if you come in later, still groggy from a late night out in London. As I read my newspaper, plates were replaced by invisible hands, glasses continuously refilled. Very worn out, antisocial and a little irritable, I was thankful for the quiet. And for being looked after so very, very well.
what's nearby