December 22, 2014 Nicolas Shammas
We've loved La Petite Maison ever sinced it opened in Nice in the late 1980s. But now that it's becoming a global force to be recokoned with, we thought it time to salute the magic of LPM and also investigate the truth behind its rapid expansion.
These days, you'll be hard-pressed to find a foodie who hasn't heard of La Petite Maison. With outposts in London, Dubai, Beirut, Istanbul and soon Miami, it's a restaurant that's on a mission to go global. But once upon a time, it was just a simple, small restaurant in the old town of Nice on the southern coast of France. Founded by a rather eccentric French woman of Italian ancestry, it served local French Provençale dishes. Admittedly rather well.
"I didn't grow up around money but I did grow up around great food," explains the founder, Nicole Rubi. "My father, the late, César Tecchio, was the patron of L'Univers, one of Nice's most famous restaurants and this is where I would work, day in, day out, and for free! But in 1988, when he sold and moved to Cap d'Antibes to establish Le César at Plage Keller, I stayed here in Nice. I had no money but I had a vision."
Along with financier Bernard Ollé, Rubi acquired the premises of an old saddle shop just around the corner from her father's old place in Vieux Nice. Being near the law courts afforded her a steady flow of diners both during the day and at night, and her combination of simple yet delicious home-cooked fare together with a devil-may-care attitude towards service and décor carved out a niche for her new place that was at odds with the typically contrived French restaurants of that era. "Nicole Rubi's restaurant always had fame but not on a global level," explains one of the restaurant's new international owners, Bob Ramchand, a charismatic 65-year-old Indian who was raised and educated in England. "La Petite Maison was very much a secret of the rich and famous. Only the people who would holiday on the French Riviera knew of it."
I JUST LOVE THAT IT TOOK INDIAN OWNERS AND A NIGERIAN CHEF TO GET THE BEST OUT OF A UNIQUELY FRENCH RESTAURANT.
That all changed when Ramchand and his septuagenarian Indian partner, Arjun Waney, signed a global franchise agreement with the Niçoise establishment in the early Noughties. "The relationship between Arjun and I goes back another generation, for our parents were friends even before we were. He's always been like an older brother to me," says Ramchand of Waney, whose company, The Waney Fund, currently has an annual turnover in excess of 300 million USD and holdings in such successful ventures as Zuma, Roka, Coya, Arts Club and Oblix.
"Arjun is a foodie through and through but he's also interested in the commercial aspect. If he goes to a wonderful restaurant, he'll get enthused initially but then he'll want to know how their balance sheet looks. You know there are people in this world who gain enjoyment from the numbers behind something they like. Whereas to me, after the food, I look at the place, the décor, the art but the numbers are exactly what'll ruin it," he says mischievously.
As much as it might seem that the two Indian partners have all the hallmarks of a perfect partnership, they didn't always have a Midas touch. In and around the time that Nicole was establishing La Petite Maison, Waney and Ramchand were also trying their hand as restaurateurs, in the Southern Californian city of San Diego. "Critically, that place was a success but commercially it was a disaster. We were only ever full on weekends and in the end, we just sold up and left with our tails between our legs."
The lure of owning a restaurant never ceased to play on Waney's mind. "Every now and then when we would be eating out, which was many times a week, Arjun would look at me and say, 'You know, we are going to start a restaurant in London.' And I'd tell him, 'No we're bloody well not!' This went on and on."
Finally, in 2001, Waney took the plunge. Spurred on by the frustration of not always getting a reservation when he wanted one at London's incredibly popular new Japanese restaurant, Nobu, he decided to open his own place, Zuma. Its success was so great and so fast that he decided almost from the off to launch a second venture, this time with his old friend Ramchand, as well as his brother Peter.
"Arjun has a house in Cap Ferrat and he just loved La Petite Maison," explains Ramchand. "Initially, we thought we'd need to negotiate with Nicole if we wanted to take it to London. But when we dug around, we found out that after the first year of operation, Nicole had sold most of her shares to her business partner, Bernard, leaving her with just 7 per cent of the restaurant. I can't really explain why she did that. The only plausible rationale was she was making the same money out of the business so perhaps she didn't want to tie up her capital."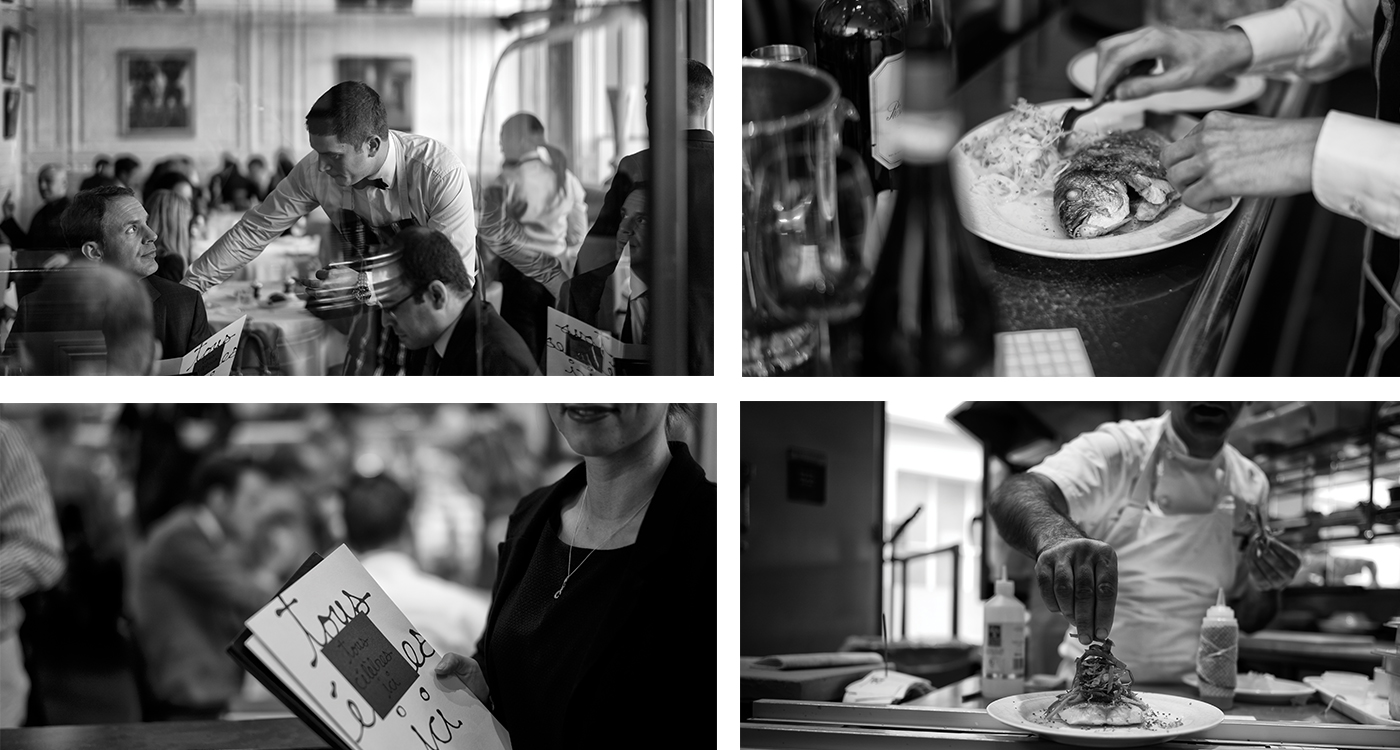 In any case, Ramchand flew down to the South of France, armed with a briefcase full of cash and, of course, his indubitable charm. "In the end I came to an agreement with Ollé that would give us exclusive rights to La Petite Maison everywhere in the world except for France." Essentially, by offering an upfront payment – the amount of which Ramchand refuses to divulge but which inside sources claim was as little as 25,000 Euros (32,000 USD) per restaurant, per year – they managed to acquire a global master license agreement for LPM. "The funny thing is that we weren't even thinking about future locations at the time, we didn't even know if it was going to work in London. I just threw in the part about 'worldwide exclusivity except France' when I was reading through the lawyer's initial draft. I mean thank God, if I hadn't, who knows where we would be today."
What few people also knew at that time was that Nicole was pretty furious about the agreement but at least La Petite Maison was on its way to becoming an international phenomenon. The next step was finding a location (which ended up taking four years) and a chef (which happened completely by chance). Although they cast a wide net to see whom they could hire to run the kitchen, the man they ended up going with was the one closest to home – Raphael Duntoye, the Nigerian sous-chef of Rainer Becker at Zuma. "The decision was very easy for me," says Ramchand. "It happened as soon as I found out Raphael had started his career working with Pierre Koffmann. Pierre bloody Koffmann! The best French chef London has ever known." For those unfamiliar with him, Koffman was the man behind La Tante Claire, the first triple-Michelin restaurant in London, a place that had groomed Gordon Ramsay, Marco Pierre White and Tom Aikens.
"After we signed Raphael we sent him down to Nice. He was supposed to spend a month there but after ten days, he had gotten the hang of everything. You know sending someone like Raphael to Nicole's kitchen was like sending a private jet to take part in a horse and kart race," says Ramchand. It was around this time that he says he became convinced they were on to something big. "You know when you know something and you can read the future, it's not even a wonder, you just know it. It was a conviction in the real sense of the word. And everything from that moment onwards was just spiritual magic, it all just fell into place."
Chef Duntoye took to his new position in a way that few, except perhaps Ramchand of course, could have anticipated. He didn't just replicate what Nicole had made famous – like her pissaladières, petits farcis, warm prawns in olive oil, seabass with artichokes and tomatoes – he also adapted Rubi's signature dishes, taking for example her whole roast chicken stuffed with foie gras and upgrading the ingredients to the best London had to offer. He even added some dishes of his own, like lentil salad, burrata and tomatoes, scallop carpaccio and baby chicken in lemon. In the end, he actually elevated the fare to the point that, as Yannick Chaloyard, LPM's manager in Beirut aptly puts it, "It became the only French restaurant to fit between fine dining and bistros."
When I ask Ramchand if he can explain how they managed to make this new equation greater than the sum of its parts, he beams at me and says, "I just love that it took Indian owners and a Nigerian chef to get the best out of a uniquely French restaurant."
In the end, even Nicole has been won over. There's now talk of the partners buying her out from the final piece in their puzzle, namely La Petite Maison in France. Stranger things have happened of course, and when I met up with Rubi, she divulged that she had just opened a new restaurant, 'Le Comptoir 2 Nicole', in Vieux Nice just across the road from LPM (where she might move permanently if she's finally bought out). So it does seem as though the cards are falling into place for such a takeover.
"You know we have come full circle with Nicole," concludes Ramchand. "Becoming one of the best restaurants in London, and now the world, is something I might've been able to fathom. But to have Nicole hate us, then love us and now say your version of LPM might even be better than mine, that's something I could never have believed."
PHOTOGRAPHY: Ghene Snowdon & Sunhil Sippy
what's nearby