February 1, 2015 Nicolas Shammas
As with most Maldivian resorts, Maalifushi by Como has a mix of overwater and beachfront bungalows. But where it differs is in its fundamental premise. This isn't just a tropical escape – it's a place to detox too.
If truth be told, my first impressions of Maalifushi were all over the place. I could say that's because I knew little about the resort but this is my standard procedure for writing a review – I like to base everything on my own encounter, and to a great degree, it should be subjective. In the case of Maalifushi by Como, things were not that straightforward because it isn't a luxury resort, at least not in the conventional sense. What it is, is the next step in travel – an experiential escape.
What am I on about? Let's start from the beginning. The seaplane flight out to this remote atoll must have taken close to an hour, which is pretty much the limit of what you should have to endure in a loud propeller plane fitted with so many seats you barely have any leg room. What's more, the pilot took our flimsy DHC-6 Twin Otter to a crazily high cruising altitude and even though this might have made the ride smoother, it also caused me anxiety. To pass the time, I picked up the inflight magazine, at which point a Korean passenger to my left offered a few pointers of his own.
"Did you know that Maalifushi is the first resort to open in the Thaa Atoll?" he asks, without waiting for an answer. "It's so remote that the airline actually had to make a couple of test runs just to gauge how much fuel they'd need."
"When was that?" I ask.
"Can't be more than three months ago."
Here was my first indication that Como is unafraid to do things differently. Rather than establish Maalifushi near Malé like most other resorts (they do have a sister property called Cocoa Island that's a 30-minute boat ride from the airport), they decided to break out and go where no one has gone before – the most pristine and undeveloped atoll, where the fishing, sailing, surfing, and snorkelling is awe-inspiring. They must have also figured that there are enough resorts in the Maldives geared up for honeymooners (again Cocoa offers that) and decided it was high time for something different – a place for families and the health-conscious.
The General Manager, Andrew Drummond, tells me over drinks one evening that this is because, "[Christina Ong], the owner of Como Hotels and Resorts, wanted to keep a sense of the island being an ultimate escape where the idea of well-being is paramount."
Como proposes a holistic approach to a holiday, one that is primarily restorative. So for just 700 USD per person per day, you'll be offered three nutritious healthy meals, a couple of detox smoothies, a 60-minute spa session, two daily yoga or Pilates classes (one of which can be private), free surfing as well as complimentary snorkelling equipment to be used at will. Of course, you don't have to do all that and there are more devilish alternatives, but if you go down the pious route you'll end up returning from your holiday relaxed, recharged and happy (especially with yourself).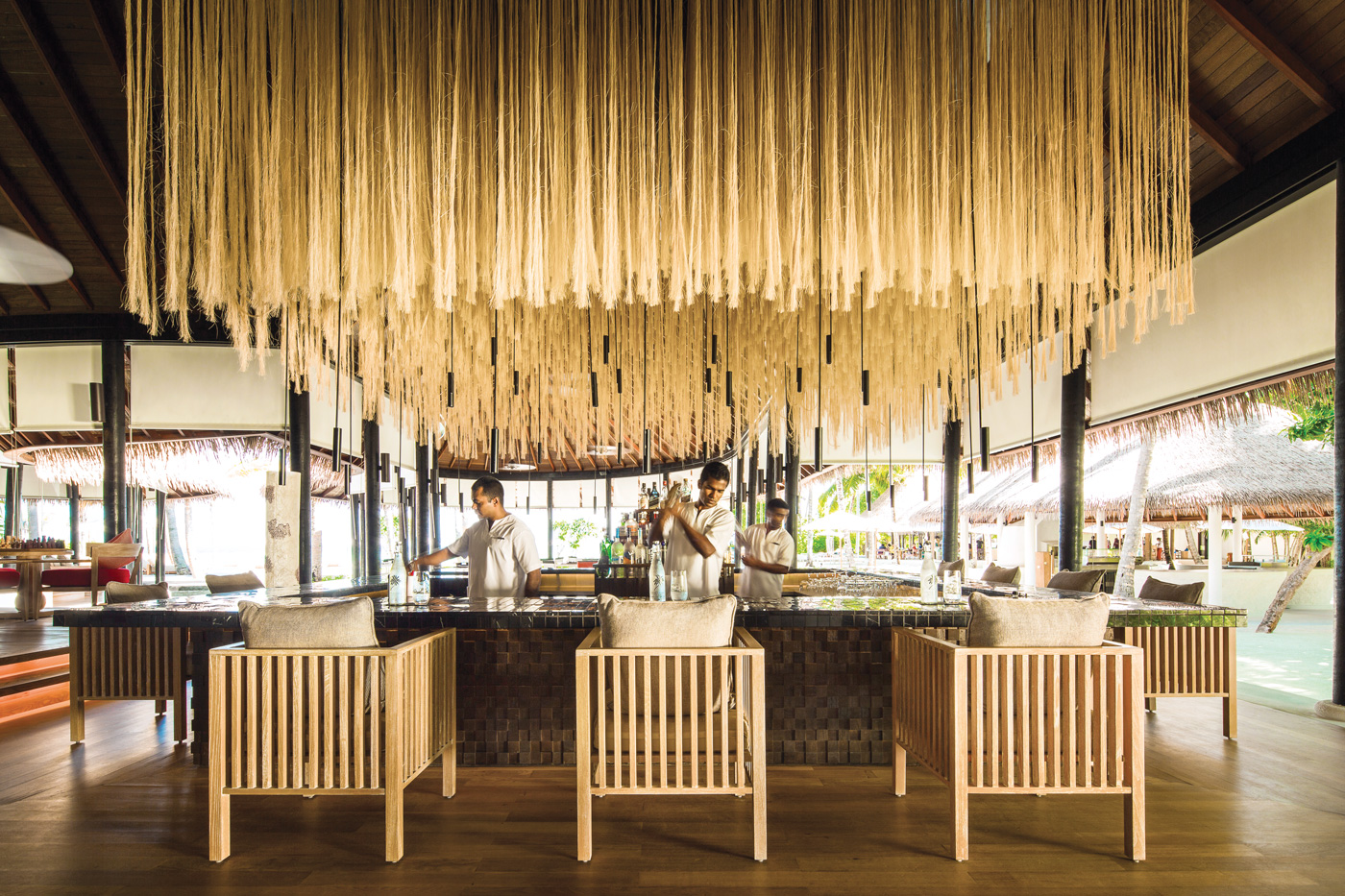 By the way, the whole Zen approach also applies to the island's natural environment – Como allows the indigenous fauna and flora to flourish. So even though you might be hoping to spot a manta ray or come across an iguana or two, you'd best prepare yourself for the sight of millipedes and lizards and once you accept that you're an alien in these parts, you may even get lucky, as we did, and come across a whale shark.
The main downside of the Maalifushi, in my opinion, is that it wasn't built from scratch. Instead, Ong and her billionaire Malaysian businessman and property tycoon husband, Ong Beng Seng, rescued the bankrupt development of a former Regent project and went about Como-ising it with their eco-friendly understatement. The most important visual transformation was to change the heavy Regent palette of dark wood to more neutral shades that Japanese architect, Koichiro Ikebuchi, says "better showcase the natural colours of the surrounding sky and sea." You'll still find traces of Regent in the dark window frames and mirror surrounds but otherwise the aesthetic has been refined and pared-back with lime-washed furniture and comfortable four-poster beds decorated with swathes of netting.
Though Como likes to brag about how all but six of the 59 accommodations at Maalifushi come with a pool, these are more plunge pools than swimming pools. On the other hand, the bathrooms are joyously large and the bath products are sublime. Made by their international sister brand, Como Shambhala, these little magic potions of eucalyptus, camphor and bergamot smell so good that I went and bought out their entire supply at the spa.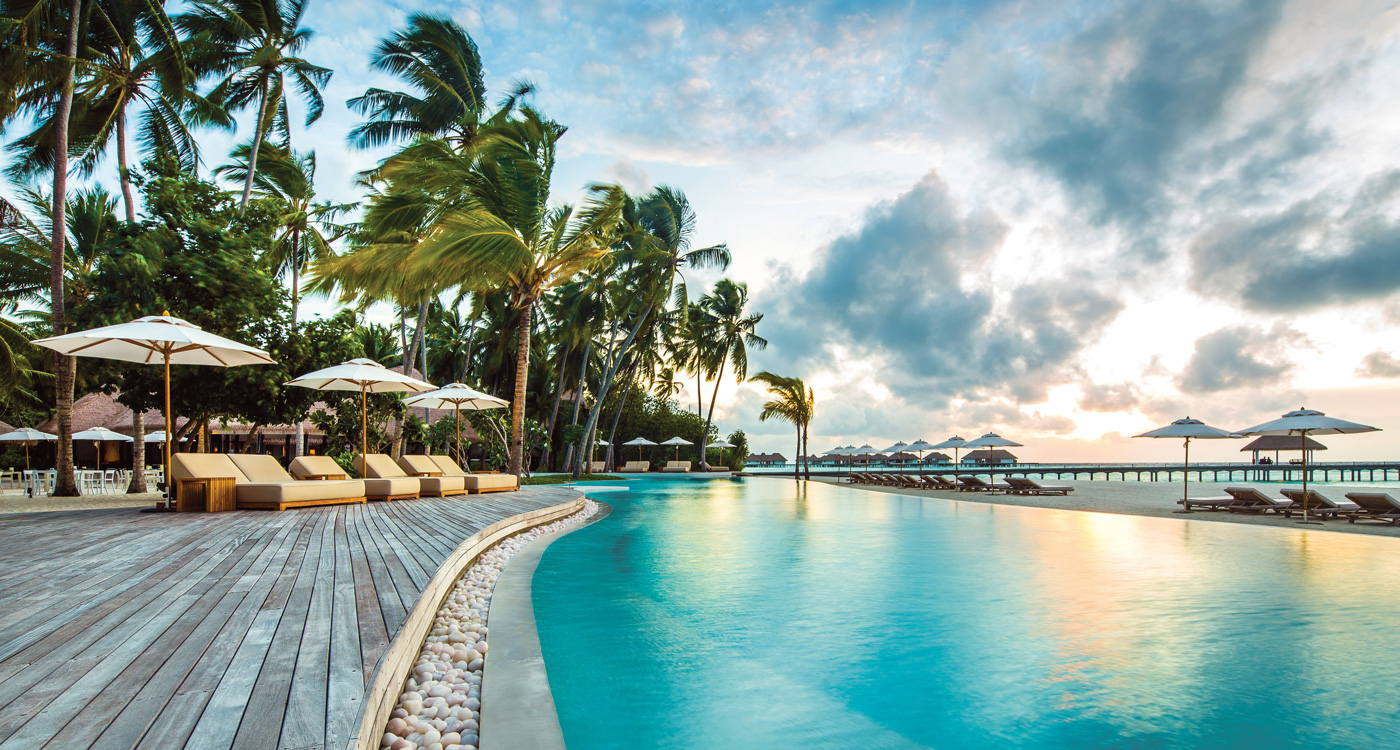 One last oddity you should be aware of is that the beach villas do not have a direct view of the sea. Instead, they're surrounded by a jungle-like abundance of palms, hibiscus and raw, natural undergrowth. Apparently, this is very popular with Arab clients who prefer privacy to open views but luckily there are the over-water accommodations for those who don't fit this bill.
All in all, Maalifushi presents a splendid concept and one that is quite unique. Once I learnt to get over the visual shortcomings inherited from the Regent and started appreciating the surfing, detox, yoga and health-centred philosophy of this family-friendly resort, I had an incredible holiday. Best of all, it didn't break the bank.
what's nearby