February 16, 2015 Nicolas Shammas
The evolution of the customer base at Geneva's top hotels means that the Arab customer is more important than ever. But before you worry about what the consequences of that might be, let us tell you that at the Mandarin Oriental, their targeting has been via discretion, good taste and a diverse portfolio of suites.
Official figures from the Swiss National Tourist Office show that Geneva, long a favourite playground of wealthy Arabs, is experiencing an unprecedented surge in the number of visitors from the Gulf. But what's really making the tourism board pleased as Punch is that these – predominantly Saudi and Emirati – vacationers are spending upwards of 600 USD a day per person, a figure that's far and away the highest on their average daily expenditure list.
In an effort to capture an ever-larger piece of this lucrative pie, many of this cosmopolitan city's top hotels have been renovating and remodelling so as to better appeal to Arab tastes. In all, there are close to 4,500 five-star hotel beds these days, distributed between 15 top-rated hotels and chief amongst those are: the Four Seasons, Kempinski, Beau-Rivage, President Wilson, Hotel d'Angleterre and the Dorchester Collection's Le Richemond. There are even some trendy – that's right, Geneva can be hip too – boutique upstarts like Les Armures and La Cour Des Augustins getting in on the action. Then there's the Mandarin Oriental. With 170 rooms and suites, it can hardly be considered boutique but it almost feels that way thanks to a wonderfully unpretentious modus operandi.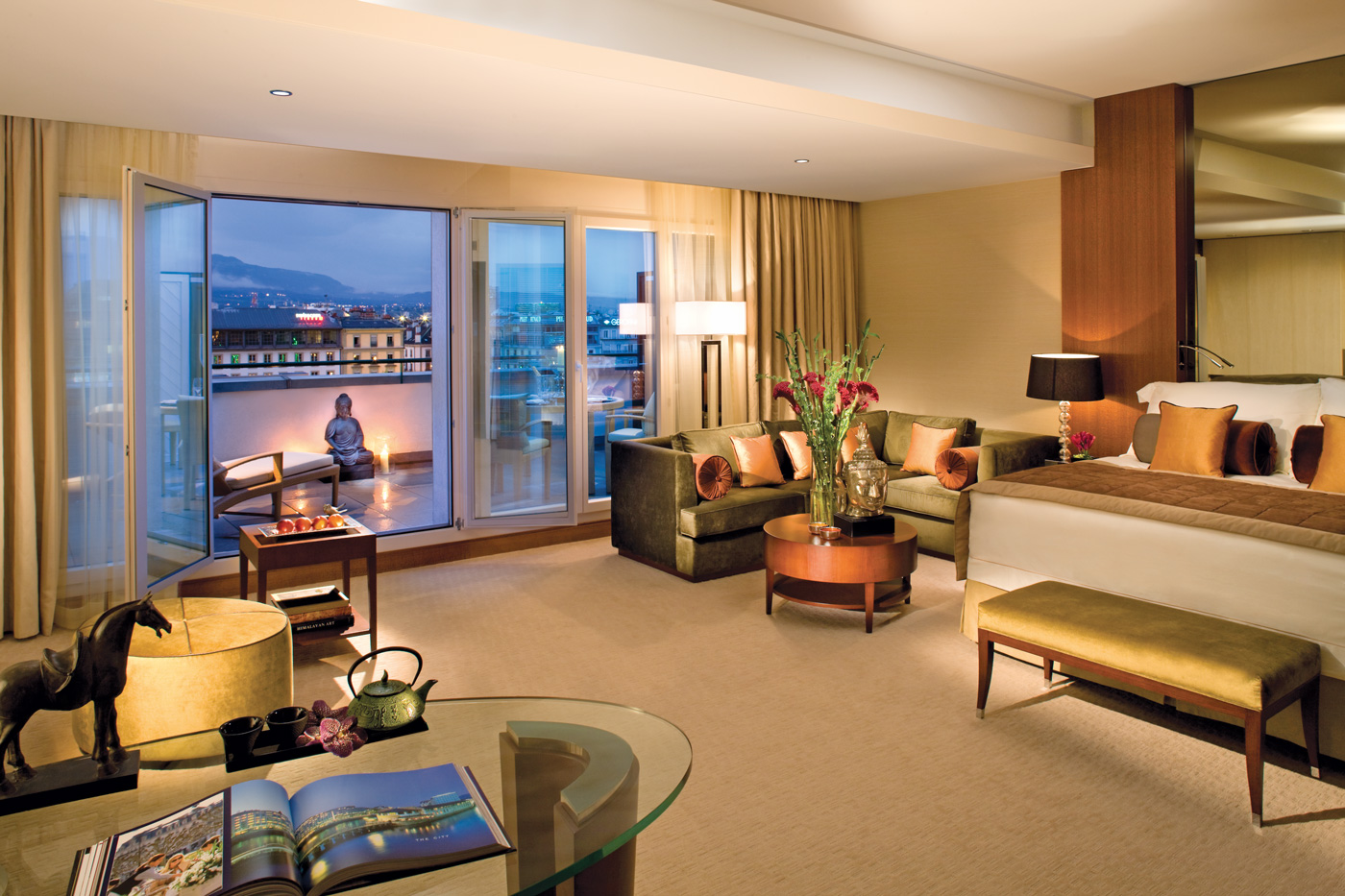 Located on the River Rhône's right bank, in a seven-storey building of 1950s Brutalist architecture – clearly influenced by the work of Switzerland's greatest modernist architect, Le Corbusier – the Mandarin Oriental is a new-ish name on the market, having only entered in 2000. By understanding internationalism like few others and mixing Asian hospitality (as a member of the Hong Kong-based Jardine Matheson Group) with Swiss efficiency and heritage (the building is the former Hotel du Rhône, which was the first hotel to be built in Europe following the end of World War II), it has managed to become one of the most Arab-friendly establishments and that's without the necessity of a shisha bar or Gulf-plated supercars parked out front. Instead, their tactic is much less explicit, and more advantageous – it is predominantly through a vast array of excellent suites that the Mandarin Oriental offers.
My personal favourite is the 1,900 USD Junior Terrace Suite, which was added during the latest round of renovations just over a year ago. Situated on the top floor, it's got a restrained colour scheme and cool touches like goose down bedding, alligator skin flourishes along the corridor wall, an olive-green velvet living room sofa, as well as Bang & Olufsen television and audio equipment. The pièce de résistance is, as the name suggests is a 20 square-metre private terrace that let's you savour some fantastic views of the Alps, Geneva's Old Town and of course, the river.
Even if the hotel no longer names itself after the Rhône, you can still find river-inspired motifs on the interior. For instance, you'll come across a white bas-relief on each of the seven landings of the stairwell. Originally created by the Swiss artist Hans Erni in the late 1940s, they trace the river from its source in the Alps (on the seventh floor), down through Switzerland and France and finally, into the Mediterranean on the ground floor. At that point, you should take a left and head to the Mandarin Oriental's bravest display of its cosmopolitan nature – Rasoi by Vineet. Although this signature Indian restaurant is clearly at odds with the other top hotels' predominantly French offerings, Mandarin Oriental's ambition has paid off because it's the only Indian restaurant in Continental Europe to be awarded a Michelin star. Created by London-based chef Vineet Bhatia and managed by executive chef Sandeep Bhagwati, suffice it to say there's some serious artistry in the complex culinary fusion they've come up with.
To sum it all up, the Mandarin is not where you should go if you want to see and be seen, as you'll be hard-pressed to run into anyone at all. It's also not where you should go if you want gaudy, loud and showy. But, if you're looking for first-class service, refined style and fantastic food, then this is the place for you.
what's nearby