September 4, 2019 Nicolas Shammas
THE CLUB
We can safely assume that by now anyone who knows even the slightest thing about watches is well aware of the Richard Mille brand. Granted, it has only been around for twenty years (having been founded in 1999) but – and this is the remarkable part – it has managed to successfully cement itself as the ultimate status symbol over that period. How have they done this, you might ask, especially when there's so much competition in the world of watches?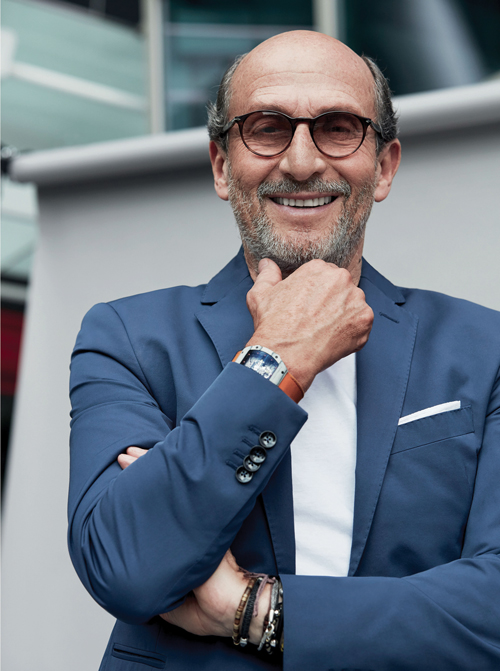 The answer is twofold. Owning a Richard Mille watch puts you in a very exclusive club that's not just small in number (only 38,000 watches have been produced to date), it's also got a very high cost of entry (somewhere between 80,000 USD and 2.5 million USD, depending on the model that takes your fancy). But wearing an RM watch doesn't just show the world you have money, it shows the world you're willing to push the envelope in terms of horological design and engineering. (For example, Richard Mille made the world's lightest tourbillon, which at 19 grams, weighs the equivalent of four sheets of A4 paper, yet it can withstand 5,000G shocks – as a matter of fact, the founder used to regularly demonstrate the sturdiness of his tourbillons watches by throwing them against the wall!) And, unlike the vast majority of mechanical watchmakers out there,
Richard Mille is unburdened by its history or legacy so it's free to be uncompromisingly modern. As a result, they have a no-holds-barred approach to building the most high tech, high performance watches and that has resonated to the point that they're now producing over 5,000 watches a year. Best of all, the relationship that they've cultivated with their customers is a mutually beneficial one, for on the one hand, they're free to blaze new trails, even if that comes at a very high cost because, on the other, their customer base won't get worked up about high prices, so long as the product is original, exclusive, looks good, and provides an effective talking point.
THE STORY
You may find it interesting to learn that Richard Mille (photographed below) is neither Swiss nor is he a watchmaker. As a matter of fact, he comes from the southern French town of Draguignan, and later moved to Besançon in the east of the country in order to gain a degree in marketing. Still, his entire professional career has been spent in watches, having started out at the French watchmaking company of Finhor back in 1974 (which was later acquired by the large conglomerate Matra) before then moving to Seiko and ultimately Mauboussin, where he started their watch business. "I am not a watchmaker," admits the now 68-year-old entrepreneur, "but I am pleased to say, Enzo Ferrari was not a car technician either, yet he had a very clear idea of what a high-performance car should be."
Apparently, the foundation blocks of his eponymous brand got formed while he was still at Mauboussin, for it was there that he began working with Dominique Guénat, the owner and CEO of Valgine (one of the companies that used to make watches on behalf of the Parisian jewellery house) and together they hatched a plan, along with Audemars Piguet's Renaud et Papi, to go it alone and create a new company with rather unique principles: namely producing ultra-limited edition watches with very high technical added values.
Today Richard Mille, which is comprised of four subsidiaries: Horométrie (watch distribution), Valgine (watch design and assembly), ProArt (cases and components) and VMDH (decoration), designs and assembles all of its own watches, with the exception of a few tourbillon movements, which are produced by (their minority shareholder) Audemars Piguet Renaud et Papi, and some automatic chronograph parts that it prefers to outsource to Vaucher.
In order to allow us to see how the magic happens, Richard Mille invited us at the end of April to come and visit Valgine, ProArt, as well as one of their key partners, NTPT (which makes the brand's composite cases) and the following few pages contain everything we discovered on that trip.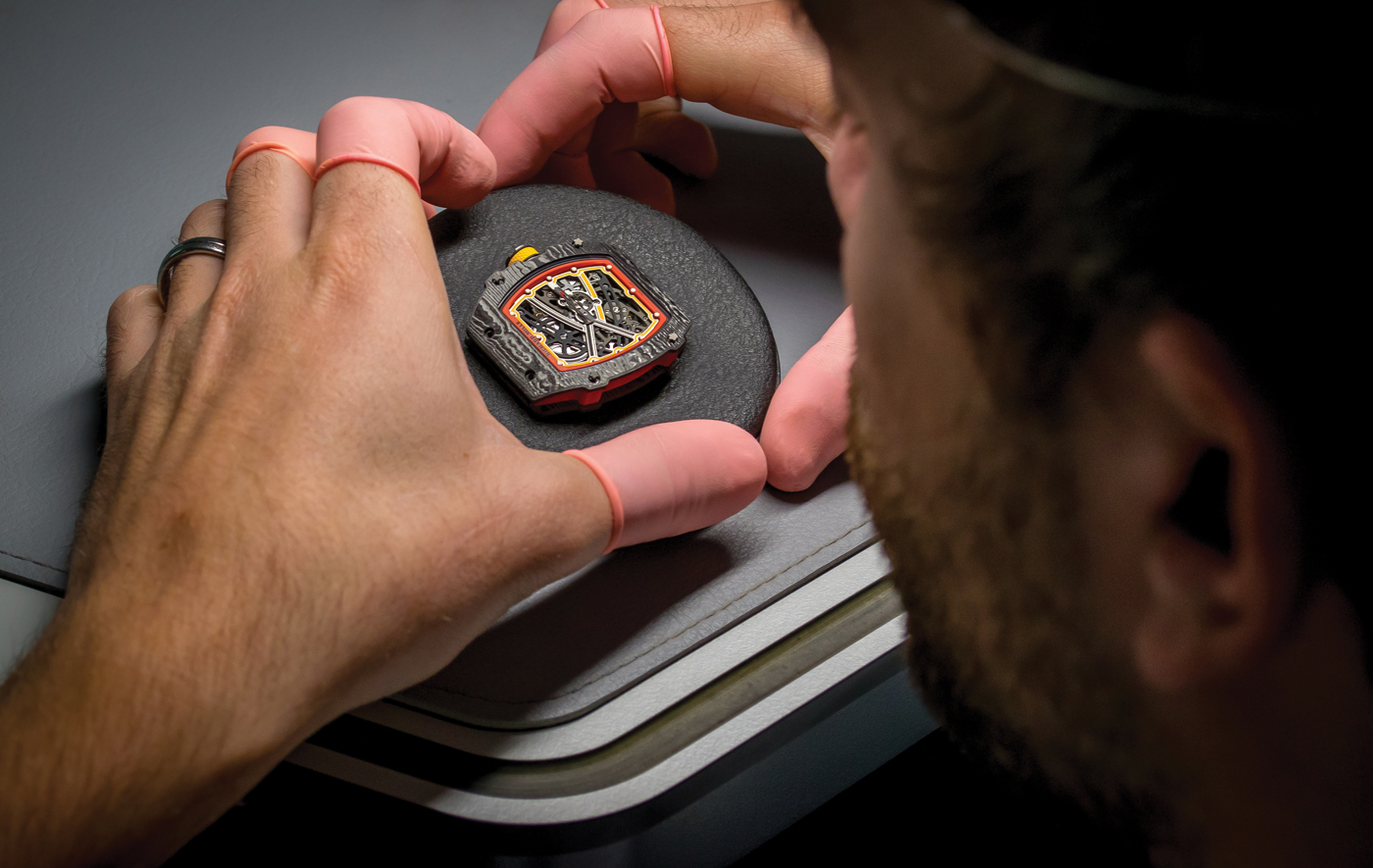 THE MAKING OF
As a visit to their various factories proves, there's way more to a Richard Mille than meets the eye.
One of the most characteristic traits of Richard Mille watches are their lightness and on the first day of our Richard Mille factories' tour we got to visit NTPT (North Thin Ply Technology), which has been the exclusive supplier of all their cool looking ultra-light composite cases, straps and micro components ever since the groundbreaking RM011 that debuted in 2013.
"Thin ply technology is really all about spreading the tow of untwisted fibre into the thinnest, flattest and most perfectly aligned prepreg tapes," explained Ludovic Chichignoud, General Manager of NTPT. "The resulting composite laminates have a much more uniform microstructure than those produced using conventional multiaxial or woven carbon fibre prepregs."
Interestingly, Chichignoud tell us that NTPT started out as a supplier of high-tech sails, and notably manufactured those famous black carbon sails that helped the Alinghi sailing team win the America's Cup in 2007. But they decided to sell the sailing application rights of their technology to North Sails (who rebranded it as 3Di) and they now concentrate their business on two pillars: golf equipment (TPT Golf) and Richard Mille, with whom they signed a long-term collaboration and exclusive supply agreement.
Though the terms of this cooperation have never been made public, NTPT did show us how it has allowed them to build a state-of-the-art clean-room production area within their factory that's entirely devoted to Richard Mille. It comprises a dedicated prepreg line, ATL machine and autoclave, while the pace at which they're creating new pre-preg materials for Richard Mille makes us assume there's been a significant investment in R&D too.
New materials include Graph TPT (whose physical properties have been improved by the injection of graphene) and there's of course the JEC award-winning Quartz TPT, which offers a range of coloured options (carbon can only be black), depending on the pigments added to it.
Our day at NTPT provided a deep dive into material science and we learnt that it takes six weeks to go from order to delivery of TPT watch cases, including the cutting of the blocks, while NTPT are now producing around 2,000 cases a year for Richard Mille (which amounts to around 40 per cent of the brand's total watch production).
Later, following our visit to ProArt we saw that the next two most common materials for Richard Mille watch cases are titanium and gold. (The most rare is sapphire glass, which can take almost 63 days of extremely complex manufacturing to produce a single watch and therefore has to be sold at upwards of a million dollars a watch). Unlike at other factories, Richard Mille does not stamp process its cases, instead each one is machined, wire cut, finished with high-pressure jets and inspected with microscopically accurate tools (their tolerance is only +2 and -2 microns, which is 50 times less than a human hair).
Once the cases and components (like baseplates, pushers, bridges, bracelet parts and screws) are ready, they're sent next door to Valgine where the watches are assembled. Our guide explains that there are four stages to assembly: T0 (premounting of the case), T1 (assembly of the movement), T2 (encasing of the movement ) and T3 (fixing of the bracelet onto the watch). Each of these processes are done by one person per watch, however the watchmakers are encouraged to move about the various departments in order to improve their understanding and skills. The tourbillon watchmakers (of which there are just three) are the only ones who do the entire process alone, from start to finish (after which they test the watch for roughly two weeks before then taking it apart again to clean every single piece, and then they reassemble it one last time. The entire process takes approximately six weeks per watch, and that's if all goes well.)
Once each watch is complete it is sent to the quality control department where it spends another two weeks in rigorous testing just to verify perfect accuracy in all scenarios (including, for example, being banged about by a giant hammer in the case of a sportswatch, so as to make sure it can withstand shocks of up to 10,000 G's).
After all this, it's clear to see that the price of a Richard Mille watch is not just a product of state-of-the-art materials and components but an incredibly exacting manufacturing process too. But if value is what you're after, then rest assured that the few Richard Mille watches that have been put to auction, actually ended up selling for more than their original prices. It's a win win.
THE HIGHLY ORIGINAL ONES
Richard Mille made a hell of a grand finale at this year's SIHH with its new and brilliantly original Bonbon Collection, helping mark the final time the brand participates at the Geneva-based watch fair.
In many ways it was the perfect send off to a decade at SIHH, as they used state-of-the-art material science to articulate a sweet and tangy new vision of high-end watchmaking that flies in the face of convention with some fun, playful and ephemeral indulgences.
The collection includes 10 models (priced from 122,500 USD to 158,000 USD) – each produced in an edition of 30 – across two families: Sweets (of which there four) and Fruits (of which there are six). These include a family of ultra-thin rectangular RM 16's (like the Citron 16-01, top right, and Fraise 16-03, bottom left – which are being presented as unisex), as well as two ladies-sized tonneau-shaped models, the RM 37 and RM 07 (such as the Myrtille 37-01, top left, and Cupcake 07-01, bottom right).
THE COMPLEX ONE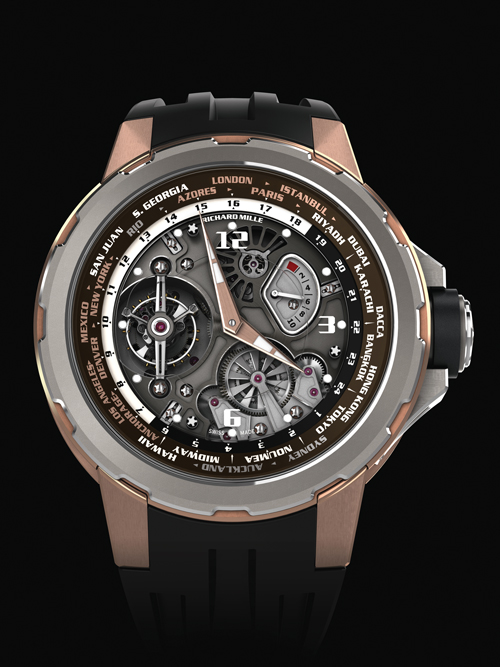 When we asked the men in charge of Richard Mille's design department what they thought their most complicated in-house watch has been so far, they answered the RM 58-01 Tourbillon World Timer Jean Todt, which came out in 2013.
It's an interesting piece because it encapsulates the brand's philosophy of easy-to-use functionality. Unlike other world-timers, which you adjust via a pusher (or sometimes the crown), this one's adjustor is its grade-5 titanium rotating bezel. It's directly connected to the movement so all you need to do is turn it and set one of its given cities to the 12 o'clock position, and the watch will automatically adjust the time.
The 47mm watch's case alone comprises an almost incomprehensible 200 parts, while its in-house CRMA4 automatic calibre is equally marvelous (and luckily visible through the skeletonised dial as well as crystal caseback). It is assembled around an electroplasma-treated titanium plate, and bridges, so as to improve rigidity and surface flatness, while the upper bridge is made from black-rhodium-plated, polished and circular-grained german silver. The balance spring has variable inertia to help shock resistance and there's no regulator index, instead there four small, adjustable weights on the balance spring. Add to this the fact that even the smallest details like the titanium screws have been engineered and fabricated in-house (to provide better torque control during assembly) and you can see why it costs 145,000 USD.
In case you didn't already know it, sapphire is the second-hardest material on Earth – only diamond is harder – and the reason that nearly all watch brands have been using this material instead of glass or plastic for the best part of 40 years is that it can't be scratched.
Unfortunately the flipside of that durability is it is difficult to manufacture, so when, in 2012, Richard Mille introduced the split-seconds chronograph tourbillon RM 056 within a case that had been carved from a single block of transparent crystal sapphire, it caused an absolute sensation. Sure it cost a bomb – 1.65 million USD – but the complexity required to produce its three-part structure within an allowance of 1/100 of a millimetre was extraordinary to say the least.
In the years that have passed since, other brands have jumped on the sapphire case bandwagon but Richard Mille has, as one would hope, continued to push ahead. First, came the RM 56-01, which added a sapphire baseplate, bridges, and third wheel, and then the RM 56-02, in which it suspended the titanium baseplate from the sapphire case with an elaborate cable and pulley system. Most recently of all, the brand has added the novelty of coloured sapphire both on its female models and male ones.
THE FANTASY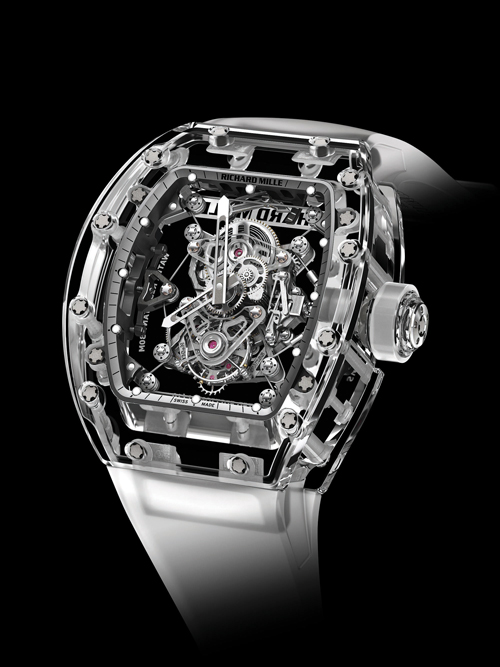 This addition of colour pushes up the price of the see-through watch to an eye-watering 2.5 million USD, but once again there is good reason for this, and that is that it's so difficult to achieve a homogenous hue and opacity when colouring sapphire that there's an incredible amount of wastage. Still, even at these stratopheric rates, finding customers has not proven difficult at all for Richard Mille and possibly the best known new owner of a blue-coloured sapphire RM 056-02 is the American rapper and producer Jay-Z.
Thanks to our visit to their factory, we learnt that these transparent Richard Mille watches must be milled and ground from solid pieces of sapphire and even a hairline fracture won't be tolerated. It takes an average of 40 days of around-the-clock machining just to create the case (equating to 960 hours per watch), while the sapphire bridges take an additional 400 hours, and that means each watch requires 1,500 hours of sapphire machining. But even that might be optimistic, for we've assumed no mistakes or irregularities, which if they do occur require the case to be scrapped and the process restarted from square one.
In short, these watches represent glorious insanity and for that we love them.