September 3, 2017 Nicolas Shammas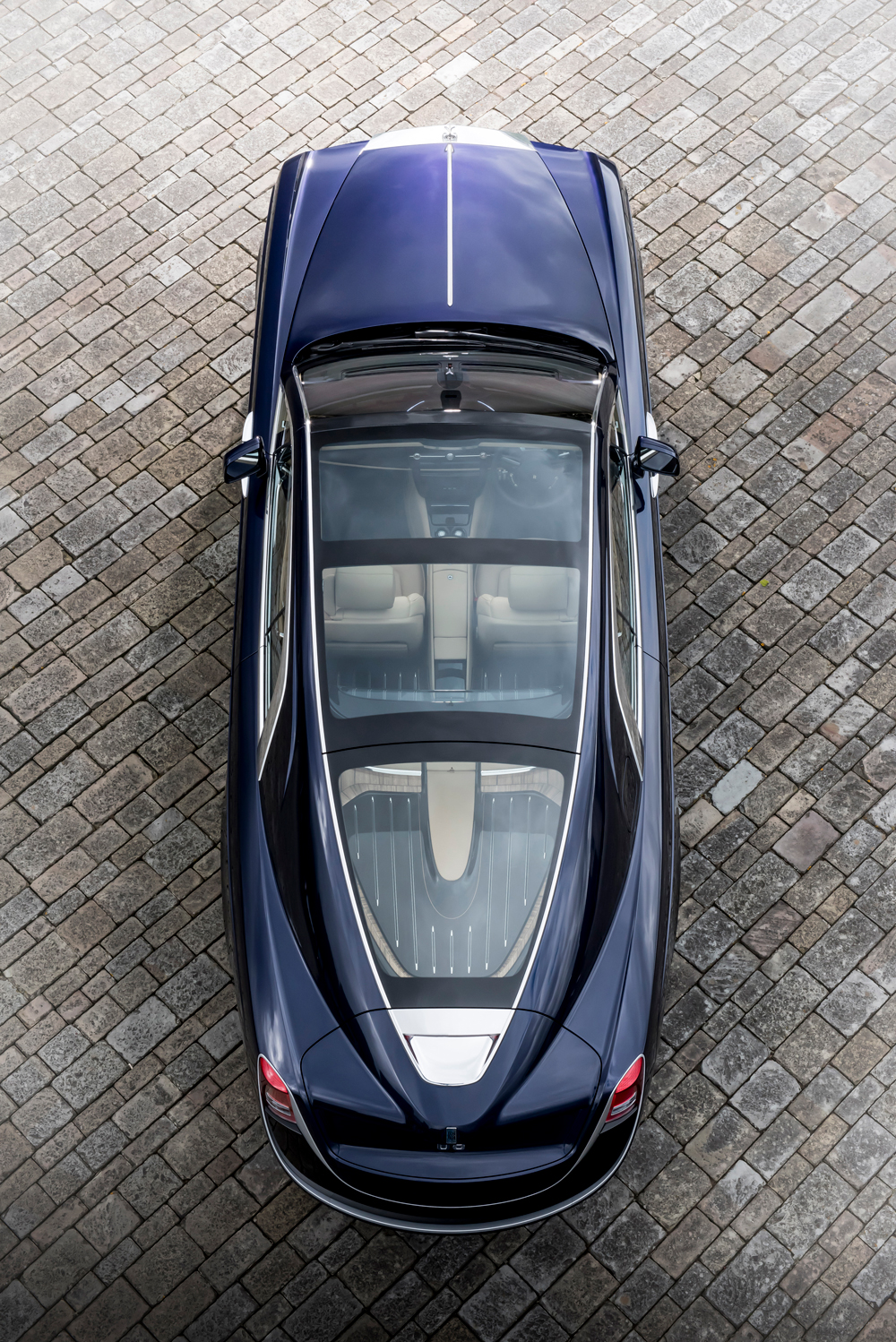 As if owning a Rolls-Royce wasn't special enough, one of the brand's most valued customers – described as a "connoisseur and collector of distinctive, one-off items including superyachts and private aircraft" – managed to persuade the 111-year old automaker to create a car just for him. Now, before you go and grab your cheque book, you should probably know that the cost of this indulgence amounted to an eye-watering sum of around 13 million USD. It also took four years to make, finally getting its grand unveiling in May, at this year's Concorso d'Eleganza at Villa d'Este on Lake Como.
Named the Sweptail it's essentially a massive coachbuilt two-seater coupé featuring the largest panoramic glass roof ever seen on a car. Many of its design elements were plucked from iconic Rolls-Royces of the past. For example, it's got the grandeur, scale, flamboyance and drama of the 1925 Phantom I Round Door built by Jonckheere; the svelte tapering glasshouse, dramatic dash-to-axle proportion and up-sweep of the rear departure angle of the 1934 Phantom II Streamline Saloon by Park Ward; the elegantly falling waist-rail, swept-tail coachwork of the 1934 Gurney Nutting Phantom II Two Door Light Saloon, and the flowing roofline, rising departure angle, and again the swept-tail coachwork of the 1934 Park Ward 20/25 Limousine Coupé.
Like the exterior, the interior was almost entirely custom-made and features endless amounts of leather and wood, using a mix of polished Macassar Ebony and open-pore Paldao wood. The analogue clock in the dash is made of machined titanium. The centre console hides a champagne chiller and two crystal flutes. Instead of a hidden umbrella, like in the Phantom, the car's sidewalls conceal a pair of carbon fibre briefcases specifically designed to fit the owner's laptop. There's even a matching carbon fibre luggage set in the trunk. And to top all it off, there's a shelf for the lucky owner's hat.
"Sweptail is the automotive equivalent of haute couture," says Giles Taylor, Director of Design at Rolls-Royce Motor Cars. "It is a Rolls-Royce designed and hand-tailored to fit a specific customer. Our job was to guide, edit and finely hone the lines that would ultimately give our client this most perfect of Rolls-Royces."
So if you're still sold on the idea then get that cheque book. At the end of the day, this may be the world's most expensive new car but buying a 1962 Ferrari 250 GTO would actually set you back 38 million USD. And where would you put your champagne in that one?
Top: One of the carbon fibre cases developed by Rolls-Royce. Bottom: Despite its hefty size and price this grand-tourer seats only two. Right: The size, scale and complexity of the glass roof's curvature is a marvel to behold, and from above it accentuates the speed and elegance of the swept-tail design.