September 19, 2019 Nicolas Shammas
Now that the embargo has been lifted, we can tell you we were among the first to lay eyes on McLaren's luxurious new GT and not only was it designed for long distance driving, it's a real looker, especially in the flesh.
McLaren hasn't been in the car-making business all that long but the all-new GT model you see here marks the third attempt the marque has had at making a bona fide grand tourer. (The first was in 1969 with the stillborn Chevy V8-powered M6GT and the second was the 570GT – introduced in 2016 – which added new dimensions of comfort and luxury to the 570S, for a ten per cent premium).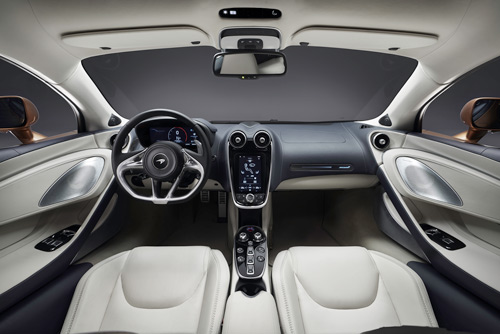 This new grand tourer however isn't the only iron McLaren has in the fire, so to speak, as they've earmarked 1.5 billion USD of investment into R&D with plans to create 18 new cars or derivatives by 2024 at an overall projected production rate of 6,000 units per year. But the GT is still a key part of that plan, and it was interesting to discover that McLaren benchmarked the Porsche Turbo S, Aston Martin DB11 and Ferrari Portofino during its development.
In a nutshell, the GT runs on the same ultra-light, ultra-safe carbon tub chassis that underpins everything from the entry-level 540C (in the form of the sub-80kg Monocell II) to the latest Ultimate Series Speedtail (which uses a specialised iteration of it, the Monocage II). It has also got the same 4.0-litre V8 as its various siblings, albeit with a few tweaks including smaller turbos, a quieter exhaust, a higher compression ratio and new pistons with revised crowns for a more efficient burn. But it delivers 620PS, down from its sibling's 720PS. Still, that's more than enough to outdo all those previously mentioned rivals in terms of a power to weight ratio. And thanks to a trunk at the rear (the designers were able to lower the engine enough to create enough space for a set of golf clubs) as well as the front, it trounces them in terms of boot space too, with a capacity of 420 litres, which is the equivalent of that of a Mercedes A-Class.
Zero to 100 will be in 3.2 seconds, zero to 200 will be in 9.5 seconds but more importantly the GT has a 110mm ground clearance in standard setup (or 130mm when the lift is activated) and a 10-degree front approach angle (or 13-degrees with the lift), which equates to genuine Porsche 911 usability.
It's an impressive looking car too – in fact, I'd go so far as to say it's the best-looking McLaren yet – and considering it's only 10,000 USD more than the 570GT (and about 80,000 USD less than a 720S), it's also pretty good value for money, as long as you don't go too crazy on the option list. Speaking of which, I love that the designers got creative in their application of luxury, introducing a whole host of new materials, including tech fabrics developed with NASA, as well as cashmere, which is a first for the car industry. My only gripe then is that the GT is not a 2+2. When I asked the designers why, they told me that such a configuration wasn't possible within the space of the Monocell II, but they understood my frustration and told me it's something they're working on for the future. You heard it here first.