November 11, 2018 admin
After making our way from Spielberg through miles of emerald Austrian countryside, over sweetly babbling brooks, past white gingerbread houses with brown trim and window boxes of barely contained pink geraniums, we turned into the forest. From there we took a trail and journeyed up through dense foliage into the mountains where we finally reached a large clearing. I half expected Julie Andrews to burst forth in song but instead, stood before us were hundreds of Jeeps, splayed across the countryside and staged against a booming soundtrack of Aerosmith. Clearly no mid-century musical spectacular, this was in fact Camp Jeep 2018.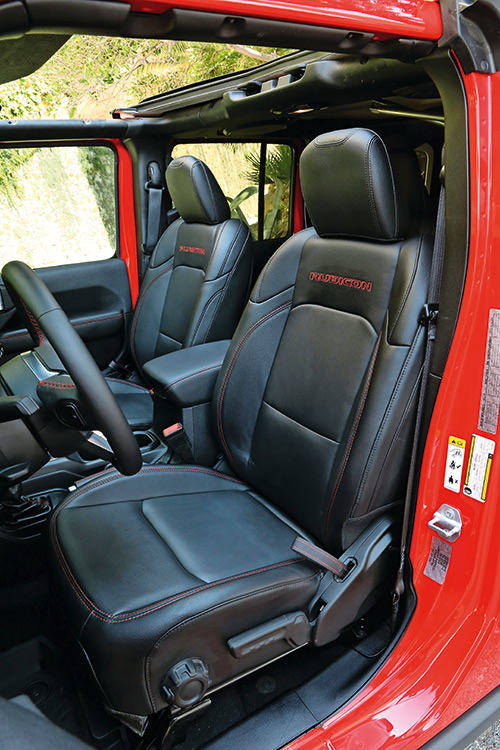 The yearly gathering is the largest meeting of Jeep owners in Europe and this year the Milan-based Jeep team had spent weeks prepping the backcountry of Styria to allow more than a thousand of the brand's enthusiasts from almost 20 countries to take specially designed off-road trails in their own Jeeps, the new 707bhp 6.2-litre V8 Grand Cherokee Trackhawk or the new Wrangler (which finally replaces the 11-year-old previous model). And, when they weren't driving, there were activities aplenty, such as hot-air balloon flights, live concerts and kids' games. But as guests of the international media drive, we had been invited immediately after the main festivities had ended and, by chance, there had been a downpour the night before our arrival. As it turned out, this was actually rather useful for the task at hand – namely testing the new Wrangler in some challenging conditions, including (fortuitously) mud, and not just any mud: 45-degree angled grades with knee-deep mud that you'd have never been able to walk down.
Perched at the top of an incredibly steep mountain in an almost two-tonne mobile mass of steel and glass, I found myself unable to even see the track below. The only thing visible over the Jeep's bonnet was a dense thicket of trees some way in the distance and, as a result, I was more than a little concerned for my wellbeing, not least because this was the first time I'd ever attempted to drive in such conditions. Luckily there wasn't cause for concern, as the Jeep technician, who'd been briefed of my inexperience, reached over and flipped a magic wand of a lever to 4WD 4H Auto.
Every Jeep Wrangler receives a 'Trail Rated' badge that establishes its 4×4 capabilities through a series of rigorous tests in the fields of traction, manoeuvrability, ground clearance, articulation, and water fording. And, as you'd expect, the U.S.'s most iconic off-roader does all those things formidably, but the new model also adds an improved five-link coil suspension system to the mix, which affords it a more comfortable ride, even when bumping over rocky trails. More importantly for a novice like me, the new 4H mode (with which I became so closely acquainted) offers continuous monitoring and management of the torque, and automatic engagement and disengagement of 4WD in order to maximise traction. There's even something called Trac-Lok, which is a limited-slip rear differential that provides extra torque and grip during slippery, low-traction situations: take, for example, knee-deep mud on a 45-degree grade.
As I nudged the car over the edge of the peak, the technological wizardry took over. The instructor had suggested I remove my foot from the pedals and after muttering a silent prayer, that's exactly what I did. The machine, nearing sentience, knew exactly how much to brake and when, allowing me to even – dare I say it – enjoy myself.
When driving the Wrangler in these conditions, it's easy to remember why the Jeep was so crucial to the Allies' victory in World War II: these vehicles take people places they wouldn't otherwise be able to go. The Wrangler of course traces its lineage back to the 1941 Willys Jeep that helped win the war. After the war, Willys decided to trademark the 'Jeep' name, and turned the MB into the civilian Jeep, or CJ, which was the world's first mass-produced civilian four-wheel drive car. The first Wrangler model (or YJ) was introduced in 1987, as a successor to that civilian series. Designed to be more comfortable on-road, it had a wider track, lower ground clearance and more creature comforts.
Back to the present day and following my first run at the mountain, in the four-door Rubicon model, I was confident enough to have another go – this time without my designated minder – in the sportier two-door Sahara. I expected the smaller, lighter two-door Wrangler to be more nimble and spry, but any difference they might have in capabilities and handling are totally negligible, at least on road. Off the tracks however and the Rubicon, on which the Rock-Trac four-wheel drive system comes as standard, is perceptibly more rugged and capable. Designed specifically for trails like the ones I was trying to conquer here in the Alps, Rock-Trac features a two-speed transfer case with 4:0:1 low-range gear ratio and front and rear heavy-duty next-generation Dana 44 axles and Tru-Lok electric front- and rear-axle lockers.
Being at one with the road and its surroundings are part of the fun for the Jeep enthusiast, for whom driving with the top down is a particular joy. But a convertible is less fun in daily life with traffic or rain, so sensible thrill-seekers will be pleased to know the new Jeep Wrangler is as comfortable with the top on as it is fun with the top off. High quality materials and finishes in the interior, a standard 7-inch touchscreen LED information display, as well as heated front seats and steering wheels on fully loaded models, give a feel of state-of-the-art luxury, and did I mention the seats now offer adjustable bolster and lumbar support?
But going back to the roof, the Wrangler's new Sky One-Touch Power Top means it's a cinch to get the top off now: one push of a button triggers the retraction of the full-length open canvas roof. There are two other roof configurations too: a new zipperless Sunrider soft top (which has two new bows to manage the fabric, significantly decreasing wind noise) and a Freedom top, which is a removable, three-panel hard top. The three-panel hard top configuration features improved latches and levers (and designated storage compartments) to enable quicker removal and reinstatement of the top.
In the Middle East, the 3.6-litre V6 Pentastar is standard, with the new eight-speed automatic transmission and Stop-Start (ESS) technology that reduces fuel consumption and emissions. This upgraded engine delivers 285hp at 6,400 RPM and 347 Nm of torque at 4,100 RPM and as of this autumn you'll be able to buy the Wrangler with Sport, Sahara, or Rubicon trim levels and either a two- or four-door configuration.
Inside the Wrangler (with the top on) it's easy to forget you're in a car whose origins are military. Comfortable and modern, the new Jeep represents a credible challenge to the low-end of the luxury SUV market, including the Range Rover Sport. And though you may be able to play in this car, it's certainly no toy.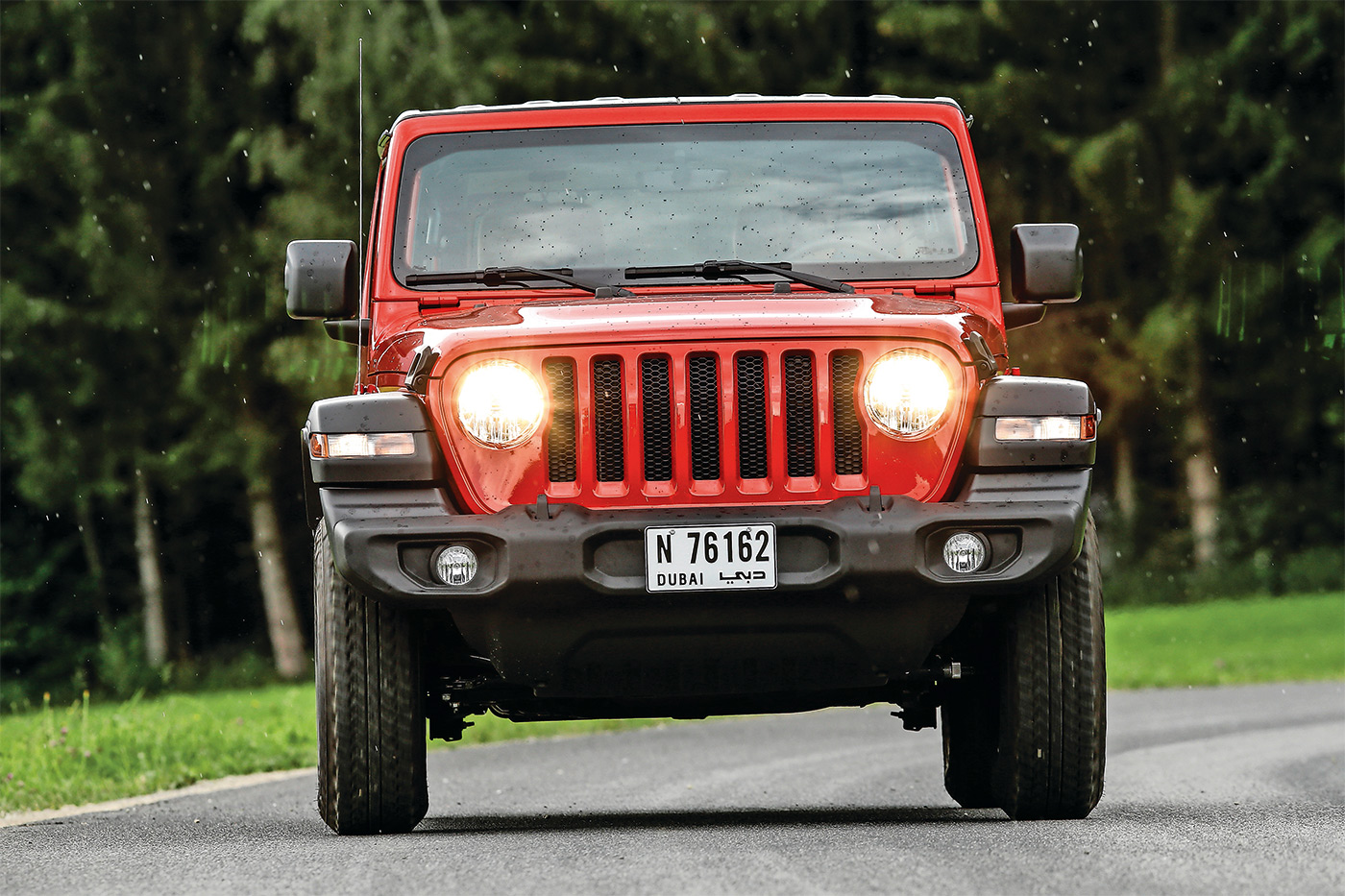 Make: Jeep
Model: Wrangler
Engine: 3.6-litre V6
Drive: four-wheel
Gearbox: 6-speed manual / 8-speed auto
Power: 285 bhp
Torque: 347 Nm
Weight: 1794 kg
Consumption: 11.8 L/100km
Top Speed: 206 km/h
0-100 km/h: 7.0 seconds
Price: 30,000 – 42,000 USD