February 26, 2020 Ziad Taha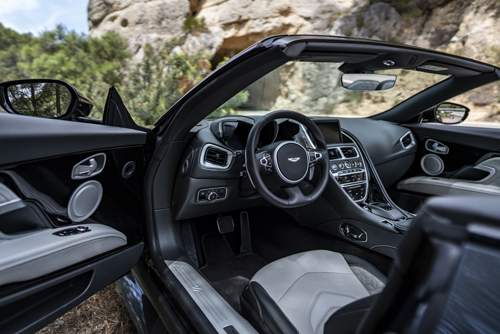 Aston Martin's DBS Superlegerra Volante is a gorgeous and neck-breaking British 2+2 droptop sportscar with fantastic build quality, surprisingly good electronics and an Italian name.
Okay so strictly speaking our ultimate sportscar isn't even a sportscar. That's because, according to its manufacturer, it's a super-GT, which is presumably a euphemism for a luxurious front-engined intercontinental single carriage drop-top 2+2 express train. But irrespective of whether it is or isn't a sportscar, this British stunner is wonderfully worthy of an Ultimate accolade. For starters the Aston Martin DBS Superlegerra Volante can rocket to 100 km/h faster than you can say its name. Then there's its positioning, which bridges the gap between the Ferrari 812 Superfast and Bentley Continental GTC. I mean that's so niche, it's brilliant. What's more, they have managed to cross the "divide" with a car that literally oozes sex appeal, in fact we'd go so far as to say this is the best looking car on the market today. I mean, if ever a vehicle was worthy of being enshrined on a bedroom wall, this is it. Finally, you can't but love how they said to hell with engine downsizing and went ahead and squeezed a mightily sonorous 5.2-litre twin-turbo V12 that serves up a mind blowing 712bhp and a tarmac ripping 900Nm of torque (available from just 1800rpm!)
So, Aston Martin may be zooming ahead with its Second Century Plan, putting the finishing touches on its all important new DBX and mid-engined Vanquish (which will be driven by Daniel Craig in the next instalment of James Bond) but this wonderfully full-blooded DBS Superlegerra indicates the brand has not lost the slightest touch with its past. Bravo indeed.