June 16, 2020 Nicolas Shammas
HOW IS LIFE AT ROLLS-ROYCE SINCE COVID-19?
[Rolls-Royce Bespoke Designer, Michael Bryden:]
Rolls-Royce was the first manufacturer to restart production in Britain after the coronavirus shutdown. Notably, our production resumed on May 4th, which was 117 years to the day that car builder Henry Royce and dealer Charles Rolls first met. Nevertheless, a lot of us are still working from home. It's a new routine but it works. For example, I'm part of the one-off team and we hold a catch-up call every morning so we can share ideas as a team and discuss what we are working on. On the other hand, I'm also still having meetings with customers but, with the way the world is right now, we are having to meet online rather than face to face.
LAST YEAR ROLLS-ROYCE DELIVERED A RECORD 5,152 CARS TO CUSTOMERS IN OVER 50 COUNTRIES (AN INCREASE OF 25 PER CENT) ON THE PREVIOUS HIGH SET IN 2018. OF THOSE HOW MANY WENT THROUGH THE ONE-OFF DEPARTMENT?
Almost all of them. I have worked at Rolls-Royce since 2012 and we used to handle only a small, select number of projects but now the appetite for bespoke has grown to the point that we are at a high-90 per cent in terms one-off content on vehicles.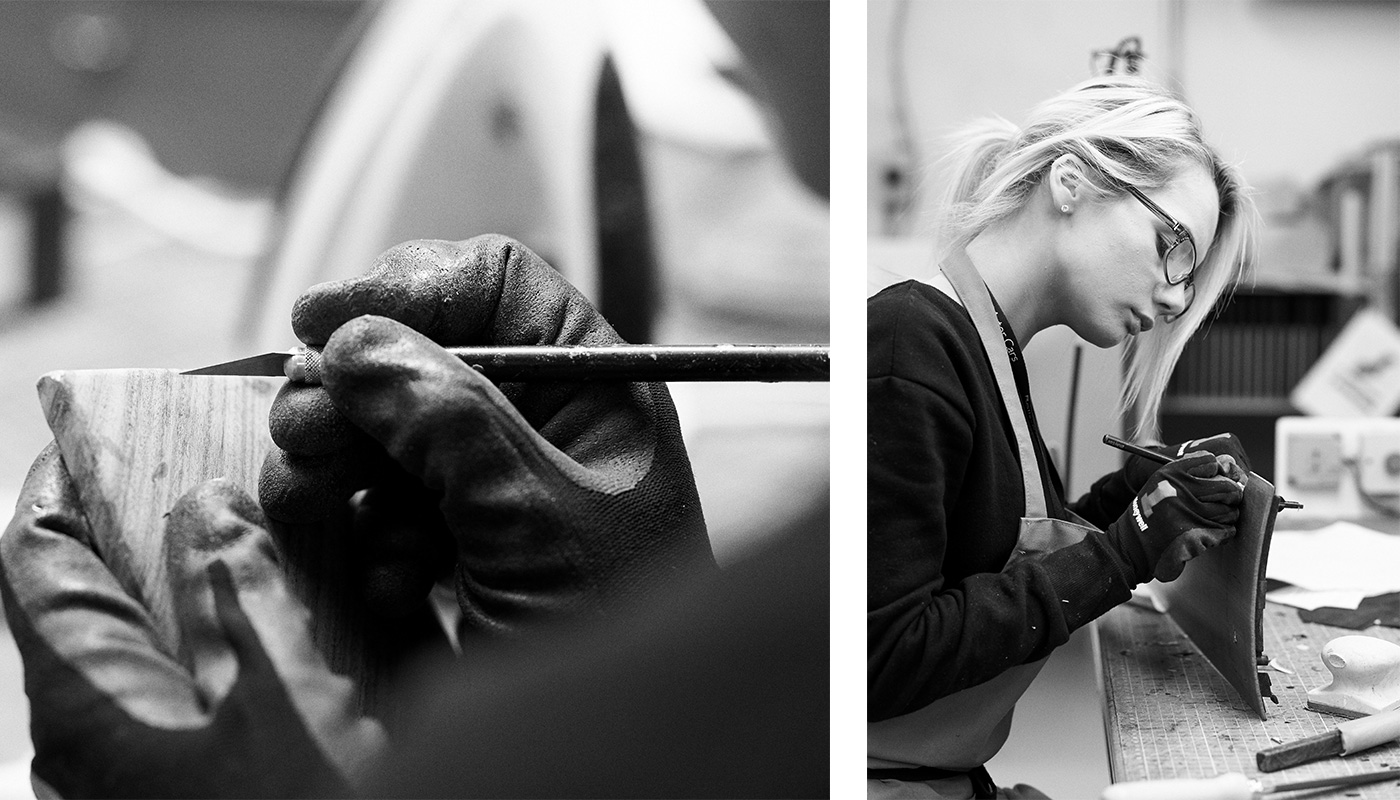 IS THAT WHY YOUR CEO SAYS YOU ARE NO LONGER AN AUTOMOTIVE MANUFACTURER, RATHER YOU'RE A LUXURY BRAND?
Exactly. We sell luxury goods and to be truly luxurious, an item has to fulfil a number of important fundamentals such as: it should be unique, handcrafted, authentic, beautiful, and rare.
LAST TIME WE VISITED THE ROLLS-ROYCE FACTORY AT GOODWOOD, AROUND THE END OF 2008, THERE WERE ONLY THREE PEOPLE IN THE BESPOKE DEPARTMENT, HOW MANY ARE YOU NOW?
It has grown and grown and grown since then. Now we are a team of 22.
AND WHAT IS YOUR ROLE EXACTLY?
Within the design team, I lead the customer one-off projects.
WHAT IS A ONE-OFF PROJECT?
This is the process by which we take either a Phantom, Cullinan, Dawn, Wraith or Ghost and treat them as a blank canvas, bestowing them with unique features, details and/or themes.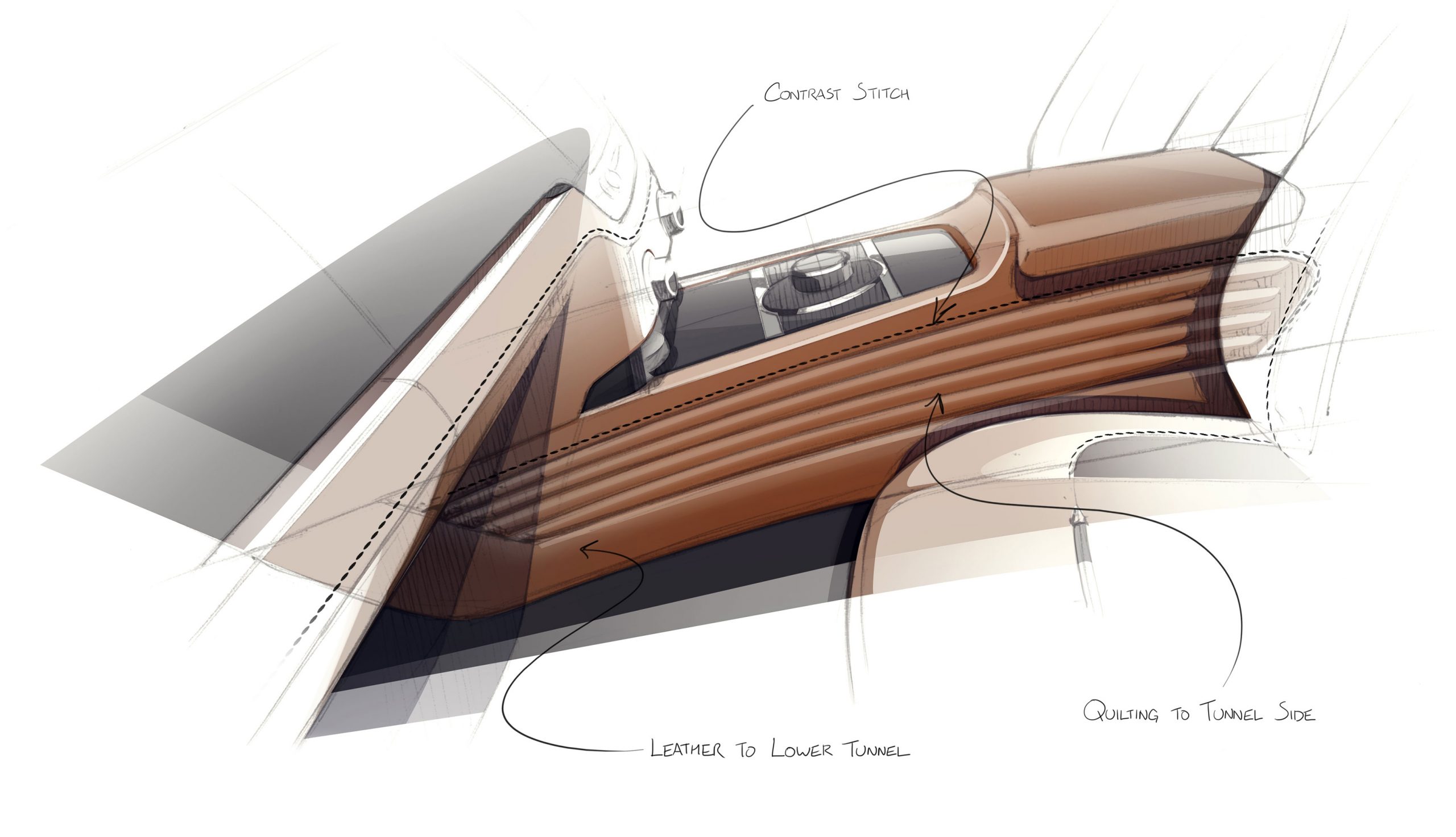 HOW DOES THE ONE-OFF PROCESS WORKS?
So let's say you're a customer and you wanted to commission a unique Rolls-Royce, you would meet with me. Typically, I am the person who meets with our one-off customers, and it all starts with a conversation in our atelier at Goodwood. But what I hope to do before that meeting is try to learn a little about you. Typically our customers are associated with a dealer that's close to their home and I'll try and find out what they do, what their business is, what projects they might have been involved in with other brands let's say and of course what their hobbies are. In that way I can build a picture of the individual that can help me bring in relevant examples of what we have done before in order to give useful ideas of what is possible.
CONTEMPORARY COACH-BUILDING IS ALSO AN OPTION, IS NOT?
Absolutely. Coach-building has its own unique department and the Sweptail was our first contemporary coach-built car, but coach-building is a major part of our heritage.
ARE THERE ANY LIMITS IN THE WORLD OF ROLLS ROYCE CUSTOMISATIONS?
The only limits are homologation and safety.
BUT WE'D IMAGINE ROLLS-ROYCE TRIES TO AVOID THE WORD NO.
We have an incredible number of skilled specialists at Goodwood and in the case that something can't be done due to homologation restrictions for example, then we'll make sure to come back to the customer with a number of solutions that carry the same spirit as their request. Customers are very receptive to that. They understand that they aren't buying a car, they are engaging in the commissioning of a luxury product and they enjoy the process. They often ask: what haven't you done and what have you always wanted to do?
COULD YOU LET'S SAY, TAKE THE CULLINAN AND TURN IT INTO A MORE EXTREME OFF-ROADER?
There are obviously challenges in terms of taking a car that's already incredibly capable off road and then turning it into an extreme version of itself. It would need an awful lot of testing and development but if that's something a customer wanted then we could certainly do that for them.
OKAY, WHAT IF A CUSTOMER SAID THEY LIKED THE OLD PHANTOM COUPÉS AND THEY'D LIKE TO TURN THE NEW PHANTOM INTO A COUPÉ, WOULD THAT BE POSSIBLE?
Yes that would be a viable coach-built project.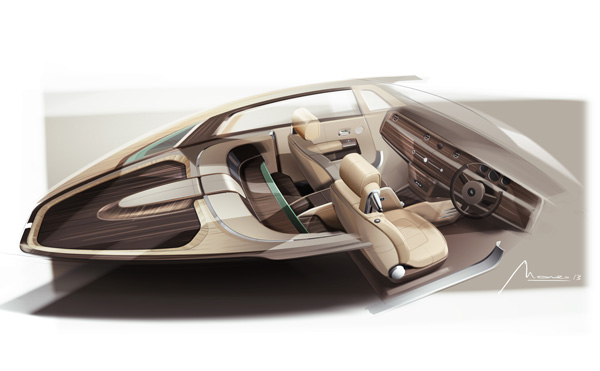 COOL, AND IF THEY WANTED THEIR PHANTOM COUPÉ TO, FOR INSTANCE, PAY HOMAGE TO THE FIGONI ET FALASCHI CARS OF THE LATE 1930S?
We're often given references of vintage cars by customers and what we tend to do is create a contemporary interpretation of those references.
WOULD YOU ACCEPT OUTSIDE COUNSEL? COULD A CUSTOMER ASK TO BRING IN PININFARINA ON A PROJECT?
We prefer to be the only ones who work on the cars in terms of design. We do collaborate with artists in such spaces as the Phantom Gallery but typically our customers want the product to be 100 per cent Rolls Royce.
YOU MUST BE AWARE THAT FERRARI ALSO DO SPECIAL PROJECT ONE-OFF CARS BUT THEIRS TEND TO START AT AROUND 3 MILLION USD. WOULD IT BE POSSIBLE TO DO A COACH-BUILT ROLLS-ROYCE FOR LESS THAN THE 13 MILLION USD THAT IT COST TO MAKE THE SWEPTAIL?
The reason the Sweptail cost so much was it was all-new vehicle, not a derivative or an iteration. The customer was involved right from the first conversation all the way through the clay-modelling and on to the final build, and it was important to them that the Sweptail was unique both inside and out.
WE SOMETIMES DISCUSS AT THE OFFICE WHAT CARS TODAY MIGHT BE CAPABLE OF WINNING CONCOURS D'ELEGANCE 50 YEARS FROM NOW AND THE SWEPTAIL IS ONE OF THE FEW THAT CERTAINLY IS.
That's very nice of you to say. An awful lot of creative effort went it that project and when you see it for the first time you almost can't quite believe it. It's incredible.
NOW, WHAT IF A CUSTOMER DIDN'T WANT ANY LEATHER IN THEIR ROLLS, IF THEY PREFERRED TO USE A SUSTAINABLE VEGAN ALTERNATIVE LIKE MYCELIUM? IS THERE ANY STIPULATION THAT A ROLLS-ROYCE MUST USE ITS OWN HIDES?
Not at all. We have worked with non-leathers before. For example, we created a one-off Phantom interior whose entire rear cabin section was trimmed in the finest silk. It was like an incredible artwork made up of countless panels that were painted and embroidered. Clearly the car has not been made for everyday use, rather it was conceived as a special addition to this customer's collection.
DO YOU TEST THE DURABILITY OF MATERIALS EVEN IN A ONE-OFF?
Yes. All cars must face the same rigorous testing so that we know their unique properties in terms of flammability, tensile stress, and general durability. So, in the case of the silk car, we were able to inform the customer, using data, that his car was perfectly equipped to be a fine occasion vehicle and a rolling work of art.
COULD YOU TELL US A LITTLE ABOUT A RECENT PROJECT THAT YOU'RE PARTICULARLY PROUD OF?
We did an amazing vehicle for a customer based in Stockholm. He wanted to create a Phantom that was inspired by roses and we ended up creating this extraordinary vehicle in which the headliner, doors, the Phantom Gallery were all embroidered with rose artworks, which was developed by our specialists in the leather shop. The whole customisation required over a million stitches.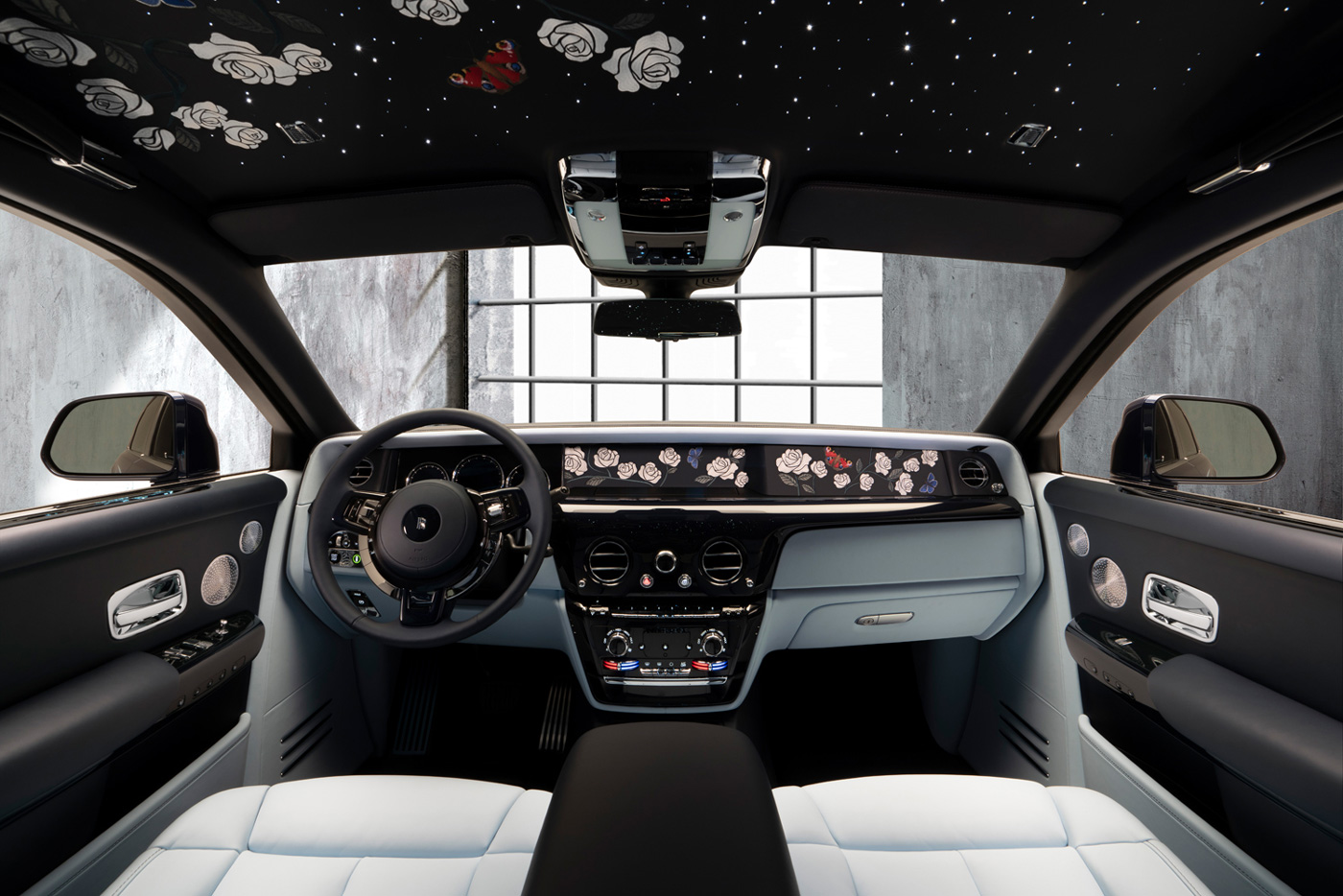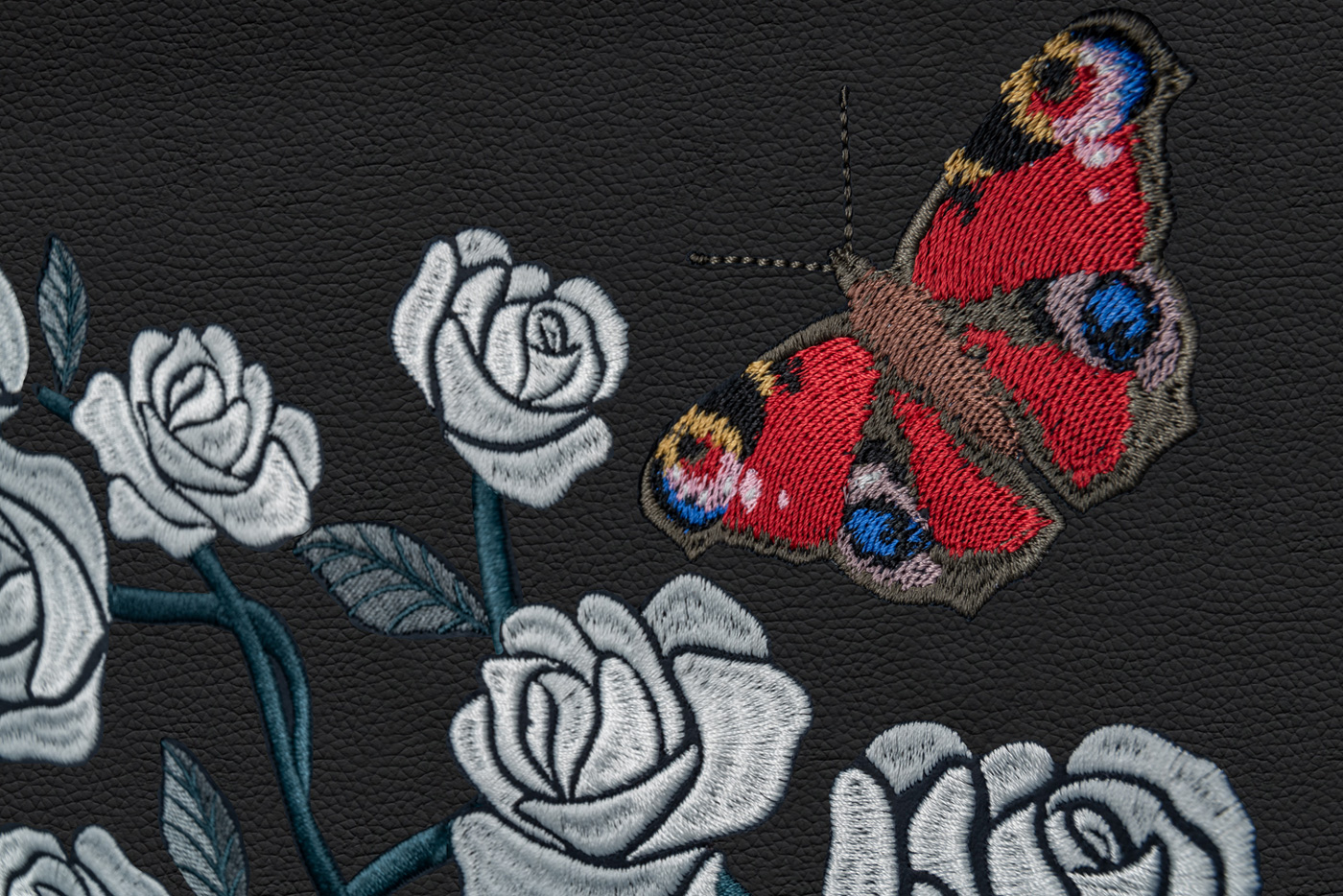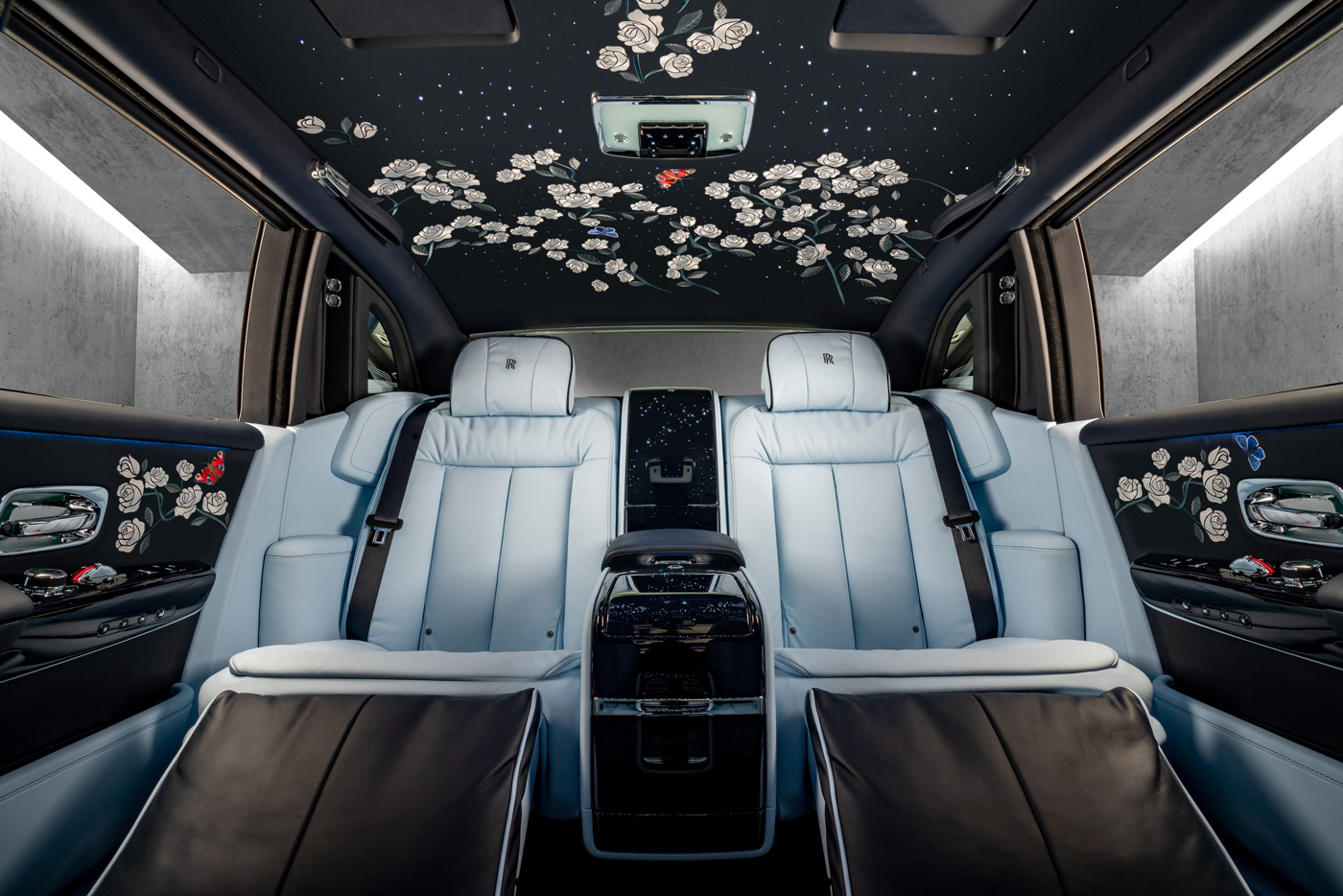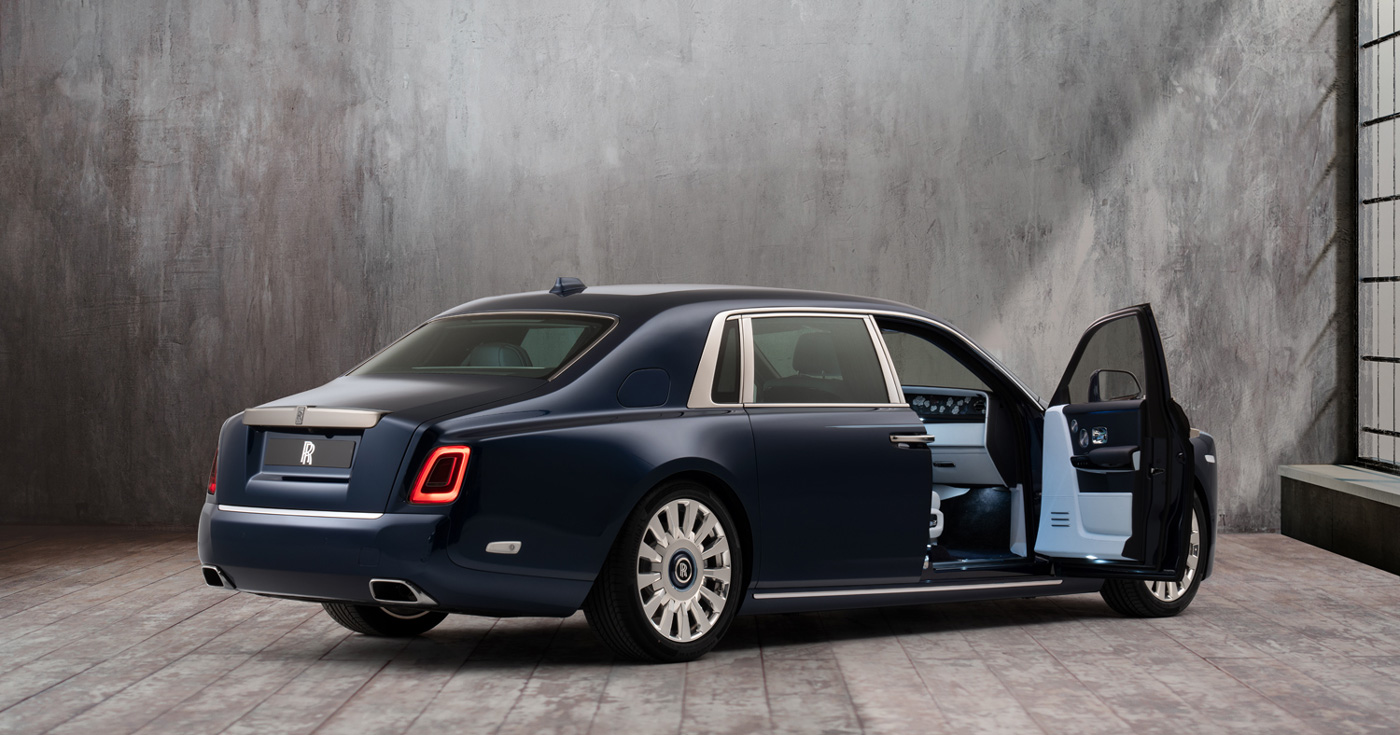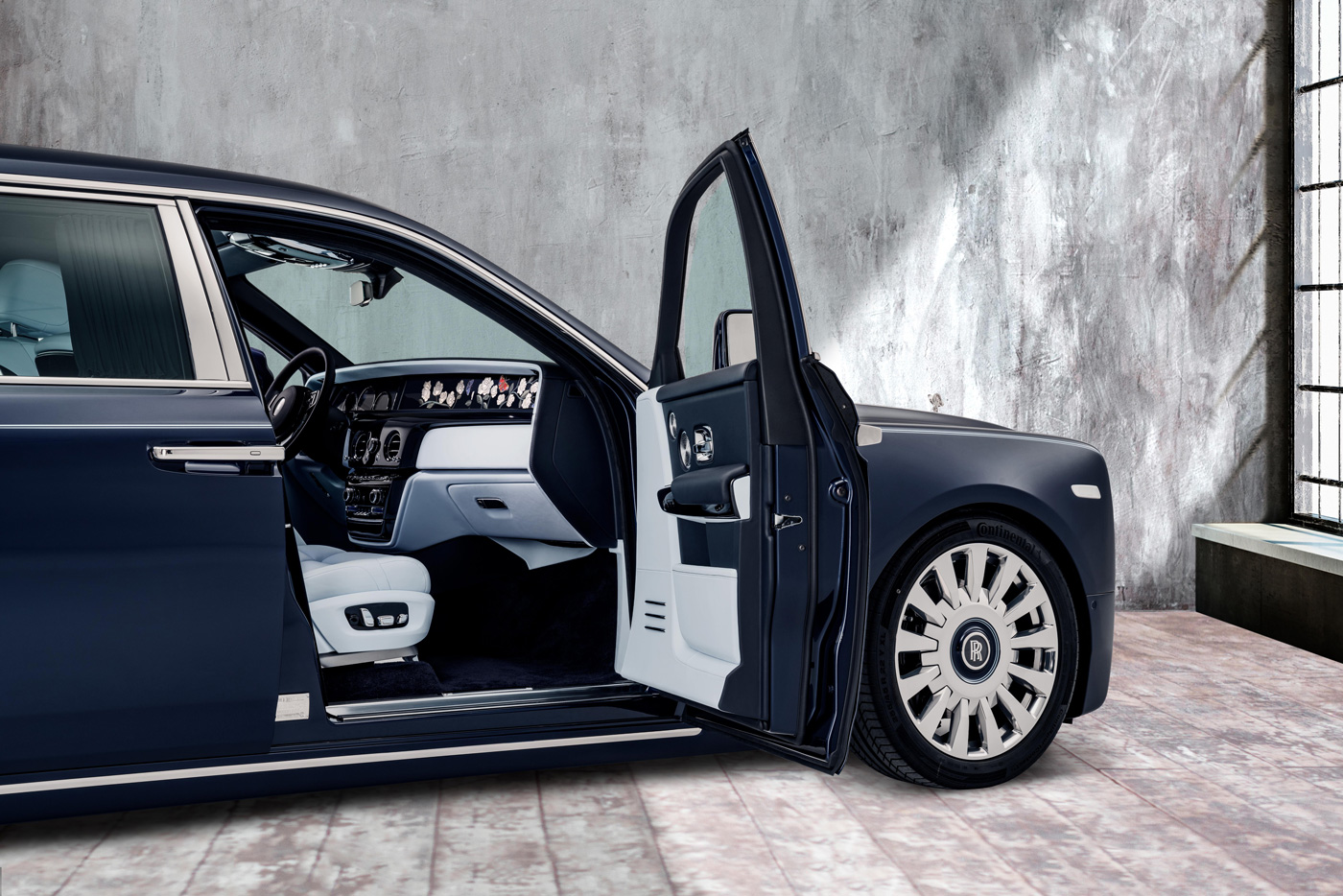 P90379103_highRes_the-million-stitch-r
P90379109_highRes_the-million-stitch-r
P90379106_highRes_the-million-stitch-r
P90379104_highRes_the-million-stitch-r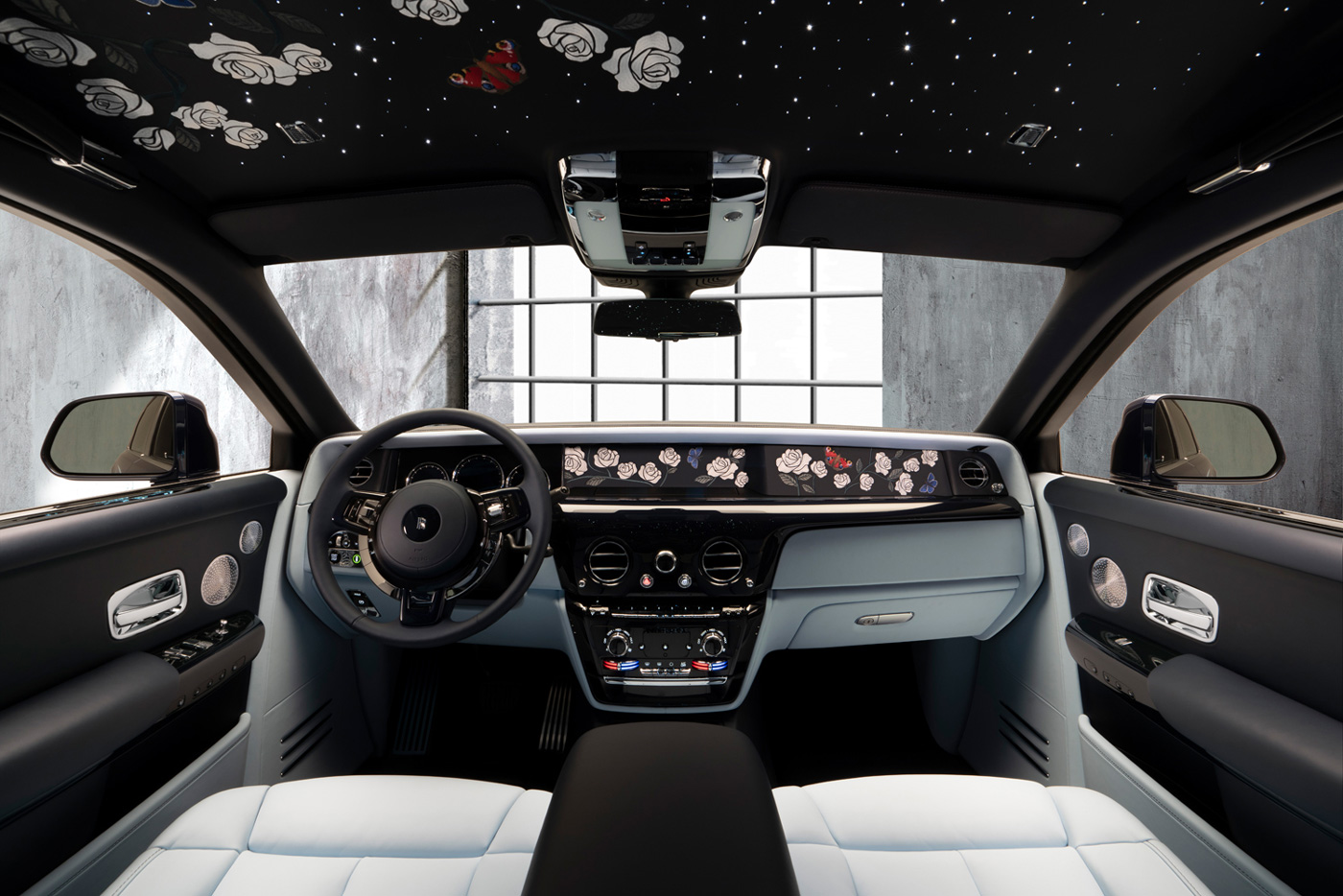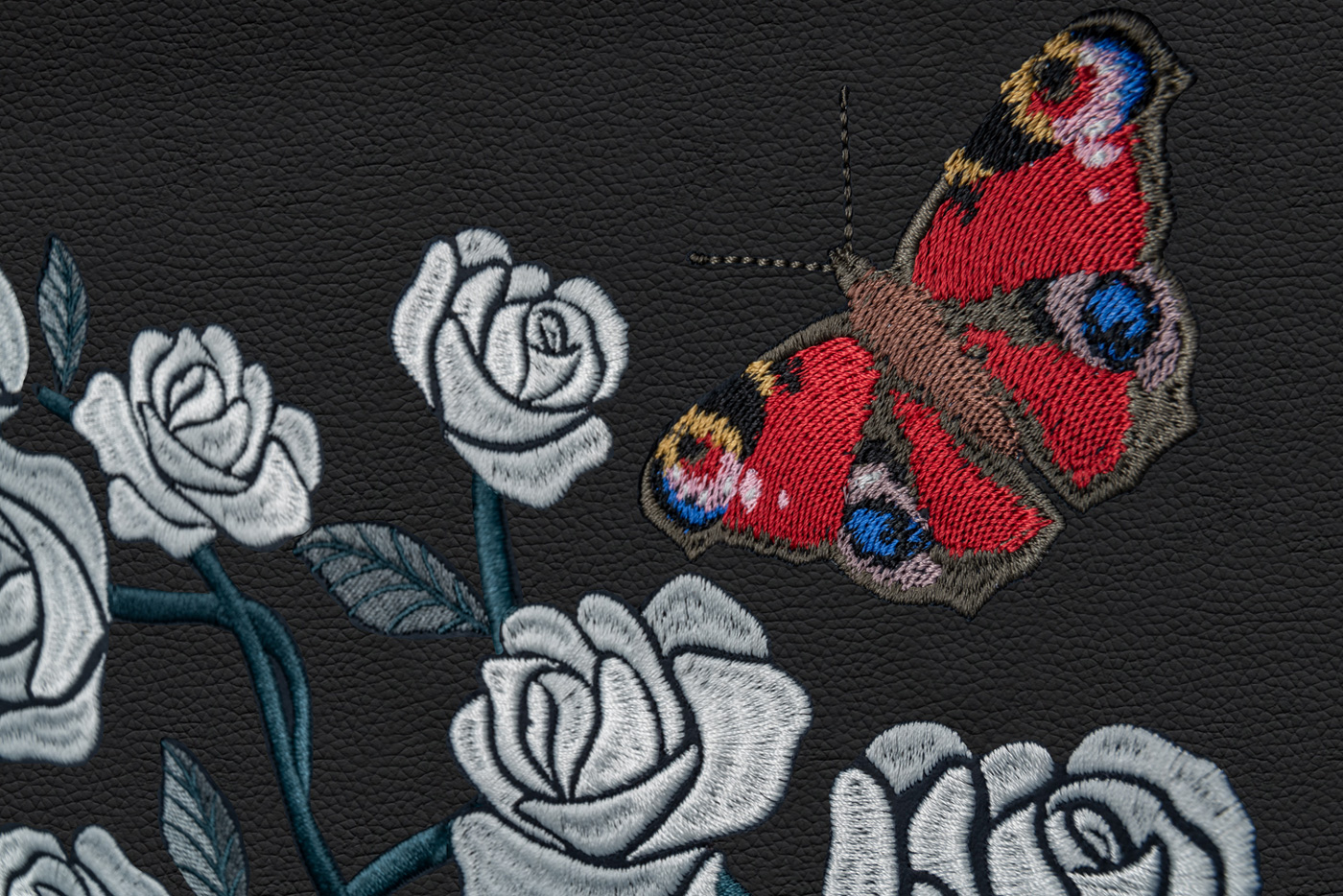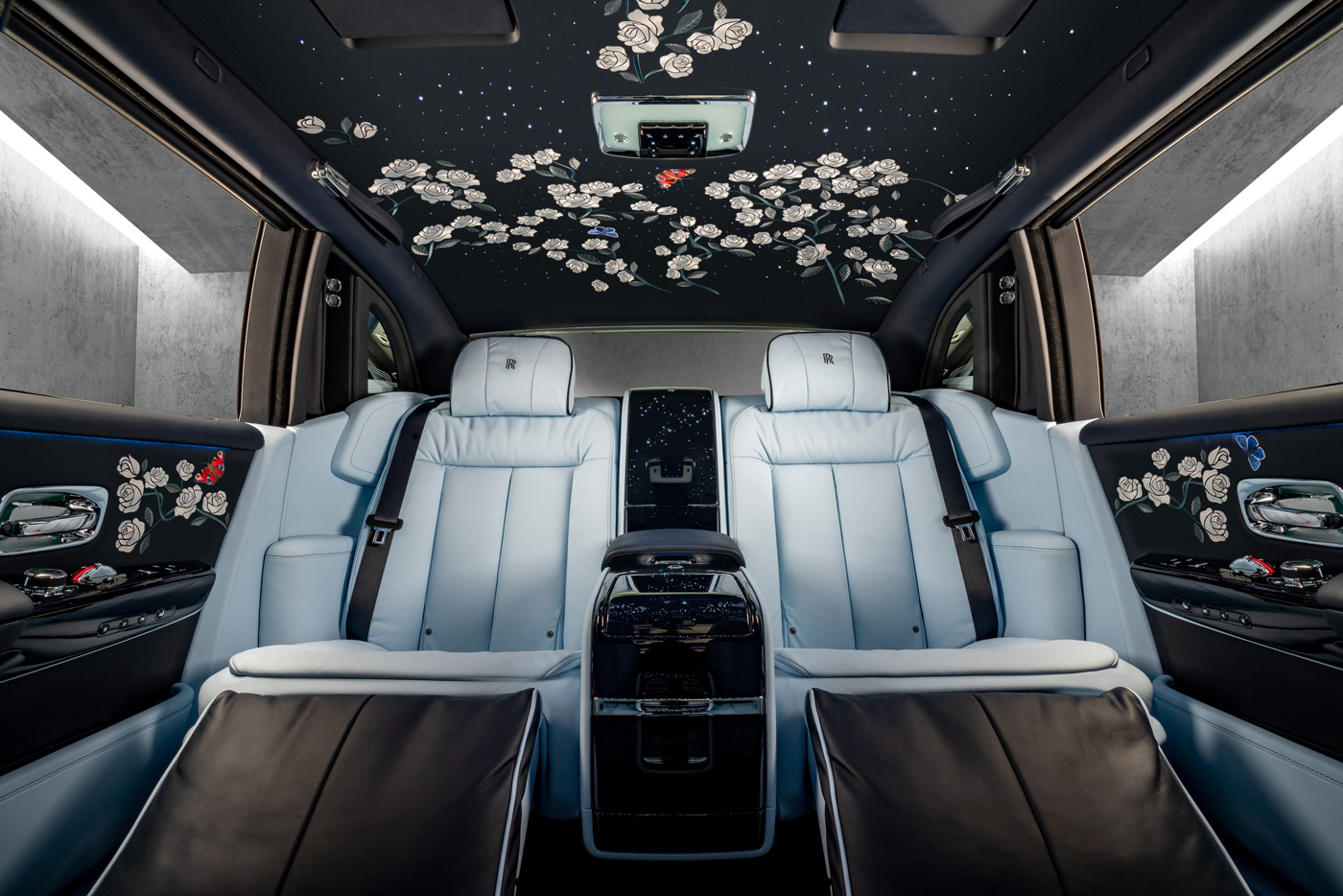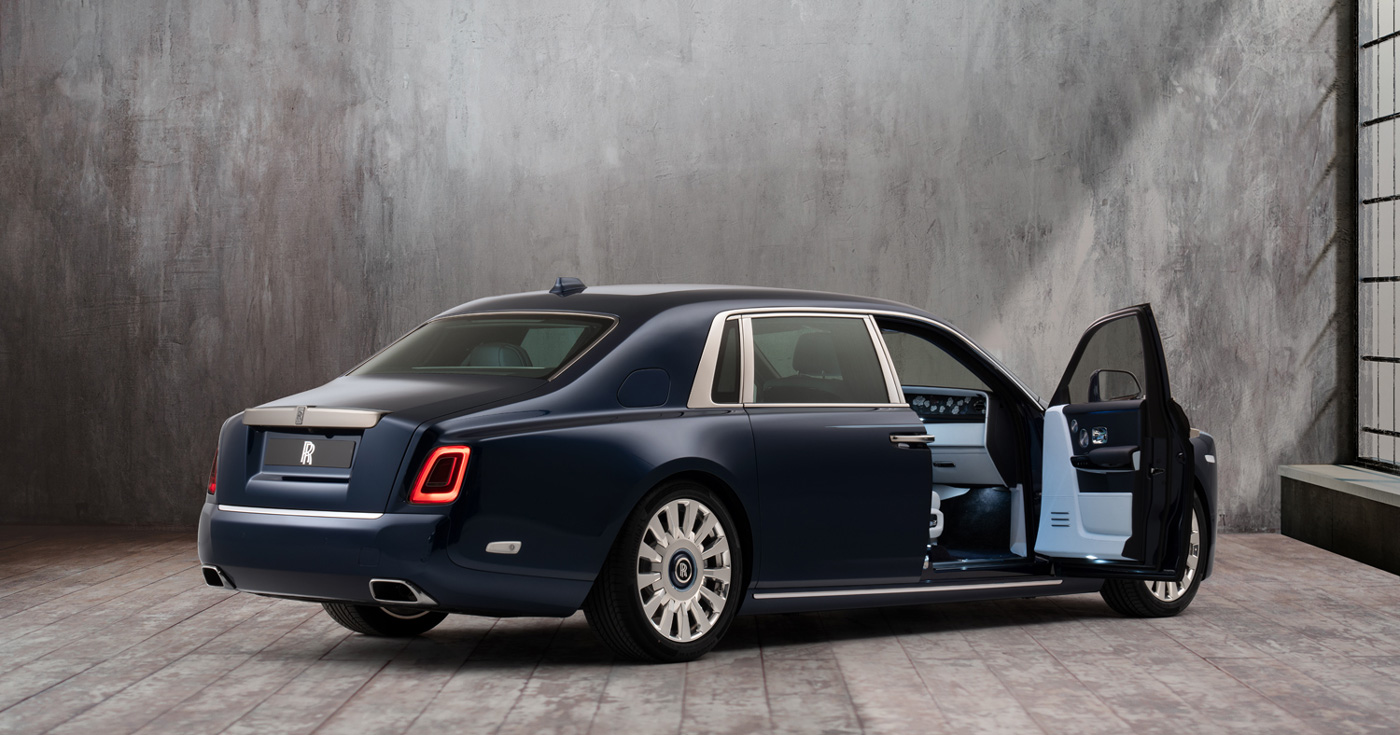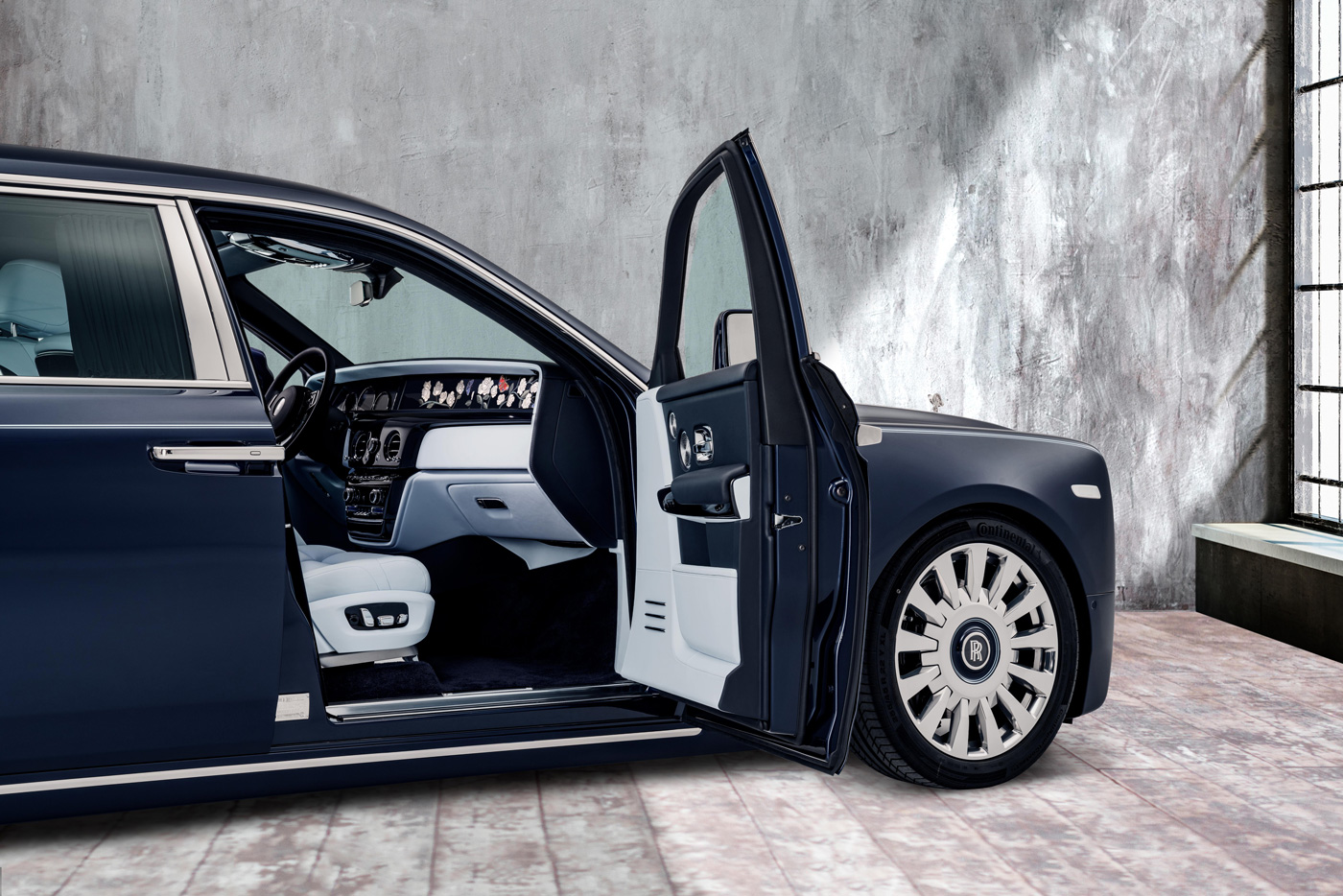 HOW LONG DID THAT TAKE?
From first conversation to delivery, I think it took just over a year, maybe 14 months?
COULD YOU TELL US ABOUT A REQUEST THAT YOU COULD NOT FULFIL?
The only things we can't do are ones that create homologation issues, so for example if you wanted the dashboard to have a solid silver in-lay of your family crest then what we'd need to consider is that there might be sharp details in that crest and there are head impact regulations that stipulate a minimum radius condition so we'd need to work around such things.
BUT THEN DOESN'T THAT MEAN EACH UNIQUE PHANTOM GALLERY CREATES COMPLEXITIES AND HEADACHES FOR YOU?
Well, complex sculptures and artworks are not normally possible in an automotive context so what we did with the Gallery was create a space within the fascia that is protected behind glass so it can safely allow the display of sculptures, artworks and materials that have never ever been seen before in an automotive context.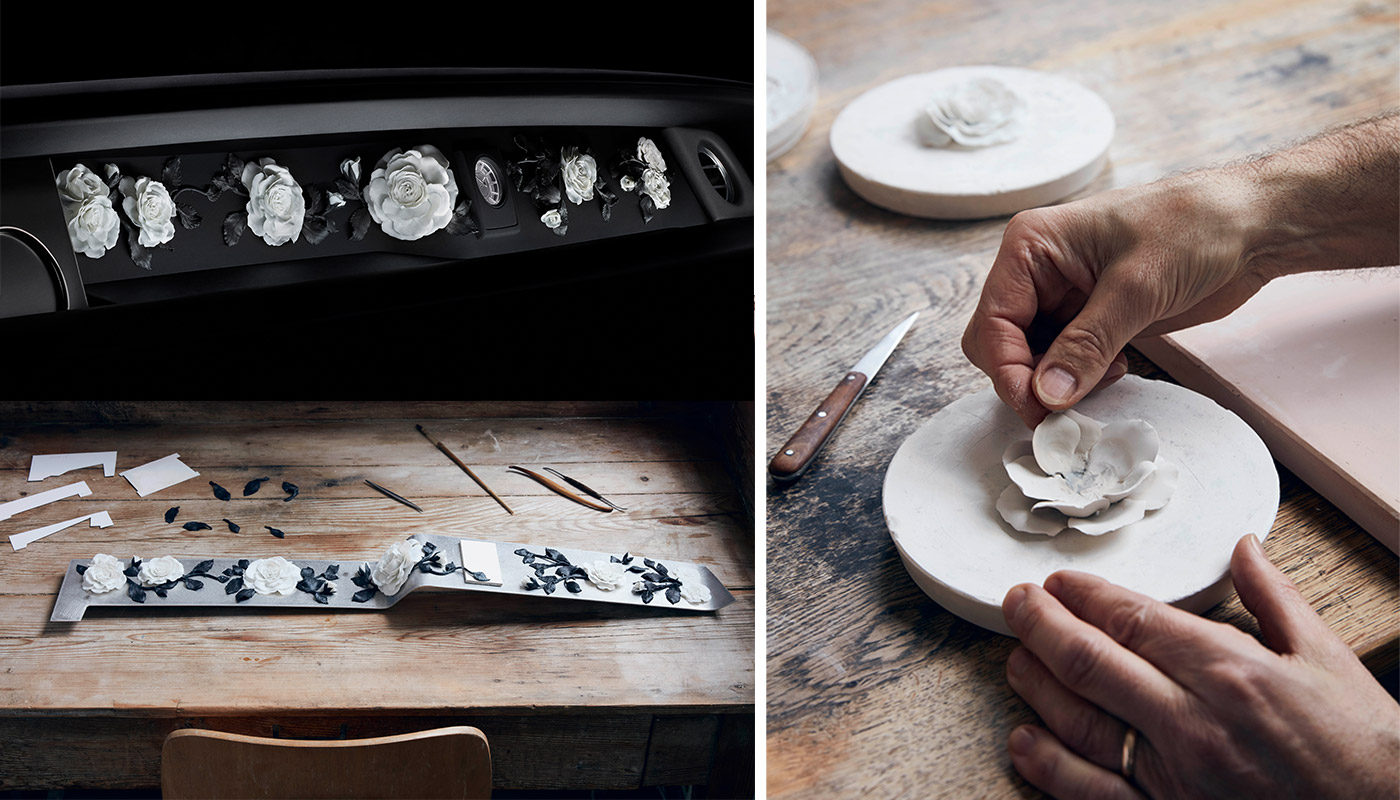 SO THE PHANTOM GALLERY IS ESSENTIALLY A CRASH PROOF ZONE, EVEN IF THERE'S AN IMPACT IT'LL STAY INTACT?
Exactly, the glass that runs full-width across the top of the fascia, from air vent to air vent, completely seals the contents, meaning we can use some very delicate materials, while at the same time, it protects the occupants from any danger.
ONE THING IS FOR SURE, YOURS IS CERTAINLY A FUN JOB, NO TWO DAYS ARE EVER THE SAME!
It really is.